One way to make your children's summer more enjoyable is with a swing set or playset. This will encourage them to spend more time outside and less time in front of a screen. If you're searching for a good quality swing set, you've likely come across the names Backyard Discovery and Gorilla. If you are looking for a good value playset that's fun and safe, both backyard discovery and Gorilla are good choices. Choosing between the 2 brands comes down to which playset has the design and accessories your children are most likely to enjoy playing on.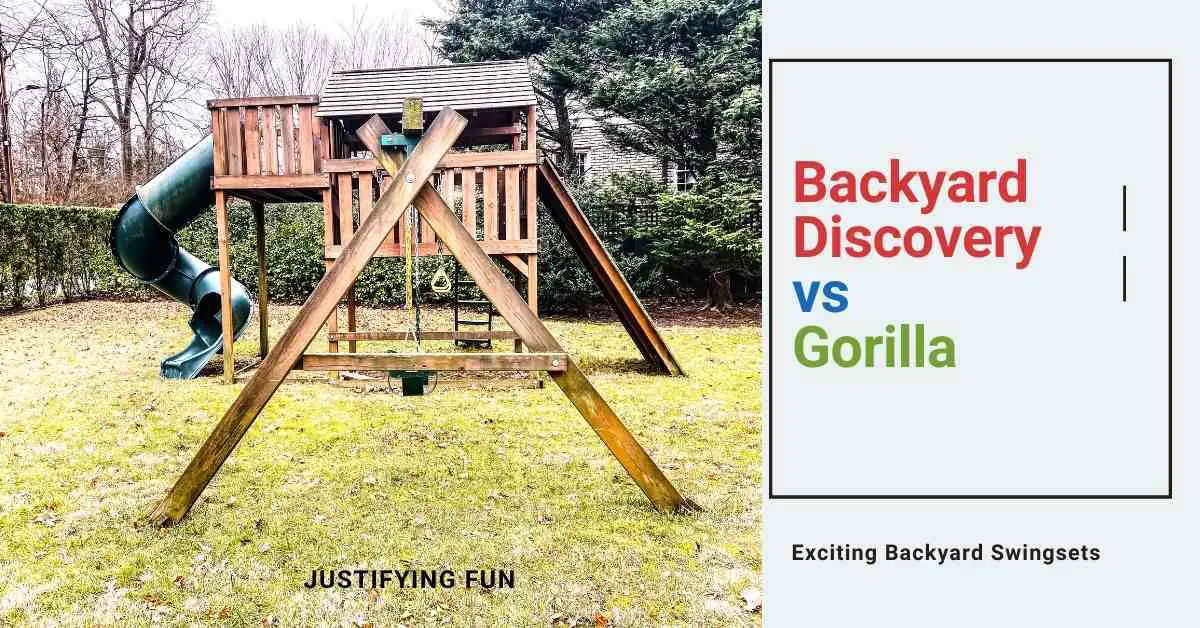 Backyard Discovery and Gorilla both manufacture quality wooden play equipment, but which one is better to buy?. While both brands make great play equipment, there are a number of different options from each brand. I want to compare Backyard Discovery vs Gorilla swing sets so you can see which manufacturer offers play equipment with a wide choice of accessories and good build quality.
What playsets can I choose from?
Product image
Eagles Nest playset
SkyFort ii swingset
Empire Wood playset
Eagles Nest playset
Product image
SkyFort ii swingset
Product image
Empire Wood playset
Product image
Not all swing sets are made the same. Before you decide on a brand, you may be wondering what your options are. Backyard Discovery has a wide selection of wooden and metal swing sets to choose from. If you're simply looking for a classic swing set, there are a few great metal options. However, if you are looking for a set that includes a slide or playhouse, along with the swings, you will be able to choose from many wooden swing sets with all sorts of different themes. I prefer the wooden swing sets because there are a lot more different themed playhouse style play sets.
The table above shows some of the playsets I'll write about in this article.. The Eagles nest is a rustic tree house design with a climbing wall and slide. This design is best for children who enjoy imaginative play activities, especially kids who ant their own lookout tower instead of a playset with lots of different attachments and activities. For a much bigger swings with a lot of different attachments the Skyfort 2 is one of the biggest and most expensive options.
This giant wooden structure has a climbing wall with proper climbing holds, a ladder, monkey bars, three swings, a top deck section with outdoor balcony lookout tower and a wavy green slide. The Skyfort 2 is over 21 ft long so it takes up a lot of space, but the number of attachments means you can have more than 4 children playing together. 4 kids can be swinging together while others climb the wall and climbing wall.
When it's up this structure is impressive but, I have to warn you, it's going to take some helping hands and at least a few hours to put it up. If you follow the instructions carefully you'll have no problem fitting everything together but in my opinion it's a good idea to look through the instructions, separate the main sections, which you have to put together separately first. These big sections are the monkey bar section, crows nest lookout tower, the swing section, climbing wall section and then the main base which the slide and other sections attach to. Two adults will struggle to put this giant frame up so invite a few friends round as 3 or 4 helping hands working together will make constructions much easier.
If you want to compare this playset with a similar option from Gorilla, I'd recommend the Gorilla playmaker deluxe playset which you can see in the table below. Gorilla playmaker deluxe is a little more compact than the backyard discovery Skyfort ii so if you are limited for space the playmaker deluxe is the smaller option. If you have room then the Skyfort ii is in my opinion the better of the two playsets because of the extra space at the top of the towers section, the picnic seating area underneath and the monkey bars that give children a few different ways of climbing and moving across to the tower.
However, the dual slides on the Playmaker deluxe playset are a lot of fun as children can race down them, so if an extra slide is something your kids would appreciate more than a larger play structure and monkey bars then it's worth considering but overall the Skyfort ii is bigger, has more play activities and more children can play together on it.
If size and the number of play options matter most to you then the current biggest play structure you can buy from these 2 brands is the really big and impressive Gorilla Empire wood swing set. As you can see in the table above, this swing set is almost square in shape, fitting a lot of activities into the space it takes up, with slides and swings attached all around the main house structure in the centre. The wooden tree house section looks more like a miniature version of a rustic house with lots of beautiful theming, some windows that open and a chimney on top.
For me, what I like most about the Gorilla empire wood design is that there are 3 slides, coming out in the three different directions and each slide is a different experience. one slide is an enclosed tubular design, one is wavy and the other is a long fast regular slide. There are 2 ladders leading up to the main structure, one leads straight into the enclosed area and the other leads to some monkey bars. if your kids prefer a challenge, there is a climbing wall with a rope to help pull yourself up. One the other side there is a swing section with 3 different swing attachments. This structure isn't cheap and takes time to assemble, but if you are willing to pay more, this is one of the biggest play structures you can buy in this price range.
Attachments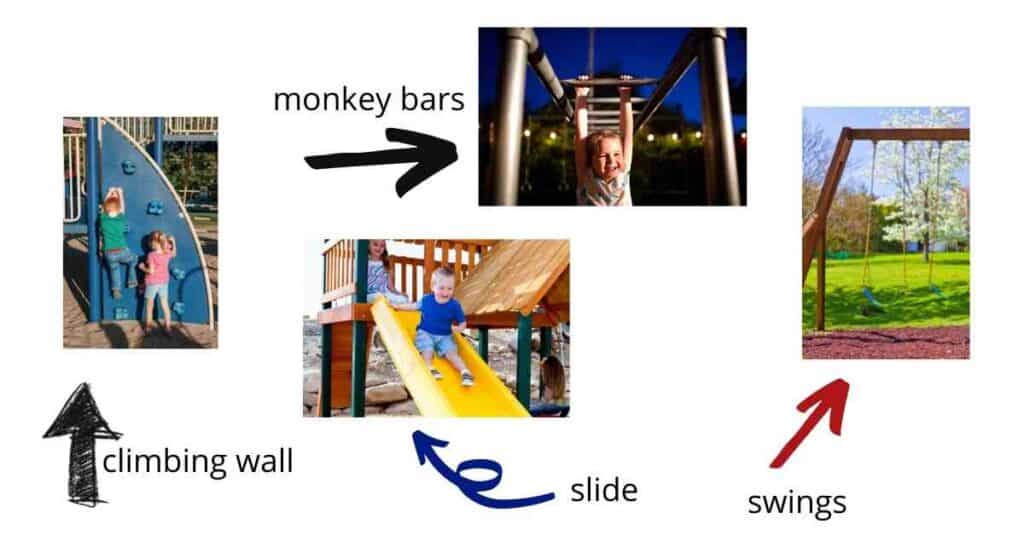 Gorilla like to include plastic attachments with their wooden swing sets to try to add more options for children to use their imagination and keep them busy. Before we look at a few more Gorilla playsets here is a list of the different Gorilla swing set categories their playsets are categorised under.
Swing sets with multiple slides.
Swing sets with clatter bridge and tower.
Swing sets with monkey bars.
Swing sets with more than one play deck.
Swing sets with a sky loft.
Tire swing.
Tube slide.
Nearly all Gorilla playsets include a tic tac toe game attached to the side of the main wooden structures. I like the addition of these games but the main attachments are more important and will take up a lot more of your kids play time than these extra activities. One gorilla play set, The ozark ii, includes a fun punching ball underneath the wooden platform. Backyard discovery don't include many attachments or extra games in their structures, instead they focus on including picnic areas in a lot of their products, placed in the space underneath the main tower sections. Gorilla on the other hand, often use this area to add a sandpit.
Build quality and materials
Gorillas and Backyard discovery playsets are both made using Cedarwood that is treated, stained and sealed at the factory. Gorilla recommend you also reseal or stain your playset within the first 90 days of assembling it but Backyard discovery don't make this same recommendation. In my experience It's usually a good idea to apply waterproof wood sealant to your wooden play equipment at least once every year.
The cedar wood used to construct Gorilla playsets are cut into large 4×6 swing beams. The lumbar used in these swing beams is much thicker and bigger than most playsets and swingsets you can buy online. Gorilla use heavy gauge steel support beams and heavy duty cedar wood lumbar across their range of playsets. Gorilla playset slides are built using reinforced plastic and include UV inhibitors to protect them from the sun.
Gorilla use high quality materials but also accept that it's not easy to assemble a big playset which is why they offer both professional installation and virtual assembly instructions on their 3d app, which is fun to use. Gorillas attention to detail when it comes to instructions and making the assembly process easier are very helpful.
What Are The Prices Like?
For a lot of customers, budget plays a big role in their decision. When it comes to the Backyard Discovery vs Gorilla swing set prices they are not that far off from one another. The prices are a little higher at Gorilla but this is mostly if you are buying their bigger and more complex playsets.
The cheapest play equipment from both brands are your standard swing sets that are similar designs that you'll find most play equipment brands producing. At Backyard Discovery, people can purchase the Heavy Duty Durango swing set for under $400 However, the cheapest model from Gorilla is the Basic Swing Set often found for under $500. On the other hand, you may be wondering about the more expensive models. Both playset manufacturers biggest playsets cost over $2500 and are massive structures that take up a lot of garden space.
Are They Difficult To Install? 
Both Backyard Discovery and Gorilla make the process easy for customers. All products come with a clear set of instructions to help the customers understand what needs to be done. Keep in mind that bigger playsets will come with more parts and accessories and could be more complicated to install, especially if you don't have experience.
If you're clueless when it comes to tools and building, you're not out of luck. Gorilla offers installation for customers that order directly from its website. Each swing set will have a different installation fee that's mentioned in the product description just incase you don't have the helping hands to help construct it with you. In my opinions your best option is to invite some friends round and follow the instructions. These are large structures but they are often assembled section by section so the process is much easier then you might think.
Backyard Discovery also realizes that many customers don't have the time or experience to assemble a playset. for this reason they have teamed up with GoConfigure to take care of all the heavy lifting and assembly if you choose to pay extra for this service. However, rather than choose this option you should try out backyard discoveries own 3d assembly app that makes construction much easier as long was you have the helping hands to put everything together and lift the larger pieces into place.
What Are The designs Like?
Backyard Discovery aims for a classic style with all its swing set designs. This company has been in the business for over 30 years and knows what keeps its customers happy. These experts specialize in designing and manufacturing timeless swingsets that will stay in your family for many decades.
Gorilla focuses on creating all-in-one playsets. While you can basic swing sets, they put more emphasis on playsets that have extra features to keep kids entertained with extra little activities like tic tac toe and spinning wheels on a lot of their designs. backyard discovery don't add as many of these small attachments but they do try to put as many swings, slides and climbing sections in their play sets as they can fit. On a few backyard discovery playsets there are play telescopes for looking out form the raised sections of their wooden towers.
Brief Summary
Backyard Discovery and Gorilla are both great brands for swing sets. If you want a simplistic style with a lot of different slides and attachments, Backyard Discovery has great swing sets to choose from. However, if you want to create an outdoor fun center for your kids, you may prefer a Gorilla playset, because of the extra tic tac toe and swinging ball attachments on some designs.
My favourite play structure for the price is the Backyard discovery sky fort ii design because the play equipment is fun and it is spacious enough for more than 4 children to play together. If you really want to splash out on the ultimate garden playset then the Gorilla Empire wood playset has all the play equipment your kids could ever want to play on.
Product image
Eagles Nest playset
SkyFort ii swingset
Empire Wood playset
Eagles Nest playset
Product image
SkyFort ii swingset
Product image
Empire Wood playset
Product image