Gymnastics Book Review – Non fiction Coaching, Fiction & Series
We are going to introduce you to some of the best gymnastics books for training, inspirational autobiographies and some fictional gymnastics books that are fun to read. Most gymnasts like to read coaching books that have lots of colourful and fun pictures in them that make it clear how you should perform the different gymnastics skills.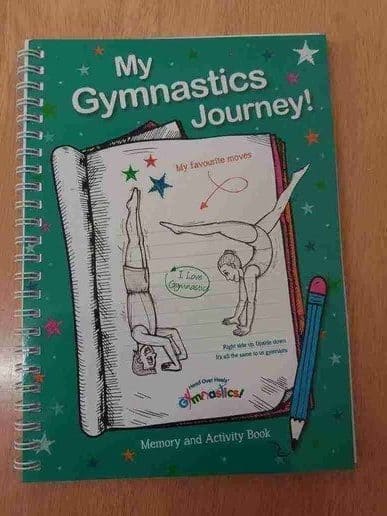 Younger gymnasts often like chapter books or series that have fun characters who take part in gymnastics while also have an exciting plot that takes the reader on an exciting gymnastics journey.
My Gymnastics Journey – Journal
Click the image to view on Amazon
This is a new addition to Gemma Coles Head Over Heels Gymnastics Series of books. You'll have learnt a lot from reading the head over heels books and we are sure your gymnastics skills will be improving week by week if you follow the advice and have a good gymnastics coach to help check you are performing your routines safely and correctly.
Now you have your very own journal that makes recording your progress along your gymnastics journey very easy and a lot of fun. Progression can sometimes feel slow when you have your mind set on perfecting a difficult routine or learning a new challenging skill, but when you use this journal you'll find that you can record the small steps along the way to your ultimate goals and by doing so realise how much progress you've actually made.
---
Head Over Heels About Gymnastics – Volume 1 – Boys and Girls Floor Skills
Click the image to view product on Amazon
The Head over heels book series is the vision of the highly experienced gymnastics coach Gemma Coles. The Head over Heels gymnastics book series comes in three volumes and a new and exciting journal so your young gymnasts can record all their progress and achievements, making learning and training in gymnastics much more fun.
Volume 1 Focuses on boys and girls floor skills. With large clear and colourful pictures, this book is a great starting point for any young gymnast who wants to learn the basics and build a solid foundation in gymnastics or just have some fun. Parents also love to join their kids in trying all the fun activities included in this book.
The head over heels volume 1 gymnastics book starts with some great warm-ups that raise your heart rate and get you into a good routine of stretching before exercising. As you progress through the book you can learn about gymnastics skills, the correct posture, the different fun shapes you can make with your body including the tuck and star & dish and arch.
---
Courage to Soar – Simone Biles
Click the image to view on Amazon
Simone Biles is one of the most successful gymnasts in modern gymnastics, having won 4 Olympic Gold medals in One Olympic games. Courage to Soar is a gymnastics book about her inspirational personal journey through gymnastics. If you are a gymnast you'll know that there are a lot of obstacles along the way that include physical and mental barriers both inside the gym, your home life and friendship circles.
A commitment to a sport is always going to require courage in one form or another and reading about Simone Biles life, having been adopted and gone through some tough times as well as having to make big decisions about her choice of coaches and whether to move away from family to be able to train at a better gymnastics club.
This is an easy read and with lots of interesting gymnastics stories and a unique perspective behind the scenes in the competitive elite level gymnastics world you'll not want to put this book down until you've finished it.
---
Perfect Balance Gymnastics Series – Book 1 – I've got this
Click the image to view product on Amazon
The author Melisa Torres has a lot of experience in gymnastics and has written this wonderful children's book. The Perfect Balance story is fictional but is accurate with the use of technical gymnastics terms gymnasts will be familiar with. In the story the main character Trista has the idea in her mind that gymnastics is easy because she has mastered tumbling skills.
When she starts to work up towards gymnastics level 3 she realise that progressing in gymnastics takes a lot of hard work and dedication. I've got this allows you to follow her on her journey to try and reach level 3 and find out whether she will succeed. If you love gymnastics you'll enjoy this story and be able to relate to Trista and her gymnastics journey.
---
 The gymnastics Book – The Young Performers Guide To Gymnastics
Click the image above to view product on Amazon
We love the young performers guide to gymnastics book because it offers all the information you will need when considering starting gymnastics as a beginner. The guide begins with sections on how to find a gymnastics club and what makes a good coach and the advice offered is good because it really makes you think about your approach to gymnastics in a sensible way so you don't just jump into the deep end or make mistakes choosing the wrong gym or coach.
The warm up and warm down routines are useful but we learnt the most from the clear step by step photos that show real gymnasts performing different gymnastics skills from start to finish.
What makes this book special for us is the chapters that include advice about the importance of family and friends. Gymnastics can absorb so much of you time and energy that it can be easy to fall into the trap of spending less quality time with family and friends so the advice here is greatly appreciated.
---
 Overcoming Gravity – A Systematic Approach To Gymnastics and Body weight Strength
Click the image to view product on Amazon
---
Mckenna – Ready To Fly
Click the image to view product on Amazon
---
Flippin' Awesome Gymnast: 5 Tools to Crush Fear & Increase Confidence for Gymnasts 
Click the image to view product on Amazon
---
Grace, Gold, and Glory My Leap of Faith – Gabrielle Douglas
Click the image to view product on Amazon
---
I Got This: To Gold and Beyond – Laurie Hernandez
Click the image to view product on Amazon
---
Fierce: How Competing for Myself Changed Everything
Click the image to view product on Amazon
---
Gymnastics Fun – Strawberry Shortcake
Click the image to view on Amazon
---
Choosing Gymnastics books for beginners – Our Advice
We would recommend beginners start with the head over heels book series because they are visually appealing with the easy to read descriptions and clear images. This series helps makes gymnastics fun for beginners and you can quickly learn a lot of useful skills. Good gymnastics books for beginners don't necessarily have to focus on training in any way.
It is often more enjoyable for a beginner to read a fun story book, especially if they are young and the Perfect balance series is a great book to start with. Inspiration is important for a beginner and Simone Bile's book courage to soar is an inspiring real life story and a great place to start if you are struggling with the motivation to push past hurdles along the way in your gymnastics journey.
---
Gymnastics Coaching Books – Our advice
There are lots of books available that aim to help coach you and improve your gymnastics skills. A book is a great companion throughout your gymnastics journey and can compliment a good practice schedule and proper coaching. We have written a guide to help you learn a cartwheel and about how to care for your hands during gymnastics.
Gymnastics Books for 10 year olds – Gymnastics Books for Kids
Good books about gymnastics that are aimed at children around the 10 year old age range can be difficult to find. A 10 year old is either a late starter in which case motivational gymnastics books and the Head over Heels series would be a good choice, or they are already more advanced and looking to push on and try and compete at a high level in which case motivational stories or more advanced technical gymnastics books would be a good choice.
We have recently written about some lovely gymnastics leotards and cheap equipment for gymnastics.