I recently heard about handstand blocks ( yoga blocks ) and wanting to improve my own handstand I thought I'd find out what is making these blocks so popular in the fitness, yoga and gymnastics communities and see whether they can help me improve my handstand and attempt to learn more advanced hand balancing skills.
Read on to find out more and to see my selections of the best blocks to buy and why they are a good choice.
My Favourite Handstand Blocks
Heaviest & best quality foam choice
What is a handstand block
A handstand block is a rectangular piece of fitness equipment that looks a lot like a brick. They are usually made of wood, bamboo or foam and used as something to grip onto and balance on during the handstand. Regular use of handstand blocks helps increase your grip strength, forearms and shoulders while the slightly different handstand position allows you to adjust your weight from left to right and exercise different muscles while practising hand balancing skills.
Benefits of training with a handstand block.
Gripping around the block allows you to balance across your hand and forearm rather than on the floor where there is more pressure on your fingertips. The point of balance should still sit on your palm just like a floor handstand but your grip is a little different and some hand balancers  find they have more control using a block. It is a good idea to be able to do a basic handstand on the floor before attempting to use blocks so you can more easily adjust to the feel of where the point of balance is.
Using a block is advantageous because the surface area which you can hold onto with your hand is much greater because your finger curve around the edges and make more contact with a surface than on the floor.
There will be less pressure on your wrists because your weight and grip is likely to shift further forwards onto your fingers as opposed to the heel of your hand during floor handstands. You'll notice this happens most when you momentarily release and adjust your grip.
If you are prone to leaning forward with the shoulders during a handstand, being on the blocks can help you feel this movement with your wrists and I think you'll be better able to adjust this and find the correct position for your shoulders.
My top choice handstand blocks to purchase in 2019
Here is a list of some of my favourite handstand blocks. I have considered important features such as the weight, materials and whether or not the edges are rounded and comfortable to grip.
42 Birds 100% recycled cork Yoga block
[easyazon_image align="center" height="500″ identifier="B07D645J76″ locale="US" src="https://images-na.ssl-images-amazon.com/images/I/41l829nMelL.jpg" tag="justifyingfun-20″ width="500″]
Click image to view the current price on Amazon
42 birds are an Environmentally friendly yoga and fitness product designer. What I like most about these blocks is the solid cork material they are shaped from. Using cork has made these blocks a more solid and stable option and if natural Eco-friendly products are up your street then that's a bonus too.
The edge of the cork blocks are slightly rounded which made them feel a lot more comfortable to grip onto as the jagged edge on the corners of some wooden blocks are a little uncomfortable because they press into your skin and can even make your hand feel numb after a while.
An 100% cork design makes the block evenly weighted which means they won't slip and slide on a smoother surface. Foam blocks usually have weak spots where the surface will move a little or the weight will shift when weight is placed on them and cause them to be unstable.
Overall the 42 birds yoga blocks are a good solid choice that I would recommend and that I don't think you'll have any issues with. Hand balancing will still be physically tough but at least you'll feel a little more comfortable and be able to grip and protect your wrist using slightly differing hand positions. Please be aware that sometime cork has a very mild scent and that the price shown for these blocks is usually for one block and not a set of two.
Yogabody Bamboo Handstand Blocks
[easyazon_image align="center" height="500″ identifier="B018GBV5JO" locale="US" src="https://m.media-amazon.com/images/I/51zcsHivXOL.jpg" tag="justifyingfun-20″ width="500″]
Click the image to view the current price on Amazon
My first impression of the YogaBody Bamboo blocks is that I really like the different tones of light and dark coloured bamboo layers. On the bottom of each block is a thin layer of rubber that is intended to act as a point of friction and allow the bamboo blocks to grip onto the floor. The bamboo surface itself doesn't create much friction so knowing you can trust the rubber to hold these in place while you are holding up your body-weight is vital.
If you sweat anywhere near as much as I do during bodyweight exercises then the bamboo surface can become a little slippery and if you are more adventurous and begin attempting more dynamic hand balancing skills it is possible the blocks might occasionally move a little. When compared to the lighter wood and foam blocks the Yogabody handstand blocks are heavier, more sturdy and stay in place well but for extra grip place them onto a yoga mat or a similar grippy surface.
The length of the Yogabody blocks is 13cm and width is 8.8cm and height is also 8.8cm. Each block weighs 1.8lbs which is more than 2-3 times heavier than a lot of foam blocks weigh.
It is possible to lay these blocks flat to push up into a handstand from a lower position where your hand is closer to the ground or if you want more elevation roll them onto their sides and the extra few cm's give you some more clearance from the ground which might be useful depending on which hand balancing skills you are learning.
Overall these are solid and reasonably priced for a set of 2 blocks. The solid hard bamboo surface is good for your wrists because they aren't squishy which can cause problems when your wrist is unstable and moving slightly during handstands.
[easyazon_image align="center" height="500″ identifier="B0716TNH8W" locale="US" src="https://images-na.ssl-images-amazon.com/images/I/41fEFasmttL.jpg" tag="justifyingfun-20″ width="500″]
[easyazon_cta align="center" identifier="B0716TNH8W" key="wide-orange" locale="US" tag="justifyingfun-20″]
Fledo Yoga Blocks
[easyazon_image align="center" height="500″ identifier="B01M0QXXZN" locale="US" src="https://images-na.ssl-images-amazon.com/images/I/419evsJ5ahL.jpg" tag="justifyingfun-20″ width="500″]
Click image to view the current price on Amazon
There are a lot of different foam blocks to choose from but firstly I chose to include the Fedo bricks in this article because they are among the better quality foam products available. Firstly i'll mention the colour choices. You can choose from 6 interesting colours that are more matte than vibrant and have the small Fledo logo in the bottom corner. If the look is important for you and you really want some rose red or turquoise blocks then these blocks offer one of the widest range of colours available.
For me personally the colour doesn't matter so much but it's nice to have a choice, even if the colours don't perfectly match the images.
Now lets take a look at their performance. With yoga being the activity Fido market these towards I want to know whether they are a good choice for handstands. What is most concerning when considering foam blocks is whether they are going to be stable enough and won't sink with your body weight pressed vertically onto them.
The foam used in this design is EVA foam. After doing some research this foam is used in flip flops and is known to be good as a soft yet stable and rigid compound. When attempting to hand balance the foam will stay firm but offer a very slight softening experience, but never to a point where it feels like you are losing control or your wrists are in danger of becoming sprained.
Being a relative newcomer to hand balancing I really like the feel of the soft foam but it does take a small amount of time to adjust to the responsiveness of the foam and feel confident enough to handstand. If you attempt a handstand walk the Fledo yoga blocks are lighter and make it a little easier to lift and move your shoulder forward while one arm supports your body weight momentarily.
Overall I prefer firmer blocks because I feel a little bit more secure but if you want a value set of handstand blocks that are comfortable to grip and lightweight or you are using them to practice stretching these could be a good option for you.
Gaiam Yoga Block 
[easyazon_image align="center" height="500″ identifier="B010I7B8GE" locale="US" src="https://images-na.ssl-images-amazon.com/images/I/41rPv6qfC5L.jpg" tag="justifyingfun-20″ width="500″]
Click image above to view current price on Amazon
I don't know how to pronounce the name Gaiam but I figured that saying "game" will be close enough, if not then maybe "guy-am".  Like many competitors, the Gaiam blocks target the yoga market but are just as useful for people like you looking to use them for handstands and hand balancing.
Lets talk about the two most important requirements I look for in a handstand block… how squishy / soft / hard they are and whether they slip and slide on your floor or not. The Gaiam blocks are made with latex free EVA foam so on first impression they aren't going to be completely solid. Weighing 4.6 oz they are on the light side but the three layered construction and the low depth mean they are a little closer to the ground than other foam blocks with measurements of  9″Width x 6″Height x 4″Diameter. This compactness meaning pressing your hands down on them makes it feels like there isn't too much squishiness.
It is difficult to find differences between the different brands of Foam based handstand blocks because they are all produced using similar materials. The main difference with this block is the low proximity to the ground and the nice contours created with the rounded edges and corners offering a pleasant experience when gripping with your hands holding up a handstand position.
Another observation I had is that the one arm handstand on these foam blocks feels less steady than blocks made using heavier materials so if you are performing hand balancing or yoga poses that require one hand to take your body weight consider wood, bamboo or cork products. After a long workout where your hands become sweaty, the surface on the Gaiam can be wiped and cleaned using water or a mild detergent.
Manduka Recycled EVA Foam Blocks
[easyazon_image align="center" height="500″ identifier="B00WJKKC4S" locale="US" src="https://images-na.ssl-images-amazon.com/images/I/31SYMIZzuHL.jpg" tag="justifyingfun-20″ width="429″]
Click image above to view current price on Amazon
I have chosen to recommend these Manduka Recycled high density foam blocks to you because they are one of the lightest foam blocks but also one of the firmest surfaces on your hands. Manduka offer anyone attempting to improve their handstand an experience most foam blocks won't give you.
Manduka keep things simple with the recycled materials and very minimal branding. You can expect a comfortable and very firm surface for your hands to squeeze onto as you lift yourself up, turn  and straighten your back into a handstand position.
Many fitness and yoga enthusiasts rave about their experience with Manduka and I feel confident in saying the when you press into these blocks and straighten your legs up into a handstand you will feel like your hands are steady and body weight is supported which is exactly what I am looking for in a handstand block. This is my personal preference so you might prefer an even harder wood surface or a much squishier experience but if you want a really hard foam block Manduka offer the best around.
Peace Yoga Cork Wood Handstand Blocks
[easyazon_image align="center" height="500″ identifier="B07B3YFZPJ" locale="US" src="https://images-na.ssl-images-amazon.com/images/I/61lZ80j%2BOXL.jpg" tag="justifyingfun-20″ width="500″]
Click image to view current price on Amazon
I am impressed with the styling of the Peace Wood. There is no branding, just a clean simple sun pattern. You can choose from other designs too, an elephant, lotus, mandala or tree. Even though a handbalancing block is a practical tool It is nice to see a quality design rather than the plain or branded blocks most companies produce.
Again, the cork is a solid and heavy substance that is 9″ long x 6″  wide and 4″ tall, making it fairly standard. One aspect some people experienced with the peace yoga is that the cork can become a little rougher than other brands and sometimes people found it chips and crumbles a little over time. This isn't everyone's experience but worth bearing in mind. Overall most people seem to have no problems and enjoy the weight and thinner size this block offers. If you like the design and want some Cork blocks these are a nice choice but the 42 birds option above seem to be longer lasting and the cork doesn't seem to crumble in the same way these sometimes do.
StrongTek foam wedge blocks
[easyazon_image align="center" height="500″ identifier="B07C34ZV93″ locale="US" src="https://images-na.ssl-images-amazon.com/images/I/31hrwHAt0SL.jpg" tag="justifyingfun-20″ width="500″]
Click to view current price on Amazon
I decided to include the strongtek wedge blocks into my recommended list because they offer a unique experience. The approximately 24 degrees slanted design is aimed at people learning hand balancing for acrobatics who might have to perform on surfaces with a slant. The slant is also beneficial if you have wrist problems and want to try and reduce the pressure on your wrists by increasing the angle your wrists are tilting at by either facing your hand upwards or downwards more.
Be aware that if you learn the one arm handstand or other hand balancing training techniques using this slant, when you switch to a flat surface it is going to take some time to adjust. When you are used to feeling the centre of balance on a slant changing to a flat floor or normal blocks is challenging.
One other benefit of the Strongtek wedge blocks is that they can be used for stretching different parts of your body, especially your calves.
Some advice about mastering the one arm handstand using handstand blocks.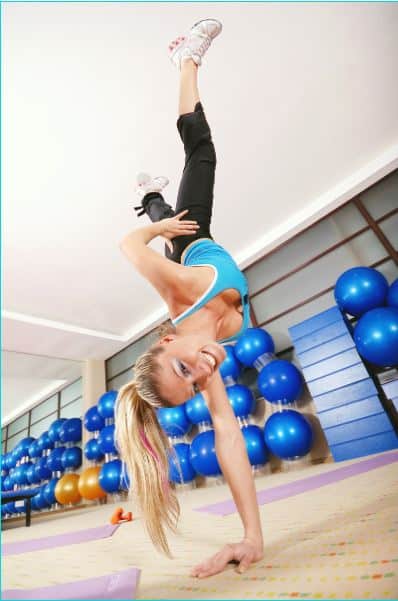 These blocks are one of the best training tools for mastering the one arm handstand because they allow you to shift your balance increasingly on to one hand as you build up strength and find the point of balance. I decided to research hand balancers different approaches to the one arm handstand and give you some advice that is generally accepted.
Because your finger can reach down over the edges it is easier to move your balance side to side while training for a one arm handstand because your hand can move at greater angles.
Weight shifting is much easier with block rather than the floor because you have much more control over the movement and exactly how much weight you want to shift to either side.
A great exercise is to perform a handstand on the blocks and then walk down off the blocks and back up again. You can perform this up and down motion slowly or quickly and really target different muscles depending on where you feel you need to improve and strengthen. If you rotate your blocks onto their side you can increase the height from which you perform the up and down movement, making it more challenging and requiring more shoulder power and strength to push up.