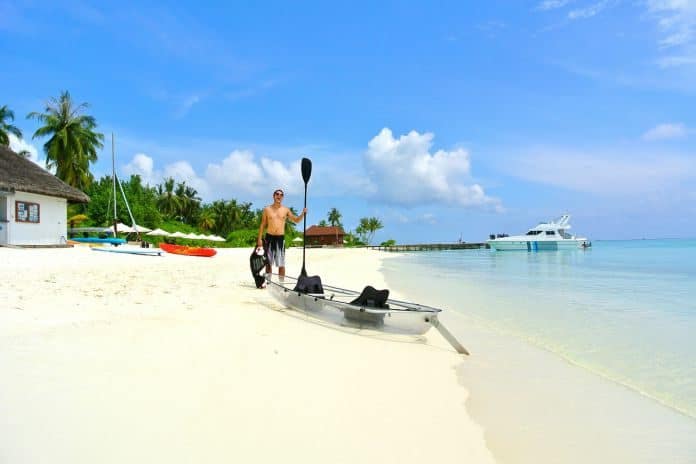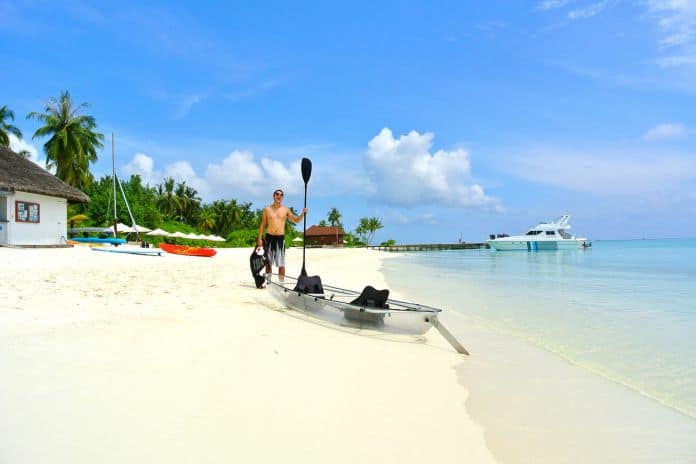 Top 10 Best Inflatable Kayak Reviews Ultimate Guide
We hope this guide and kayak reviews will help you choose the best inflatable kayak
Spend time near water?
Love to try new exciting activities while the sun glistens on the water's surface?
Love to splash, battle and successfully navigate beautiful rivers where the pitter patter of rain becomes ferocious, exciting rapids?
If so, then your gonna love our guide. This guide will help you find the very best inflatable kayak so that you can explore, laugh and get 'a little bit' wet along the way.
Humans walk hand in hand with water on a daily basis. It is easy to miss the importance water plays in our lives. Water is very useful but can also bring a whole load of fun into your life. Water sports offer an unpredictability and the opportunity for a level of excitement and freedom that puts you in the hands of nature.
Inflatable kayaks are incredibly lightweight and easy to transport
A good quality inflatable kayak provides lots of fun for everyone and also builds up your kayaking skills and experience. Inflatable kayaks are incredibly lightweight and easy to transport. Lift a bag into your car and be kayaking quickly without messing around. Best of all, inflatable kayaks offer just as much fun as a hard-shell kayak. They can be much more inviting and reasonably priced for new kayakers looking to enter the sport.
---
10 BEST INFLATABLE KAYAKS REVIEWED
---
Useful accessories 
Click image to view current price on Amazon
Water always finds a way on-board and the Super Chamois Absorbent cleaning cloth does an excellent job of removing any excess water quickly.
Factors To Consider Before Purchasing A Kayak
Primary stability – The primary stability is how stable the kayak is when you are sat still onboard in reasonably calm waters. If the hull is very narrow and there is very little primary stability you'll find it very wobbly and at risk of tipping over. If you are sat still and it feels as though you are fighting to keep it stable or that it's wobbly, then the boat is either not inflated properly or doesn't have good primary stability. A good kayak should have consistent and reliable primary stability.
Secondary stability: This relates to how stable a kayak feels when you are banking during a turn, or if you rock the boat sideways bringing yourself horizontally closer to the water. When performing these manoeuvres if the kayak stays buoyant and doesn't easily tip you over easily, this is a sign of it having good secondary stability.
Durability:  Even the best inflatable isn't as durable as a hard kayak, but the materials used to produce them are now very high quality and offer a lot more durability then you'd expect. These certainly aren't comparable to your garden inflatable paddling pool or inflatable rings, they are made of much sturdier and tougher materials that can handle some scraping and bumping against rocks.
An inflated boat doesn't dry as easily as a hard-shell kayak because the water can easily be tipped out of a hard-shell whereas the inflatable kayak fabric doesn't dry quite so easily.
Rapids and River difficulty
If you have ever experienced whitewater rapids then you'll know the adrenaline rush and sense of being in the hands of the water, experiencing all of its strength.  It's nice to let go of control and let the water guide you. You'll more than likely end up swimming or rolling unexpectedly and quickly attempting to learn how to roll correctly but this can be fun as long as you are careful.
It takes some practice but it's great fun once you can roll and it really enhances your experience and can be a vital safety manoeuvre. It's possible you might end up swimming down the rapids, floating backwards or getting stuck in a hole.
Because of the unpredictability of whitewater rapids, an international scale of river difficult was introduced so that beginners don't suddenly kayak into violent rapids and risk injury. The river difficult classifications range starts at class 1 which are the easiest rapids to navigate with only a few small waves and no difficult rocks or currents to deal with.
Once you reach class 3 the current has picked up significantly and your adrenaline will be pumping as you face yourself surfing powerful waves and navigating through more treacherous and narrow passages that require better control of the kayak. The highest rating is VI, which is so extreme that, unless you're a professional it's unlikely you'll ever face such treacherous currents and a high level of danger that requires advanced skill levels in order to survive, as it can be almost impossible to rescue someone from these currents.
For more detailed info about the stability of kayaks, check out the following excellent article
Cheap Inflatable Kayak -recommendations
We would recommend the best cheap Inflatable Kayak as being the Sevylor Quikpak or Intex Challenger. Click the product names to view the current price on Amazon. Both are definitely the best quality you can get for the lowest possible price.
Justification
We aren't going to suggest which blow up inflatable kayak will be best for you because every person has different needs and all these blow up kayaks will suit somebody. Instead we feel it is important that you have fun as soon as your oars hit the water and that your kayak puts a smile on somebody's face, whether that's your own or a friend as they watch you capsize while you decide to show-off in front of the ladies, or gentlemen.
Kayaking has never been so accessible as it is now and its popularity continues to grow worldwide, especially through its inclusion in the Olympic games. Children absolutely love to play on water and there are so many toys for them to play with. As adults we usually have to watch and wish we could fit into a child's inflatable pools and let our inner child run wild.
That isn't necessary now these fun adult 'toys', OK they aren't toys, they are used in the Olympic games, so they are a serious professional piece of kit. However they are really good fun and will play a part in creating some of the best water-related memories in your life, you can be sure of that. Even if you make it onto a YouTube compilation of 'kayakers popping their inflatable kayak ' you'll be able to laugh and we know you'll come back for more once you've dried off.
If you enjoyed our best inflatable kayak guide then check out the following articles:
Cheese mats for gymnastics and cheerleading