We hope this guide and kayak reviews will help you choose the best inflatable kayak for beginners. Do you Spend time near water? Do you Love to try new exciting activities while the sun glistens on the water's surface? Do you Love to splash, battle and successfully navigate beautiful rivers where the pitter patter of rain becomes ferocious, exciting rapids? If so, then your gonna love our guide. This guide will help you find the very best inflatable kayak so that you can explore, laugh and get 'a little bit' wet along the way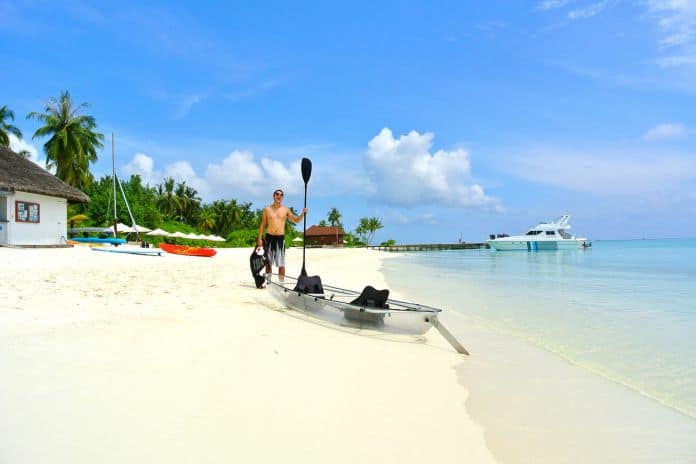 Humans walk hand in hand with water on a daily basis. It is easy to miss the importance water plays in our lives. Water is very useful but can also bring a whole load of fun into your life. Water sports offer an unpredictability and the opportunity for a level of excitement and freedom that puts you in the hands of nature.
A good quality inflatable kayak provides lots of fun for everyone and also builds up your kayaking skills and experience. Inflatable kayaks are incredibly lightweight and easy to transport. Lift a bag into your car and be kayaking quickly without messing around. Best of all, inflatable kayaks offer just as much fun as a hard-shell kayak. They can be much more inviting and reasonably priced for new kayakers looking to enter the sport.
Beginner inflatable kayaks Reviewed
---
Advanced Elements Advanced Frame Convertible Kayak
Click image to view on Amazon
The advanced elements convertible is one of our favourites, offering unique and innovative features that push the boundaries of kayak design whilst offering great functionality and excellent tracking. Right out of the film 'Transformers', comes the possibility to convert this kayak for three different purposes, albeit not super-cars or robots! The first, is a closed deck single person layout, with a cargo deck under a hatch to the rear to store your belongings or a few cold beers.
Secondly, once you tire of riding solo, or pick up a friend mid-journey, the deck can be converted into a closed deck tandem kayak. Thirdly, open deck configuration is possible, allowing a slightly more spacious, relaxed float, especially suited to calmer waters and larger legs. The change can be performed by adjusting the seat positions between solo and tandem. The different upper decks aren't included so need to be purchased separately. Additional decks are reasonably priced considering their high-quality material value.
The instructions aren't as clear as they could be but only a little common sense is required to figure it out. It is possible to set this product up within 10 minutes and be ready to test your skills on the water. Be sure you inflate close to the maximum PSI as it helps with stability. When kayaking it is important that you have a comfortable seat, meaning no sore bottom and less aches and pains, especially if you're paddling for long periods of time. The back seat on this kayak is supported by the frame of the kayak more so than the front but both seats offer a reasonably good level of comfort and there is enough spaciousness.  This kayak is very attractive aesthetically, with the orange and silver / grey contrast and there are three layers of material used to ensure punctures are much less likely to happen.
An aluminium rib inside both the bow and stern helps with the tracking and movement of this kayak. Primary stability doesn't feel tippy and offers easy entry without rocking and fighting to keep the kayak still, this is partly because of its low profile in the water. Once on-board and attempting to rock the boat so you and your friend capsize…  just for fun, or a quick wash. The kayak won't easily chuck you both out as the secondary stability is very good.
Tracking in open water is consistently very good, with the bow heading on course to an object paddled towards without changing course or fading. The tip at the front ( bow) and rear (stern ) of the inflatable kayak are supported by a strong aluminium spine which is firm and helps the kayak track nicely through the water. The advanced frame floats low in the water through white water rapids, meaning you'll take on a bit more water but it is very stable and can handle class 3 rapids. It is useful to attach the deck roof that zips in, as it will prevent you having to empty water out when heading through rapids. Overall this is one of the best inflatable kayaks available and we wouldn't hesitate in recommending it.
PROS
Padded comfortable adjustable seats that can be moved between 3 positions in the boat.
Pressure release valve on the floor.
Two separate inflatable valves and tubes, allowing for the boat to continue floating if one is punctured.
CONS
It isn't common for kayaks to include a footrest and the advanced elements 2 person kayak comes without one. It isn't something that's required unless you're looking to head into some rapids where footrest allows your lower body to help control and turn the boat more easily and increase the feeling of security.
The advanced elements advanced frame comes in a large bag and weighs over 55lb so it is a struggle to carry with the awkward bag size. But is much less challenging than carrying and transporting a hard-shell kayak.
Advanced elements advanced frame single person AE1012-R
Click image to view on Amazon
Available, usually for much less than ¾ of the price of the convertible frame this single person inflatable kayak is great value for money.  When you enjoy kayaking, and want to travel to the water as often as possible, having the portability of this advanced frame model is brilliant (you no longer have to fasten it on top of your car, just pop it in the boot). It is made to the same exceptionally high standard of quality that is found in the convertible version and is very similarly attractive.
It arrives packed in a bag and ready to assemble as soon as you arrive at some water (no not a puddle or bath). You need to ensure as you pump this up that the covering fabric stays central and that you inflate all chambers so they are firm. Once inflated be sure to turn the deflate valves so that it doesn't let air back out, and turn the lock on the floor and side to ensure they aren't opened by mistake when you paddle close to them. If you lift the kayak by one handle you'll notice whether it sags. This indicates whether it needs some more air inside.
Underneath this inflated boat is the puncture resistant 3 layered tarpaulin fabric that has a tracking fin attached to the main body and a landing plate. The only downside to this kayak is that if you are 6'2 or taller it won't feel particularly roomy after paddling for a longer period of time, however, this is often the case with kayaks that are made to suit a wide variety of different sized users and feeling more secure and snug can be a good thing especially when traversing down rapids where you need more lower body control. If this is a big issue for you it is worth purchasing the larger convertible version of this kayak,
Overall this advances elements inflatable kayak moves quickly without too much effort, tracks nicely and offers a comfortable ride in a high quality made to last kayak. Tracking is just as accurate as the convertible frame and offers a consistent ride, albeit slightly more manoeuvrable than it's bigger brother!
Intex challenger K1 kayak
Click image to view on Amazon
The intex challenger K1 Kayak enters at the budget end of the market at a considerably lower price than the advanced elements kayaks. The advanced elements are towards the very top of the range and made of the highest quality materials but the Intex challenger offers a great introduction to kayaking with oars and an air pump included so you don't need to purchase any additional items.
We really like the green and black colour scheme, even though it doesn't look as professional as the advanced frame kayaks it has a fun appearance and is ideal if you want to take the whole family kayaking, or if you can a few friends who want to have a kayak each without spending a lot of money.
Although much cheaper, the Intex challenger is incredibly good value and offers a sturdy ride. The inflatable top is high enough and shaped in a way that encourages water to flow away from the seating area so unless there are bigger waves or you are an adrenaline junky riding some small rapids, you shouldn't get very wet inside.
The intex inflatable Kayak isn't particularly fast and we would recommend it for flat water use mostly. It can however handle some light rapids and perhaps up to class 2 or 3 although without a spray skirt it will take a lot of water on board through any rapids. If you are looking for maximum speed and a nice glide distance after paddling, you'll find ensuring it is efficiently inflated is highly important.
The tracking is consistently good and it's an enjoyable ride. Because an inflatable floats higher on the water than a hard-shell kayak it often takes less effort to paddle with or against a current because of this positioning.  Whether you are just starting out kayaking or are more experienced and want an easy to transport light kayak at a very low cost then then this is a great choice and a contender for best inflatable kayak at a budget price.
Intex Explorer K2 Kayak 2 Person Inflatable Kayak
Click image above to view on Amazon
This is the two person version of the Intex Explorer and is also excellent value for money and exceptionally highly rated. The side profile is quite tall and sits a nice height above the water, with the stern and bow curved upwards which is good for rougher water or white-water rapids. The bow covering offers some protection if you scrape some rocks and helps channel any overflowing water to the sides rather than straight into the seating area.
The seats are raised up slightly and have a backrest which is more comfortable and encourages a good vertical posture for paddling more efficiently. There are some buckles which allow the seat position to be adjusted slightly, allowing for a greater incline ( or an airline upgrade from economy to business class! ) in case you want a more relaxed ride around the lake.
 There is a removable skeg (pointy thing underneath the kayak that helps the boat sail straight, turn and makes navigations easier), that should be fitted if you want to travel in a straight line or paddle at greater speeds in one direction. If you are looking for more manoeuvrability, less direct tracking and the possibility to turn more quickly (often the case in rapids), removing it can help. Without the skeg you'll have to adjust slightly to the strength of your paddling stroke because the inflated kayak will react a little differently.
If the top of the range highest quality materials aren't important for you and you just want some fun, this inflatable kayak is highly recommended and a lot of people have enjoyed paddling in the K2 that also offers a great introduction to kayaking. It can also be used for you and your family and friends to laugh and splash around the lake all day long, or sit there with your feet up and let the gentle breeze push you around as the sun shines.
Sea Eagle SE370 Inflatable Kayak Pro Package
Click image above to view on Amazon
When on the water it's important to have a comfortable and exciting ride. The sea eagle definitely meets both of these expectations. Firstly, let's start with what we don't like about the Sea Eagle, we don't like the fact that it doesn't quite offer the extremely high performance of a top of the range hard shell kayak. It flexes over waves in a way which feels unusual if you aren't used to an inflatable boat and in stronger winds it is blown ever so slightly more sideways than a hard-shell.… but, many people agree these sensations are very fun and can even make the journey more exciting. They don't impact on a great kayaking experience.
However, inflatable boats offer many advantages over a hard-shell, most importantly being the ability to transport them quickly and easily, popping it into your boot just in case you pass a lake. You can have the best inflatable kayak always there ready to get onto the water within minutes. Our first impression of the sea eagle is that it looks nice with a white body contrasted with blue lines and seat buckles.
This is a complete package with a bag, foot pump, 2 long paddles, 2 deluxe inflatable seats and a repair kit. One feature that we love about this kayak is the inflation chart on the side of the boat that allows you to easily see whether it is inflated optimally. Both seats included with this kayak are inflated and some of the most comfortable we have seen and they also have storage pockets to the rear that allow smaller items to be safely stowed away.
Overall, both primary and secondary stability are good and if you want to be on the water quickly, with mostly everything you need included then this is a good choice.
Advanced Elements Straitedge Angler Inflatable Kayak
Click image above to view on Amazon
This advanced elements kayak has been designed with fishing in mind, but it's excellent storage capacity and increased stability mean it is great for long adventures on the water (not quite Jack sparrow or Captain hook style adventures, unless you happen to be a pirate or navy seal), or short journeys in a more spacious kayak observing the local scenery or wildlife. What impressed us most when we first saw this kayak is that it looks very spacious and the yellow and silver colour scheme is really cool.
The incorporation of a wide beam allows for the maximum possible stability whilst reeling in your biggest catch, or enjoying a long journey. Tracking is exceptional and it cuts through the water with ease and is manoeuvrable enough to turn and manage rapids up to class 3. We have read reports of kayakers handling it in rapids up to class 5, but advanced elements only recommend up to class 3 and we tend to agree with them unless you are a professional and understand the workings and feel of the inflatable kayak.
The aluminium bar is great for attaching gear but can also be used as a foot rest. A 300lb capacity is excellent for carrying your gear, dog, tent or other items however the open design means they could get wet so ensure you bring waterproof bags with you when floating through more turbulent water or ocean waves. Some people complained that they found the fishing rod holder a little far forward, but some people prefer it in this position so it's difficult to meet everyone's needs.
Drying out the boat after use is challenging and time consuming. Water seeps under the floor chamber and near the bow and stern areas in particular with this kayak. This is to be expected though and over time you'll find the best way of wiping down and drying out the fabrics.
Sevylor big basin 3 person inflatable kayak
Click image above to view on Amazon
The Seyvlor Big basin is great for three kayakers. Yes, you heard me right, three people can all sit and paddle along the river together in the same Big basin. If there are only two of you, rest assured that this is also perfectly suitable, however it'll be slower and more difficult if you ride solo, but positioning yourself in the centre seat will ensure that a difficult river ride is made a little bit easier.
If you hit some jagged rocks or somehow snag the kayak on something and are unfortunate enough to pierce through the strong materials you might not have to worry too much. This kayak includes multiple inflatable chambers so if one bursts it won't capsize and you can continue to dry land where you can repair the hole. This is great for beginners who might not be experienced in dealing with a hole and it offers some reassurance. You'll survive scraping rocks on the riverbed even when fully loaded, although there is always the chance of a puncture with any scrape against rocks and other items that might be hidden away.
 Tracking is good especially with the quality skeg, however tracking without the skeg attached depends on water and wind conditions, but it should still be possible to keep control and turn in difficult conditions. Because of the importance of the Skeg on the 'Big Basin' be sure to try and avoid shallower waters where it might get caught and come lose. The comfortable seats are attached by Velcro so are somewhat adjustable but not as much as might be possible if they were attached with different materials that allow for seats to be tilted back a little further.
Pro angler fishing kayak
Click image above to view on Amazon
The pro angler is a heavy-duty inflatable kayak built with fishing in mind. The floor is highly pressurised so allows you to stand on a stable platform which is especially useful for fishing without needing the balancing skills of a circus performer. Don't worry this high pressure doesn't mean it's going to explode, it's just going to be so stable that you could bowl and hit a perfect strike across it.
There are two benches for sitting on but the stability of the floor means you can remove the benches and place your own highly comfortable seats (swivel seats if you like). It is also possible to attach other equipment such as video recording devices, an anchor mount, GPS systems and anything else you might want to use. If you are feeling more adventurous and don't like paddling so much an electric motor could potentially be fitted.
The giant pressurised tubes and narrower profile mean that paddling is made easy and the solid foundation of this boat ensure great tracking and a solid ride. It isn't advisable to get too adventurous in the rapids as it might not be as manoeuvrable but primary and secondary stability are as good as you'll get with the dual fins ensuring your paddling results in a straight movement forward. If you are looking for a very stable platform where you can place your own comfortable seats, all your equipment and have the option of standing up, whether you are fishing or not the pro angler is brilliant.
AIRHEAD AHTK-2 Montana Performance 2 Person Kayak
The dictionary defines an airhead as somebody who is silly and unintelligent. Neither of these words can be used to describe the company Airhead who have created this great Kayak. We do like the name because it makes us think of fresh air and a clear head, paddling along surrounded by Pine trees and rolling countryside and sunshine and friends and… sorry, I'm daydreaming. With views like those above, you want to be sure your journey along the river is a safe and comfortable ride. The airhead Montana reminded us of a lifeboat as soon as we saw its orange body contrasted with black segments, seats and nylon webbing that items can be stored underneath.
Having enough room to paddle and stretch your legs a little is important and the Airhead is quite spacious. Comfort is also important and the padded seats offer comfort and support for your back. The Airhead montana is brilliant, but a nylon seam that isn't entirely water resistant tends to allow some water to enter between the main outer fabric and the inflated air chambers. If you are going to attempt some class 1 or 2 rapids this shouldn't be a problem, although the boat isn't self-bailing so you'll have to buy a pump or chuck the water out yourself.
Tracking is good and this is a quality inflatable kayak. I wouldn't recommend you attempt to paddle in the ocean where the waves are bigger because this kayak won't cut through the waves or unstable water with great accuracy because it isn't as stable as a rigid kayak. This is the case with most inflatable kayaks, but their primary use isn't usually to attempt to paddle through big waves anyway.
Sevylor Quikpak K1 1-Person Kayak 
Click image above to view on Amazon
Don't forget to bring your backpack with you on your next river trip because it might just contain a Sevylor Quikpak Kayak!. This kayaks seat is actually a backpack which can hold the deflated kayak. We haven't seen this feature in any other kayak we have reviewed and it's a brilliant idea.The deck has a very cool design with awesome shaped ridges and very attractive blue and grey colours. This is certainly one of the most attractive inflatable kayaks we have ever seen.
You can change this backpack to an inflated kayak within 5 minutes, which is exceptionally fast and there is a pump included. When inflated it can hold 400lbs worth of Human being and their gear and is 8 foot 7 inches long x 3 foot wide.
The deck isn't as deep as most inflatable kayaks and reminds me a little bit more of a paddleboard. The seat/backrest is positioned further back than is standard but that could be because of the lightweight design and this feature is great because it means your legs have a lot of room to stretch out. The deck has a very cool design with awesome shaped ridges and very attractive blue and grey colours. This is certainly one of the most attractive inflatable kayaks available to buy.
Useful Kayak accessories
Click image to view on amazon
Water always finds a way on-board and the Super Chamois Absorbent cleaning cloth does an excellent job of removing any excess water quickly.
Inflatable kayak beginner buyers guide
Primary stability
The primary stability is how stable the kayak is when you are sat still onboard in reasonably calm waters. If the hull is very narrow and there is very little primary stability you'll find it very wobbly and at risk of tipping over. If you are sat still and it feels as though you are fighting to keep it stable or that it's wobbly, then the boat is either not inflated properly or doesn't have good primary stability. A good kayak should have consistent and reliable primary stability.
Secondary stability
This relates to how stable a kayak feels when you are banking during a turn, or if you rock the boat sideways bringing yourself horizontally closer to the water. When performing these manoeuvres if the kayak stays buoyant and doesn't easily tip you over easily, this is a sign of it having good secondary stability.
Durability
Even the best inflatable isn't as durable as a hard kayak, but the materials used to produce them are now very high quality and offer a lot more durability then you'd expect. These certainly aren't comparable to your garden inflatable paddling pool or inflatable rings, they are made of much sturdier and tougher materials that can handle some scraping and bumping against rocks.
An inflated boat doesn't dry as easily as a hard-shell kayak because the water can easily be tipped out of a hard-shell whereas the inflatable kayak fabric doesn't dry quite so easily.
Rapids and River difficulty
If you have ever experienced whitewater rapids then you'll know the adrenaline rush and sense of being in the hands of the water, experiencing all of its strength.  It's nice to let go of control and let the water guide you. You'll more than likely end up swimming or rolling unexpectedly and quickly attempting to learn how to roll correctly but this can be fun as long as you are careful.
It takes some practice but it's great fun once you can roll and it really enhances your experience and can be a vital safety manoeuvre. It's possible you might end up swimming down the rapids, floating backwards or getting stuck in a hole.
Because of the unpredictability of whitewater rapids, an international scale of river difficult was introduced so that beginners don't suddenly kayak into violent rapids and risk injury. The river difficult classifications range starts at class 1 which are the easiest rapids to navigate with only a few small waves and no difficult rocks or currents to deal with.
Once you reach class 3 the current has picked up significantly and your adrenaline will be pumping as you face yourself surfing powerful waves and navigating through more treacherous and narrow passages that require better control of the kayak. The highest rating is VI, which is so extreme that, unless you're a professional it's unlikely you'll ever face such treacherous currents and a high level of danger that requires advanced skill levels in order to survive, as it can be almost impossible to rescue someone from these currents.
For more detailed info about the stability of kayaks, check out the following excellent article
Final thoughts about Inflatable kayaks
We aren't going to suggest which blow up inflatable kayak will be best for you because every person has different needs and all these blow up kayaks will suit somebody. Instead we feel it is important that you have fun as soon as your oars hit the water and that your kayak puts a smile on somebody's face, whether that's your own or a friend as they watch you capsize while you decide to show-off in front of the ladies, or gentlemen.
Kayaking has never been so accessible as it is now and its popularity continues to grow worldwide, especially through its inclusion in the Olympic games. Children absolutely love to play on water and there are so many toys for them to play with. As adults we usually have to watch and wish we could fit into a child's inflatable pools and let our inner child run wild.
That isn't necessary now these fun adult 'toys', OK they aren't toys, they are used in the Olympic games, so they are a serious professional piece of kit. However they are really good fun and will play a part in creating some of the best water-related memories in your life, you can be sure of that. Even if you make it onto a YouTube compilation of 'kayakers popping their inflatable kayak ' you'll be able to laugh and we know you'll come back for more once you've dried off.
Sources: