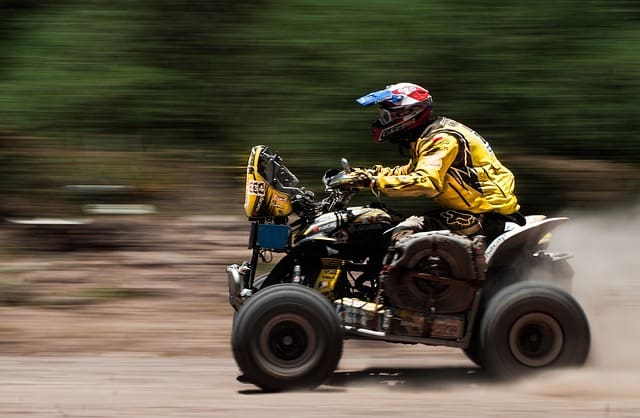 The best kids ATV 2018 – Kids and youths ATV's reviewed
An ATV is a fun All terrain Vehicle that will take your kids on the most exciting adventures of their lives. We have reviewed a selection of some of the best ATV's for kids, taking into account safety, build quality, speed and power, amongst other features. We have also introduced some fun youth ATV's for young teenagers.
Whether your children are looking to race having watched motocross, or just have some fun on the trails, the smile will never leave their faces ever again as they have adrenaline filled fun with their very own off road vehicle for kids. For your little racers we have also reviewed some awesome go karts
Rosso Motors Kids Electric ATV 4 Wheeler Quad 500W
Click images to view current price on Amazon
With a 20 kph top speed and excellent build quality the Rosso 4 wheeler kids quad is one of our top choices. The black and blue frame looks super fast and exciting and is a boys dream come true.
Take the ignition key out and insert it into the speed changer to adjust the maximum speed from 3 mph up to 6 or 12 mph depending on your kids age and driving ability. A reactive hand throttle is responsive and requires little strength.
When this first arrives, you'll be thinking, how on earth am I going to assemble this, i'm not an engineer or mechanic and Mechano is tricky enough. Don't worry, the instructions are clear and most of the small parts are already connected so it isn't difficult.
The suspension is firm but well constructed and the tyres should last for many hours of normal use. The frame is much more like that of a full size quad than a toy and looks like the real deal. A reverse gear is a great addition for when your kids get stuck, so you don't have to manually get them out of a tricky spot.
With any kind of electric vehicle, charging is always the most frustrating time. Charge time for this vehicle is approximately 6 hours but the battery power will last for more than 90 minutes, which is above average for a kids off road electric vehicle.
Make sure your kids know how to use the brakes before letting them ride, because they can be tricky to use at first. The kids ATV stops quickly anyway even without braking but it is always better to be sure kids are riding safely on a quad.
Overall the Rosso ATV is a good choice with a stylish design, strong chassis, fast speed, nice motor and some awesome working headlights for night time riding.
Age  – 3 to 8 years old
Top Speed – 20 kph
Battery power – 36V
Motor – 500W
Safety Features – Disc brakes, 3 speed governor to limit the maximum speed between 3 different settings.
---
Best Choice Products Kids ATV Quad 4 Wheeler Ride On 
Click to view current price on Amazon
Best choice products ATV is the perfect gift for younger children who will enjoy the shiny red ATV with impressive headlights, a fun horn and a radio. The silver decals are shiny and look awesome alongside the red and black plastic design.
Even though the speed is 2 mph this is more than fast enough for riding around your garden and don't let the low speed fool you, the 12V battery has some power for riding across difficult terrain such as gravel and grass.
For inspiring young riders this is a brilliant choice. Kids can easily slip into reverse gear and reverse like a pro ice road trucker around your garden. Turning is easy and the learning curve is very small, you'll soon be watching your little pro ATV riders in the back yard.
Safety – ASTM Certified
Top Speed – 2mph
Age – 3+
Battery power – 12v
---
Razor Dirt Quad 
Click image to view price on Amazon
The Razor Dirt Quad is a great ATV for kids who love cars, racing and action packed fun.
We love how responsive the variable speed throttle is. It might take younger kids a bit of practice to perfect their speed control, but the high torque powerful motor picks up speed effortlessly
Big rubber tyres with decent tread are superb for riding on different terrains and ensure the power output transfers through the wheels and into a fast moving forward motion quickly.
Suspension and shock absorbers are important because of the bumpy off road surfaces you are going to be driving over in an all terrain vehicle. With the flexible rear coil shock absorbers that are nice and springy and comfortable to ride on.
Weight – Will support a rider weighing up to 120 pounds.
Adjustable Handlebars
---
Rosso Motors Pink Kids Electric ATV For Girls
Click to view current price on Amazon
Rosso motors are attracting your beautiful 3-8 year old daughters and turning them from doll wielding divas into hardened petrol heads with this beautiful pink 4 wheeler that will turn the head of even the prettiest and pinkest little princess. There is no petrol in this ATV but the volts in the high capacity battery will keep powering this mini powerful 500 Watt electric motor for a lengthy two hours.
Myths say women are bad drivers, but we have to disagree. All children have the potential to get too excited and get stuck in a tricky corner. Luckily a reverse gear will have them driving and powering around on their exciting girl racer pink ATV recording fast lap times around the yard in no time at all.
With a max speed of 13 mph the Rosso motors ATV really packs a punch and can travel across grass and dirt for all your kids off road adventures. If the max speed is too quick for younger children a 3 speed governor allows you to reduce the speed to a more comfortable driving pace.
The best features on this girls ATV are the pink design and awesome speedy looking curves and shapes on the body of the machine. We really love how Rosso have made this both cute and aesthetically pleasing to look at but also well engineered with a solid and safe build quality so it is very sturdy and will last for many miles of exploration.
---
Razor 500 DLX Dirt Quad Bike
Click to view current price on amazon
The Razor 500 dirt quad is a mouthwatering prospect with a 500W motor creating some monster torque through the integral and internal gear set. Expect to be able to shift up to 10mph from the brush-less powerful motor. Travelling across difficult terrain such as mud and snow is possible. Watch the dirt fly as your children begin to experience the thrill of handling the best ATV's throttle and manoeuvring around new and exciting places with ease.
Being more suited to older teens the maximum weight limit is a big 220 lbs. There is no suspension but the pneumatic tyres absorb shock really well.
Pull the twist grip throttle and feel the pneumatic tyres grip as the wheels spin and pull you across rugged off road terrain with ease. When the battery runs out after an hour or so, the quick change compartment means you can quickly be back on the road again and racing around the woodland at exciting speeds.
Product Specs:
Maximum Speed: 10mph
Battery Power Wattage: 500W
Gear Set – Internal / Integral
Age recommendation: 14 years and older
Maximum Weight capacity: 220lbs
---
TAO TAO – Automatic Youth ATV
Click to view Current price on Amazon
The Tao 110cc fully automatic is a great choice for youths who are stepping up from the smaller ATV and looking for more power and electric start transmission. The front brake is a powerful hydraulic disc brake and the rear brake is a drum brake.
With a max speed of approximately 30 mph this is a beast of a vehicle for youths to ride. IF you are concerned about them going too fast before they have built up their driving skill level a governor allows you to limit the speed to as low as 5mph while they learn to ride safely.
---
Choosing the best Youth ATV for the money
Pleasing a youth often requires more speed in order to give them an adrenaline buzz and also they find taking part in some fast and fun races with their friends exciting. ATV's that will be suitable for a teenager are often available in the $500-$1000 price range. To get the best atv for the money make sure you take into account the quality of the chassis. It is important that the machine is well built and can handle the terrain. Speed is also important. In order to get good value you really need to make sure the speed is fast enough for a youth, because a 3 mph electric 4 wheeler really isn't going to keep them interested for long.
Youths have much faster reactions for steering and are aware of how to handle and control a vehicle more easily.especially when youths are most likely driving quick 90 cc and faster speed vehicles
Safety Considerations before buying a kid or youth ATV
These 4 wheeler vehicles are designed for off-road driving and often also involve fairly high speeds, so safety must be considered in order to make sure the vehicles chassis is strong and stable and that safety procedures are followed when riding and that any protective gear such as a helmet are worn.
Maximum speed
The best 4 wheeler for kids is often very slow and safe especially when engineers are targeting younger children with their machines. Once the speed picks up above 5 mph it is definitely time to invest in a helmet if you haven't already. Bigger and more powerful batteries in modern kids electric quad means that you have to be aware of how fast your kids are travelling and make sure they have the skills to steer, accelerate and brake effectively.
The slower options begin at 2 mph. This might sound slow but for a 3-5 year old it is more than enough speed to drive around and explore whilst learning to manoeuvre a battery powered motor vehicle for the first time.
Speed ranges from 2 mph – 30+ mph
A governor is fitted on most models, allowing for speed limitation
Young children will start with an engine less than 70cc and as they grow older this speed can increase to 90cc, before reaching 125cc+ in the mid teens.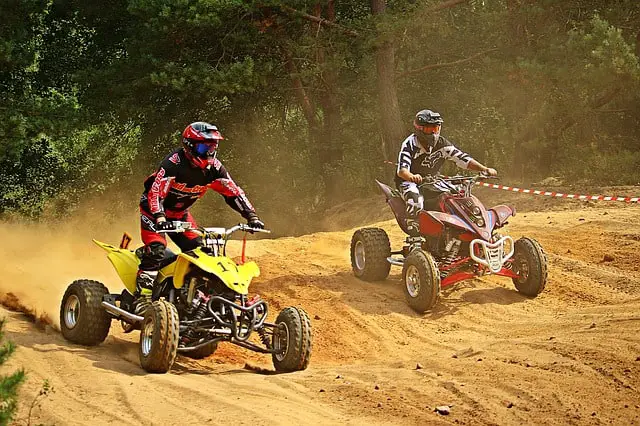 Age
Whether you are looking for a four wheeler for 10 year old's that are gas powered or a slower governed ATV for a 5 year old you'll want to be sure you are getting a suitable electric vehicle that is safe and fun for that age range.
Justification
ATV's for kids are great fun. Your kids don't have to be adrenaline junkies to enjoy them, younger kids will just enjoy being able to control a small vehicle and explore the world from a new perspective. Being able to control the direction and speed of a vehicle for the first time is a really exciting prospect. Just looking at these awesome ATV'S with their disc brakes, suspension, headlight beams, ignition systems and some decent power is enough to excite any youth, child or toddler.
Sources
https://kidshealth.org/en/parents/atv-safety.html