Best The North Face Backpacks Reviewed
The North face brand is named after the North face of mount Everest itself. Being named after one of the most difficult, tallest and one of the biggest challenges a human can face, this North face backpack has big ambitions. These bags are great for everyday use and hiking. If you are going hiking these Montem hiking poles are well worth taking a look at.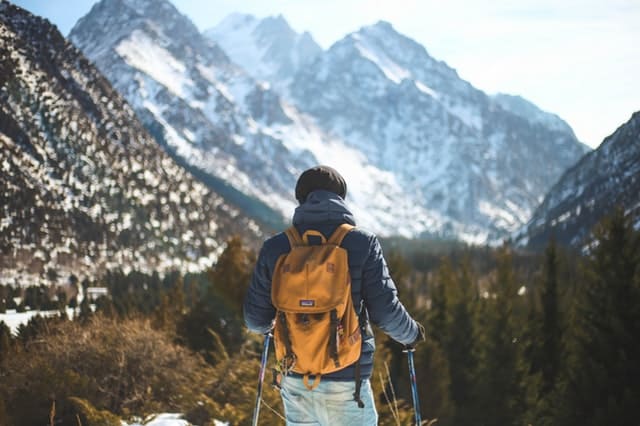 The North Face Recon Backpack
[easyazon_image align="center" height="500″ identifier="B07657ZZ4M" locale="US" src="https://justifyingfun.com/wp-content/uploads/2018/11/41aCgsRShL.jpg" tag="justifyingfun-20″ width="337″]
[easyazon_link identifier="B07657ZZ4M" locale="US" tag="justifyingfun-20″]Click to view current price on Amazon[/easyazon_link]
For your next Recon mission or hiking adventure in the great outdoors The North Face Recon backpack is one of our favourite backpacks for the outdoors. The Recon backpack is tall so the weight is distributed evenly and doesn't spread sideways as it is filled up.
The comfortable straps include some breathable mesh for hot conditions and enough padding to ensure a comfortable and tight fit that isn't too soft and bouncy. North face call the comfortable vented straps a FlexVent suspension system but we prefer to just say it's comfortable to wear, won't make your shoulder ache and is an extremely high quality design.
You've set off early in the morning in the glorious sunshine and suddenly it's raining, your hiking boots and waterproof but you need to know that all your belongings or survival gear aren't soggy inside this Recon bag. Thankfully the water resistant material is good. It isn't a completely waterproof backpack but the water resistant material performs well on a rainy day outdoors, just don't drop it in the river and your equipment will stay dry.
North face have thought of everything and include lots of different pockets, zips, mesh compartments, a light loop, a large main compartment, stash pockets and extended mesh water bottle pockets so you have no excuse for not staying hydrated on the move.
The Recon bag has all the features necessary for a day on the trails but also has a large storage area so can be used as a school or college bag with a great laptop holder and all the pockets you could possibly need to put all your stationery inside.
➡️ Specs:
30L Capacity ✔️
Highly protective laptop compartment ✔️
Water Resistant ✔️
Dimensions: 21.25″ x 14″ x 10.5″  ✔️