What could be more fun than letting your kids experience what it's like to work in a shop. Children love imaginative play activities especially when they allow them to do what the adults do. The toy cash registers we are going to look at today have a scanner and conveyor belts but are they as fun as they look. Let's find out.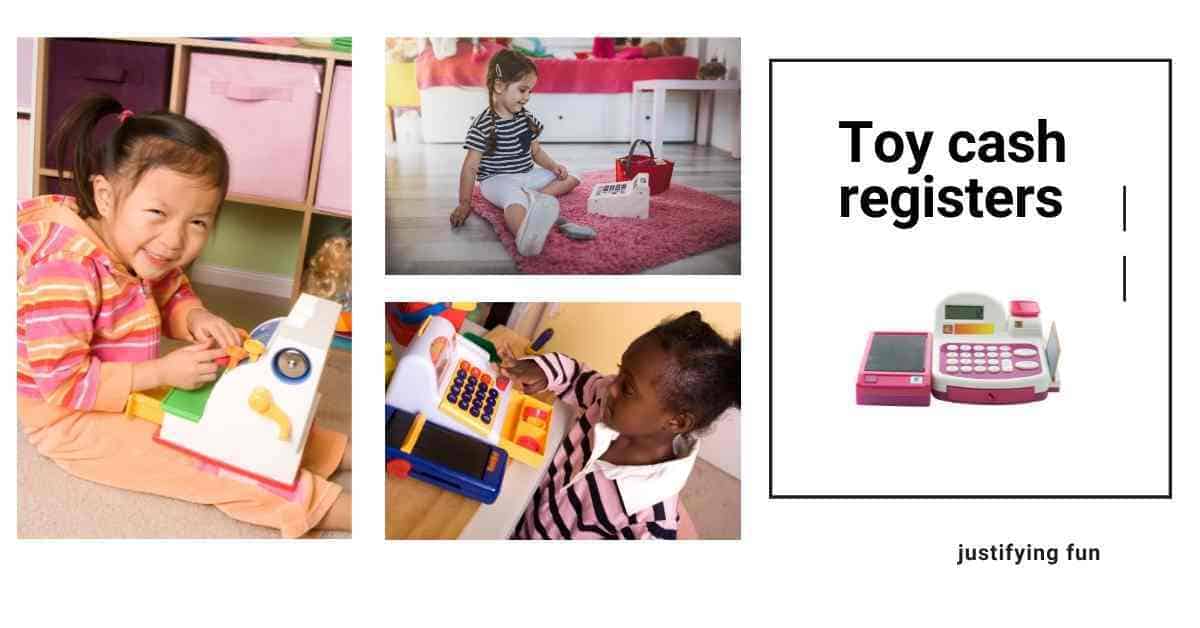 Toy Cash register comparison table
Product image
Fun pink checkout
Modern checkout experience
Popular choice with scanner
Product name
Velocity pretend play cash register
Boley blue toy cash register
Fun pink checkout
Product image
Product name
Velocity pretend play cash register
Modern checkout experience
Product image
Popular choice with scanner
Product image
Product name
Boley blue toy cash register
Why buy a Toy Cash register
Pretend play can be fun and even though kids can use their imagination to turn a cardboard box into the shop of their dreams. It's sometimes nice to have a toy designed to help enhance the play experience. As children, we are always visiting shops. We see all the bright lights, beeping scanner, fun conveyor belts that make our food move and all sorts of other sounds and exciting objects. 
Bringing this experience into the home and giving children the chance to make the beeping sound, scan the food and become the manager of their very own play shop is exciting. We love realistic play experiences that follow the Montessori method of hand-on learning just like children can experience with these play kitchens.
Best Toy Cash registers with scanner and conveyor belt.
It would be easy to fill this article with a million pretend play toy cash registers. These days there are so many cashier toys to choose from but I really want to make your choice easier so I'm sticking to my 3 favourite toy cash registers that have a scanner and a conveyor belt. 
All three offer a fun and realistic imaginative play experience and include a cash drawer, lights and sounds.
Velocity Pretend play cash register 
Click the cash register image to view on Amazon
This velocity toys pretend play electronic cash register is one of my favourites. The pink cash register comes with a moving conveyor belt, cash drawer, microphone, calculator, scanner, credit card swipe and lots of exciting dings and beeps. Swiping the credit card or pressing the button on the scanner will make the sounds just like you hear at the supermarket checkouts. 
The beeping sounds are fun but also really high pitch and most of the buttons make the same noise which might drive you crazy after a while. Having a working conveyor belt is a lot of fun but it isn't automatic, so you have to use your hand to turn the handle and make the groceries move along it.
If you are looking for a pink toy cash register this cute pink till is cheap, loud and has enough fun accessories to please your young shop assistants.
Boley Millennial Tablet cash register 
Click the image above to view on Amazon
The Boley millennial tablet is a much more modern cash register toy. There is a conveyor belt, barcode scanner play food, cash drawer and touch screen. The touch screen looks modern and this is more like a self checkout. The screen works as a calculator and if you press the grocery items a voice says the name of the item. There are realistic beeping sounds and the voice saying the names make this a good learning activity for children.
Boly have gone a long way in modernising cash register toys and for the price this is a good deal but they could have done so much more in terms of improving the quality of the materials and it's much smaller than it looks in the pictures. Kids love it though and the tablet screen is unique. 
It's a nice toy but Boley missed the opportunity to take a step up, increase the price and make a toy that would last a long time and really outshine the competition.
Boley Blue toy cash register 
Click the image above to view on Amazon
This cash register from Boley is a more regular cash register style design. There's a moving conveyor belt, microphone that works, lots of flashing lights sounds and the all-important beeping scanner kids dream of using. This cash register from boley is much more heavy duty and long lasting then their modern ipad style cash register above. In their sales material boley write about how children can improve their maths by using this toy checkout. 
Sure, it's good for counting and helping children recognise different items but ultimately children are looking for a realistic life like experience. What's most important is that children can really immerse themselves in the play experience. They do this by being able to press all the different buttons, hear shop-like sounds and see lights flashing as groceries are scanned and the conveyor belt moves along.
This choice is going to be more enjoyable for most children than our 2nd choice above. This is because they have got all the basics right and have put them together in a solid, sturdy toy cash register with a conveyor belt, scanner and a microphone that works. 
Yes, it will drive you mad after a while, with all the beeping and strange noises children make when they use a microphone, but the price is really low, and you can use this toy to interact with your children and teach them about how to be a helpful, polite and hardworking cashier.  Either that, or you can remove the batteries for a much quieter play experience.
Final thoughts – Comparing the best toy cash registers with scanners.
Let's take a final look at the three cash registers. The Velocity pretend play cash register is better suited to girls because of the pink design but the moving conveyor belt and scanner are excellent. The only downside is that the beeps and sound effects are loud and repetitive. That's realism for you, but perhaps in this case Velocity could have added some more variety of sound effects or a lower volume.
In comparison the Boley Millennial cash register has made use of some useful language learning sounds with the voice saying the names of the different grocery items when you touch the picture of them. This interactive screen is a clever idea and looks much more modern than the other 2 designs. The only problem is that I think it doesn't offer enough innovation, but it is aimed at young children so maybe that's why they didn't over complicate the tablet screen by adding too many features.
Choose this option if your children really like the self-checkouts at your local supermarket, or if they are a little older and want something a little different from the old-style cash register. The Boley blue toy cash register is another great option. If you don't like the pink colour of the velocity checkout but want similar features then this is a nice product. There are even some sound effect buttons that say "bye bye" and "thankyou" to really add to the experience.
All of the toy cash registers above are fun educational toys. They offer a lot of features, including beeping scanners, conveyor belts, flashing lights, toy groceries and lots of other objects to really give your children chance to fully immerse themselves in this shopping experience. 
When I was a child a simple till that opened and closed and had buttons to press was exciting and all these new features can seem like a lot. These days there are so many toys competing to hold our children's attention. The real-world shopping experience has changed too and these toys have changed to match it. Simplicity may be lost but the experience is realistic and there are lots of colours, sounds and buttons to press and give children an absorbing experience working their first shift on the checkout.
Product image
Fun pink checkout
Modern checkout experience
Popular choice with scanner
Product name
Velocity pretend play cash register
Boley blue toy cash register
Fun pink checkout
Product image
Product name
Velocity pretend play cash register
Modern checkout experience
Product image
Popular choice with scanner
Product image
Product name
Boley blue toy cash register