Let's take a look at Gorilla vs Rainbow playsets and review some of their amazing playsets. These companies create some of the biggest and most exciting adventure playgrounds for your children to play on in the back yard.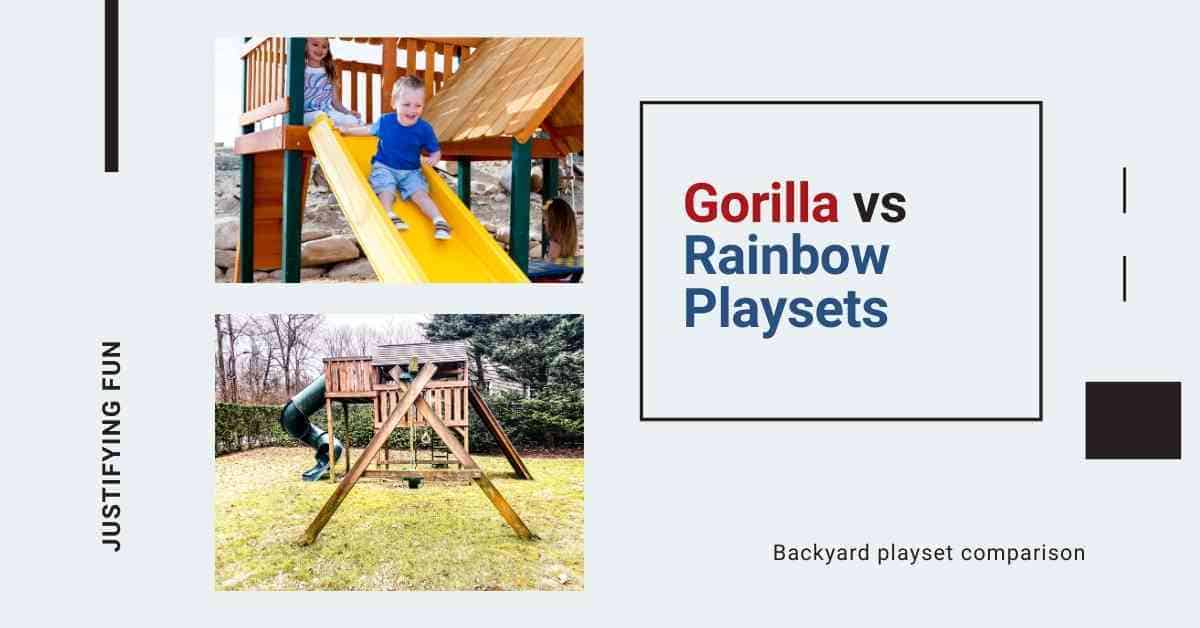 Seeing your children play on these massive structures will make you wish you were a child again. You don't have to take a trip to your local park, instead, you can bring the park and some backyard monkey bars to your own home.
Gorilla playsets are widely available and much more accessible to buy than Rainbow playsets. However, Rainbow play systems offer a massive number of customisable playsets where you can choose which swings, slides and other attachments you'd like on your very own playset. Gorilla playsets are ready to assemble and you can assemble them yourself if you don't want to pay extra for somebody to assemble them for you.
My favourite Gorilla vs Rainbow playsets
Playset image
Excellent value
Popular Playset
Playset product name
Gorilla Outing Wood Swingset
Click to view price on Amazon
Excellent value
Playset image
Click to view price on Amazon
Popular Playset
Playset image
Playset product name
Gorilla Outing Wood Swingset
Click to view price on Amazon
Here are a few of my favourite Gorilla playsets that you can buy online and assemble in your own backyard.
Gorilla Treasure trove I playhouse
Click the image to view the product on Amazon
The Gorilla Treasure Trove I playhouse is one of my favourite playhouses because it is the ultimate adventure playground. First your kids can choose to climb up onto the main top section of the playset by climbing up a climbing wall, rope ladder or wooden ladder.
Once on top of the Treasure trove tree house your young adventurers can choose between sliding quickly down the 7 ft twisting turbo tube slide or making their way across the wooden slats on the rope ladder bridge that takes them to the second tree house tower.
Getting back down to earth from this tower is one of the most exciting pieces of play equipment, the alpine wave slide. Not only are there two treehouse towers but there is also an extra section on this play set that includes space for three different types of swings. You can choose Trapeze swings, belt swing, bucket swings or even flyer swings.
---
Gorilla Outing Wood Swingset
Click the image above to view the product on Amazon
The Gorilla Outing Wood swingset is one of the most popular Gorilla playsets. The light brown cedar wood tone looks rustic and the green windows and sloped roof structure make the playset house look adorable. Underneath the treehouse structure is a sandpit area.
Kids can climb up a step ladder or climbing wall and then slide down the yellow wavy slide before playing in the sandpit or swinging on the swings. If you love to swing slide and climb this is a great playset. It can take several hours to construct, but take your time and try to enjoy the process. We like to think of playset building as constructing your own real life lego set.
Comparing Gorilla and Rainbow Playset price
Both of these play equipment companies produce a wide range of play sets ranging from around $1000 up to well over $4000 for the more expensive and larger play sets. Rainbow play sets are usually more expensive because they are all custom made and you need to choose options and request a price for your required play equipment and accessories.
Gorilla offer much more accessible pricing and are generally cheaper. Gorilla also offer installation for an additional fee so you have the choice of assembling them yourself or paying extra for a professional build.
Rainbow play systems offer extensive warranties and installation of their playgrounds that can add a lot of money onto the price of the play equipment itself depending on which option you choose. Rainbow play systems are built to last and with their playsets being installed professionally you can be sure they will be assembled correctly and be safe to play on for many years.
---
Rainbow play systems vs Gorilla Playset materials
Gorilla playsets are built using 4×6 swing beams. The lumbar used in these swing beams is much thicker and bigger than most playsets and swingsets you can buy online. Gorilla use heavy gauge steel support beams and heavy duty cedar wood lumbar across their range of playsets. Gorilla slides are built using reinforced plastic and include UV inhibitors to protect them from the sun.
Rainbow play systems are also constructed using Cedar lumber, commercial grade hardware, dual bolt construction and a number of other safety materials. The type of Cedar wood Rainbow play sets are built using is Pacific Cedar, which they say is why their play sets can last for a lifetime.
---
Gorilla and Rainbow playset safety feature comparison
Children play on playsets and when children are involved it is really important to make sure you create a product that is safe and has taken into account all the possible ways that children might find to play with play equipment outside of it's intended use.
Making a play set safe isn't only about the construction materials being strong, but also relies on the assembly being accurate and secure and that the structure as a whole works when forces are applied to it in different directions when children slide, swing and climb on it.
Gorilla Playset safety features
Strong swing chains with 800lb rating & coating to prevent kids pinching their fingers in the chain.
Solid 68lb reinforced slide with a single wave design.
UV inhibitors to protect plastic slides from direct sunlight.
4×6 Cedar wood swing beams.
Powder coated swing beam brackets.
Commercial grade hardware.
Gorilla use high quality materials but also understand that it can be difficult to assemble a big playset which is why they offer both professional installation and extensive virtual assembly instructions on their 3d app. Gorillas attention to detail is what sets them aside as one of the top backyard playset manufacturers.
Their swing chains are coated so you can't trap your finger in the chain while swinging. All their wood is sanded and the edges are smooth and round so there are no sharp points. Handles and accessories are also positioned in the place most likely to help your children, climb and slide safely.
Rainbow Playset safety features
Commercial grade hardware.
Angled safety ladders.
Interlocking notched beam construction.
Fastener free play surfaces.
Rainbow create playsets that can be constructed well on most surfaces because of the strong and clever A-frame swing beam supports. Along with the professional construction that comes with every Rainbow play playset, these are very safe products for children to play on.
---
Final thoughts – Rainbow Vs Gorilla playsets
Both Rainbow and Gorilla offer some beautifully crafted and well designed climbing frames. Gorilla playsets are a little bit less expensive and easier to get your hands on, especially if you are willing to follow the extensive instructions and construct the play set yourself.
Gorillas range of playsets are also constructed of a very similar type of cedar wood to the lumber that Rainbow playsets are constructed with.
Rainbow playsets are the ultimate luxury playset and this comes at a higher price and it can take a little while while you wait for construction. Rainbow offers hundreds of accessories and customisable options, so if money isn't a worry for you and you are looking for a high-end garden playground you'll love what they have to offer.
Gorilla playsets are innovative and have fun and exciting designs. The quality of Gorilla playsets is similar to those created by Rainbow and I wouldn't hesitate to recommend both brands playsets equally.
If I had to choose between Gorilla vs Rainbow playsets I'd choose Gorilla just because Rainbow have so many choices and customisable options that it can be difficult to decide which accessories you want.
Playset image
Excellent value
Popular Playset
Playset product name
Gorilla Outing Wood Swingset
Click to view price on Amazon
Excellent value
Playset image
Click to view price on Amazon
Popular Playset
Playset image
Playset product name
Gorilla Outing Wood Swingset
Click to view price on Amazon
More backyard playset reviews:
Backyard adventures playset review
Backyard discovery vs Kidkraft