We know gymnasts love having the best gymnastics bars for home use. Swinging and practising gymnastics skills on a horizontal bar is so much fun. These kip and horizontal bars are for sale at a low price and give gymnasts chance to practice their gymnastics bar skills. Young gymnasts often come home from the gym full of excitable energy. Why not let them burn some of this energy and practice their bar skills on their very own gymnastics bar and improve their horizontal bar and uneven bar skills.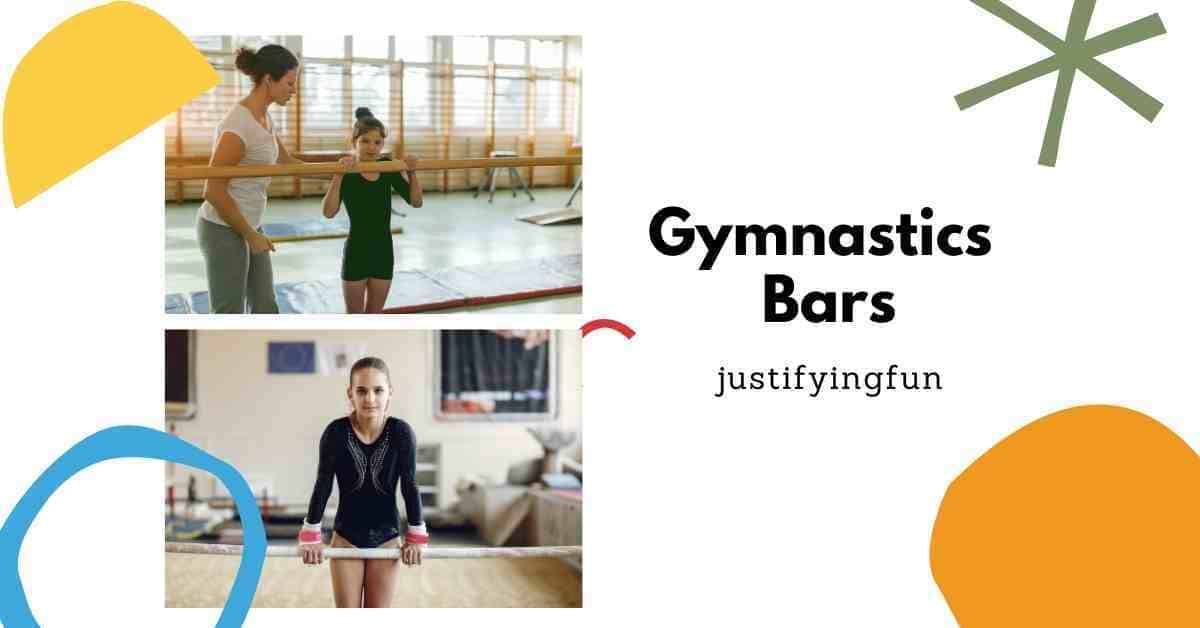 Parents often come to us and ask us to recommend which gymnastics equipment will be safest and best for their children to have fun practising gymnastics kip bar skills at home. Gymnasts can also improve their core and upper body strength using parallette bars if you don't have space for a kip bar. We questioned several experienced gymnasts and reached out to gymnastics coaches & manufacturers to attempt to answer all the questions you might have about the safety and quality of the many gymnastics bars for sale aimed at improving home gymnastics bar skills.
After extensive research we concluded that the following 3 horizontal bar sets are the best for home use for the reasons listed in our detailed product reviews and buyers guide below.
Home Gymnastics bars comparison table
Best Gymnastics Bars
Highly recommended
Strong & Safe design
Great Value Option
Highly recommended
Best Gymnastics Bars
Strong & Safe design
Best Gymnastics Bars
Great Value Option
Best Gymnastics Bars
Most home kip bars can be dismantled and stored away so they are ideal for home use because they don't take up much space. We have reviewed lots of kip and horizontal bars including bars from well known gymnastics brands Tumbl Trak, Z Athletic, Nimble Sport and Joom Beem. Overall we love the brand Tumbl Trak and their Junior Pro bar the most, but choosing the right bar for your gymnast depends on their age, skill level and how much space you have. Your gymnast can quickly improve their Kip and advance up the Junior Olympic gymnastics levels with lots of bar skills in the comfort and safety of your own home.
It is fun and useful having gymnastics bars at home especially when children are working through the lower levels and need to practice their form and build up strength on the horizontal bars. We have also reviewed cheese mats and stall bars, which are great pieces of gymnastics equipment for home practice. We have undertaken extensive gymnastics research and with our gymnastic coaching experience we feel confident recommending the following bars to you.
---
Latest – Top choice gymnastics bars for sale
---
Tumbl Trak Junior PRO Gymnastics Bar
Click image to view price on Amazon
Bar Design – Very sturdy frame for bar skills practice & colourful design. Rounded corners, a compact design and rubber floor pads for grip.
Grip – The wooden Tumbl trak horizontal bar is comfortable, smooth and not slippery.
Assembly – Large hand turned screws for fast assembly and bar height adjustments without tools.
Size & weight limit – 54″x72″ – height is adjustable between 38″ and 59″ and the weight limit is 125lbs.
The Tumbl Trak pro gymnastic bar is ideal for gymnasts who would love more practice time on some home use horizontal bars as they work from gymnastics level 1 upwards. The frame is steel and the bar is made of beech wood, making it strong and durable. Because the bar is made of wood it is very smooth and is slick enough for consistent grip during the kip and for smooth swinging, sliding and turns.
The wooden horizontal bar is durable but not weatherproof so please cover it with a waterproof sheet if being stored outdoors. Ideally the Tumbl Trak junior pro horizontal bars should be kept indoors, which is made easy because they can be dismantled quickly. The rubber mounts on the base allow for a strong grip on wooden floors, solid tiles and carpets. It is important for gymnastics bars to have a strong support so that they are safe and won't slide or move during practice.
Deciding whether to purchase the blue or purple/pink Tumbl Trak bar is usually an easy decision for young gymnasts who love choosing a favourite colour. Whichever colour your gymnasts choose, the enamel paint will ensure the Tumbl Trak Junior Pro horizontal bars are a bright and colourful addition to your home for a long time.
Assembling a gymnastics bar
The Tumbl Trak pro horizontal bar is very easy to assemble and store away without needing any tools because there are 4 large plastic knobs that can be turned quickly without tools so the Tumbl Trak bars can be dismantled & stored away fast. No tools are required for assembly because the frame is connected using large black plastic screws that can be tightened by hand.
Once assembled again the frame takes up 4 ft in width & 6 foot in length. You will need a larger area than this so you can add a 4-6 inch thick gymnastics mat underneath for safety. The height is adjustable between 38-59 inches high.
Who is the Tumbl Trak bar suitable for
Please take into account the height of your gymnast and how high their legs will rise above the bar while performing bar skills. An increase in the length of the side support bars on the floor means that stability is very strong & safe. There is very little flex or horizontal movement during use which allows for consistent performance of the kip & other gymnastics bar routines.
The Softer wooden bar is also safer and more comfortable to grip on to. Overall the Tumbl Trak Pro is a Good quality choice for children looking to practice uneven bar skills and exercise at home. Important safety features have been put in place, including the long side floor supports for greater stability and a compact structure with a clever design that is safe & doesn't take up unnecessary space.
---
Z Athletic Gymnastics Expandable Junior Training Bar
Click the image to view current price on Amazon
Bar Design – Strong steel frame, rail similar in design to the FIG approved gymnastics competition rail.
Grip – The FIG style bar is comfortable to grip on to.
Assembly – A strong vertical rail and adjustable screws make assembly easy.
Dimensions & Weight limit – The maximum weight is 130lb and the height of the bar can be adjusted between 36″ and 58″.
This Z Athletic Junior training bar has been made with a strong steel frame making the overall weight limit a high 130lb. The rail is similar to a competition standard FIG approved rail and the design is colourful as well as being strong and stable.
Gymnasts can use this z athletic bar for conditioning exercises and moving up through the gymnastics levels. Many gymnasts have enjoyed doing level 4 glide swings and front hip circles on this bar. We are impressed with the high quality build and how solid the construction is. An extension kit is available which gives added stability and is worth purchasing if your child is going to be working up towards levels 5 or 6 and practising more dynamic bar skills in the near future.
If your child is able to continuously spin around a kip bar with some force it might be a good idea bolting it to the floor so the frame doesn't move. This frame is constructed using heavy and sturdy steel and the triangular shape of the supports is designed to be safe and steady. The wooden bar itself isn't as smooth as we would like on first use but with use it becomes smoother so your hands glide nicely and don't stick.
The height can easily be adjusted, but you will need two people working together to achieve this. Some of the key features of this bar include a High 130lb maximum weight limit that means even the biggest gymnast can safely practice on this Z Athletic gymnastic bar. Make sure to consider that 4.2 ft x 4.2 ft of floor space is needed to safely fit this bar into your home and the heigh is adjustable between 36 and 39 inches so make sure your room is longer, wider and taller than the bar size because your gymnasts legs will be swinging much higher and further out than you'd expect.
---
---
Nimble sports Purple Junior Adjustable Horizontal Bar
Click image to view current price on Amazon
Nimble sports design & produce their horizontal bars in the United States and it is clear that a lot of care has been taken in designing their horizontal bars. Kids will have lots of fun putting on their gymnastics leotards and performing the kip, front hip circles and other moves on the nimble sports trademark junior purple horizontal bar.
We really like how easy the Nimble sports horizontal bar is to move around. It doesn't fold as it is a solid structure but it only weighs 45lb so is light enough to move. The bar itself is 1 ½ inches round and the maximum weight it will hold is 100lb. If your child is nearing the maximum weight or advancing to level 4+ gymnastics skills and wanting to use the bar for more dynamic skills then consider sand bags or extensions on the supporting legs.
---
Tumbl Trak 5 in 1 Gymnastics Bar
Click image to view current price on Amazon
The Tumbl Trak 5 in 1 gymnastics kip bars for kids are versatile and can be used as parallel bars, mini uneven bars, a wall station, single bar or double horizontal bars. Swinging on these horizontal bars is fun and kids will love being able to practice different gymnastics skills with so many different positions for the bars and also a good height adjustment system between 38 and 59 inches.
It is possible, to position the two bars approximately 6 foot apart and let two kids practice at the same time on two separate single kip bars. When first attempting to adjust the height of these bars they are going to be a little bit stiff, but this will soon ease and some lubricant will make them quickly become easier to adjust. We were impressed with the quality of the metal and wood on these bars and they are very sturdy up to the maximum weight of 125lb. These are some of the highest quality gymnastics bars for kids to practice and improve on with home use.
---
Milliard Kip Bar – Pro Flex
Click image to view price on Amazon
Wow!, this is a new addition to our article and this Milliard gymnastic kip bar is absolutely awesome and blows away a lot of the competition. If your children are gymnasts and love to practice on the bar, this is a wonderful choice with a high grade build. Firstly, lets check out the appearance.
There is a choice of Teal or Hot pink colours. Both are bold and have a striking good looking appearance with the stylish looking brand name flex milliard printed on the frame. The frame itself looks solid and the black section that moves when adjusting the height looks much better with a darker tone than we usually see.
The weight limit is high at 140lbs and Milliard claim there is no need for extra extension legs because of the stable design. We are happy to agree that the Milliard pro flex is stable and performs well even when used by older children closer to the upper weight limit. Caution has to be taken if higher skilled or heavier gymnasts are performing more dynamic skills during practice.
The Pro Flex maple and fibreglass bar feels very smooth to hold onto and during practice the bar flexes nicely just like you would expect from competition standard equipment.Milliard have listed a minimum height limit of 2.5 ft and a maximum height of 5ft5 for gymnasts using the Pro Flex bar in order for them to perform without hitting the air mat below while gliding. We like this attention to safety details.
Now we have told you about the Milliard pro flex kip bar why not try some of the following exercises on it: Skin the cat, leg cuts, casts, milk circles, chin up pullover, hip circles, kip drills and the glide swing.
---
Cheap Gymnastics bars
Some of the bars we have recommended are cheap gymnastics bars when you consider the quality of the product and how long they will last. Your gymnasts safety is most important when performing gymnastics and you want to make sure these home gym bars are going to last for years to come and will be safe and secure.
We recently wrote an article about a selection of the cheapest equipment for gymnastics that is good quality and offers a safe and fun alternative to the higher priced brands.
---
Gymnastics bars buyers guide
The area where you are using your bar at home MUST be free of any obstructions, and not on a slope. Make certain you place a panel mat or safety mat underneath to cushion falls and to land dismounts safely. Adult supervision at all times is necessary. Unsupervised gymnasts may attempt skills that are too difficult and dangerous for their current gymnastic ability. Having a second pair of eyes on you during practice can also help you improve and having a spotter looking out for any potential problems is important.
Smooth horizontal kip bar surface. Strong Vertical supports with tightly fastened connections. Make sure all screws and washers are fastened securely. If there is a pin for adjusting the height make sure it is secured before using the home practice bar. Only one person can use the gymnastics bar. Attempting to let multiple people swing together is dangerous and not recommended.
Grip
A home practice bar should be comfortable to grip onto. The bar should stay firmly in place and not rotate during use. If you ever find a bar isn't smooth enough consider sanding it down a little bit, but definitely wait until you've used it for a while first because a home bar should smooth out after use. It is worth buying a gymnastics hand care kit so that you can protect your bare hands. The Tumbl trak junior pro and Milliard kip bar both have very smooth surfaces on their bars and are consistent with the feeling of gripping regular bars at gymnastics practice.
Size & Height
These Bars come with individual guidance relating to their height. Most can be adjusted incrementally between two heights depending on how tall the gymnast is. A pin usually secures the main kip bar in place during use. Make sure it is securely attached each time you practice.
Maximum weight limit
Be sure that your children weigh less than the maximum weight. Dynamic gymnastics practice on a home bar involves powerful and forceful dynamic movements. When you're swinging and moving on the bar it puts more pressure on the bar and it's supports.
---
Gymnastics bars for sale under $100 dollar
It isn't possible to find some gymnastic bars under $100 but the products we have reviewed are priced reasonably for the quality of bar you will be receiving. These bars are made to last a very long time and therefore it is a worthwhile investment even if they aren't under $100. To find gymnastics bars under $100 you'll have to buy second hand and be extra vigilant in making sure you choose bars that are safe.
---
How much does a gymnastics bar cost?
A gymnastics bar usually costs above $50 but can cost more than $500. The price of a gymnastics bar depends on whether the bar is a kip bar aimed at recreational and young gymnasts or a full size gymnastics bar for sale to be used by older gymnasts. Older and heavier gymnasts need a much bigger and more stable set of gymnastics bars to practice more advanced gymnastics skills. You can buy a gymnastics bar at a much lower cost from less well known brands like Gym 2 dance whereas popular brands like Milliard and Tumbl Trak are much more expensive.
---
How to choose gymnastics bars for home
We believe, after having reviewed several gymnastics bars for sale to the general public that a gymnastics bar can help improve your children's gymnastics skills through the repetition of skills taught by a professional gymnastics coach. During practice on a home kip bar make sure the gymnast is supervised at all times by a responsible adult and that you follow the safety guidelines above.
Although gymnasts have to focus hard on the exercises they perform, it is important to have fun whilst performing gymnastics bar skills so in order to be able to relax and not feel tense when swinging high above the ground or performing challenging exercises that involve a lot of nerve and overcoming fear. If your children love gymnastics they will love being gifted with these bars in their own home where they can improve at the same time as laughing and getting fit and healthy. You will be able to watch them progress and enjoy seeing their skills improve as they swing and build up more strength on the bar. There are lots of benefits that gymnastics offers and having your own equipment allows you to share your love of the sport with your family and friends.
For this guide the Justifying Fun team contacted as many experienced gymnasts and gymnastics coaches as possible and asked for their opinions on the use of home gymnastics bars and their safety. We contacted customers who have already purchased these products and used several online sources for a wider market perspective on the quality of the bars for sale in 2021.
The gymnastics bar manufacturers and brands we have reviewed in this article were all contacted and asked to provide information that confirmed the safety measures put in place in their product design and that important safety information is displayed in their assembly instructions and product information booklet. Some companies complied and we thank them for their cooperation. Those that didn't reply we made sure to check their safety ratings ourselves to make sure they met industry standards and that users hadn't experienced any major problems.
Overall we love the Tumbl trak junior pro gymnastics bars the most but choosing the right bar depends a lot on your gymnasts skill level, age and which bar skills they want to practice. The Z athletic Junior training bar, Tumbl Trak junior pro and Milliard kip bar are all have plastic knobs that make it very easy to adjust the height. I like the brand Tumbl trak but the Milliard kip bar is becoming more and more popular among gymnasts. Choose either and you'll be happy with your decision.
Best Gymnastics Bars
Highly recommended
Strong & Safe design
Great Value Option
Highly recommended
Best Gymnastics Bars
Strong & Safe design
Best Gymnastics Bars
Great Value Option
Best Gymnastics Bars