We have selected some of the best gymnastics gifts so that you can make your loved ones, children, friends & gymnastics coach smile. Gymnastics Gifts are great for Christmas, gymnastics parties and for showing your appreciation to loved ones and friends.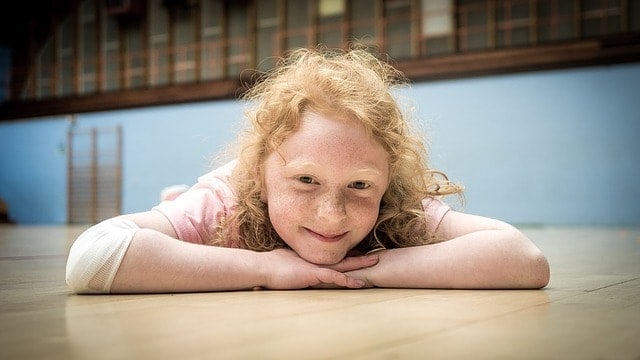 We have separated our gymnastics gift ideas into different sections depending on who you are looking to buy the present for and the occasion.
If you are looking for gymnastics equipment then check out our review of the best cheese mats, Gymnastics panel mats and gymnastics bars. All of our gymnastics equipment reviews can be found in the gymnastics section at the top of the page. Gymnastics gear can make a wonderful and meaningful gift that will last for years to come.
If you are looking for something more personalised or even something as simple as hair ties, gymnastics books, gymnastics hand care or something fun, keep on reading and we will introduce lots of gymnastics gift ideas to you including some token gifts.
---
Gymnastics Coach Gifts
---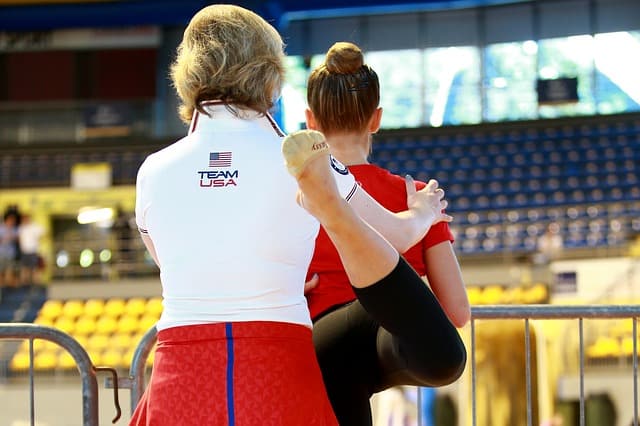 Your coach has helped you or your children progress from wobbly handstands to being able to perform back handsprings on the beam. Every step of the way your gymnastics coach has helped you push past any fears you might have whilst having fun and making friends.
Without a coach any gymnast will struggle to improve and reach a level where they can compete. We hope you will be inspired and get some unique ideas from our list of gymnastics coach gifts.
---
Christmas tree ornament for Gymnastics coach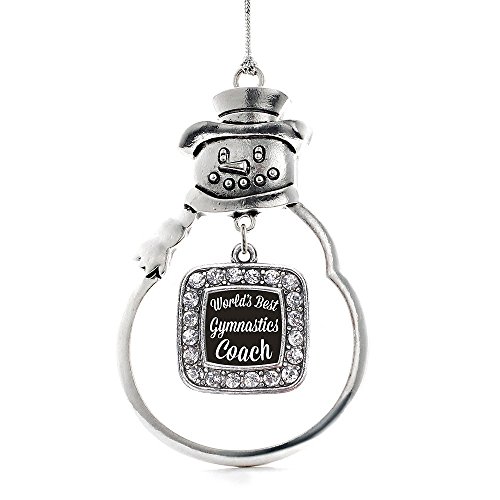 Click Image to view current price on Amazon
Christmas is the time of year for thinking about the people you appreciate the most. Those who have helped you overcome difficult challenges and showed you that you can achieve more then you thought possible, with their helping hand.
A Christmas present for your gymnastics coach is a lovely way to show your appreciation for all the time they've spent helping you practice gymnastics.
This silver snowman with crystals on is a charm that can be hung on a Christmas tree so your coach feels appreciated for all the help they have given you and skills you have learnt from them.
---
Super cool gymnastics coach t shirt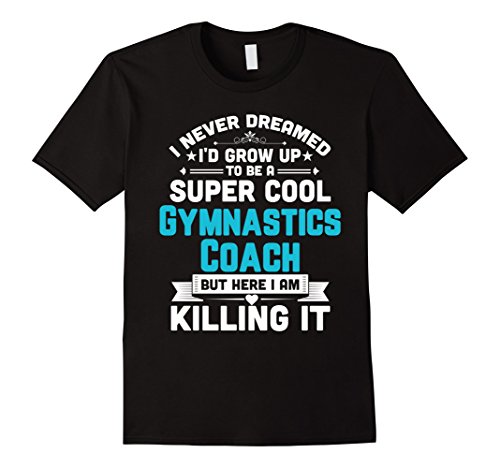 Click the image to view on Amazon
These cotton t-shirts are fun, lightweight and will be sure to make your gymnastics coach laugh. This is one our favourite gymnastics coach gifts because it is fun, light-hearted and everyone needs an entertaining t-shirt.
---
Simply the best coach – Picture Frame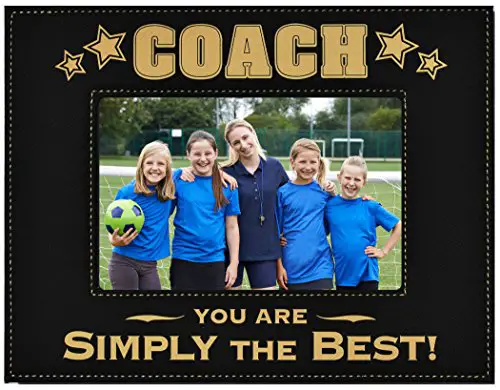 Click image to view current price on Amazon
Make sure you've taken lots of pictures during gym and competitions. Whether you've won anything or not, it's always nice to have a photo of your team mates and coach to look back and remember those fun times when you tumbled off the beam or slipped off the bar during a kip and the coach and your team mates were there to help you back up and motivate you to carry on.
Your gymnastics coach will love this gift because photos bring back memories that will last a lifetime.
---
Gymnastics Wine Tumbler
We love this gymnastics wine tumbler. Your coach deserves to relax after all the hard work they put into your training sessions at the gym. Choose from Black, Hot pink, Teal or Purple to give your coach a nice reward and show your appreciation.
The slogan on the tumbler is lovely and this is one of the best gymnastics coach gifts we have found:
Behind Every Gymnast who believes in themselves is a coach who believed in them first.
---
Gymnastics Gifts For Girls
---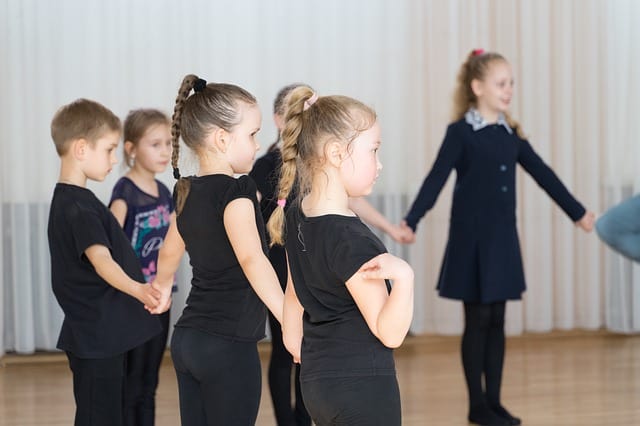 Gymnastics Bangle Bracelet
Click to view current price on Amazon
The bangle has a charm which says she believed she could so she did. Belief is really important in gymnastics. Fear is bound to appear in your mind before performing, especially on the bars or beam. The only way to overcome this is to believe and use the fear and adrenaline to perform to your best ability.
We think this charm is cute and the little figure of a gymnast, I heart gymnastics charm and the motivational slogan make this a nice gift for your friends, daughter or any girls who love gymnastics.
---
Customisable Gymnastics Bag
Click to view current price on Amazon
This nicely sized gym bag has to be customised with a name printed on the side. This is really exciting and fun for gymnasts who like their own personalised equipment that they'll never lose again. There is a shoe compartment and lots of space for gym and dance clothes. We are impressed with the quality and this bag is strong and should last a long time.
---
Silver Tone Crystal Gymnastics Heart Charm
Click Image to view current price on Amazon
This beautiful girly pendant necklace with lots of pink and silver sparkles that look like diamonds is a great gift. Along the center in black writing is the banner which says gymnastics, we love the font and the style and design. This gymnastics pendant is cheap but doesn't look tacky so it is a nice gymnastics gift for girls.
---
Madi Kay Design – Gymnastics Room Decor
This beautiful Madi Kay handmade wooden gymnastics sign is a really nicely crafted gymnastics gift. If you are looking for a nice ornament to place on the mantelpiece or on your dressing table this is a great choice. The following words are printed on the wood, they are simple, inspirational and fun: Jump off the beam, follow your dreams, reach for the stars.
This lovely gymnastics sign is one of our favourite gifts as it can be placed anywhere in your home and still look nice because of it's simple beautiful design.
---
Threadrock – This Is My Handstand T Shirt
Click the image to view on Amazon
This threadbare gymnastics t-shirt is cute and fun present. If you perform a handstand anyone watching will be able to read the phrase – This is my handstand shirt because the letter are upside down.
---
Silvertone Flipping Gymnast Necklace
This snake franco necklace is silvertone with clear stones. We were impressed by the quality of the chain and the gymnast looks beautiful and is shiny almost like a diamond. It could be mistaken for a giraffe at first but you'll quickly notice it looks really good and is a much nicer gift quality  than we expected.
---
Mega Bloks American Girl Mckennas Gymnastics Competition Building Set
If your gymnasts love to build things and play, this is a great gift. It is easy to build your own gymnastics gym. There are , so many pieces of equipment that it is realistic and a lot of fun.
There is a balance beam, podium, gymnastics mat, uneven bars, detailed gymnastics figures with outfits, hula hoop, ball, flowers, plants, speakers, gym bags, water fountains, megaphone, grand stand and locker room, awards ribbons, camera, water bottles and more!
Anyone addicted to gymnastics will absolutely love this and have lots of fun holding their own gymnastics meets from home.
---
Eat Sleep Gymnastics Cinch Sack
[/easyazon_link]Click to view on Amazon
A gymnastics Cinch sack is a casual bag that is easy to carry to practice. This sack is available in 7 different fun vibrant colours and is made of strong fabric that will withstand a lot of throwing around.
This cinch sack is such a simple but lovely design and is stylish for carrying everywhere with you. Make sure all your gymnastics loving friends and children have one in their stocking this Christmas.
---
---
Gymnastics Christmas Gifts
---
Simone Biles Book Courage to Soar: A Body in Motion, A Life in Balance
This Simone Biles gymnastics book is well written and shows the journey Simone Biles took from a challenging early childhood in foster care to reach and win at the Olympics. Her background story is interesting and this book is easy to read and is inspirational for anyone currently working through their gymnastics levels, or for those who enjoy to watch and love the sport.
---
Kurt Adler gymnastics Christmas tree ornaments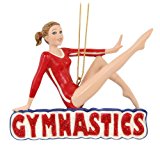 Click to view current price on Amazon
Hanging one of these two Kurt Adlers gymnastic Christmas tree ornaments on your tree will make sure any gymnasts in your family will be reminded of their passion and enjoy decorating the tree with you.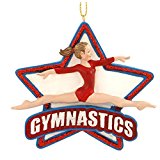 ---
WodWelder Handcare kit for gymnastics
click to view current price on Amazon
We have already written a full review of the awesome WodWelder Handcare kit for gymnastics but wanted to include it in this gymnastics gift guide because this handcare kit makes a lovely and very practical long lasting gift for gymnasts. The packaging is colourful and fun and the design looks high quality.
Included in the kit is a moisturising cream, a quick repair salve and a pumice stone. Hands that are rough and worn end up getting very sore and often gymnasts need to take a break. Using this kit will ensure you are gifting your gymnast friends, family members or daughters with more time on the gymnastics bars with a pain free grip.
---
Fun Express Gymnastics Stickers
click to view current price on Amazon
If the gymnasts in your life love to be creative or just want to decorate their books with awesome gymnastics sticker, there are a great choice gift or stocking filler.
---
Kindred Hearts Dolls gymnastics set
click to view current price on Amazon
If you are looking for gifts for gymnasts who own a kindred hearts doll, this gymnastics set is a wonderful choice. Dress up the kindred hearts doll in a gymnastics outfit and let them perform on the uneven bars, floor mat, balance beam and mini trampoline. What could be more fun than using your imagination to have lots of gymnastics fun with this quality gift.
---
Gymnastics Gifts For Kids
---
Barbie Gymnast
Click to view current price on Amazon
Barbie has her own balance beam and landing mat. Place her on the beam and press to make the cute Barbie gymnast fly up into the air like an acrobat and land on the mat. Toddlers will absolutely love this well made, adorable fun Barbie gymnast  toy.
---
Barbie Gymnastic Coach Dolls & Playset
This is another great barbie gymnastics toy with a working gymnastics bar.  All you have to do is attach barbie to the bar with her hands and then use the handle to spin her round as though she is swinging on the bar herself. Young girls love this interaction and the moving parts are always exciting when children are starting to learn and play.
There is a fun gymnastics ribbon included so she can perform some rhythmic gymnastics and then you can place the included gold medal around here neck and celebrate winning the gymnastics competition.
---
Sunbowstar Gymnastics Ribbon
Every girl wants to be gifted with a gymnastic ribbon so they can practice rhythmic gymnastics at home. It is so much fun to practice spirals, snakes, swirls and figure-eights in your own home with a fun pink ribbon.
---
Fisher Price Dora The Explorer – Fantastic Gymnastics Dora
click to view gymnastics Dora price on Amazon
Children Love Dora the explorer and now they can combine their love for Dora with their love of gymnastics with this cute interactive gift. Dora the gymnast is battery powered and can perform two different gymnastics routines with the help of your young gymnast who will need to follow her voice commands and help more her legs into the correct positions to perform handstands, splits and other fun gymnastics moves.
With battery Power Dora can perform some gymnastics moves independently but at times she will ask for help and need to be moved into the correct positions. Children love to play with her and enter a fun make believe world of gymnastics in your own home.
---
Infinity Collection Sporty Bella Gymnastics Hair Ties
click to view price on amazon
These gymnastics hair ties are great for gymnastics party bag fillers. All the girls will love choosing one of several colours that all have a beautiful silhouette of a gymnasts performing a routine along them.
---
Personalised Gymnastics Gifts
There is nothing more special than giving a personalised gymnastics gift to somebody you love. Here is a selection of some lovely personalised gymnastics gifts.
CustomerGiftsNow Gymnast Water Bottle.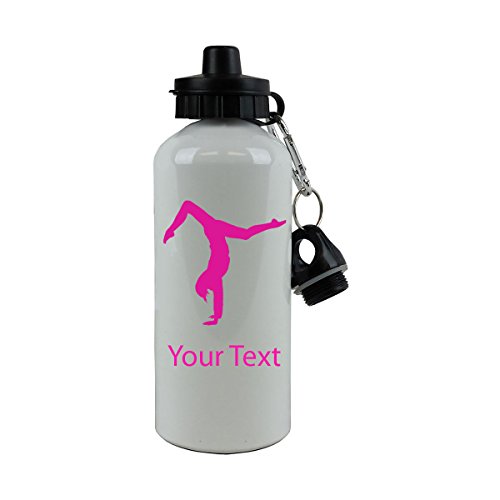 Click the image to view on Amazon
If you are looking for a personalised gymnastics gift this water bottles is a great choice. We like the simple white colour and pink gymnast performing a handstand. Whoever you are buying this for will love having their name or whatever phrase you like on the side of the bottle in a font of your choice.
---
Dotted Designs BPA free water bottle gift.
Click the image to view on Amazon
This is another great personalised water bottle that is transparent. There is a large fun gymnastics silhouette and you can put the birthday girls name on the top or maybe this would be a nice gift to give to your gymnastics team for working so hard.
---
Personalized Gymnastics Wall Decal
Click image to view on Amazon
This is one of our favourite gifts. Every child and teenager loves to decorate their bedroom and we know if you could you would probably love this large gymnast silhouette in your room too.
It has lots of customizable options including size, colour of the gymnast and an option to add your name onto it. The design can be as subtle or as bright as you like. We are sure you will have lots of fun choosing the best option for you.
---
Gymnastics Gifts under $5
Maybe it's Christmas time and you are looking for some gymnastics Christmas stocking fillers or party bag fillers. There are plenty of fun, cute and unique gymnastics gifts under $5 that will make the perfect gymnastics token gift. ( please be aware prices change )
Gymnastics gifts under $10
Spending less than $10 on a gift for a gymnast is possible. For less than $10 you can expect to be able to purchase a book or a cute / pretty novelty item.
Gymnastics gifts for 4 year old
A 4 year old is at the very beginning of their gymnastics journey and at this age children love to play with toys and colourful fun interactive presents are the best choice.
Gymnastics gifts for 7 year old
Most 7 year olds have been taking part in gymnastics for a few years so choosing a gymnastics gift suitable for a 7 year old is easy. If the 7 year old is a family member, try to find out what skills they are practising currently and what level of ability they have. Buying a 7 year old gymnast a present requires some insight into their ability so you can see whether it will be beneficial to reward them with home gymnastics equipment or whether to choose from the personalised gymnastics gifts or more grown up gifts like a gymnastics book.
Gymnastics gifts for 11 year old
An 11 year old is growing up fast and will most likely have a lot of gymnastics experience and have been given a lot of gifts. Here are a few choice we think an 11 year old gymnasts will love to be given on their birthday or Christmas.