Gymnastics is a serious sport but it is also so much fun. Gymnasts love to invite all their friends and have gymnastics themed birthday parties. I want to help you organise the most amazing gymnastics party by showing you some of the best gymnastics party ideas and putting all the best gymnastics party supplies in one place so you can find them easily.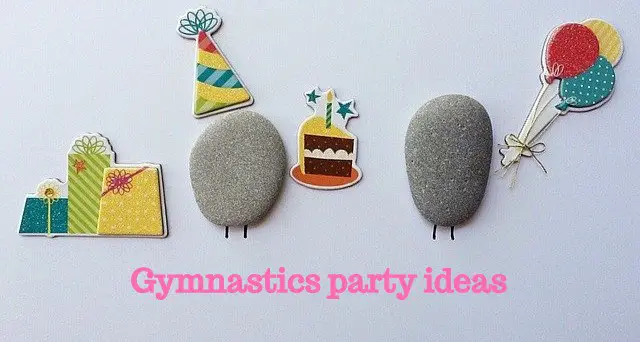 Gymnasts don't only have parties to celebrate birthdays, you can celebrate your team winning a gymnastics meet or other big occasions you want to celebrate in a unique and enjoyable gymnastics way! Firstly check out some of our favourite party supplies in the table below and scroll down to the different sections to find out about how to make a gymnastics party you'll remember forever.
A great party needs to be themed around gymnastics in some way. You can create a gymnastics cake, add decorations around the room, play gymnastics games, create unique gymnastics party bags with guests names on them, perform some supervised tumbling skills safely on a gymnastics mat and so many more exciting activities. Take a look below to see our favourite party supplies and ideas.
Gymnastics party decorations
Click the image above to view on Amazon
This pink purple and blue gymnastics banner has a simple design with an image of tumbling gymnasts on either end. I like to hang this kind of banner on the wall near the table but it can also be used at the entrance to your party venue.
Click the image above to view on Amazon
This gymnastics garland is a big 90 inches long and has 16 pennants showing gymnastics performing different skills and floor routines. There are 4 unique gymnasts so the pattern looks great.
Click the image to view on Amazon
The transparent purple and pink letters really stand out and make this shiny banner a lot of fun.
I really like this pack of circular gymnastics themed confetti pieces that come in a variety of sizes. You can place these on any table top to make the table more colourful, with different coloured images showing gymnasts performing different skills and the words tumble flip and twirl.
No party is complete without a pack of disposable cups, plates and napkins. This pack has 16 desert plates, 16 dinner plates, 16 cups, 20 napkins and 2 large table covers. I really like the vibrant colours and silhouette of gymnasts performing realistic looking skills.
These purple and blue gymnastics tableware are pretty and the cartoon character figure perform floors skills and on the beam. You'll get 24 of each item plus 50 Napkins so this party dinner set is great value.
Why not set up your own photo booth using these exciting gymnastics themed props and have a laugh together pulling funny faces and gymnastics poses while holding the different props and creating memories.
These gymnastics birthday invitations invite guests to come jump flip and play. There is space on the invitation to write the date, time , location and to confirm RSVP. I like the cute design and there are envelopes included.
I adore these gymnastics party table decorations. Decorate the table with the 15 tumble flip and twirl table toppers to make the table look pretty for all the guests.
---
Gymnastics party bag ideas
Turn any bag into a gymnastics party bag by adding these large and colourful stickers that thank guest for tumbling on over! ha ha. You can add the bags to any kind of disposable bag or give your guests a higher quality long lasting gym bag filled with gymnastic goodies to take away with them.
Click to view price on Amazon
This eat sleep gymnastics drawstring bag makes the perfect long lasting party big. Give guest a long lasting bag that they can use to take with them to the gym or your next gymnastics meet.
Click the image to view price on Amazon
I love these gymnastics party favour bags that are small and ideal to use as a small party bag to fill with some goodies that gymnasts can take home with them.
Click the image to view price on Amazon
These small gymnastics favour boxes look popcorn boxes but can be used to place on the table at any party and put some candies or small gifts inside for your gymnast guests to take away with them.
Click image to view on Amazon
This gymnastics favor box is another with the popular tumble flip and twirl writing on it and there are some other fun gymnastics words across the box. This is a stylish and good quality design that your guests will love.
These stickers are a great idea for a party bag filler. Stick them onto your favourite chocolate bars or bags of candy and create gymnastics party bag fillers that say tumble flip and twirl.
Click picture to view price on Amazon
These cute straws with stick on gymnastics figures are a nice touch to add to the disposable party drink cups above.
Click image to view on Amazon
Cut some stickers from the 100 on this roll and place them inside a party bag. All your gymnastics guests will have fun finding somewhere to stick them when they get home.
Gymnasts never have enough hair ties and I think these pink and purple gymnastics hair ties are a great idea as a gift for gymnasts in a party bag.
These shiny sportybella hair ties are really sparkly and pretty.
Gymnastics birthday party cake ideas
If you can get your own gymnastics birthday cake made that's a great ideas but if not you can buy this cake topper to turn any cake into a shiny gold and purple gymnastic figure cake that looks really beautiful.