Are you in search of the perfect gymnastics shoes for tumbling? Look no further! In this comprehensive guide, we'll discuss the key factors to consider when choosing the right shoes, including the best materials, fit, and styles. We'll also review some of the top options available on the market to help you find the perfect pair. Whether you're a beginner or a seasoned gymnast, having the right shoes can make a significant difference in your performance and comfort.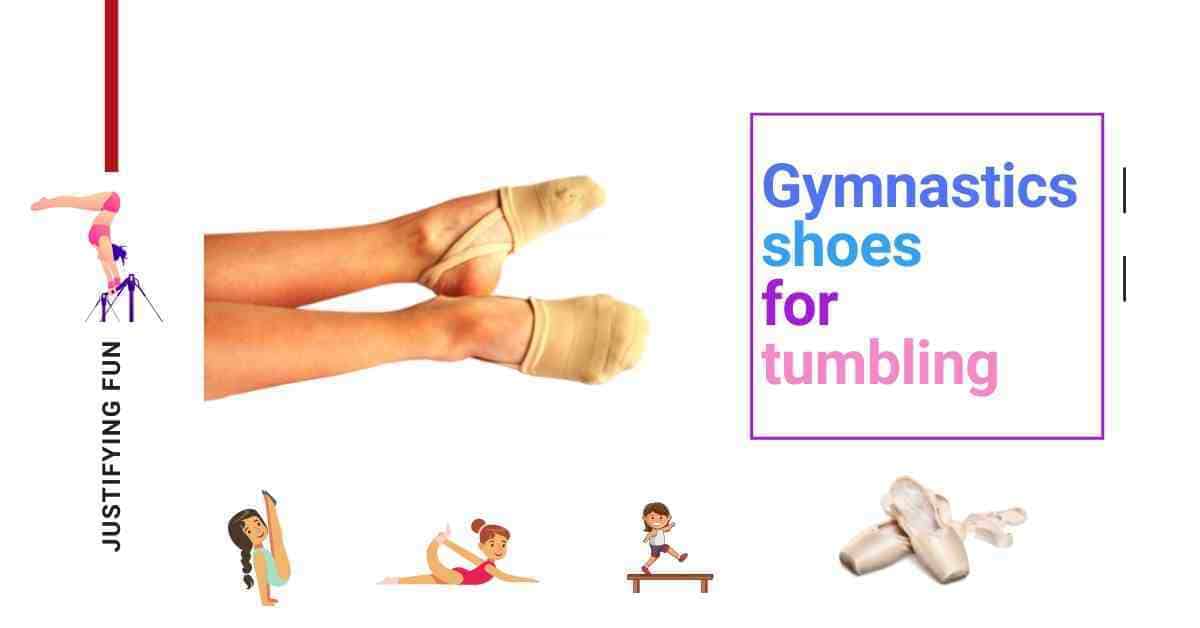 Having said all that, sometimes it isn't necessary to wear shoes and gymnastics meets are usually barefoot. This is especially true for newcomers to gymnastics so they can buildup the right amount of strength and flexibility in the lower extremities. However, hard surfaces and wintery cold conditions will necessitate having a pair of shoes for tumbling practice.
Product image
Durable leather shoe
Soft and durable tumbling shoes
Product name
Capezio Daisy Ballet Shoe
Beck unisex gymnastics shoe
Durable leather shoe
Product image
Product name
Capezio Daisy Ballet Shoe
Soft and durable tumbling shoes
Product image
Product name
Beck unisex gymnastics shoe
What to Look for in Gymnastics Shoes for Tumbling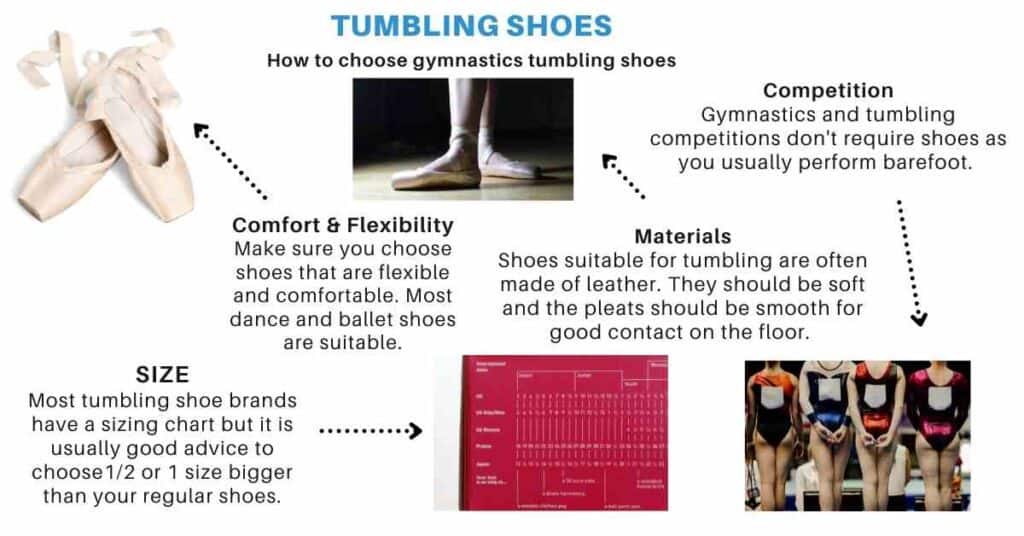 Ideal materials
When it comes to gymnastics shoes for tumbling, the best materials are soft, durable, and elastic. Some popular choices include leather, felt, faux suede, microfiber, cotton, nylon, and elastane. Manufacturers often combine these materials to create the perfect blend of comfort, flexibility, and durability. Avoid shoes with stiff soles, like those designed for football, wrestling, or skateboarding. Instead, opt for shoes specifically designed for activities like ballet, yoga, and dance.
The Right Size and Fit
Getting the correct size and fit is crucial for a comfortable and effective pair of gymnastics shoes. Your shoes should fit snugly without being too tight, allowing for some swelling after intense practice. It's often recommended to go for a half or full size larger than your regular shoe size. Make sure to consult the brand's sizing chart and compare it to your regular shoe size to find the best fit.
When to Wear Gymnastics Shoes for Tumbling
While newcomers to gymnastics might benefit from practicing barefoot to build strength and flexibility, wearing shoes becomes essential when training on hard surfaces or during cold weather. Wearing shoes can help protect your feet and reduce the risk of injuries like shin splints, especially when practicing on concrete or other non-porous materials.
But, every brand is different and should have a sizing chart comparing your regular shoes size with their brand and making you aware of any adjustments in size you might need to make compared to your regular shoes.
Wearing versus Not Wearing Gymnastics Shoes
But, also keep in mind you may not always have to wear tumbling shoes for gymnastics. For newcomers to the artistic sport, wearing no shoes at first helps build muscles and endurance in the feet, heels, ankles, legs, thighs, lower back and buttocks. These are essential areas requiring strength and flexibility for tiptop performance.
However, when concrete or other non-porous material will be the practice surface, shoes are essential. These kinds of surfaces have the potential to induce shin splints along with excruciating knee, joint and tendon pain. This is because such materials have no give and the shock goes back into the body rather than the surface.
Also, the time of year will determine whether a gymnast should wear shoes or not. Spring, summer and the early parts of autumn are okay to not wear shoes. But, when temperatures drop below 60°F, shoes are imperative to wear. The cooler temperatures increase chances of injury, especially in the feet.
Top Gymnastics Shoes for Tumbling: A Comparison
In this section, we'll review two popular options for gymnastics shoes and discuss their features, pros, and cons.
Capezio Daisy Ballet Shoe
Click the image above to view on Amazon
Pros:
Made of 100% leather, providing durability and flexibility
Cotton inner lining for added comfort
Lightweight design with crisscross elastic over the foot
Cons:
Elastic bands may break easily
Inconsistent stitching in some pairs
The Capezio Daisy Ballet Shoe is a trusted option for gymnastics and ballet enthusiasts alike. Made of durable leather and featuring a soft cotton lining, these shoes offer comfort and flexibility for tumbling. However, some users have reported issues with the elastic bands and inconsistent stitching.
Capezio is a long-time trusted brand for all things dance related, specifically ballet. Their Daisy Shoe (#205) is not only ideal for their intended purpose but also tumbling in gymnastics. This is because they comprise 100% leather. The sole, upper and outsole are all leather or suede and provide the utmost durability.
They also have an inner lining of cotton with a daisy print on them, making them comfortable and light while also being able to take a beating. These ballet shoes by Capezio are so lightweight you hardly know you have them on, even with the crisscross elastic over the top of the foot.
While many people praise these shoes, there are a few problems people sometimes experience. The elastic bands covering the top of the foot do tend to break rather easily and it seems the stitching is inconsistent. Most pairs have solid stitching while others fall apart too easily.
Beck Unisex Gymnastics Shoe
Click the image above to view on Amazon
Pros:
Slip-on style without elastic bands
Soft rubber sole for easy gripping
Durable synthetic textile construction
Suitable for short-distance walking
Cons:
Holes may develop in the sole after limited use
Some users find the rubber sole too grippy for certain techniques
The Beck Unisex Gymnastics Shoe is another excellent option for tumbling, featuring a slip-on style and a soft rubber sole for easy gripping. Made of durable synthetic textiles, these shoes are designed for longevity. However, some users have reported issues with holes developing in the sole and difficulties executing certain techniques due to the grippy rubber sole.
The gymnastics shoes offered by Beck are a good option for tumbling. They offer a huge line of shoes for children and adults. They're the slip-on style, so you don't have to worry about elastic bands breaking. Plus, the soft rubber sole allows you to grip the mat or floor with ease. They're made of synthetic textiles intended for durability, so they will last a long time. Plus, their design is good for short-distance walking. This means you won't have to change your shoes right away if it isn't convenient.
However, as with everything, there are a few pitfalls. For instance, some users report huge holes developing in the sole after a handful of uses. Other say they don't like how much the rubber sole grips the tumbling area and tends to make some gymnastic techniques difficult.
Caring for Your Gymnastics Shoes for Tumbling
To ensure the longevity of your gymnastics shoes and maintain their performance, it's essential to take proper care of them. Here are some tips on how to care for your gymnastics shoes for tumbling:
Clean your shoes regularly: After each practice session, make sure to clean your shoes to remove any dirt, sweat, or chalk. Use a damp cloth to gently wipe down the surface of the shoes. For leather shoes, you can use a mild soap and water mixture, but be cautious not to soak the shoes. For synthetic materials, a simple wipe down with a damp cloth should suffice.
Dry your shoes properly: After cleaning your shoes, allow them to air dry at room temperature. Avoid exposing them to direct sunlight or using a hairdryer, as this can cause the materials to shrink, crack, or become brittle. Placing crumpled newspaper inside the shoes can help absorb moisture and maintain their shape while drying.
Store your shoes correctly: When not in use, store your gymnastics shoes in a cool, dry place away from direct sunlight. Avoid storing them in plastic bags or tightly sealed containers, as this can trap moisture and lead to the growth of mold or mildew. A breathable shoe bag or a designated spot in your gym bag is ideal for storage.
Rotate your shoes: If you practice frequently, consider investing in two pairs of gymnastics shoes and rotating them to allow each pair time to rest and recover between sessions. This can help extend the lifespan of your shoes and maintain their shape and support.
Check for wear and tear: Inspect your shoes regularly for any signs of wear, such as thinning soles, loose stitching, or damaged materials. Addressing minor issues early can help prevent more significant problems and ensure your shoes continue to provide the support and protection you need.
Replace your shoes when necessary: Gymnastics shoes are designed to withstand the demands of tumbling, but they won't last forever. Be prepared to replace your shoes when they show significant signs of wear or no longer provide adequate support and comfort.
By following these care tips, you can extend the life of your gymnastics shoes for tumbling and ensure they remain comfortable and supportive throughout your practice sessions. Proper care and maintenance not only help protect your investment but also contribute to your overall performance and success in the sport.
Final Thoughts: Choosing the Perfect Gymnastics Shoes for Tumbling
When buying a pair of gymnastics shoes, it's a good idea to touch and feel them before you buy and consult sizing charts. This way you can ensure the perfect fit and that the style will be right for tumbling. Remember, they should be soft and pliable yet durable. If you are buying shoes online be sure to read reviews and check that other people have also used them for tumbling and found them to be comfortable and suitable for the tumbling skills you will be performing.
Tumbling competitions are usually barefoot because there is no restriction on the flexibility and movement of your feet. However, training and learning tumbling skills takes a lot of practice in the gym. Tumbling shoes can protect your toes and feet from the intense movements you'll be performing and reduce the chance of injuries like shin splints.
Gymnastics shoes are important because they provide the grip and support needed to safely execute tumbling passes. There are many different brands and styles of gymnastics shoes, so it is important to do some research to find the right pair for you. The most important thing is to make sure that the shoes fit well and provide adequate support.
If you are a beginner, gymnastics shoes for tumbling are not required but recommended. That being said, if you are serious about the sport and plan on competing, then you will need a pair of good quality gymnastics shoes to help you through the long gym sessions.
Remember that while tumbling competitions are usually performed barefoot, practicing and learning tumbling skills in the gym requires a supportive and protective pair of shoes. Gymnastics shoes can help protect your feet from intense movements and reduce the chance of injuries like shin splints.
In conclusion, investing in a high-quality pair of gymnastics shoes for tumbling is crucial for any gymnast, regardless of their skill level. With the right shoes, you'll enjoy improved comfort, support, and performance, allowing you to focus on mastering your tumbling skills and achieving your gymnastics goals. So, take the time to research and find the best pair of shoes that meet your specific needs and preferences. Happy tumbling!