We all love to workout once we are old enough to join a gym and safely use fitness equipment. Toddlers are way too young to start working out properly, but pretend play is a lot of fun for kids and I've found some fun kids workout equipment for toddlers that gives kids exercise on some fun and colourful toy gym equipment.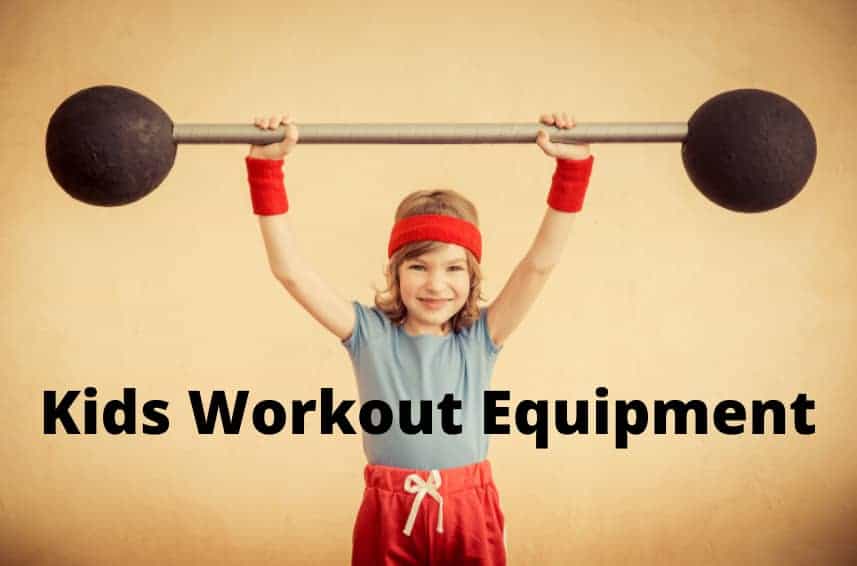 This gym equipment looks like the real thing, but is colourful, very safe and a much smaller size and aimed at helping children exercise with a low impact workout but most importantly use their imagination to take part in some exciting pretend play.
Product image
fun play treadmill
Exercise & Learn
Kids workout bench
Click to view product on Amazon
fun play treadmill
Product image
Click to view product on Amazon
Exercise & Learn
Product image
Click to view product on Amazon
Kids workout bench
Product image
Click to view product on Amazon
Our favourite junior gym equipment.
Junior gym equipment is basically toy gym equipment that is colourful, fun to use and also gives young children the chance to exercise safely on small treadmills, bench press and air walkers.
Kids treadmill review – Redmon fun and fitness
Click the image to view the product on Amazon
Redmon fun and fitness are well known for creating some of the most exciting play exercise equipment for children. It's time to start running and what better way to burn off some calories and get your children ready to sleep before bed time than to stand on this bright red and blue plastic treadmill and run some imaginary marathons.
If you have a full size treadmill your children can run alongside you on this toy treadmill. What makes this treadmill great for children is the fact that it isn't motorised so there is no risk of children straining themselves when they accidentally put the speed up too high and can't stop. The red running track surface moves while you hold onto the handles and run.
The design is strong and stable with the four wide feet on the bases that make sure this mini treadmill can't tip over or tilt no matter how fast your little Usain Bolts are!.
This Redmond children's treadmill is designed for children aged 3 to 6 years old and is colourful and fun looking for youngsters to want to play on it. On the front bar is an electronic monitor that is powered by batteries and is a fun additional that helps make this exercise play experience more realistic and fun for kids.
---
Kids bench press – Redmon weight bench press
Click image to view product on Amazon
Toddlers love to take part in all the fun grown up activities they see mum and dad doing. It's long been fun to take part in pretend play with replica mini kitchens, children's cleaning toys to mimic doing the household chores, toy cash registers and pretend cars to drive. Now toddlers can have their very own mini play bench press just like mum and dad.
Toddlers definitely aren't looking to get stronger or tone their bodies, so this kids bench press is a fun self propelled kid safe toy.
Children love to experience the world around them and this bench allows them to step into the adult world using their imagination to feel like they are really working out, lifting the colourful easy to lift foam weight. You can even teach children the correct technique so if they do workout when they are older they'll already have some experience.
Toddlers aren't very excited by black, silver and plain coloured gym equipment so this colourful bench is designed to be appealing and exciting for children. The three feet on the base are wide and stable. The main frame is blue and yellow mixed in with a red bench, making this a colourful and fun looking piece of play gym equipment. Children can choose to bench press, leg curl or practice their leg lifts.
The bench press weight bar is 4.2 lbs in total, with the highest individual weight of one of the foam weights, being 10 oz. It may luck colourful, but the main body of this bench is made of steel, which is mos sections is covered in a protective and soft foam wrap.
The overall length of the bench is about 24 " long and would be most suitable for children under 4 ft tall, because taller children may find their head or bottom doesn't fit comfortable on the bench.
---
Toy Gym Redmon Air Walker
No products found.
Click image to view product on Amazon
Redmond have built up a reputation for creating some of the best kids workout equipment. There are very few brands creating this kind of equipment which is a shame because I've seen children really wanting to lift their parents weights or workout with their parents so many times and instead they have to sit and play with other toys.
Now they can really feel grown up and like they are taking part with you as you workout alongside them, or, after watching you workout at the gym your children can come home and workout themselves while you relax and show them how it works. This air walker is just like mum and dad's, with an odometer and exciting stable design.
Air walkers can be a fun cardio workout, even for us adults. Not only do they offer some exercise but the motion is an unusual and fun motion that you don't experience with any other gym or sports equipment in quite the same way. It feels like you are floating, cycling and running all in one motion.
For children this is one of the most fun piece of equipment to bring home because it looks and moves like a piece of play equipment you might find at the local park, even though it is designed for a children's gym.
As with Redmond's other workout equipment, this is another fun piece of apparatus that promotes a healthy lifestyle and has the red yellow and blue colour design that makes the experience more exciting for young children who are drawn to colourful objects.
The resistance mechanism on this air walker is air, the product meets CPSIA requirements and standards and is 27″ long, 17″ wide and 31″ tall. The frame will support children that weight up to 100lbs and can be used by children over the age of 3. An air walker is great for giving your children some exercise without the pressure on their growing joints that running and other more intense activities do.
Children can also use this air walker to create other imaginary adventures, which is what children do so wonderfully with any object or situation.
---
Liberty Imports Barbell toy
Click the image to view product on Amazon
Liberty imports have shrunk free weight training equipment into this smaller version of the barbell adults love to workout with. Children aren't looking to get strong, but often like to try out new activities and exercises, with all the energy they have to burn.
I never thought I'd consider a barbell for kids, but this option is a fun piece of play equipment that is as much a fun imaginative play toy as it is a gentle piece of pretend exercise equipment that can help children take part in some fun, gentle exercise.
If you do want to increase the weight you can add water or sand into the dumbbells but this can be a little tricky. If you are looking for a cheap and fun pretend workout toy this is a fun choice that can also help toddlers learn how muscles work and move.
---
Fisher Price think and learn smart cycle review
Click the image above to view the current price on Amazon
Fisher price are known for their innovative toys that mix technology, learning and fun. This smart cycle toy manages to combine technology, games, exercise and learning in one exciting toy that is definitely my favourite play workout toy. The Fisher price smart cycle toy has handle bars and bicycle style pedals for your children to pedal on.
Kids must pedal while navigating their way through the driving and racing games which can appear on either your TV screen or a tablet connected into the holder on the front of the bike.
To navigate, you need to turn the handlebars or use the joystick and other input controls while peddling too. There are a number of apps you can play on using the smart cycle workout toy and some of them are maths, STEM and science based activities to encourage learning through physical exercise.
Depending on how tall your children are you can adjust the seat up and down, bringing their legs closer or further away from the pedals and handlebars. Overall the smart cycle bike helps develop a combination of hand eye and leg coordination and physical development. This is more than just a workout tool but kids love it.
Redmon for kids multi-function rower
Click the image above to view the product on Amazon
Now it's time for your toddlers to learn to row. They probably already know how to sing row row row the boat gently down the stream so why not encourage them to sing the song while rowing on this exciting blue and yellow play fitness toy. This kids rower is the real deal but a much lower impact workout than a regular rower you might find down the gym. It is easy to assemble and takes up a small space in your home. The air cylinders do offer a little resistance but it is not strenuous for children and offers a very gentle exercise session for youngsters.
---
LIOOBO Pretend Play Dumbells
Click the image to view the product on Amazon
This colourful dumbbell set is the perfect play set to use in a kindergarten or any toddler exercise class. I love the green, yellow, red and blue colours and the tough plastic material design. Help children improve their hand eye and arm coordination skills with these very light dumbbells. Working out alongside mummy and daddy has never been so much fun. It's also a lot of fun to hold these toy dumbbells while dancing or warming up before a toddler gymnastics class.
---
Avenor Toddler trampoline
Click the image to view the product on Amazon
A small trampoline is the perfect piece of toddler exercise equipment because it mixes fun and fitness with the opportunity for toddlers to have a lot of fun. Children love to jump and bounce and this trampoline is springy and safe to jump up and down on as part of a low impact workout.
The Avenor trampoline has a foam handle which kids can hold on to while they jump up and down and a padded spring cover around the bouncy surface. It is suitable for children aged 2 years and older with a maximum weight of 150 lbs.
---
Why I love kid-size exercise equipment
We all know that finding ways to keep children entertained while making sure they have a lot of exercise to keep their bodies healthy as they grow is an important part of being a parent. Baby gym equipment might look like regular gym equipment but it is designed more for pretend play and light exercises which are suitable for young children. Whether you choose to let your children pay with toddler dumbbells, exercises bikes, a rowing machine or another piece of exercise equipment, you are giving them the opportunity to have fun while keeping fit.
Kid-size exercise equipment is designed with safety and fun in mind. Children love colourful objects and most of the exercise gear that is suitable for them, is also very colourful and looks like an exciting new toy. Help your children improve their mobility, balance, coordination and other psychical abilities with the use of one of the fun toys above.
Even if your kids don't exercise a lot on this kids fitness equipment they might enjoy using their imaginations to pretend to be mum or dad, or even workout alongside you on their very own equipment while they begin to feel grown up and show you how fast and strong their little bodies are. I hope you've enjoyed looking at the kids workout equipment above and that your kids have a lot of fun playing with them.
Product image
fun play treadmill
Exercise & Learn
Kids workout bench
Click to view product on Amazon
fun play treadmill
Product image
Click to view product on Amazon
Exercise & Learn
Product image
Click to view product on Amazon
Kids workout bench
Product image
Click to view product on Amazon