Before I show you which kitchen I believe is the best play kitchen for a 8 year old I'm going to tell you what most 8 year olds want to experience when they play. Most play kitchens are designed with a 3-6 year old in mind so it takes a little bit more effort to keep an 8 year old engaged and having fun with a play kitchen. Keep reading to find out which play kitchen they'll love and why you might want to choose a cooking kit or real working kids oven too.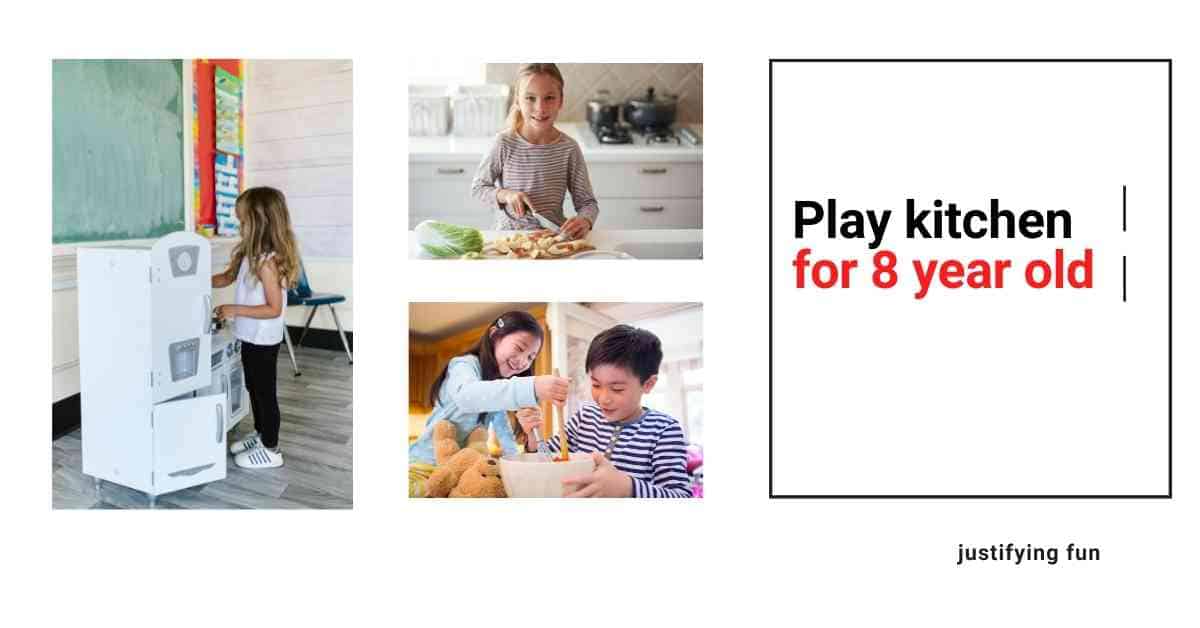 A play kitchen for a 8 year old is usually bigger in size and looks a lot more realistic than a toddlers plastic play kitchen. An 8 year old loves realism which is why the kitchen has to be bigger, realisic and come with the sounds and utensils you expect to find in your own kitchen. At 8 years old children can start to use real cooking kits and mini ovens designed to be used with a parents supervision so you might want to consider these to compliment or as an alternative for a play kitchen.
Every child is different so you know your children much better than me, but if you are buying for somebody you don't know as well or you really want to think a little more about which choice is going to be the most fun and educational for an 8 year old child then stick with me and I'll show you my thought process and the kitchens I chose when buying a gift for my 8 year old nephew.
Lil jumbo store realistic wooden kitchen
Click the image above to view on Amazon
This kitchen from Lil Jumbo store looks a little cartoony in style but is nicely crafted using wood and offers one of the most realistic kitchen play experiences for a number of reasons. The first of those reasons and in my opinion the biggest reason to buy this set is the real working tap. Water flows continuously through the tap and into the sink and back through the tap again so you don't have to keep filling up the sink. Practice washing up all the kitchen utensils and pots and pans for as long as you like.
Some play kitchens have pretend doors but with the Lil jumbo store wooden kitchen you can open and close the washing machine, cupboard and microwave door. The kitchen space is organised well with hooks to hang cookware on and spaces for the plastic cleaning supplies, tableware and cutlery included in the set. Kids can pretend to cook, wash up and clean the kitchen so you'll have them well trained and ready to help you in the "big" kitchen soon.
I love the attention to detail with the lights and kitchen sound on the stove and other appliances that make this play experience more realistic and fun. When comparing this kitchen set with the brands kitchens, this is one of the very few that has a running tap. A lot of designs have an ice machine but in my opinion the running water feature for washing the dishes is a lot more exciting than being able to make some ice cubes and who doesn't want their kids becoming experts in washing up.
Give your 8 year old a real baking experience – Easy bake ultimate oven
Click the image above to view on Amazon
Play kitchens are fun and offer your children the chance to practice moving around a kitchen, picking up and trying out the different utensils and imaging what they might do in aa real kitchen. They'll have watched you many times so it's easy to pretend to be mum or dad and copy what they do. With running water to wash up, ice machines and realistic sounds the play kitchen above is fun but why not also let your 8 year old really bake something in their very own mini oven.
The easy bake oven is a great little starter oven if your kids love to bake or want to experience it. This kit isn't perfect but its one of the better options from a small number to choose from. This kit comes with a baking tray, pan tool, chocolate brownie mixture, cupcake mix and cupcake liners. it comes with some ready to use ingredient mixtures but after using these, instead of buying more expensive kits, just use regular recipes and use much less of each ingredient to make sure its the right amount for a mini oven. This is a good starting point for kids who love the kitchen and can really help them find whether they have a passion for baking or cooking.
Kids cooking and baking set – Tovla Jr
8 year olds like to get their hands stuck into learning new skills and the Tovla Jr cooking and baking set has all the cooking supplies to get a child started helping you out in the kitchen. What makes this set different from regular kitchen utensils is that each item is smaller so a child can hold onto it much easier and more safely. The knives are still sharp but all the utensils are made using food grade materials so they aren't toxic. The set includes the following main items.
Spatula.
Rolling pin.
Tongue.
A set of different size knives.
Cookie cutters.
Measuring spoons.
Whisk and spoon.
Cuitting board.
Apron.
Storage case.
Measuring cups.
Having the storage box really makes it easy for your children to get more involved in the kitchen. They can bring their own cooking set along and the utensils won't get muddled in with all your own cutlery. I personally prefer this set than the play kitchen because of the life skills it teaches children and the real food they can cook and eat afterwards. If they are any good it might even save you coking dinner yourself and you can play the roll of Gordon Ramsey supervising and checking they are safe as they cook for you. Not all 8 year olds are that keen to really cook and prefer the imaginative play scenarios they can create in a pretend kitchen so this option isn't the right choice for everyone.
What is an 8 year old child like
At 8 years old a child is beginning to think in more abstract ways and is starting to build up the confidence and skills needed to be more independent. Most children this age are really developing their fine motor skills and are beginning to solve ever more difficult problems both in an educational setting and everyday life. An 8 year old won't mindlessly play with a kitchen without having a greater purpose.
At 8 years old children are still very creative and love to role-play but they are old enough to be helping you cooking in a real kitchen so you should really think about how your play kitchen can give them some skills they can use in a real kitchen. Children this age love a challenge and maybe they love to cook so find a kitchen that offers them a life like experience, fun challenge or something unique and more grown up for them to do, so they aren't only relying on imagination and role-play like younger kids do.
What age is appropriate for a play kitchen?
Some parents believe these kitchen sets are only suitable for toddlers but what age is appropriate for a play kitchen depends on what your child likes. Some children love the kitchen and at 8 years old they can't do everything by themselves in a real kitchen yet so a play kitchen is the perfect stepping stone between imaginative play and beginning to learn to cook and clean the kitchen with mum or dad. Usually brands sell their play kitchens for children aged 3 to 6 years old. There is less choice if you are looking for a kitchen for kids aged 6-8 years old but it's still possible to find a bigger and more realistic kitchen set for older kids.
Do they make play kitchens for older kids?
Yes, brands do make play kitchens for older children. These kitchens are usually good for children up to the age of around 8 years old. Children older than this don't usually play on play kitchens and prefer to use realistic toys like the easy bake ultimate oven and children's real cooking sets that give children the chance to really bake food in their very own oven or use their own kitchen utensils to help you cook dinner.
Final summary – Which choice is best for an 8 year old.
You came here looking for a play kitchen and I threw a few wildcards in there because I think there's a lot more options for a child this age to enjoy. Choosing the right option for your child should really come down to how much enjoyment, how much they are going to learn and how much time they are going to spend playing on each of these products. In my opinion, if they have a real interest in cooking then the Tovla JR cooking and baking set is the choice most likely to last the longest and give children the most fun while learning a new skill.
The Easy bake oven will also give you many hours of fun and having both the cooking and baking set and the oven means you have everything you need to bake all sorts of delicious treats. However, baking and cooking real food takes preparation time, patience and a lot of free time so your eight year old can't just cook whenever they feel like it without planning ahead. This is a great skill to learn but you also have to be in the mood for cooking with them.
A play kitchen can fill this gap, for children who want to be involved in the kitchen all the time and love to use their imagination. With the play kitchen they can play anytime with no preparation time and little supervision needed. I hope you find the right toy for your child.