You might be thinking what is a Teeter Popper toy and why are you comparing it with a Bilibo. Well, Comparing Teeter Popper vs Bilibo is a comparison of 2 exciting multi use activity toys designed with young children in mind.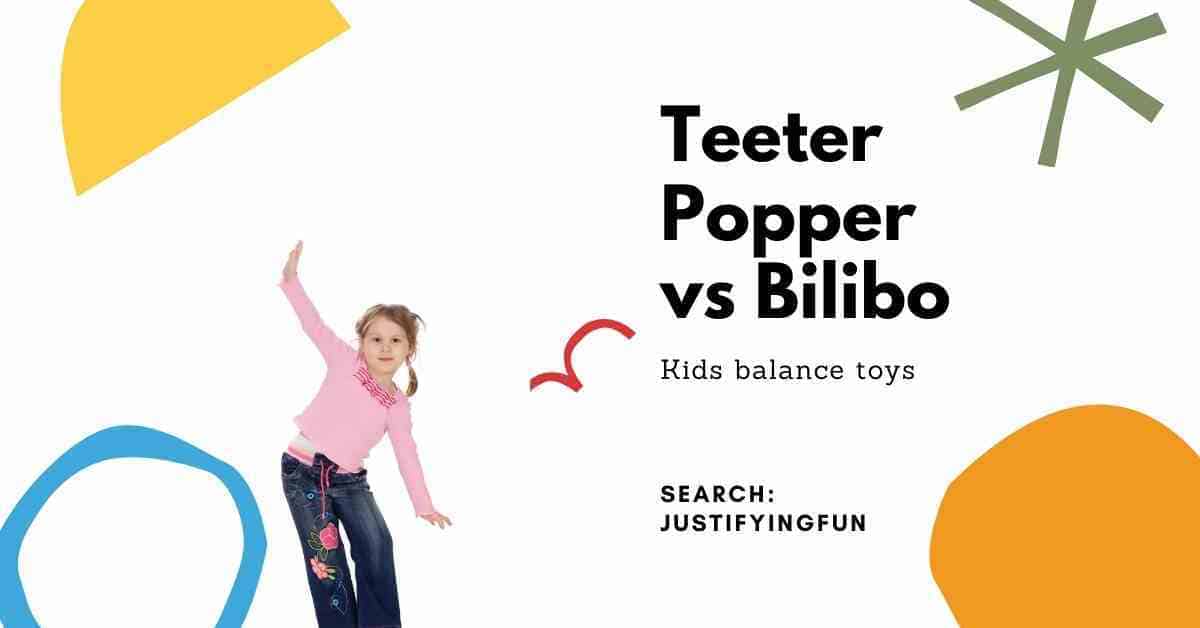 You can use both of these toys to sit, stand, balance, rock side to side, roll, create a tunnel, carry toys and any other imaginative play activities your children think of.
Product Image
Fun balance toy
Simple & fun toddler toy
Fun balance toy
Product Image
Simple & fun toddler toy
Product Image
As soon as I saw these toys I thought of my favourite balance board toys and the exciting pikler triangle climbing toy. Both those toys have been designed with the Montessori method of learning in mind. Montessori toys give children the chance to learn and grow by making lots of different physical movements, encouraging experimental play activities and use of their imagination.
If you are in a hurry and want to choose between these 2 toys and you have children older than 3 or 4 years old I would choose the Fat Brain Toys Teeter Popper rather than the Moluk Bilibo because it can be used for a lot more activities than the Bilibo can.
If your toddler is 2 or 3 years old they will enjoy the Bilibo toy more because they can sit inside it and you can help them rock. The Bilibo offers a safe, colourful and fun open ended play toy that has won a lot of awards for it's visual appeal and the simple play opportunities.
Teeter Popper Review
Click the image to view the product on Amazon
The Teeter Popper is a really exciting and unique children's toy that encourages imaginative play. When you first look at the Teeter Popper you might think its a rounded sled with lots of suction pads underneath.
It's a unique toy because at first, guessing what it is used for is difficult. Once you realise what it is you'll think of a million different possibilities for play and learning activities and your children with think of even more than you. Don't let the strange concave board shape fool you, this blue and green balance rocker is a lot of fun.
Simple toys are often the best and to make rocking the Teeter Popper more of a unique experience the added suction pads underneath slow down the chance of you rocking too extremely but also add a popping sound to each movement. A simple popping sound is all it takes to make rocking back and forth and round in a circular motion even more amazing.
---
Moluk Bilibo Review
Click the image to view product on Amazon
The Moluk Bilibo is shaped like a turtle shell but with some exciting curves around the edge. When children sit inside the curves dip in just the right places so that one leg can rest over each side of the shell. This means your children's legs can dangle in the air while they gently rock, or if they are taller their legs can control the rocking motion and help spin the Bilibo.
I love the vivid colours the Bilibo is available in and the colour and shape are what excite children when they see it. It's kind of a bucket, a little bit like a seat and has similarities with a turtle shell. This is a toy that can be left on the floor and children will come and go. Often children sit in it, rocking a little, or if they are really young they'll crawl and grab and touch and explore this strange shaped object.
Modern toys often overwhelm children with so many sounds and technology and a million different play activities, but young children are still getting used to balancing, crawling, sitting and a simple rocking motion and colourful object can be all they need to entertain them while getting some exercise and improving balance skills and learning to feel how their body moves.
Activity comparison- Bilibo vs Teeter Popper
I love the idea of adding suction pads on the Teeter Popper, because they stop kids from rocking too wildly and risking falling over. The Bilibo solves this problem with steeper sides that make the toy much more of an enclosed experience and it feels like kids are getting inside it rather than sitting on the surface.
The more enclosed shape of the Bilibo is why it is safer and more suitable for toddlers aged 2 years and older compared with 3 years and up for the teeter Popper. Both toy are fun but let's look more closely at what they can both be used for and why this makes them fun for Children to play on
You can sit facing sideways or forwards on the Teeter Popper, hold onto the handles at each end fr support and roll around in a circular motion or rock back and forth like a see saw. Kids will love the popping sound, but if you have a carpet you won't enjoy the experience as much because the suction pads can't stick or pop. Some wooden floors also don't work as well as others.
Try it out on a few different surfaces and see which it sticks onto best and creates the fun popping sound. When your children have finished popping they can lounge about and rock gently like a rocking chair as they read or watch TV. Turn it upside down and it's a colourful tunnel or bridge to roll your toy cars over. Be aware that It may be you that decides to turn it over after several hours of popping in your ears.
Overall the Bilibo does spin more and you can put your arms out and balance using your core in more directions than with the Teeter Popper because of the more full rotation the bucket shape allows. For younger children the possibility of spinning can be even more exciting than the chance to pop, create a tunnel, pull and the other activities you can create with the Teeter Popper.
Age range comparison of Bilibo and Teeter Popper
The Teeter popper is suitable for children aged 3 years and older up to around 10 or 11 years old. It is designed for younger children and the ideal age range is between 3 and 7 years old when children are still young and learning to balance, explore and will enjoy the fun popping sound the suction pads make a lot more than older children might.
Children older than 7 or 8 can still enjoy sitting on the Teeter Popper as it's great for burning off some energy when you are feeling restless or for lounging in while reading or watching television. Making slight movements and keeping the toy balance can help improve core strength.
Moluk's Bilibo is suitable for even younger children, starting from 2 years old and upwards. Toddlers can sit inside the Bilibo and it gives them a sense of security because it's almost like being sat inside a bucket swing with the raised sides.
A colourful design and interesting curved shape help keep young children entertained and they can put there legs out of the sides while there bottom is secure in the centre, allowing them to rock and roll gently while feeling secure.
Which is better the Teeter Popper or Bilibo
The Bilibo is the best choice for young toddler who are 2 or 3 years old. The Bilibo offers a secure seat to move around on and encourages your children to learn to balance and activates their core. Rather than sitting stationary on a stool, this adds a little motion and encourages movement and balance while they are sitting down.
If you are looking for something more then this toy isn't for you, but if you want a more interesting seated toy that rocks and can move in a lot of different directions then this is a safe, strong and well designed option that offers more opportunity for play than you'd imagine by looking at it. This toy has been around for a long time and is priced quite low. In 2006 it won the UK good toy award and has also won a Swiss product design award.
On the other hand the Teeter Popper is also a simple design, but is aimed at children who are a little bit older, more capable of balancing and who can make use of the handles and poppers underneath by themselves.
Children who are young will feel secure because the poppers will help keep them stable and only rock a little bit on tiles or wooden floor. Older children can stand up on the surface and balance just be sure to supervise them and help them learn to balance safely.
In my opinion I think age is the most important factor in decided which toy to choose. The Bilibo does spin more and you can put your arms out and balance using your core in more directions than with the Teeter Popper because of the more full rotation.
Because of this fun spinning option the Bilibo offers the most fun single activity for young children and the Teeter Popper offers the widest range of play activities and encourages creative and imaginative play and exercise more than the Bilibo.
Product Image
Fun balance toy
Simple & fun toddler toy
Fun balance toy
Product Image
Simple & fun toddler toy
Product Image