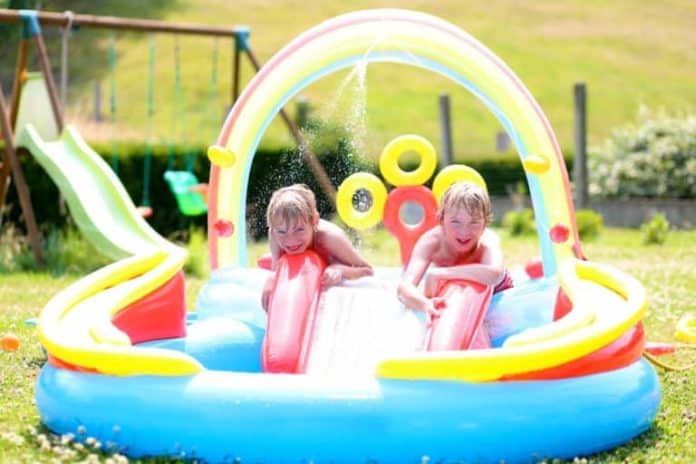 Best Inflatable Kiddie Pool With Slide | Kids Inflatable Play Center Reviews
The best inflatable kiddie pools will keep your little ones occupied for hours ⏰⏰⏰
When I started reviewing these kiddie pools I didn't know where to start. I was overwhelmed by the beautiful colours and themes with so many different activities to choose from.
Having grown up with a small paddling pool these blow up baby pools are so much BIGGER and allow for a lot more Creativity and fun. The child inside me wished they could come out and play and splash in the sun ☼  as a care-free child again. A lot of these kiddie pools are BIGGER than they look in the photographs and you'll find they are often a good size for 3-4 toddlers to play together.
---
The Best Inflatable Kiddie Pool Play Center – Top 12 Reviewed
---
Intex

R

a

i

n

b

o

w

Inflatable Play Center | Kiddie Pool
Our Rating ⭐⭐⭐⭐⭐ 4.8/5
Click to view current price on Amazon
 My first impression when We saw the Intex Rainbow inflatable children's pool was wow this is an exciting looking kids pool ! It's beautiful rainbow colours really stand out and excite the kids who love it as soon as they see it. This is a fun rainbow themed inflatable play center with two pool sections. We are impressed by this Intex children's pool offering enough space for for at least 3 toddlers. In the upper pool are some hoops which you can throw the plastic balls through.
There is a really fun water sprinkler system above which sprays down over the play center creating a rainy effect. A small water slide leads from the small pool into the bigger second pool and the rain water sprinkler helps is stay slippery. If that isn't enough to excite the little ones then there are also two ball slides at the sides. Children can place the plastic balls in the slots and watch them role down into the pool.
The red, yellow and blue colours compliment each other and add to the appeal of this kiddie pool. I particularly like the blue base colour of the two inflatable baby pools which is a really nice tone of blue. Children can associate this colour with lakes and the oceans they love to visit. The Intex rainbow play center has been well made and is quite sturdy which is why it is ⭐⭐⭐ highly recommended ⭐⭐⭐ by parents worldwide.
---
Useful additional info about the intex rainbow inflatable play center
Water capacity: 77 Gallons – 350 litres
The water sprayer on this kiddie pool attaches to a garden hose
A lot of people like to know how many children this kiddie pool would be suitable for. I would suggest it should hold at least 3 kids under the age of 5 and possibly up to 5 smaller toddlers. If the adults get overexcited and decide to jump in it will probably only hold one, who will probably quickly regret this when the pool bursts!
In order to increase the life of this product try not to keep it in direct sunlight continuously over a long period of time and try to stop children from pulling or leaning on the arch.
If you experience any problems with this baby pool Intex have excellent customer services and will happily resolve any issue you have or send a replacement product
There is no pump included with this inflatable pool so we highly recommend purchasing one or hiring someone with very big lungs or a blue whale which can hold more than 1250 gallons of air in its lungs!
There are a lot of different sections to inflate in this inflatable kids pool. You will need an air pump ideally, unless you have big blue whale lungs!. It can take a while to find all the sections and inflate them.
Some people who buy this plastic baby pool experience issues with the inflatable shower section not staying up. If this happens check for any holes or re-inflate. The kids will still enjoy it even if this happens.
Intex Inflatable Dinosaur Pool And Play Center
Our rating ⭐⭐⭐⭐⭐ 4.8/5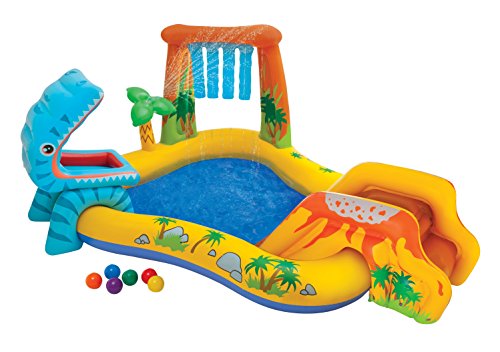 If your children like dinosaurs and want to play beside one then the intex inflatable dinosaur pool and play center is the best kids pool for them. The theming looks a little bit like a desert or tropical island with a yellow sand colour. Painted on the sides are some palm trees and rocks, which probably date back to Mesozoic times when dinosaurs roamed the earth!.
Attached to the side of this kids pool is an arch with 4 inflatable blue soft fabrics that the children have fun using as an entrance way to climb into the inflatable play center. This arch also sprays water out across the kids pool giving them a fun shower as they step inside.
you can throw plastic balls inside its mouth
Beside the arch is a feature the kids love, a tree which sprays water over the pool after they have climbed the steps on the far side and slid down the slide into the water. Overall The best reason to buy this kids water play center is for the dinosaur with it's opening mouth, although it could be mistaken for a crocodile! It is great because you can throw plastic balls inside its mouth, and then close its mouth and pretend it's eaten them. They will then fall through a hole into the kiddie pool, It's actually quite fun for adults as well.
This Intex dinosaur inflatable play center is well made and as good quality as any available to buy. A lot of users commented on the floor being slippery and that the bottom of the dinosaur feature inside the pool was a little bit uncomfortable on your feet. We didn't think this was a big issue at all. It is also worth noting that the hose connection for the sprinkler system fits nice and tightly and the squirting flower sprays water a long way when inflated properly.
---
Useful Information – Intex Inflatable Dinosaur Pool And Play Center
Maximum recommended weight for slide 34kg ( 75lbs )
The water sprinkler feature requires the hose to be turned on constantly and the strength of the flow can be adjusted by the water pressure from your tap.
Intex Hello Kitty Inflatable Play Center
Click image to view current price on Amazon
We know your little girls all love how cute hello kitty is and this Hello Kitty inflatable pool is here to excite them. Your little girls and any boys who are taking advantage of being young enough to still like a pink kitty will enjoy sliding into this inflatable pool via the entry slide. This slide is very good quality and one of the most comfortable for kids. There is a soft mat at the bottom of the slide which means a softer and more comfortable landing.
Above the pool is a nice blue coloured semi-circle inflatable canopy section with dolphins painted on it. I don't think any child can say no to seeing some friendly dolphins and then splashing themselves silly. It's hard to stay dry for long in this pool, there are some pretty pink flowers on either side and as your kids slide in they'll be sprayed by the flow of water sprinkling out of the centre of the cute girly flowers.
Hello kitty herself also makes an appearance
The girly pink theme is beautiful and all the neighbour's young girls will be climbing over the fence wanting to play. Hello kitty herself also makes an appearance with a big picture of her on the floor of the pool. Overall this is one of the most girly pools we have looked at and if being pink and feminine is important for your child or they love hello kitty then this is the pool for them.
Additional Info
There is a repair patch included which is always useful when excited kids are playing with inflatable toys.
This inflatable play center is easy to inflate but we would still recommend a pump.
Intex Fantasy Castle Inflatable Play Centre
Click Image to view Intex Fantasy Castle Inflatable Play Center on amazon
It is time to get your little princesses and knights in shining armour ready for this fantasy castle . It is time to enter the big inflatable castle and slide down the large orange slide and splash into the safety of the large castle walls. Usually a castle is surrounded by a moat full of water but now the castle itself is a fun paddling pool where children can splash around, pretend to swim and play with the inflatable lance and shield. Kids will want to keep hold of these weapons because there is an inflatable dragon who ( when a hose is attached) will spray water at them.
water shooting dragon
This is a really unique feature that we haven't seen on the other kids inflatable water play centers. It is awesome because you can position the water shooting dragon wherever you like for maximum fun and to increase how soaked your children get. At least it's one way to get them to wash their hair if they don't like your shower.
Kids love to run around the outside of the pool and speed down the little slide again and again in every way possible. If your children have always dreamed of living in a castle then there dreams can come true with the fantasy castle kiddie pool.
Intex Dinoland Kiddie Pool
Click image to view price for the Intex Dinoland  on amazon
As soon as you see the Dinoland inflatable water play centre you'll be impressed by the large dinosaur whose spikes forms an archway over the kids pool. Thankfully the spikes aren't sharp so you don't have to worry about your kids starting a fight with the inflatable dino!.
The Dino theming is brilliant and there are so many features to play with that your kids won't know where to start. At one end of the inflatable play center is a volcano which is attached to a ball rolling feature where one of the six colourful plastic balls can be rolled down the fast volcanic tube into the water. One child can stand up and roll the balls down the tube while the other children laugh, swim and splash around trying to catch them.
There is a tree attached to one side that has a curly shape and looks like one of the fun candy trees from Charlie and the chocolate factory. On the other side is a tree stump with a Jurassic bird on top which your kids could imagine is thunderclap from the film the good dinosaur. Thunderclaps nose is there so you can throw some of the included small inflatable rings around and help improve hand eye coordination.
sliding and cuddling the inflatable dinosaur
The separate dinosaur with a hoop is great because kids love to hold it and move it around the pool and even take it for a swim or a slide!. All the creatures on this kiddie pool look happy and smiley so don't scare sensitive children. There is so much to do in this inflatable play center that when your children are tired of rolling balls, being sprinkled on by the dino sprinkler, throwing rings and balls, sliding and cuddling the inflatable dinosaur, they will probably be teenagers!
Useful additional info
Make sure you have enough room because once inflated this kiddie pool takes up 131 inches in length, 90 inches wide and 44 inches high at the very top so there is lots of room for the little ones to explore and go on adventures.
Intex Ocean Inflatable Kiddie Pool 
Click image to view the Intex Ocean  on amazon
Our first impressions of this Intex Ocean play center for toddlers were that it looks spacious with plenty of room to play with the included water play toys. The yellow and red colours are bright and the contrast with the brown and green palm tree and the images on the pool floor are fun and add some extra quality to the theming. Before your children step onto the slide there is a small kiddie pool that is separate from the main section and ideal for babies.
One of the best features about this plastic baby pool is that the outside rim has lots of holes in it and acts as a sprinkler system so kids are surrounded by water spraying up like water geysers. The great thing about this product is that there is a control valve so you can adjust the pressure and decide how quickly water comes out of the sprinkler system and how fast your children have fun getting their hair wet.
some toddlers like the simplicity of this pool
The Intex Ocean toddler pool includes some pool toys, an inflatable turtle, whale and an inflatable tree. The turtle and whale can take part in all of your children's tropical island ocean adventures including sliding down the kids water slide. Whilst some kids are sliding others can be practising their ring throwing skills by aiming the inflatable rings at the hooks on the tree. Some of the best  inflatable play centers are full of activities but some toddlers like the simplicity of this pool. Even though it is simple there is still a lot to do and the sprinkler system is unique and of high quality and is sure to bring lots of excited squeals from the children and any parents who step too close.
---
Additional information about the Intex Ocean
The slide is quite tall and there aren't any steps so smaller children might need some adult help to get up and onto the slide. For this reason you might find some kids climbing up the slide rather than down
Repair patch included to fix any holes in this inflatable swimming pool
Intex summer Lovin inflatable kiddie pool
Click image to view Intex Summer Lovin' Beach Play Center Pool on amazon
The Intex Summer Lovin is a nice toddler pool for the smaller kids who love to splash and play in water. If a slide isn't necessary then this is a good value kids pool with a cute dolphin on the front that will also sprinkle the little ones as they play.  The removable plastic sunshade doesn't protect your children from the sun very much but it adds some character to the pool.
At one end is a large inflatable section with a hole in the middle through which you can throw balls into the netting and improve hand eye coordination. This area is the main themed section on this pool, with a nice beachy theme. It's a sandy colour with a bucket and spade and some other seaside items painted on. The Intex summer Lovin is a bit easier to inflate than some of the others we have reviewed, which is always good news for the adults.
---
Intex Shark
click image to view Intex Sandy Shark Spray Pool on amazon
Thank goodness your children aren't old enough to watch Jaws. You can uncover your eyes now and stop running away, this shark is inflatable and protecting a very fun slide. The slide is themed like a shark's body and there are some realistic looking fins which make this whole inflatable play centre look impressive. Your brave children get to slide down through the shark's mouth, whilst getting sprayed with water sprinkling down on them as they slide.
The only other feature is the two shark fins at the side and some rubber rings to throw over them. This can prove to be tricky as the rings aren't great but they still look good and provide a challenge. If you have some young boys or girls who love sharks and sea creatures this is a great inflatable play centre for them. The landing mat is also inflatable so your children can speed down the slide and have a comfortable splash landing.
Important information
This slide is best for one person, but as your kids will probably spend most of the time running back round and jumping down the slide again and again they can easily take it in turns
 Intex Hippo
click image to view Intex Hippo Play Center on Amazon
Yes that really is a hippo in your garden and it's friendly and ready to keep your children occupied for the whole summer. The hippo's feet on the outside of the pool really add to the theme and children love the fact that they can play inside a hippo. Some Children even like to cuddle the hippo from the outside and talk to it, letting it come on exciting adventures with them. There is a spray system attached to the hippo mouth that squirts water for some additional fun and to cool the kids on a hot day.
Additional info
The spray won't reach all the way to the slide unless it's fully inflated and the hose pressure is high enough in which case it should just about reach it.
Intex Gator
Click image to view Intex Gator Inflatable Play Center on amazon
This alligator has just escaped from the everglades national park and made the journey into your back yard. Its tail is curved up and looks sharp and spikey and it's about to squirt lots of water onto your children. Kids like to try and grab the tail or the water that comes out of it and it soaks any children or parents sat underneath.
We like this cool feature which kids enjoy because it looks as though the alligator is spraying them. This is a two feature kiddie pool, with the slide and spraying alligator tail. The theme is very well designed and is fun and exciting for children who love animals. Be sure to wet the slide as much as possible before children slide down to ensure its slippery enough.
---
H2G0 Interactive Elephant Spray Pool
This pool allows your children to hug an elephant. The only theming on this pool is a small elephant that appears to be hugging the pool and whoever is inside the pool.  It's a cute happy and smiling elephant that young children will feel happy and safe playing next to. There is just one feature on this pool, which is the sprinkler that sprays water from the elephants trunk.
This is cool and realistic compared to some pools where the water is sprayed from tails and other animal parts that can't really spray water. This is more educational and although simple the pool is great for small kids who don't want to slide or are too small, but who are comfortable having water sprayed nearby or onto them if they choose to sit underneath the spray. This inflatable play center is good value and a cute light blue coloured pool that is ideal for smaller gardens.
Intex Whale Spray Inflatable kiddie Pool
If you are on a budget the Intex Whale is one of the simplest and nicest cheap kids pools. The light blue colours and smiling whale face make this ideal for young children. The pool fills to a depth of 96 cm and a hose can be attached to the side causing the whales large tail to sprinkle water . If your older children ask why the water is coming from the tail, just tell them it's great fun and that a real whale actually squirts air from a blowhole on top of its head.
Although this is a cheap pool it is 2 metres in length and over 1.5 metres wide so is much bigger than the photo makes it look and it can fit 3 toddlers quite comfortably. If your luck enough to live somewhere sunny the whales tail provides shade to an area of the pool, so if you position it correctly your children will get some additional sun protection.
[td_smart_list_end]
---
Buyers Guide
Inflation
Whichever inflatable pool you are buying we would always recommend you use an electronic pump because a hand or foot pump are going to take a lot more time and effort in order to inflate these kids pools which often have a large surface area and lots of inflatable add-ons.
The pools with lots of different separate sections take more time and effort to inflate. The simpler pools that only require one or two areas to be inflated don't take much time at all. When inflating be sure to connect and disconnect correctly so that you don't allow too much excess air to escape. If you love inflatables check out our fun best inflatable kayak review so that you adults can have fun on water too.
---
Justification
These inflatable kiddie pools allow for lots of physical play and experimentation for children. The walls and objects to play with are inflated so don't cause damage and allow for children to throw their bodies around or slide down and throw objects with forces that test their bodies capabilities and improve their strength and growth. The water allows for a gentle introduction into water play, without the depth that can cause problems ( however we always recommend parental supervision with any children's water play at all times, especially when playing with bath toys ).
Being outdoors playing in sunlight is great for increasing children's vitamin d levels which can help improve brain function, muscles, lower blood pressure and help build the immune system.
There is lots of research showing the Importance of water play in early childhood. Water play can improve a child's ability to connect with you and to allow you to teach them things and help them improve hand eye coordination. They will be throwing balls, squeezing objects that squirt water and splashing the water with their hands and feet. Children love to play in water and the slides, sprays and pools to splash in will allow your children to laugh and have the time of their lives. Water play toys are fun and much more exciting and easier to clean than splashing in the puddles outside.
If your children like playing with water you might like our article on children's indoor Water tables
We know Children love pets and we have reviewed some great Guinea pig cages they might like.
Also check the toddler basketball hoop article and indoor jungle gym article we have written aswell as fun go karts for children