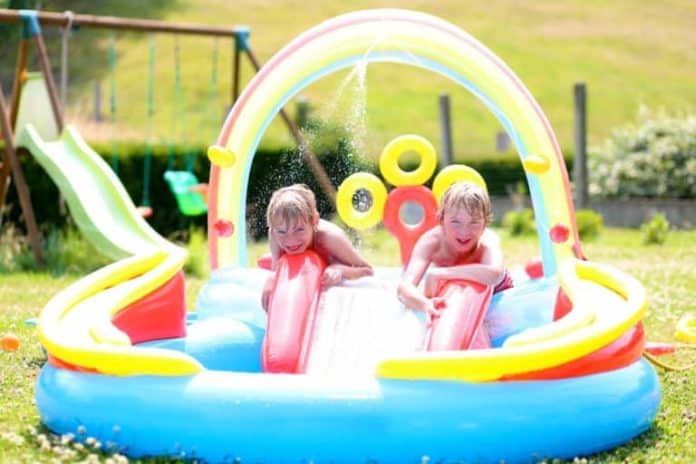 Best Inflatable Kiddie Pool | Inflatable Play Center In The World Today
The best inflatable kiddie pool  ( also known as inflatable play center, swimming pool, baby pool or inflatable pool )  will keep your little ones occupied for hours ⏰⏰⏰
When I started reviewing these kiddie pools I didn't know where to start. I was overwhelmed by the beautiful colours and themes with so many different activities to choose from.
Having grown up with a small paddling pool these blow up baby pools are so much BIGGER and allow for a lot more Creativity and fun. The child inside me wished they could come out and play and splash in the sun ☼  as a care-free child again. A lot of these blow up baby pools are BIGGER than they look in the photographs and you'll find they are often a good size for 3-4 toddlers to play together.
---
The Best Inflatable Play Center | Kiddie Pool – Top 12 Reviewed
---
---
How easy is an inflatable pool to inflate ?
Whichever inflatable pool you are buying we would always recommend you use an electronic pump because a hand or foot pump are going to take a lot more time and effort in order to inflate these kids pools which often have a large surface area and lots of inflatable add-ons.
The pools with lots of different separate sections take more time and effort to inflate. The simpler pools that only require one or two areas to be inflated don't take much time at all. When inflating be sure to connect and disconnect correctly so that you don't allow too much excess air to escape. If you love inflatables check out our fun best inflatable kayak review so that you adults can have fun on water too.
---
Indoor use as a ball pool
The best inflatable pools don't only have to be used to get your children wet, they can also be used as ball pools or to roll the ball down the inflatable water slide.
---
Justification
These inflatable kiddie pools allow for lots of physical play and experimentation for children. The walls and objects to play with are inflated so don't cause damage and allow for children to throw their bodies around or slide down and throw objects with forces that test their bodies capabilities and improve their strength and growth. The water allows for a gentle introduction into water play, without the depth that can cause problems ( however we always recommend parental supervision with any children's water play at all times, especially when playing with bath toys ).
Being outdoors playing in sunlight is great for increasing children's vitamin d levels which can help improve brain function, muscles, lower blood pressure and help build the immune system.
There is lots of research showing the Importance of water play in early childhood. Water play can improve a child's ability to connect with you and to allow you to teach them things and help them improve hand eye coordination. They will be throwing balls, squeezing objects that squirt water and splashing the water with their hands and feet. Children love to play in water and the slides, sprays and pools to splash in will allow your children to laugh and have the time of their lives. Water play toys are fun and much more exciting and easier to clean than splashing in the puddles outside.
If your children like playing with water you might like our article on children's indoor Water tables
We know Children love pets and we have reviewed some great Guinea pig cages they might like.
Also check the toddler basketball hoop article and indoor jungle gym article we have written aswell as fun go karts for children
If you are looking for something to excite the parents in the summer, check out our best inflatable kayak guide