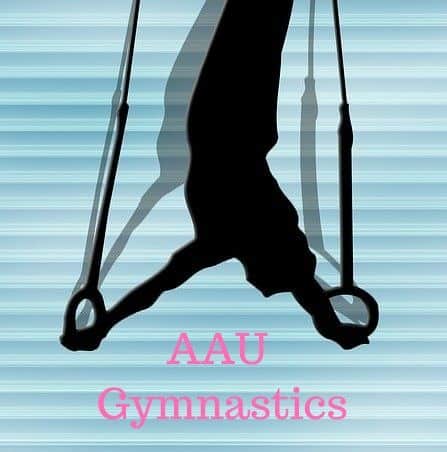 AAU Gymnastics stands for the Amateur Athletic Union Gymnastics. The AAU is a large organisation that is involved in the Promotion and development of amateur sports. THe AAU arrange and oversee a number of amateur competitive sports leagues by making sure common standards are met within sports organisations and clubs. The AAU helps gymnasts and gymnastics clubs structure the way their gymnasts are assessed and categorised depending on skill level to make sure the playing field is fair in competitive gymnastics meets.
Difference between AAU gymnastics and USAG gymnastics organisation
The official gymnastics governing body in the USA is the USAG. The USAG has a number of responsibilities within gymnastics. These responsibilities include the creation of and management of the gymnastics level system whereby gymnast abilities are tested through completing a certain set of skills to a required standard at a competitive amateur gymnastics meet. Not only are the USGA  responsible for amateur gymnastics but they also select the USA national teams and Olympic team requirements.
When comparing the AAU with the USGA gymnasts find that the AAU requirements aren't as strict as the USGA because their focus isn't on producing elite gymnasts but instead making sure all gymnastics can compete and enjoy gymnastics in a safe and structured league environment that doesn't penalise them too much for failing to complete certain skills. Gymnasts in the AAU have a little more flexibility as they move up the levels and in my opinion I think it is the better organisation for young gymnasts starting to learn gymnastics and wanting to have fun because the transition to the higher gymnastics levels is less intense.
If you are a gymnast looking to progress to the elite national gymnastics team and Olympic team when the USGA are the organisation that you would need to associate yourself with. In gymnastics today most gymnastics clubs offer a program which aims to help gymnasts work their way up the USGA gymnastics levels from level 1 up to Elite level. A much smaller number of gymnastics clubs use the AAU gymnastics programs.