If you or your child is new to gymnastics, you have probably already realized that there is a very specific uniform necessary for the sport. A gymnast's leotard is not just for show, however—the leotard that a gymnast wears is both fashionable and functional, helping them perform their routines with more ease and gain style points from competition judges.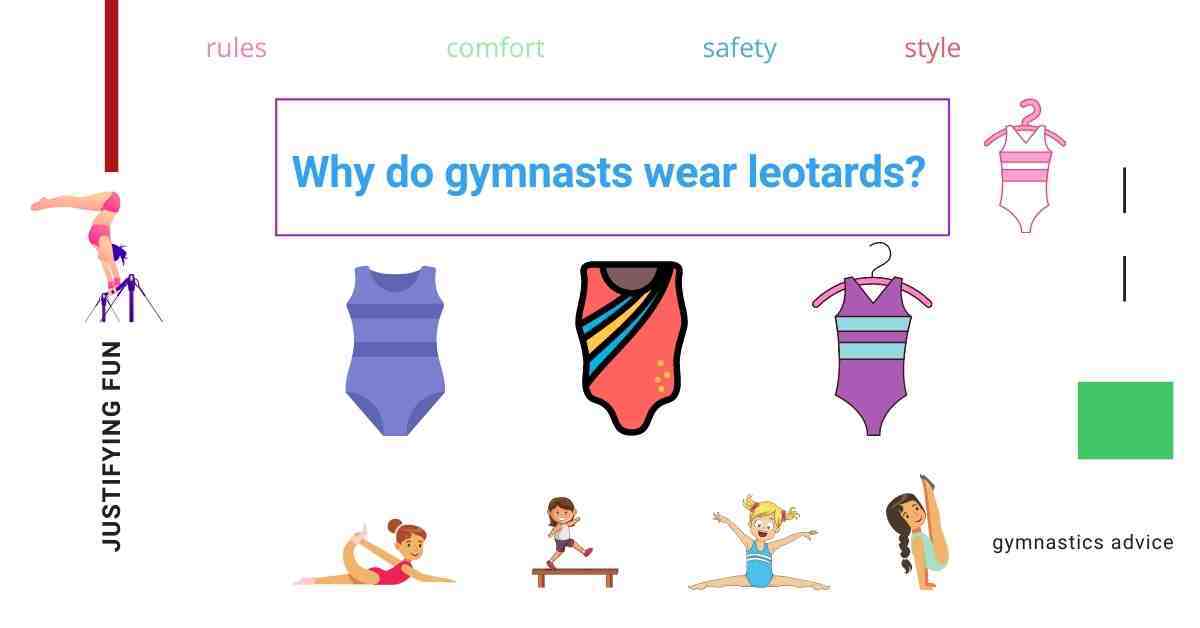 The rest of this article will detail why do gymnasts wear leotards, how those leotards help a gymnast perform their routine more efficiently and stylishly, and how leotards may contribute to scoring at a competition. We also wrote an article about the best leotards to buy.
Do leotards make gymnastics easier?
Wearing a leotard may not make the high-level skills that a gymnast performs as they move up the gymnastics levels easier. However it will make performing them safer and more efficient. Wearing tight-fitting clothing such as a leotard also makes it easier for coaches and judges to see whether the gymnast is performing skills with proper form.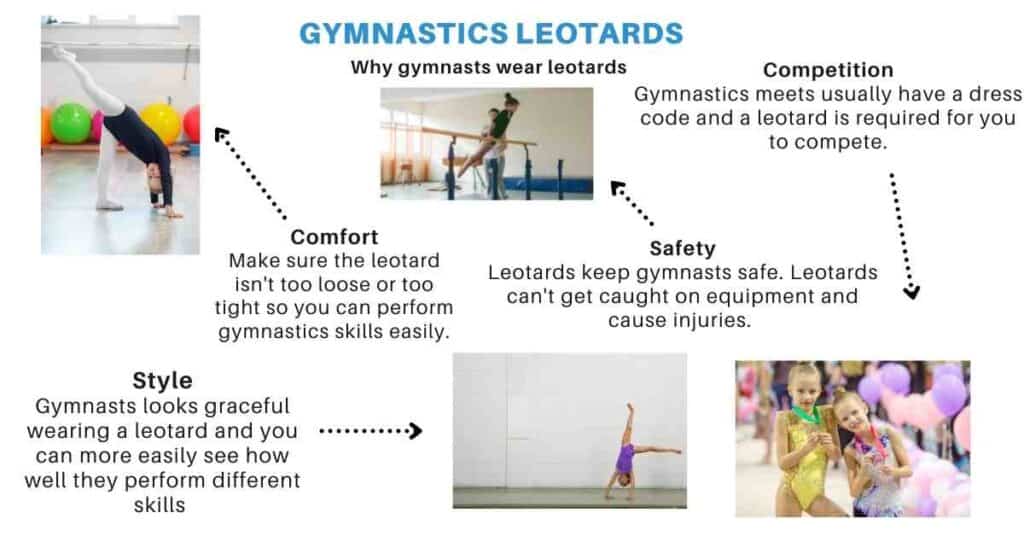 For example, coaches and judges will be able to properly view the alignment of the athlete's hips and spine with their neck and knees. If this alignment is out of balance, then serious injuries can be caused and points lost. Leotards are also made of breathable, moisture-wicking material, which ensures that gymnasts will not overheat during the rigorous routines they must perform. In addition, leotards are lightweight, and the tightness ensures that they move right along with the body as gymnasts perform their routines.
Is it bad not to wear a leotard?
While it is not necessarily bad not to wear a leotard, it can be less efficient. If you or your child is attending practice in loose-fitting clothing, your coach may not be able to judge if you are performing the moves properly. Heavier or more flowy clothing may make it more difficult to complete the moves you are attempting. You also risk injury, since wearing loose-fitting clothing can actually be dangerous when it comes to gymnastics, especially on gymnastic equipment like the bars and beam where it can get caught more easily.
In competition it is a bad idea not to wear a leotard because you risk a points deduction or disqualification if you don't follow the USAG dress code. Ask your coach before you compete to make sure you are wearing the right clothing for that meet.
How can loose clothing be dangerous for gymnastics?
If you are attempting to do gymnastics while wearing loose-fitting clothing, you are risking serious injury. Your clothing can easily snag on various equipment or even your own body parts, causing catastrophic falls and injuries. If you are wearing a pair of loose pants, for example, your foot could catch in the loose leg of the pants, causing you to trip.
In addition, if you are performing flips, handstands, back and front handsprings, kip bar skills or other upside-down movements, a loose-fitting shirt can fall forward over the face, obscuring vision and leading to further risk of injury.
How do I know what leotard to buy?
The most important features of a leotard are the fit and the material. You want to make sure that the leotard is not too loose or too tight, but that they feel comfortable on your body. If it is too tight, it can actually restrict your movement or risk cutting off circulation, which is the exact opposite of the proper function of a leotard. If it is too loose, you run the same risks of wearing loose clothing, where it could snag on equipment or your own body.
You also want to ensure that the leotard you buy is made out of quality, breathable material. This will ensure that you are comfortable and able to perform to the best of your ability. Here are some leotards we recommend. If you are looking for a leotard with shorts then check out these leotards with shorts we recommend.
Product Image
Beautiful Christmas Design
Festive Santa Leotard
US Gymnastics Brand
Beautiful Christmas Design
Product Image
Festive Santa Leotard
Product Image
US Gymnastics Brand
Product Image
Are leotards required for gymnastics?
Yes, leotards are required for most, if not all, gymnastics competitions. In addition, many gymnastics studios require leotards for practice because of the same safety concerns that we have outlined above.
The USAG have a set of rules for gymnastics competition and their dress code says that No bare midriffs, backless leotards, leotards with "spaghetti" straps, T-shirts or Boxer shorts can be worn in competition. The rules also say that "The leg opening on competitive leotards must NOT be cut or rolled above the gymnast's hipbone". You can also wear leotards that are sleeveless and unitards with ankle length legs. Be sure that any tights match your skin colour and leotard colour as best as possible. This is so that the judges can more easily see the movements of your body while you are performing gymnastics skills.
Do men and women both wear leotards?
Yes, men and women both wear leotards in gymnastics. However, men will often wear short athletic shorts or long stirrup pants over their leotards. Women's leotards are generally higher cut in the legs, as well as being more sparkly and more decorated than men's leotards. Women can also buy leotards with skirts while men are unlikely to wear these.
While practicing, women may wear tights under their leotards, or they may wear shorts or pants over their leotards. During competition, however, this will usually not be allowed, especially at higher levels of competition. However, ankle-length tights worn under the leotard (that match the leotard or are skin tone) are allowed.
Do leotards affect competition scores?
Yes, leotards can affect competition scores when a gymnast is competing. This may be due to a number of reasons. 
Firstly, if a competition has rules regarding the uniforms that must be worn, the gymnast must follow these rules to the letter or risk elimination or having points docked. The USAG have a set of rules around what gymnasts can and can't wear in their competitions. Below is a list of some of the rules that can be found on the USAG website and not following these rules can lead to points deductions. These rules help the judges be able to see the gymnastics skills you are performing more easily and ensure you are dressed appropriately.
No bare midriffs, backless leotards, leotards with "spaghetti" straps, T-shirts or Boxer shorts
Unless the open area is filled with mesh or flesh-colored fabric, a leotard is considered backless when the open area visually extends lower than 2 inches (approximately) below the bottom of the scapula (shoulder blade) or wider than the vertical midpoint of the scapula.
No underwear or sports bras should be exposed.
The leg opening on competitive leotards must NOT be cut or rolled above the gymnast's hipbone.
Sleeveless leotards and unitards with ankle length legs, as well as gymnastics footwear, are permitted for competition.
Secondly, what the gymnast is wearing may unconsciously affect how they are perceived by the judges. Gymnasts who are wearing more "professional" looking leotards may receive higher scores than gymnasts who look underdressed for the competition. Plenty of opinion pieces have been written about what is called "leotard bias"—a phenomenon where the judges may also be influenced by the perceived value of the team for which the gymnast is competing. This may occur if a gymnast is competing for a specific university or team which carries "brand recognition" with it, and is certainly an unfair phenomenon. However, it does still happen.
Final thoughts about why gymnasts wear leotards
Some people might not understand why do gymnasts wear leotards gymnasts wear leotards because they are comfortable and allow for a full range of motion. Leotards also help to show off the gymnast's muscles and body lines. Gymnasts want to look their best when they compete, and a leotard can help them do that.
Some people think that gymnastics is a very feminine sport. While it is true that many of the athletes are women, there are also male gymnasts. Men usually wear tight fitting shorts and a shirt when they compete. However, some men do choose to wear a leotard.
Leotards come in all different colors and styles. Some gymnasts prefer to wear brightly colored leotards, while others prefer more subdued colors. There are also different cuts of leotards, such as tank top style, leotards with shorts, leotards with a dress, leotard with sleeves and sleeveless leotards. Ultimately, it is up to you as a gymnast to decide what type of leotard you feel most comfortable wearing for the many hours you'll be training and competing in it.