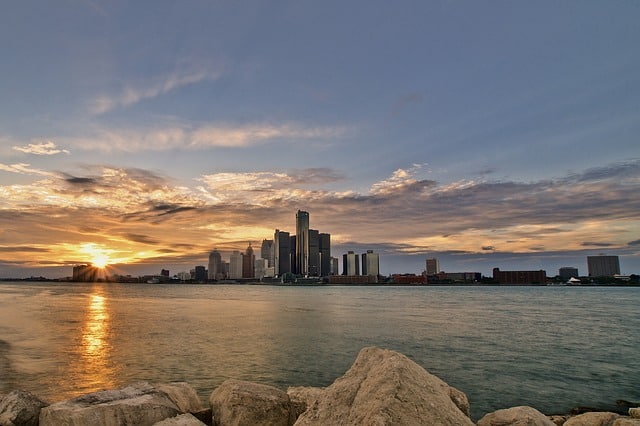 The Best gymnastics clubs in Michigan State
The following gymnastic gyms in Michigan are our chosen favourites in the whole state. Our choices aren't only based on the most successful gyms, but also take into account the gyms we think are safe, fun, friendly and most importantly an enjoyable place for your children to train and learn gymnastics skills.
If you live in Michigan then you are very lucky and we are sure yor kids will grow to love gymnastics and benefit from gymnastics at one of the following Michigan gyms.
Aerials Gym
Based in West Michigan, Aerials Gym take pride in safety. We especially like their use of harnesses to help beginners overcome their fears. The gym is large and classes are offered from preschool toddlers up to advanced artistic.The facilities are fun and offer an innovative and unique use of equipment in order to encourage fun and varied gymnastics training exercises.
Check them out at:  www.aerialsgymgr.com
Address: 6001 Coit Ave -Grand Rapids, MI 49525
---
Michigan Academy
Michigan Academy Have three gyms in Michigan located in Westland, Dearborn heights and Ann Arbor. The expansion to three gyms is impressive, but most importantly, we believe they have stuck to the following philosophy about making a positive difference in the lives of Michigan gymnasts who attend their gyms
"We exist to make a positive difference in the lives of our students. Our goal is to develop happy, healthy and confident children. We believe that gymnastics training is the best way to achieve the physical and emotional wellbeing of children. We will strive for excitement, quality, and innovation in every program that we offer and we will provide programs directed toward building and supporting the aspirations and abilities of our students"  (Michigan Academy )
Michigan Academy are involved in state, regional and also national meets with USA gymnastics involvement. We love that gymnasts from Michigan Academy have achieved a place on the following teams: Ohio State university, Michigan state, Kings college of New York and The United States Air force academy.
Check them out here: www.michiganacademy.com
Address:
Westland gym – 5870 Hix Rd.Westland, MI 48185
Dearborn Heights – 1801 N.Beech Daly Rd, Dearborn Heights, MI 48127
Ann Arbor – 240 Metty Dr. Suite C, Ann Arbor, MI 48103
---
Olympia Gymnastics Academy
Olympia Gymnastics academy have great facilities and lots of USA gymnastics qualified instructors. However, what we found so special about this club is that the atmosphere is so friendly and there is a real sense of being part of something happy and fun. Everyone is made to feel welcome here no matter what their skills level or ability is.
The following testimonial on their website does a much better job than us at describing Olmypia Academy.
"She has also formed a special bond with her coaches and teammates that will undoubtedly create lasting memories.  The coaches at Olympia have provided a fun and nurturing atmosphere that has continued to foster our daughter's enthusiasm and love for gymnastics " (Olympia Gymnastics )
Check them out at  OlympiaGymnastics.com
Address: 51676 Danview Technology Court, Shelby Township MI 48315
---
Red Cedar Gymnastics
Red Cedar have creadted their own wonderful gymnastics programme and also offer training towards the Juunior olympic program.
With a great kinder gymnastics programme and competitive program for dedicated and high achieving gymnasts their is also a recreational program for gymnasts who love the sport but aren't necessarily going to commit themselves towards trying to compete at the highest level.
Gymnastics should be fun and Red Cedar do their best to make it fun for everyone whilst also supporting everyone in achieving their dreams.
"Recreational Gymnastics should be genuine fun! Genuine in the way that it is taught, fun in the way it is executed. We realize the pure joy of "just doing" gymnastics but that doesn't mean that we do not take teaching it correctly and safely seriously" (Red Cedar Gymnastics )
Check them out here: www.redcedargymnastics.com
Address: 4103 Grand Oak Dr, Ste B109, Lansing MI 48911