Even though you may be nervous before a big gymnastics competition, it's still important to eat breakfast. If a gymnast doesn't eat a healthy breakfast, then they won't be in their best shape to compete.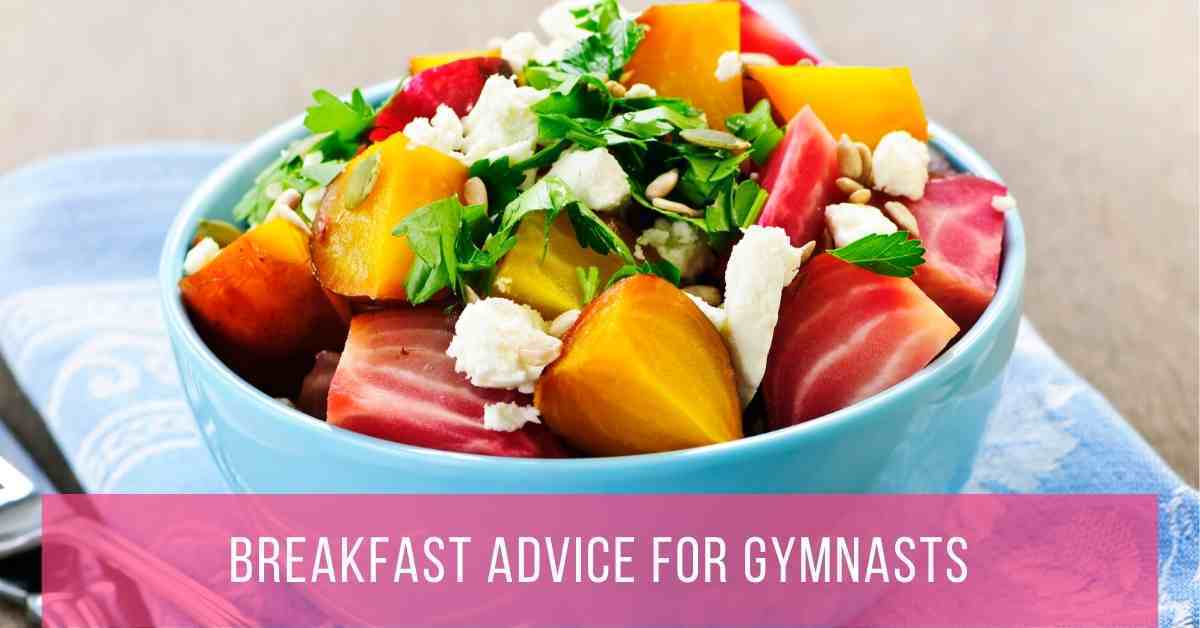 Those morning nutrients play a crucial role in a gymnasts energy, balance, endurance, concentration and can even help prevent injuries.
Nutrition should always be a top priority for athletes of every kind, including gymnasts. However, what they eat and how much of it all depends on when their competition is. What you eat for breakfast plays a big part in making sure your body is prepared to compete, but it shouldn't stop there. Gymnasts need to focus on good nutrition all the time.
What Do Gymnasts Eat For Breakfast?
Gymnasts eat healthy and light carbohydrates for breakfast. Breakfast is an important meal, especially before a gym session or gymnastics meet where you'll burn lots of energy. It is important for gymnasts to eat breakfast at least 2 hours before a gymnastics meet to be sure the food digests in time and they don't get upset stomachs.
One thing that's important to remember about gymnasts is that they require short bursts of energy to perform their routine. This means they need to have carbohydrates in their diet since carbs are the muscle's preferred source of energy.
Protein and fat are also essential parts of a gymnast's diet. Protein is needed because it helps with muscle building and repair. Fat is necessary for extra energy, but it should only be consumed in small amounts. Sticking to nutrient-rich foods is the best way to get the most of their benefits.
Breakfast recipe ideas for gymnasts
Breakfast foods that come from healthy carbohydrate sources are always a win for gymnasts. Some nutritional and healthy breakfast choices for gymnasts are:
1 – Breakfast cereal with fresh cut fruit
2 – Yogurt with granola and berries
3- Whole wheat toast with peanut butter and banana slices
4- Wrap with eggs and light fillings
5- Boiled eggs and an orange
It's important to choose carbohydrate-rich foods that are on the lighter side when it comes to fat and fiber. This is because you want to reduce the risk of stomach discomfort. It's also important to make sure you have a light meal or a nutritious snack 2 hours before a competition. 
How long before a meet should a gymnast eat breakfast?
The main reason that the time of when a gymnast competes affects their breakfast is because of how much time they will have to digest the meal. Since there will only be a short period for the meal to digest before morning competitions, it's best to eat on the light side. 
However, gymnasts that are performing in the afternoon usually get between 4-5 hours to digest their meal, so they have an allowance for a larger breakfast. Just because they can eat a larger portion, doesn't mean they can eat an unhealthy meal. It's still important to eat healthy carbohydrates and proteins to be ready to compete at their best.
In some cases the gymnast may perform very early in the morning. When this happens they usually eat afterwards. It's actually very important to eat a light breakfast within 30 minutes of an early morning workout. This will help the body restore its energy and promote muscle healing. 
Gymnasts are free to create their own breakfast menu as long as they keep it light and full of nutrient-rich carbohydrates. Items like peanut butter and fresh fruit are essential for every gymnast's breakfast nook. 
---
How to encourage a gymnast to eat breakfast before a big meet
Gymnastics meets often start early in the morning and by the time you've woken up and got ready there isn't much time to eat. In this case it's a good idea to eat plenty of high carb foods the night before the meet.
Eating pasta or bread the night before a full day of gymnastics is common because these foods have plenty of carbs which will help store energy for the next days gymnastics meet.
In the morning before a meet, gymnasts often feel nervous and it's difficult for them to eat anything. This along with not being hungry that early in the morning anyway means that if you can bring some healthy snacks, a bagel or other light foods in the car with you, they might nibble on them along the journey or while sitting and waiting at the gym.