I get a kick out of deadlifting when I feel my core, glutes, hamstrings and backside all working together doing what I believe is the very best full body exercise if practised with good form.
Choosing whether to wear deadlift gloves is an easy decision for most people. If you know you feel more comfortable deadlifting with gloves on  then check out our comparison table and best choices. 
If it's important for you to know what's good and what's not quite so good about holding a barbell while wearing gloves, you suffer with rips and calluses or you want to compare gloves with straps and chalk and see how they affect grip strength, calluses and rips then read on to find out more.
Deadlifting glove comparison table
Product Photo
Best deadlift glove
Strong Hook Attachment
Best feel
Name
Cobra Grips Deadlift Glove
Grip Power Pads Hook Gloves
Pro Fitness Cross training gloves
Click to view current price on Amazon
Best deadlift glove
Product Photo
Name
Cobra Grips Deadlift Glove
Click to view current price on Amazon
Strong Hook Attachment
Product Photo
Name
Grip Power Pads Hook Gloves
Click to view current price on Amazon
Best feel
Product Photo
Name
Pro Fitness Cross training gloves
Click to view current price on Amazon
Our choice for Best deadlift gloves – Grip power Pads -Cobra Grips
[easyazon_image align="center" height="500″ identifier="B01BA0QDBI" locale="US" src="https://m.media-amazon.com/images/I/510wLChHmxL.jpg" tag="justifyingfun-20″ width="493″]
Click the image to view current Cobra Grip price on Amazon
Cobra Grips are made by a company called grip power pads and they don't look like your regular glove but are instead designed to offer fitness enthusiasts the best possible feel, grip and comfort while lifting weights. Instead of using lifting straps or grip hooks the Cobra grip is supposed to take the place of having to use these different accessories and instead only use the one deadlift grip.
Cobra grips deadlift gloves are a combination of lifting straps and weightlifting gloves come in a selection of colours, materials and sizes.
The smaller sized FIT model is available in leather or rubber material and comes in women's sizes (4.25″ to 7″ wrist size) and a choice of colours that includes black , pink, red and camo.
Men can choose from a selection of colours too including red, charcoal and black and either leather or rubber grip materials, both which are the same dimensions (5.5″ to 8.75″ wrist size)
Durability (we don't want them to wear and tear quickly)
With Cobra offering both leather and rubber dead lift gloves, durability is a little different between the two materials. The leather glove lasts a little longer because the fabric is harder and tougher but also firmer and doesn't mould and grip as closely as the rubber glove onto the barbell. If you choose rubber I think you'll find gripping a bit more comfortable but you lose out on a bit of the toughness and firm structure of the leather option.
Comfort & Fit ( How tight or flexible do they feel to wear)
The Cobra grip doesn't restrict your finger tips or thumb because of the protective padded fabric sitting across the palm of your hand that also covers and protects the section of your hand between palm and fingers where calluses and rips often form.
Wrist support
Wrist support is important, especially if you have weaker wrists, whether you are doing the Powerclean, Jerk, deadlifts or snatching the bar. Before we look at how supportive these gloves are you need to make sure you consider warming up your wrists first. After learning handbalancing skills I now understand the importance of warming up your wrists before performing any exercises that put pressure directly onto your wrists.The deadlift requires you to turn your wrist and tilt them as you shift your weight and the bar from your waist height to above your head so it is important that you don't forget to warmup your wrists as part of your warmup routine. 
The leather Cobra grips come with a wrist wrap section to help support your wrists. This strap can also be wrapped around the bar like you would with regular workout straps.
---
Alternative choice Deadlift gloves
Here are some alternative deadlift gloves that are a little different from the Cobra grips above. Our first alternative is another gloves created by the cobra grip manufacturer – Grip Power Pads, but this glove has a hook attached to the palm area. Secondly we take a look at
Grip Power Pads workout Hook gloves
[easyazon_image align="center" height="405″ identifier="B0145V6ISM" locale="US" src="https://m.media-amazon.com/images/I/51QrbYbiZPL.jpg" tag="justifyingfun-20″ width="500″]
[easyazon_link identifier="B0145V6ISM" locale="US" tag="justifyingfun-20″]Click to view price on Amazon[/easyazon_link]
Grip Power Pads are really establishing themselves as heavy lifters!! in the weightlifting equipment industry and this second offering are an interesting twist on a heavy lifting glove combined with a hook. The hook takes some of the pressure off your forearm when lifting which is great if you have an injury or suffer from a weaker wrist or forearm.
The hook is quite big so can feel a little strange and is more difficult to use comfortably if you have smaller hands so make sure to adjust the hook to get the right fit and position in your palm. The hook section does help a lot if you don't have the strongest grip strength. If grip strength is your weak point when dead-lifting or practising any kind of heavy weightlifting then this hook will help you out.
Just like the Cobra grip gloves there is a neoprene wrist support strap that fastens tightly and securely around your wrist and the bulky wrap like strap helps take some of the pressure off your wrists. I would recommend these gloves only if you enjoy using a hook and wrist strap, have a weaker grip and need the extra support to prevent or recover from an injury. If you like to grip the bar as directly as possible these gloves won't offer that pure feel experience you are used to because of the thicker hook section.
Pro fitness Cross training gloves
[easyazon_image align="center" height="500″ identifier="B01HE3WIL4″ locale="US" src="https://m.media-amazon.com/images/I/51sppuGfW-L.jpg" tag="justifyingfun-20″ width="500″]
Click the image to view the current price on Amazon
If you want to feel like your hands are as free as possible while gripping a barbell and dead-lifting then these Pro Fitness cross training gloves offer protection and some freedom for your hands. The adjustable wrist stability strap fastens tightly with the Velcro fastening and strong elasticated fabric.
What I love most about these weightlifting gloves is that your fingers aren't enclosed so you can really feel the metal of the barbell and grip the bar tightly with your finger tips wrapped around the barbell. Nothing gives you the same sense of security that a little skin to bar contact does while lifting. Your thumb is completely free which also helps to improve grip strength while the thicker grippy fabric covers your palm and the base of your fingers to help stop any skin rips that might slow down your weightlifting training at the gym.
How does a deadlift glove affect your deadlift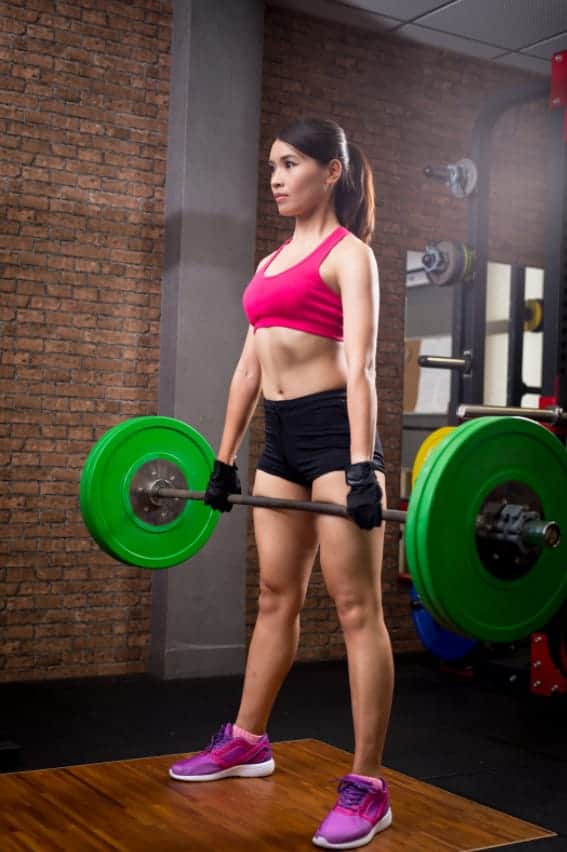 Fitness enthusiasts often claim that deadlifting by gripping your hand directly onto the barbell gives you the strongest possible grip and leverage when lifting the bar because you are closer to the bar and your skin can naturally grip well. You'll be able to feel the bar directly and grip firmly. These ideas make a lot of sense and I do like to deadlift barehanded but there are a lot of times when gloves are the best option.
Gym goers often use gloves to try and improve grip, reduce hand calluses and prevent skin on your hands tearing. If you try out some gloves and feel more comfortable then whether or not that is actually the case, you'll feel in a better position mentally to lift and the gloves can make your grip feel more secure.
I believe that improving your technique is the number 1 most important factor that affects how the bar and your hand react. A glove might go some way towards saving your fingers and palm from those dreaded calluses and rips but there will still be damage from the bad technique that could be prevented. It is a good idea to try to stop the bar from pinching your skin when gripping it so to do prevent this happening make sure the bar sits towards the lower part of your fingers and not at the very top of your palm area.
Video showing how to deadlift correctly
Technique is so important with dead lifting. You now know which lifting gloves are best so it's time to learn the correct technique. Because of the forces involved it is so easy to injure yourself when deadlifting, especially your back. It is a great idea to record yourself lifting from an angle similar to the one shown in the video still below so you can see exactly what you are doing and better make adjustments to your form.
Choosing between deadlift gloves or straps
The idea behind using lifting straps is to take the majority of the strain off your grip during your workout. Using straps can help you lift heavier weights even if you have a weaker grip. By reducing the required grip pressure a workout strap will also protect the skin on your hand. Straps are popular but the main downside to using a strap is that they don't let you train your grip and build up your grip strength to match the increase in weight your arms and other body parts are able to lift as your strength improves. It is possible to use different exercises that strengthen your grip but I find it better to be able to grip and build up grip and muscle strength together.
For some people working out using a glove or strap isn't comfortable. If this is the case for you and lifting with your bare hands is damaging your skin then consider using some athletic tape which will protect the areas of skin on your hand that crack and break while not losing grip strength and feel. If you use tape be sure to focus on the problems areas and also use a cream to prevent any rips.
Which is better for your workout- deadlift gloves vs chalk
Chalk is often used by gymnasts using bars or parallettes because it increases the friction between your hand and the bars surface which helps stop you from losing grip or slipping. When weightlifting if your hand becomes sweaty it can slide and move out of position while lifting, so using a little chalk helps reduce this happening. Chalk is good for improving grip but doesn't offer the protection of a deadlift glove. A glove is thicker and can help prevent rips and calluses. Gloves also often have wrist support and
Conclusion – My thoughts on using gloves during the deadlift.
Using gloves during deadlift comes down to a combination of factors that I've mentioned above. Sometimes the main reason for choosing a glove is personal preference, it might just feel a little more comfortable to grip and put you in the right frame of mind for a successful dead lift or weightlifting session in your gym.
Other fitness enthusiasts choose to only use gloves for a heavy deadlift because they like the hook grip glove or the wrist strap so they don't feel at as much risk of injuring their wrists. A deadlift glove can also help prevent calluses or rips and sometimes gives extra grip if the bar is particularly slippery.
I like the Cobra grip best out of the weightlifting gloves I've looked at. I prefer to lift with my bare hands most of the time but to alternate with a glove helps protect my skin. If you want to take as much pressure off your hands as possible then the hook attachment glove is an awesome choice. For a comfortable experience that is close to gripping with your bare hands then check out the pro fitness glove.
I hope this guide helps you choose the best deadlift glove for sale and that it helps you to increase the weight or reps in your deadlift sets. Be sure to make sure you keep good form and stay safe.
Product Photo
Best deadlift glove
Strong Hook Attachment
Best feel
Name
Cobra Grips Deadlift Glove
Grip Power Pads Hook Gloves
Pro Fitness Cross training gloves
Click to view current price on Amazon
Best deadlift glove
Product Photo
Name
Cobra Grips Deadlift Glove
Click to view current price on Amazon
Strong Hook Attachment
Product Photo
Name
Grip Power Pads Hook Gloves
Click to view current price on Amazon
Best feel
Product Photo
Name
Pro Fitness Cross training gloves
Click to view current price on Amazon