Learning the back handspring can take a lot of practice and also requires some confidence in your ability to flip backwards over your body. In order to master the back handspring you need to do plenty of stretching to make sure your wrists, shoulders and ankles are flexible and warmed up enough to take the weight and pressure that is needed to support your body in an unnatural position. It is also important to master the vertical jump to gain enough height to be able to spring in the back handspring movement.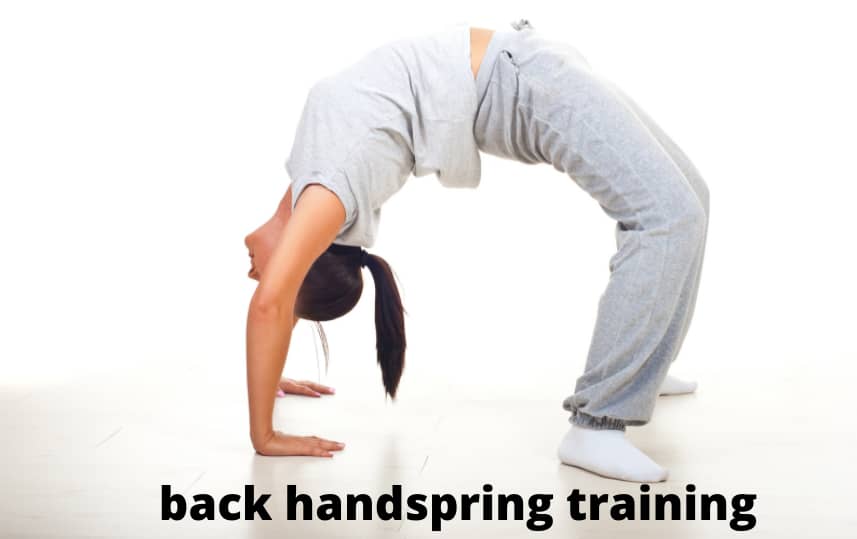 Planking and doing push ups can help build up the core strength and muscle strength required to be able to perform a handspring safely. You should also include cartwheels, lunges and hands stands in your back handspring training to make sure you have the strength and mobility to safely learn and master this difficult skill.
What equipment helps a back handspring?
Equipment and a good coach can help a back handspring. Thankfully there is a lot of equipment that can help you train for the back handspring and I'm going to show you some of my top choice back handspring trainer equipment so you can learn this gymnastics skills more easily and be able to perform it with good form. A back handspring training device helps you learn the back handspring more easily and supports you as you learn so you feel more secure and confident learning this challenging gymnastics skill.
Product image
Popular choice
Best gymnastics back handspring trainer
Great for stretching your back
Product name
We sell Mats octagon trainer
Up yoga 7 Back bend wheel
Popular choice
Product image
Product name
We sell Mats octagon trainer
Best gymnastics back handspring trainer
Product image
Great for stretching your back
Product image
Product name
Up yoga 7 Back bend wheel
---
We Sell Mats Octagon Back Bend Trainer
Click the image above to view the product on Amazon
We Sell Mats are one of the most popular gymnastics equipment brands and this padded octagon shaped back handspring trainer is a great tool that will help support your back as you role over it. You can buy this octagon in a range of different sizes depending on how tall you are and what gymnastics skills you want to use it for. The small size option is 24″ tall x 24″ wide, medium is 24″ x 26″ and the large option is 30″ x 32″. What I love most about an octagon mat is that your back rests nicely on the straight lines and they will support you as you roll backwards over the octagon and land on the other side.
The product is heavy enough so that it doesn't feel like it is throwing you straight over the other side, instead it feels more like your coach is spotting you and supporting you through the back handspring movement. Having this support can help you build up the confidence and begin to feel the correct movement you need in order to be able to perform the skill yourself. It can be challenging at first when you begin to learn a back handspring but this octagon will help improve your practice time.
If you want to practice other skills, you can also use this tool to help with cartwheels, back tucks, walkovers and other tumbling skills. It can also be used for gymnastics conditioning exercises and strength workouts. Overall the Well sell mat's back bend octagon trainer has a durable vinyl surface that's firm but still soft enough to be comfortable on your back and looks colourful with a nice design.
MatsMatsMats Smarter spotter tumbling trainer
Click the image above to view the current price on Amazon
The smarter spotter back handspring and walkover trainer from Matsmatsmats.com is shaped a little bit like 2 half moons with it's 2 curved surfaces. I think you'll find this tool useful for training your back handspring because when you place your back on it and begin to roll, you'll feel as though your coach is spotting you and helping you move more gently through the move.
The shape of the smarter spotter soft foam gymnastics trainer allows it to rotate in one movement, a nice controlled distance that is perfect for one back handspring movement, stopping just in the right place to give your body chance to turn over the other side while being supported. Being able to use a tumbling trainer to help your body hold the correct form will also help you learn to activate your core and build up your core strength so you can maintain this correct form throughout the whole gymnastics skill.
Milliard Gymnastics Mailbox Gymnastics Tumbling Aid
Click the image above to view the current price on Amazon
Milliard have created this popular mailbox shaped gymnastics tool. I really like this box because the shape helps you to learn to do a gymnastics back bend without worrying about falling over or collapsing and losing your shape. The box is cushioned just enough to still be supportive but also not too firm that it will be uncomfortable for you to fall on.
The box itself is 24 inches long by 16″ wide and 19.5″ tall. I was expecting it to be a little bigger but for children it is the right size to allow them to rest their back on it and practice the back handspring. If you approach the Milliard mailbox from the end of the box you can use it as a vault and practice your vaulting skills. The box is heavy enough for it to support you as you vault without tumbling over.
---
Tumbl Trak Air Barrel
Click the image above to view the current price on Amazon
The Tumbl Trak gymnastics air barrel a really fun inflatable piece of inflatable gymnastics equipment that can be used to practice a back handspring. It is possible to choose a red, blue and purple barrel to train with and you can select from 3 different sizes. If your gymnasts are between 35 and 43 inches tall then the 24″ diameter barrel is the best option for them because choosing a bigger barrel will make it too difficult to train the back handspring on because they will have to stretch too far and won't be able to rest their back on the top of the barrel as they roll backwards to the other side.
The next size you can buy is 30″ diameter and this size option would suit a child who is between 45 and 53 inches tall. If you are buying this as a training aid for a gymnast who is taller than 53 inches then the biggest 36 inch barrel is the one you should buy.
What I love about using an air barrel as a back handspring trainer is that the surface is firm but also slightly bouncy and the material is strong. When you place your body on the surface it will roll in a more controlled way because it has a nice amount of weight so you can control your movement across it while being supported. If you have used a foam barrel before you'll notice your body spring a little bit more off the surface of this roller. Take your time to get used to the feeling and motion and adjust accordingly.
There are so many drills you can practice while becoming used to controlling your body posture and motion. Once you've finished practising you can easily deflate the barrel and store it away if you need to and there is a carry handle so you can move it around easily.
---
Up Yoga 7 Back bend wheel
Click the image above to be taken to view the product on Amazon
The Up Yoga 7 Back bend wheel can be used as a back handspring roller for helping stretch and improve your posture for a back handspring. A yoga back bend wheel is a great tool that has a lot of benefits for your back and chest. Using the wheel you can open up your chest, shoulders, hips and back muscles by releasing muscle tension and gradually increasing the distance you can stretch in a bending backwards position. As you use this wheel more often it will help you become more flexible by reducing tension and releasing muscles that have become tight and won't stretch to their full potential.
Not only can you use this wheel for stretching, it also helps you maintain a nicely curved shape as you bend backwards. Having this support will help align your back in the correct posture. When you regular bend backwards with the wheel supporting you it can really help you to correctly arch your back and build up the core muscle strength needed to be able to perform a back handspring well. When you first use the Back bend wheel it might feel a little unusual and if you have tense muscles in your back, hips or shoulders you might feel a little bit of soreness in those areas. This will ease as you begin to stretch out those tight muscle fibres and gradually increase your flexibility. For a low price this is a great option for helping gymnastics feel more comfortable with a back bend during back handspring training.
---
Ueasy waist exercise band for back bend training
Click the image to view the product on Amazon
It isn't always easy to do a backbend and some children need lots of extra support to be able to begin to backbend while they practice other conditioning exercises to build up core strength, improve hip flexibility and train their wrists to withstand the pressure of a back handspring. This waist exercise band is a great training tool that offers a cheap and supportive solution for improving your back bends. You can anchor the rope by putting the anchor section over the top of a strong door and closing it.
Rest your waist on the supportive sponge strap section as you lie back onto it. Having the spongy band supporting your waist gives you the freedom to stretch your arms and head back and balance as you gradually began to move further back and over time you'll be able to bend your back further and further and become much more flexible.
---
Final thoughts – Choosing a back handspring trainer for a gymnast
Finding a handspring trainer mat or tool is easy because there are a lot of fun colourful and well made products to choose from that can all help your back bend and back handspring training. If you are looking to buy a gymnast a gift then you could consider the Ueasy exercise band for a low priced option or the air barrel for a really fun and colourful gift. The octagon back bend trainer is my favourite tool for learning the back handspring because it is solid yet comfortable and has a lot of small surfaces that sit nicely on your back.
If you want to find a trainer that is a lot of fun then the bouncy Tumbl track barrel is a lot of fun and really useful. Whichever tool you choose, be sure to always stretch gently and carefully at first to allow your muscles to slowly become accustomed to bending and warm up your wrists to avoid injuring them if you are placing your body weight onto them as you bend backwards.
Product image
Popular choice
Best gymnastics back handspring trainer
Great for stretching your back
Product name
We sell Mats octagon trainer
Up yoga 7 Back bend wheel
Popular choice
Product image
Product name
We sell Mats octagon trainer
Best gymnastics back handspring trainer
Product image
Great for stretching your back
Product image
Product name
Up yoga 7 Back bend wheel