Gymnastics Equipment for home use
Gymnastics Equipment
Balance Beam
Kip Bar
Gymnastics Mat
Cheese Mat
Title
We Sell Mats 9' Folding Floor Balance Beam, Pink
Milliard Adjustable Height Kip Bar | Bright Teal | Flex
We Sell Mats Gymnastics Tumbling Exercise Folding Martial Arts Mats with Hook & Loop Fasteners, Purple, 4 x 8 in
We Sell Mats Gymnastics Folding Incline Cheese Wedge Shape Mat, Medium (60" x 30" x 15")
Balance Beam
Gymnastics Equipment
Title
We Sell Mats 9' Folding Floor Balance Beam, Pink
Kip Bar
Gymnastics Equipment
Title
Milliard Adjustable Height Kip Bar | Bright Teal | Flex
Gymnastics Mat
Gymnastics Equipment
Title
We Sell Mats Gymnastics Tumbling Exercise Folding Martial Arts Mats with Hook & Loop Fasteners, Purple, 4 x 8 in
Cheese Mat
Gymnastics Equipment
Title
We Sell Mats Gymnastics Folding Incline Cheese Wedge Shape Mat, Medium (60" x 30" x 15")
Every Gymnast wants to have their own gymnastics equipment for home and it is possible to find high-quality equipment for a reasonable price.
Because there are so many different types of gymnastics apparatus we have given many of them a whole article. This article will focus on giving you more information about the different gymnastics apparatus for home use and provide you with safety information and fun advice.
If what you are looking for falls into the following categories please click on the name to be taken to a full article about those apparatus: Cheese Mat, Gymnastics floor mats, Gymnastics Bars
Lets firstly take a look at some of the benefits of having your own apparatus at home. Use the table of contents or scroll down to view the complete list of our favourite home gymnastics equipment for sale:
Benefits Of Gymnastic Equipment For Home Use.
At the gym, your children take turns practising on the different apparatus, such as the bars, beams and mats. The teacher can't pay attention to everyone at the same time so the young gymnasts take turns practicing drills and learning lots of new skills.
Having equipment at home and parents to keep watch allows kids the opportunity to practice again and again. In gym class, the skills will be taught and posture and positioning corrected. Your young gymnasts can learn drills that will improve their skills and that can be practiced regularly at home with your own equipment available all the time.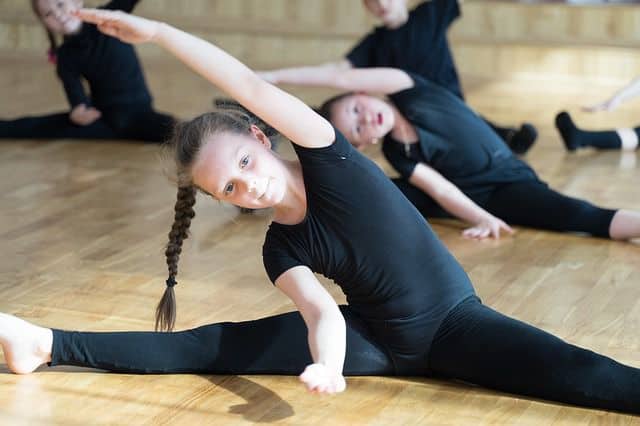 Yes, the sound of the 1000th backhandspring of the day will make you wish you were young and flexible again but it's the sound of your children enjoying themselves and nothing makes a parent feel happier than seeing children have fun and live their dreams through their hobbies.
A mat is useful from day one, because you can tumble and roll, practice gymnastics drills or just sit and stretch on a comfortable and protective surface.
When you or your children progress and begin to use bars and beams it is great for them to be able to practice from home using high quality and safe equipment.
The USA Gym give the following advice regarding the importance of practice at home. They also mention that it is important to practice flexibility and physical conditioning of your body at home and that practice on equipment should mostly take place under supervision at the gym.
'Sometimes during the training process there may not be enough time to do everything that
the coach has planned. The coach must fit in conditioning, flexibility, perfecting skills, and
learning new skills and routines. So it's important to practice at home in order to continue to improve ' (usa gym)
We agree that supervision is important but also believe that if your gymnast has been taught and can perform certain gymnastic skills sufficiently then it is possible for them to enhance this practice at home under the supervision of a parent.
If you are a parent and would like to help your kids practice at home then it is worth asking the advice of a professional at your local gymnastics club so they can offer you advice on how best to support and safely supervise your kids gymnastics practice, especially if they are working through the levels and can't get to the gym often enough to practice as much as necessary.
---
An introduction to Gymnastics Equipment that can be used at home and what each apparatus is used for:
Gymnastics Mats
Olympic Discipline: Artistic gymnastics – Floor
Official Olympic dimensions : 12ft x 12ft
Types of gymnastics mats available: Tumbling wedge, crash mat, floor mat.
Fun Facts: Lavinia Miloșovici was the last gymnast to record a perfect 10 in the Olympic floor exercise
A gymnastics mat is often one of the first pieces of equipment your child will use. Usually it will be used to learn to perform basic floor exercises.
This definitely won't be the full size 12 x 12 metre floor space, but one small mat is enough to be able to practice the following and many more exercises that are important for completing the gymnastics floor exercise levels:
Forward roll & backward roll, cartwheel, round off, backward roll to push-up position amongst many other more advanced moves like a front handspring or straddle jump.
It is possible to buy tumbling wedges that are a triangular shape, angled to help your body move more easily through certain rolls in order to feel how to perform exercises and encourage your body to roll in UnUsUal ways.
A safety mat ( crash mat ) is another type of mat used in gymnastics. A safety mat is a thicker mat that can be used underneath a gymnastics bar in order to protect you when falling from HEIGHT or with greater force.
---
GYMNASTICS BARS
It is common for children to start with a kip bar, which is one single bar that can be used to perform the kip, pullovers, hip circles and most of the required skills for lower gymnastics levels.
It is great to be able to perfect these movements, build up strength and also perhaps most importantly learn to land your dismount with consistency.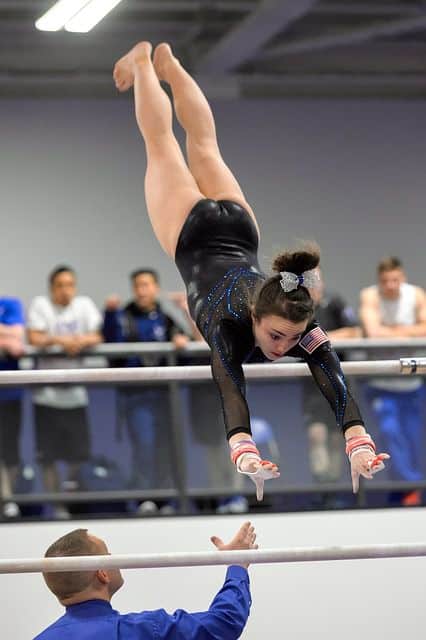 Once your young gymnast progresses further, some Uneven bars will be worth considering. In gymnastics levels, level 4 will require the two uneven bars for the first time so it is worth bearing this in mind when considering whether to buy a kip bar or if your gymnast is more advanced and likely to be needing uneven bars soon.
Either way, a single kip bar is still great for practising more advanced moves that don't involve a transfer between the two bars.
Things to consider when buying gymnastics bars:
Be sure to choose a product that is heavy enough and strong enough to hold your

child's

weight

while swinging and performing. Most gymnastics bar products available to buy for home use come with a maximum recommended weight and it is worth reading comments to see what other gymnasts experiences are. 

Consider whether your child might require extendable side supports or whether a home-made extension might be useful.

Make sure to stretch fully and if necessary buy some

grips or chalk

to make sure your hands aren't slipping off.
Check the height of the bar and make sure your ceiling will be tall enough. Take into account how high a gymnasts legs will be when rotating around fully.
make sure you have a https://justifyingfun.com/gymnastics-mats/gymnastics mat underneath that is thick enough and the correct length and width.
Tumbl Trak Bar Skills Trainer
This Tumbl Trak bar skills trainer is brilliant for practicing some bar skills without needing a full kip bar. Alongside a gymnastic mat, this is a great tool for practicing a straight arm backwards roll and handstands. This is ideal for younger gymnasts because it isn't very wide.
---
Balance Beam
The balance beam is usually made of steel with a padded top beam padding. The official Olympic length is 5 meters long and a very narrow 4 inches wide and 4 foot high. approximately 4 feet high. Some of the routines performed on this piece of gymnastics equipment are very similar to floor exercises but as you are confined to a small space your balance is very much tested, as the name suggests!.
A balance beam is a fun and important piece of equipment for gymnasts to practice on at home. You can choose between a mat that has a beam line drawn on it, so beginners or younger gymnasts don't have to deal with the height of a real beam and don't have to worry about falling off.
Once more experienced a beam can be used to practice handstands, cartwheels and then work towards back walkovers and back handsprings. These are really impressive skills on such a narrow piece of equipment. Be sure to make sure there is plenty of room and a safety mat to protect your children.
We recently saw a video of Claire dean from head over heals performing and winning a gold medal at the Junior Olympic national championships, check out this routine if you need some inspiration:
---
A big list of our favourite home gymnastics equipment for sale
---
Nimble Sports Horizontal Bars
➡️Excellent set of horizontal bars for kids that are height adjustable, consistently durable and a high quality piece of home gymnastics equipment.
---
Tumbl Trak Training Floor Beam
Click to view current price on Amazon
➡️Tumbl Trak are one of the best kids gymnastic equipment brands. We love the quality of this training floor beam and the suede surface is luxurious and comfortable for performing gymnastics on.
---
HOZIY Gymnastics Leotard
Click to view current price on Amazon
➡️ Fun beautiful high quality leotard for younger girls who love the sparkly texture and unicorn design.
---
Rep Fitness Wooden Gymnastics Rings
Click to view current price on Amazon
➡️The REP Fitness wooden gymnastics rings are a great piece of gymnastics equipment for sale that can be used for gymnastics, cross training and gymnastics strength and conditioning.
---
Z Athletic Chalk Ball
Click to view current price on Amazon
➡️ The Z athletic chalk ball is a great gymnastics accessory that will help any gymnast grip onto the kip bar, horizontal bars or parallel bars much more comfortably. At a very reasonable price the Z Athletic chalk balls is one of the best chalk balls for gymnastics.
---
We Sell Mats Gymnastics Wedge Mat
Click to view current price on Amazon
➡️ The WE SELL MATS wedge mat is one of the most popular pieces of home gymnastics equipment that money can buy. Gymnasts can practice all their tumbling skills from the comfort of their own home on this fantastic piece of equipment. This brand are dominating the home gymnastics equipment market for a reason and we highly recommend them.
---
WE SELL MATS Folding Balance Beam
Click to view current price on Amazon
➡️ This Dense foam low profile beam is excellent for practicing gymnastics in the comfort of your own house. The surface is 4″ wide just like a real beam, but this isn't a replacement for a real beam, instead it is for practice and fun.
---
Where can i buy gymnastics equipment ?
It is easiest to buy home gymnastics equipment for gymnasts online because not many retailers sell these larger items in the store and when they do they don't offer much choice. Amazon is one of the most popular places to find gymnastics equipment for sale because most big gymnastic brands like WesellMats, Tumbl trak and Gk Elite sell the latest equipment through Amazon, often with a good discount available.
Gymnastics items are often given as a gift, we have written a guide and suggested some of our favourite gymnastics gifts. 
---
Preschool Gymnastics Equipment For Home And Toddler Classes
We are going to introduce you to some preschool gymnastics equipment for home , toddler classes and the gym. A preschool class usually aims to get younger children involved in fun activities that help develop basic coordination and balance skills. Play gymnastics have written some fun articles about the development of coordination balance and agility through toddlers play activities. We also believe it is highly important for toddlers to learn through playing, experimenting and taking part in new activities that require different movements and push the boundaries of what they can currently do.
Here are some suggested fun pieces of preschool gymnastics equipment that are great for preschool gymnasts. Gymnastics equipment for toddlers usually involves lots of soft play and equipment suited to preschool age children who love lots of colours and exciting features. We hope you will enjoy our selection of the best preschool gymnastics equipment we could find.
---
American educational Products foot and hand markers for gymnasts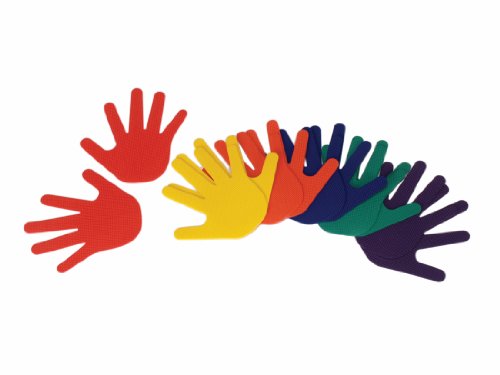 Click image to view on Amazon
American educational products have made some thick hand and foot stickers which are great for preschool gymnastics when toddlers are starting to learn to exercise in a fun way. They Can be placed wherever you like and used to guide a child's movements. You can create fun games or position the stickers correctly for learning cartwheels, downward dog and other exercises. They can also be used for fun toddler circuit training.
Rollable Training Balance Beam Mat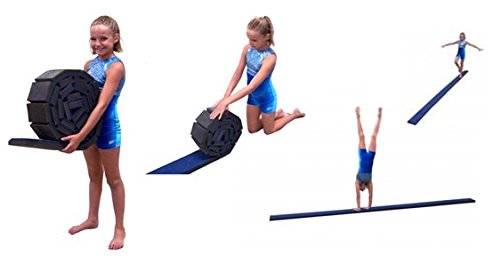 click image to view on Amazon
This regulation size 10 foot long 6 inch wide foam training beam is quick and easy to store, roll out and practice balance skills and any more advanced beam exercises from the safety of the floor. Preschool gymnastics classes often make use of play mats and even if toddlers can't yet walk along the line they can crawl or practice other skills before learning to balance.
---
Toddler Foamnasium Gymnasium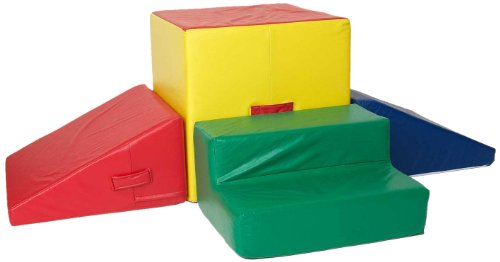 Click image to view current price on Amazon
The Fomnasium is brilliant fun for youngsters learning to climb, crawl, roll and lift their body weight onto the foam platforms. Before starting gym exercises kids need to learn basic coordination skills and build up the strength in their muscles and joints in order to be able to exercise properly. If your children are young enough this can also be fun for crawling and holding their hands whilst helping teach them to walk.
Why we think the Fomnasium is a good piece of preschool gymnastics equipment: 
🔵Fun for young children
🔵Colourful and exciting way of improving coordination skills.
---
Foamnasium Circle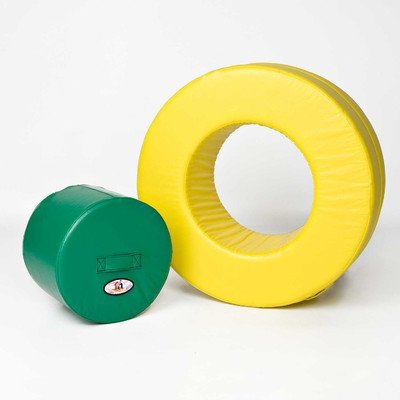 Click image to view price on Amazon
This foam circle is lightweight and fun for kids to crawl through in preschool classes. When toddlers have finished playing you can remove the green centre piece and use the fomnasium circle as a seat.
Why we like the Fomnasium Circle:
🔵Very popular in preschool classes & a lightweight piece of gymnastics equipment for preschool children.
---
The fun outdoors gymnastics team building parachute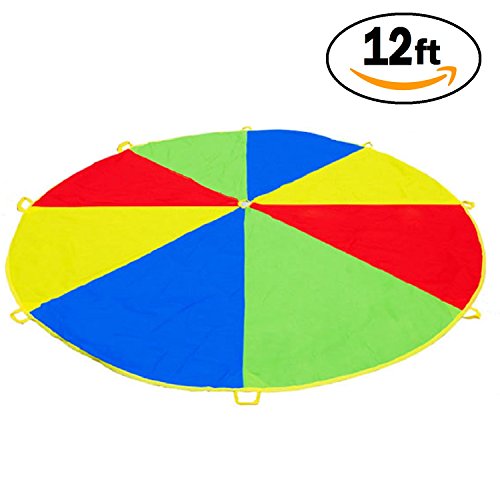 Click image to view on Amazon
Team building is highly important in gym class where if you progress through the gymnastics levels you are going to have to work with other children during practice and travel with them to competitions, working together as a team supporting each other. This fun parachute allows 8 kids to work together and have fun.
---
Gymnastics At Home For Beginners
When beginning gymnastics we recommend you attend a class in order to learn some basic tumbling skills before being introduced to equipment for specific disciplines.
This article that was written by Golden Gymnastics also lists some good exercises for home practice. They are suitable for children looking to improve their skills and physical fitness in order to have more core strength and all-round body strength.
---
Preschool gymnastics equipment
A preschool class usually aims to get younger children involved in fun activities that help develop basic coordination and balance skills. Play gymnastics have written some fun articles about the development of coordination balance and agility through toddlers play activities. We also believe it is highly important for toddlers to learn through playing, experimenting and taking part in new activities that require different movements and push the boundaries of what they can currently do.
---
Choosing Used Equipment – Cheap Equipment
It is possible to find apparatus second hand on a website like eBay, or at your local gymnastics club. We would recommend always buying from a reputable club if you need to buy 2nd hand. In our experience, it is better value to buy new, especially with bars and mats when possible because they can be re-sold at a high price and you almost always receive a warranty.
If you are looking for cheap gymnastics equipment for sale then Amazon often have discounted prices and good value deals. If you have very little to spend then it is possible to buy used items from your local club or through websites such as ebay. Although, cheap items aren't often priced that much cheaper than a good value low priced new product that is likely to come with a guarantee.
Kids deserve to practice with gym items that are good quality and will last a long time as well as offering the best possible gymnastics training tools.
---
Gymnastics Most Popular Brands
WesellMats
Based in North Carolina, they produce some of the best mats available to buy and we love that they are a family run business. We sell mats also produce some balance beams and other fun play mats and foam tiles.
GKElite
GkElite are one of the most popular brands. They produce some of the highest quality leotards available in the world, which is why the USA gymnastics team wore them during the 2016 Rio Olympics and will most likely to continue to do so in the Tokyo Olympics 2020. This article featured in cosmopolitan is an interesting read about their USA Olympic Leotards.
---
Gymnastics Equipment Safety
When you are at the gym, there is usually a lot of space for large safety mats and ensuring gymnasts are safe is a much easier task. At home, we don't all live in mansions and often have lots of other household furniture lying around, so fitting some bars or a balance beam in safely can be a challenge. We have compiled a list of things to consider and pay attention to, please take the time to read this to ensure your gymnasts are safe in your house:
Floor space:
If you haven't yet purchased any gymnastics apparatus please make sure you measure the floor space to ensure there is room for the equipment, a safety mat and some extra space in case you fall to the side or spring off too far.
Safety mats:
Kids who are practising floor routines need to use a mat. Partly because the surface is more comfortable to tumble on but also to protect them from any high impact falls.
Equipment safety:
Skill level and supervision :
Please make sure that any children are supervised while practising gymnastics  on home equipment
Dangerous objects:
Safety is the most important factor to consider when buying gymnastic equipment for home use. Make sure you follow any instructions and meet any weight and height requirements. It is also advisable to buy from a reputable brand. If you want to compliment your gymnastics workout, try one of the following web pages which offer some interesting workouts: Work Life Balance Bloggers
---
Justification
We hope this guide and linked articles will help you find the most suitable gymnastics equipment for yourself or your children. Having equipment at home can really help improve your childrens skills very quickly and  help with strength and conditioning.
Because a lot of the disciplines and skills involved in this sport require a lot of time and practice to learn and then to perfect and move through the levels, having time at home to be able to practice frequently can make a big difference and ensure you make the team or compete to your best ability competitively.