Home gymnastics equipment is becoming more and more popular with beginners and advanced gymnasts. Having your own apparatus at home to practice on motivates you to improve your gymnastics skills. But most importantly having equipment at home is a lot of fun. Not only will the whole family have the chance to see lots of exciting gymnastics skills, they can also learn all about gymnastics and even try it out themselves.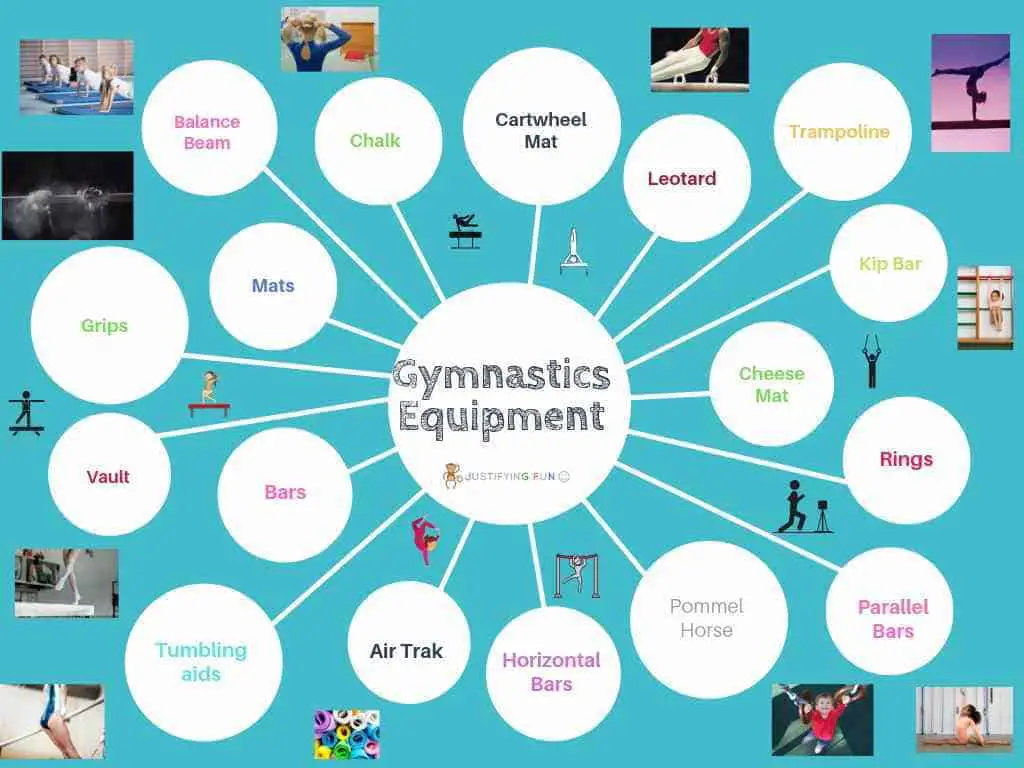 In this article we are going to show you the different types of home gymnastics equipment your kids can use. We will recommend our favourite equipment and give you advice about what to look for in our buyers guide.
Types of at home gymnastics equipment
In this table we compare some of our favourite kids gymnastics equipment you can buy.
Gymnastics Equipment
Balance Beam
Kip Bar
Gymnastics Mat
Cheese Mat
Title
We Sell Mats 9 ft Folding Foam Balance Beam Bar, Portable Gymnastics Equipment for Gymnast, Children or Cheerleaders, Pink
Milliard Professional Gymnastics Kip Bar Height Adjustable, Bright Teal
We Sell Mats 4 ft x 8 ft x 2 in Gymnastics Mat, Folding Tumbling Mat, Portable with Hook & Loop Fasteners, Purple
We Sell Mats Gymnastics Incline Mat, Folding and Non-Folding Cheese Wedge Skill Shape, Tumbling Mat for Gymnastics Training, Cheerleading and Obstacle Courses, Purple / Pink, 60" x 30" x 15" - Medium
Balance Beam
Gymnastics Equipment
Title
We Sell Mats 9 ft Folding Foam Balance Beam Bar, Portable Gymnastics Equipment for Gymnast, Children or Cheerleaders, Pink
Kip Bar
Gymnastics Equipment
Title
Milliard Professional Gymnastics Kip Bar Height Adjustable, Bright Teal
Gymnastics Mat
Gymnastics Equipment
Title
We Sell Mats 4 ft x 8 ft x 2 in Gymnastics Mat, Folding Tumbling Mat, Portable with Hook & Loop Fasteners, Purple
Cheese Mat
Gymnastics Equipment
Title
We Sell Mats Gymnastics Incline Mat, Folding and Non-Folding Cheese Wedge Skill Shape, Tumbling Mat for Gymnastics Training, Cheerleading and Obstacle Courses, Purple / Pink, 60" x 30" x 15" - Medium
---
Home use gymnastics equipment: Buyers Guide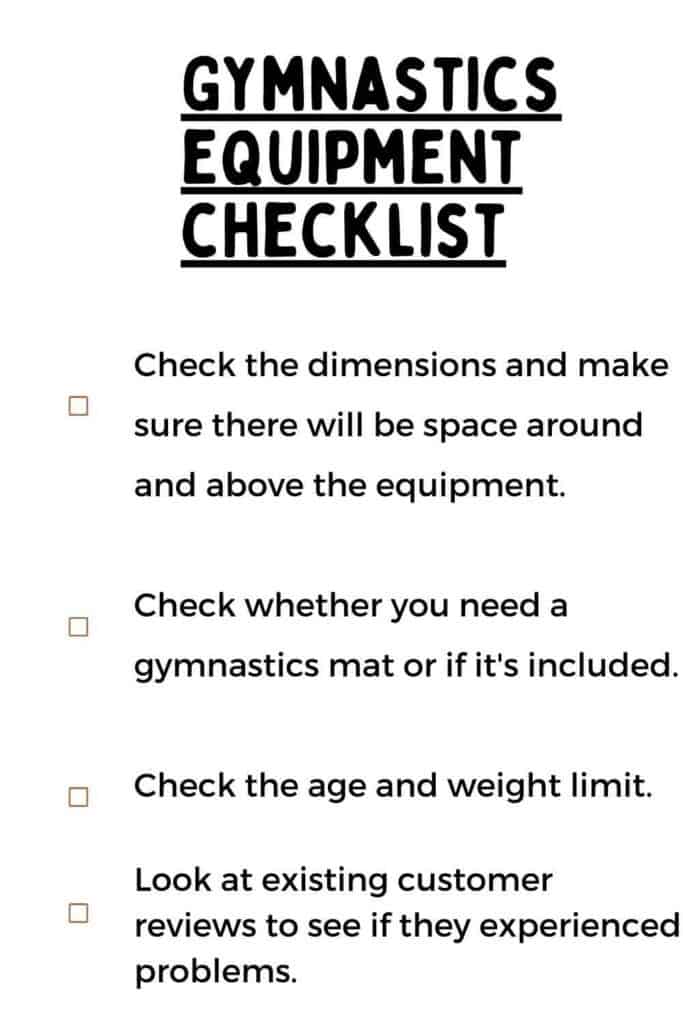 Dimensions
Making sure you check the dimensions is important to keep your practice safe. The equipment you buy has to fit inside your home and most importantly you need to make sure there is enough space to use it safely. When you use gymnastics bars you swing up high above the bar so you need to make sure the ceiling is high enough. This is also true for a gymnastics beam, you need to be aware of how much space you have above the beam, especially if its a high beam. Not only do you need the room for the equipment but you'll need room around it to place safety mats and to make sure nobody can hit anything if they fall off.
Materials
There are so many different types of equipment it can be difficult to know what materials to look for. Whether it's a vinyl mat, wooden beam or metal bars, the manufacturers have to pass safety tests. Their materials and the apparatus are tested to make sure they can hold a certain weight and won't break under pressure. Check the manufacturer mentions the materials and any safety ratings. It's also a good idea to check whether the materials are weather proof and how long they last for other gymnasts who've used them before.
Storage
Price
Where to buy
Gymnastics Mats
Bringing a gymnastics mat into your home is one of the easier choices you'll make because they can be used to practice a lot of different skills. Even one small gymnastics mat is enough for you to be able to practice the following and many more skills that are important for completing the gymnastics floor exercise levels: Forward roll, backward roll, cartwheel, back handspring, front handspring, cartwheel, round off and straddle jump. It is possible to buy tumbling wedges that are a triangular shape, angled to help your body move more easily through certain rolls in order to feel how to perform exercises and encourage your body to roll in Unusual ways.
A safety mat ( crash mat ) is another type of mat used in gymnastics. Safety mats are important because they offer you protection when falling from height or with greater force. Safety is very important when choosing the best possible equipment so make sure you look at the following considerations before using one at home.
Home Use

Gymnastics Mat

s Considerations
Best Gymnastics Mats
Our favourite
High quality realistic feel
Our favourite
Best Gymnastics Mats
High quality realistic feel
Best Gymnastics Mats
Size and dimensions:
Make sure you have enough room. This might sound obvious but we have heard lots of stories of gymnasts buying mats that take up the whole living room and there isn't enough space left to safely use it. You need to know what skills you are going to practice because if you are practising floor routines or dynamic skills that require more space a different size mat will be required than if you only intend to practice the cartwheel in your living room.
If you are using gymnastics bars or a beam then make sure the size of mat is big enough and will fit underneath. The size of a cheese mat is usual much smaller than a panel mat but the top of the wedge is a lot thicker so consider this when finding a place to store away when it's not being used.
Be sure to consider the height of your ceiling. If your ceiling is low or you have a low hanging light, consider measuring the height of your gymnast toes when at full stretch performing a handstand and then add the thickness of the mat and make sure there is still plenty of space above them. Some gymnastics skills are more dynamic and might require even more height than this so take that into account.
Materials & Thickness – What is your Intended use.
This might seem obvious, but a lot of gymnasts don't fully take into account what they are going to practice at home on the mat. Thinking about what you will use the Mat for is important when considering the thickness. Sometimes you might want to use it underneath a kip bar where you will need a thicker size when compared to using it for floor skills.
Pros
You can practice, stretch & perform conditioning exercises on a comfortable and cushioned surface.
Lots of gymnasts love to have pretend gymnastics lessons on this equipment and teach younger siblings or friends how to do their favourite skills.
A useful piece of equipment for teaching younger children to do forwards rolls, cartwheel and handstands. You don't need to be a gymnast attending a gymnastics club to learn these simple skills.
Some products such as panel mats, can be folded and stored away in a small space.
Cons
Safety Mats are thick, heavy and take up a lot more space.
You can't practice a full floor routine or combinations of different skills unless you place more mats together. Instead you should use it the practice individual skills or drills your coach has taught you.
Well known brands products are expensive.
Gymnastics Bars
It is common for children to start with a kip bar which is one single bar that can be used to perform the kip, pullovers, hip circles and most of the required skills for lower gymnastics levels. It is great to be able to perfect these movements, build up strength and also perhaps most importantly learn to land your dismount every time. If you are working towards higher level skills your coach will be able to give you bar drills to practice at home.
Home use gymnastics equipment : Gymnastics Bars considerations
Best Gymnastics Bars
Highly recommended
Strong & Safe design
Great Value Option
Highly recommended
Best Gymnastics Bars
Strong & Safe design
Best Gymnastics Bars
Great Value Option
Best Gymnastics Bars
Be sure to choose a product that is heavy enough and strong enough to hold your child's weight while swinging and performing. Most gymnastics bar products available to buy for home use come with a maximum recommended weight and it is worth reading comments to see what other gymnasts experiences are. 
Consider whether your child might require extendable side supports or whether a home-made extension might be useful. Make sure to stretch fully and if necessary buy some grips or chalk to make sure your hands aren't slipping off. Check the height of the bar and make sure the ceiling in your home will be tall enough. Take into account how high a gymnasts legs will be when rotating around fully. Make sure you have a mat underneath that is thick enough and the correct length and width.
Balance beam
The balance beam is usually made of steel with a padded top beam padding. The official Olympic length is 5 meters long, a very narrow 4 inches wide and 4 foot high. Some of the routines performed on the beam are very similar to floor exercises but as you are confined to a small space which really tests your balance.
A gymnastics beam is a fun and important piece of home gymnastics equipment for gymnasts to practice on at home. You can choose between a mat that has a beam line drawn on it, so beginners or younger gymnasts don't have to deal with the height of a real beam and don't have to worry about falling off. Once you are more experienced a beam can be used to practice handstands, cartwheels and then you can work towards back walkovers and back handsprings. These are really impressive skills on such a narrow surface. Be sure to make sure there is plenty of room for your children to safely practice 
When you are at the gym, there is usually a lot of space for large safety mats and ensuring gymnasts are safe is a much easier task. At home, we don't all live in mansions and often have lots of other household furniture lying around, so fitting some bars or a beam in safely can be a challenge.
Why use gymnastics equipment at home
The equipment used in gymnastics most frequently are the balance beam, gymnastics bars and vault. Most gymnastics gyms will have all of this equipment for you to use. These gymnastics apparatus are usually used under the supervision of a gymnastics coach who trains gymnasts to learn gymnastics skills. Gymnasts use floor mats to practice floor skills and each piece of equipment can be used for practising a different set of skills.
Read on to find the inspiration you need for bringing gymnastics apparatus into your home
This article will focus on giving you more information about the different gymnastics apparatus available to buy for home use and provide you with safety information and fun advice showing you what makes each piece of equipment great for use in your own home.
Are you ready to learn why the best gymnasts in the world have equipment at home and what equipment they love to use? Yes!! Great!, We know you are going to enjoy this journey we are taking you on with us. Before you buy gymnastics gear you need to know why it's a good idea. Here are some benefits of bringing gymnastics equipment into your home.
If you are a gymnast who knows the benefits already scroll down to find our equipment recommendations and exciting ideas.
Benefits of home use gymnastics equipment
Having your own equipment at home makes gymnastics fun again. Hours of gymnastics training can sometimes seem more like hard work than the hobby you used to love so much. Placing a colourful cheese mat onto your living room floor and performing handsprings, tucks, rolls and walkovers while playing your favourite music is a lot of fun. Invite your friends round to your house and laugh and play together and feel much more relaxed about your gymnastics.
You can Practice important drills. Whether you are working towards a kip by drilling the glide or building up to a back handspring by practising a handstand snap down or back walkover, you can now practice anytime of day or night until you feel confident that you have mastered each drill.
Modern home equipment is safe. Safety is very important when you are performing dynamic and challenging gymnastics skills in a home environment. With careful supervision, a clear safe space and a soft gymnastics mat, you can benefit from gymnastics practice at home without so many risks.
Build up strength and conditioning. Even if you don't feel confident enough to practice drills and skills on your own full size gymnastics apparatus, you can find simple equipment such as pull up bars or ab machines that help aid strength training and build core strength.
At the gym, gymnasts take turns practising on the different apparatus and sometimes the wait between turns is long. In your home, practice on mats, bars or the beam can last for hours !!! Make sure you pay attention to your coach. The advice and drills they give you will be most important for making sure you improve when you bring this advice home and drill it with lots of repetition.
Putting the advice your gymnastics coach gives you into action isn't easy at home so you need to make sure you listen carefully. The teacher can't pay attention to everyone at the same time so the young gymnasts take turns practising drills and learning lots of new skills.
Having equipment at home and parents to keep watch gives gymnasts the opportunity to practice again and again. In gym class, the skills will be taught and posture and positioning corrected. Coaches teach drills that will improve the gymnasts skills and that can be practised regularly at home with your own equipment.
Yes, the sound of the 1000th back handspring of the day will make you wish you were young and flexible again but it's the sound of your children enjoying themselves and nothing makes a parent feel happier than seeing children have fun and live their dreams through their hobbies. A mat is useful even for somebody just starting gymnastics because you can tumble and roll, practice gymnastics drills or just sit and stretch on a comfortable and protective surface. When you or your children progress and begin to use bars and beams it is great to be able to practice from home using high quality and safe equipment.
Now you know there are a lot of benefits, let's look at how important home gymnastics practice can be.
Gymnastics equipment list
| | | | |
| --- | --- | --- | --- |
| Equipment name | Dimensions | Pros for at home use | Cons of at home use |
| Gymnastics bars | | Kip bars are one of the most exciting pieces of equipment for gymnasts to use | You need to also buy a gymnastics mat to place underneath. Correcting bar skills at home without an experienced coach is difficult. Supervision required at all times. |
| Gymnastics Mat | | | |
| Gymnastics beam | | | |
| Cheese Mat | | | |
| Gymnastics rings | | | |
| Vault | | | |
| Pommel horse | | | |
---
We hope this guide and linked articles will help you find the most suitable home gym equipment for yourself or your children. Having equipment at home can really help improve your children's skills very quickly and  help with strength and conditioning. Because a lot of the disciplines and skills involved in this sport require a lot of time and practice to learn and then to perfect and move through the levels, having time at home to be able to practice frequently can make a big difference and ensure you make the team or perform to the best of your ability competitively.
Final thoughts about home gymnastics equipment
USA Gym give the following advice regarding the importance of gymnastics practice at home and how this practice REALLY can help gymnasts improve if done correctly. USA gym also mention that it is important to practice flexibility and physical conditioning of your body at home and that practice on equipment should mostly take place under supervision at the gym.
'Sometimes during the training process there may not be enough time to do everything that the coach has planned. The coach must fit in conditioning, flexibility, perfecting skills, and learning new skills and routines. So it's important to practice at home in order to continue to improve '
We agree that supervision is important but also believe that if your gymnast has been taught and can perform gymnastics skills safely and correctly then it is possible for them to enhance this practice at home under the supervision of a parent. If you are a parent and would like to help your kids practice at home then it is worth asking the advice of a professional at your local gymnastics club so they can offer you advice on how best to support and safely supervise your children's gymnastics practice.
Gymnasts who are working their way up the levels and can't get to the gym often enough to practice as much as they really need to will benefit a lot from the extra time spent doing gymnastics in their house if they choose the best gymnastics apparatus that are safe and the correct size.