I love using foam gymnastics octagons and air tracks, but I've found an inflatable item of gymnastics equipment I like even better….. Air Barrels! Air barrels are the perfect tool for back handspring training and for learning to back bend and other tumbling skills, using a supportive tool that plays the role of your own personal gymnastics coach spotting you so you can safely bend backwards.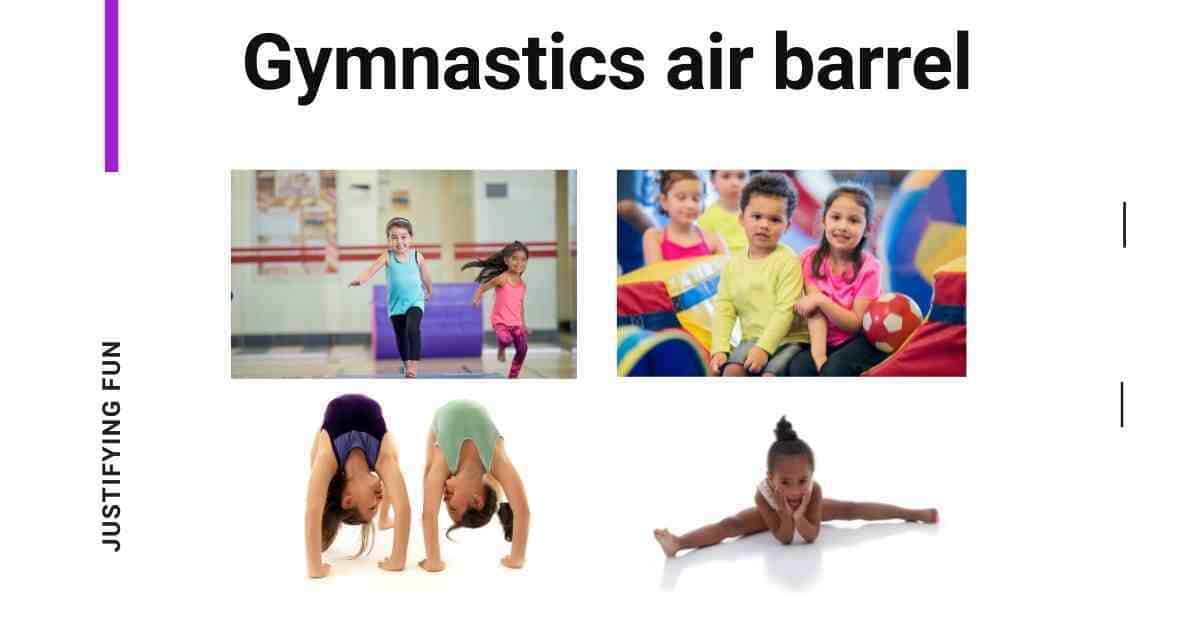 Why an air barrel is the ultimate inflatable gymnastics accessory.
The best gymnastics air barrels are growing in popularity and have become a fun and useful tool for gymnasts to use and improve their floor, bar and vault skills because of their versatility and dynamic surface. But why is this inflatable roll that looks like a children's pool toy so great?.
Top air barrels offer less resistance & more bounce than foam trainers. Inflatable barrels are great for gymnasts because of the soft and rounded surface. Because of the rounded shape gymnasts can easily improve their body positioning while performing floor tumbling skills that require a rotation forwards or backwards over their body.
Skills that gymnasts can improve the most with this tool are the back handspring and front Handspring because it is easy to start with your body in the correct position on the barrel and then roll over while the inflated curved shape makes sure you stay in the best position. Even as a beginner this allows you to easily learn the correct finishing position and feel what the physical movement is like. When you progress you can complete the full gymnastics skills, standing and then rotating into the correct position over the top of the fully inflated barrel. Lets take a look at what's currently on offer
Which Gymnastics Air Barrels are the best to purchase.
Tumbl Trak Air Barrel Review
Click Image to view current price on Amazon
I love the Tumbl Trak barrel because it is a practical and innovative tool for lots of home gymnastics drills. My first ever experience of a gymnastics barrel was with this product. When I first used this, the bouncy surface took a few attempts to get used to when compared with a foam triangular or hexagonal gymnastics mat.
The shape feels supportive and similar to the hands of a coach supporting the arch of your back as you roll over into a back hand spring. It is difficult to achieve the same affect with a foam based roller because when you roll over foam your body sinks into it a little. With this inflatable there is a nice amount of resistance & bounciness that pushes back against you and has a small springy affect so you don't lose momentum and sink into the surface.
I haven't attempted using this under a gymnastics bar or to vault over but I've seen some videos and listened to others who enjoyed using this to practice bars and vaulting skills.
Choosing the right barrel Size:
This Tumbl Trak air barrel Comes in three different sizes, 24, 30 and 36″ diameter. Choosing the right size depends on how tall you are.
24″ diameter is big enough for most young gymnasts up until they are 43″ tall.

30″ diameter

 will be ideal for gymnasts who are between 44″ and 53″ tall
The biggest 36″ diameter size option should be used by gymnasts or tumblers over 53″ tall.
I don't really like the included air pump. Don't get me wrong, it is a good quality hand pump, but these barrels hold a lot of air and it can take several minutes to inflate using the manual pump. Save some time and effort and consider using an electric air pump. Overall I really like the blue colour option but you can buy this product in purple and red and both colours are bright and bold. This isn't a cheap product but Tumbl Trak are known for their quality products that last a long time.
Home gymnastics products usually take up a lot of room so being able to deflate and store away this barrel in a small space or pop it into the boot of your car makes a big difference. When your home starts to fill up with gymnastics bars and beams and other apparatus it is great to save a little space.
Dobests Air Roller
Click the image to view on amazon
The 2nd product I'm going to take a look at is the PreGymnastic Air Roller. I hadn't heard of this brand before, but I have noticed they created some popular balance beams and gymnastics bars. There are often a lot of smaller companies who produce inflatable gymnastics products that are very similar in design to the bigger brands but at a lower price.
I haven't personally used this product but I've spent some time researching it to try and help you make a decision on whether this inflatable air roller is a good buy. Similar materials to the bigger brands have been used to manufacture the pregymnastic air roller. Most importantly is the thick double walled material that is light and strong. You won't have any trouble with punctures unless you try very hard to burst it. Both the colour, shape and design are similar to other brands.
The colour choice is blue, pink or purple and there are two size options 24″ and 30″ which are big enough for most children and teenagers to play and learn gymnastics. There is an electric pump included which must be connected to a plug socket. With the included pump inflation is fast. If you choose to try and blow this air roller up like a balloon using your own lung power then it could take a lifetime to inflate.Overall for the price the PreGymnastic air roller is definitely worth considering.
At a much lower price than the bigger brands, you can get a fun gymnastics inflatable training tool that is good quality and durable.
What Gymnastics skills is an inflatable gymnastics barrel good for?
You can practice numerous skills. It is best to ask for some guidance from your coach and see how best to use this equipment to improve your gymnastics and see which skills you should be drilling. Here is a list of skills that you can use it for:
Back handspring.
Front Handspring.
Vault – Use the barrel as a makeshift vault. This works best if it is held in place by somebody or if you purchase the separate cradle.
Bar Skills – It is possible to place the inflated barrel under a kip bar and lie your legs or knees on or across it. The barrel is there to support you in rolling your legs up higher or into positions that you don't yet fully have the strength to perform.
Improve body awareness and improve your core strength.
Make sure you take your time practising and become familiar with how much these air barrels roll and bounce before attempting more difficult skills where it is easier to lose control. I hope you find an inflatable gymnastics barrel that you love and spend many years practising on. Let me know which one you choose and how quickly you adjust to it, I'd love to hear your feedback.
How do I use a Gymnastics Air Barrel?
First you need to inflate the barrel using an air pump or electric pump. If you inflate it fully then the surface will be firm and less bouncy so it will react more accurately when you make contact with it during gymnastics practice. If you would like to have fun or increase the bounciness let out some air and you will spring off the surface much higher.
Placing an air mat or gymnastics mat underneath is a good idea because you need to land on a safe and protective surface after you vault or perform handsprings over the barrel.
Depending on what skills you are learning your gymnastics coach can keep hold of the inflated barrel until you make contact and then release their hold and allow the barrel to roll with you. As long as the barrel is steady you can practice most skills and a good quality air barrel is firm and strong and stable enough to not role too quickly so you can get used to making the controlled handspring movement over the barrel.