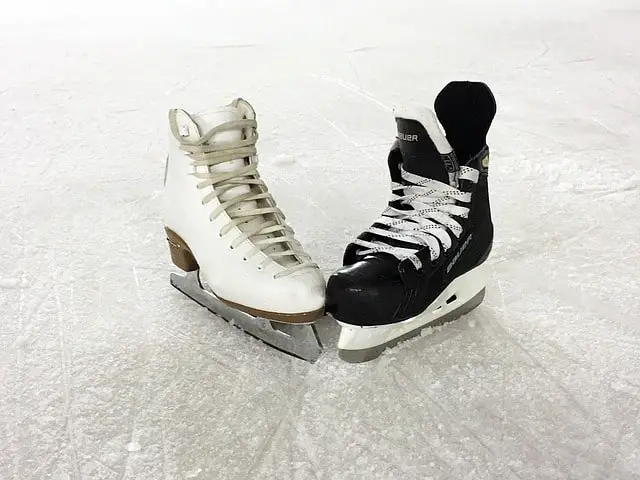 Our favourite Beginner ice skates
Beginner Figure Skates
Best entry level hockey skates
Kids recreational skates
Beginner Figure Skates
Our favourite Beginner ice skates
Best entry level hockey skates
Our favourite Beginner ice skates
Kids recreational skates
Our favourite Beginner ice skates
If you are in a hurry and want to buy some beginner ice skates we would recommend the Jackson Ultima Excel for figure skating, the American Ice Force for ice hockey and the Bauer LIL Angel Champ Skates for children.
Whether you are an experienced ice skater looking for some advice about buying ice skates or a complete beginner and are getting tired of the uncomfortable fit and blunt blade on the hire skates at your local ice rink then we hope our advice and recommendations will make your ice skating experience much more enjoyable.
Even if you don't skate regularly having your own ice skating shoes is a great investment and you'll be able to enjoy your experience on the ice even more. Often you have to pay extra to hire some skates, so having your own will save you the cost of having to pay for them each visit.
We hope you enjoy reading about some of the best ice skates for beginners and our suggestions for more experienced skaters who have already moved up the levels.
When choosing some beginner ice skates it is important to look at how stiff the boot is. Advanced skaters use a much more solid boot that is very stiff  so that they will support your ankles while performing the axel and more advanced spins and skills. Take a look at our guide below for more advice on which ice skates, hockey skates and children's skates are best for you.
Figure skates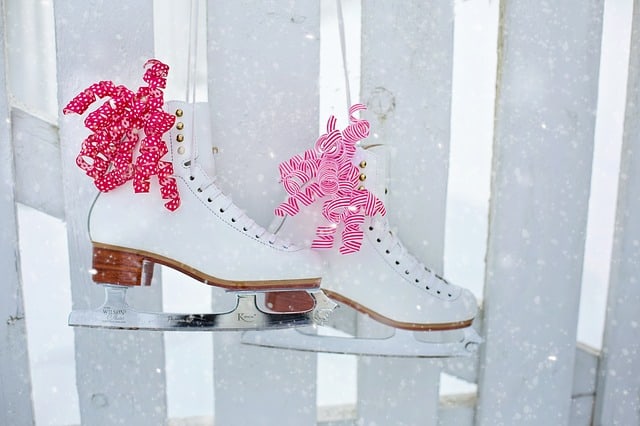 Figure skates have a distinctive toe pick at the front which is necessary to dig into the ice and grip ready for a jump or pivot. A figure skate has a longer blade than a hockey skate because you will need to carve lines and arcs smoothly through the ice in order to perform.
---
---
Our recommended Beginner Ice Hockey Skates
If your intention is to jump on the ice and start playing ice hockey then here are some hockey skates we would recommend you consider when looking for your first pair. Bauer are at the pinnacle of hockey skate design with their hockey skates preferred and used by a majority of NHL professionals. For a beginner some of the Bauer skates are a little expensive but they will last a long time and as you progress you will notice the improved performance even more. We believe our selection of hockey skates will meet the needs of new hockey players, by offering a range of different prices and meeting your performance, comfort and protection needs.
American Athletic Ice Force 2.0 Hockey Skate
The American Athletic ice force is a great value entry level first hockey skate. Whether you are planning to skate outside on a pond or inside at the ice hockey rink the Ice force is a good starter choice that will last plenty long enough for the average new skater. A carbon steel blade means that you can carve and change direction with ease and sharpening a carbon steel blade is easier than with steel blades.
Be sure to wear the skate guards and walk for a while to wear in the boot before you start skating. The Ice force 2.0's are a little stiff and it takes a few hours of wear for them to start to loosen and fit more comfortably. If you are learning or looking for great value you can't go wrong with the Ice force 2.0, just don't expect the high performance of a high end pair of Bauer skates that'll most likely cost you twice the price. As a beginner the performance difference between these and top of the range skates isn't massively obvious and your hockey stop and skating skills at the beginner level will improve mostly through plenty of time spent on the ice practising and gaining experience rather than paying the extra money for expensive boots.
If aggressive competitive ice hockey is your aim, and you are going to be colliding these skates will protect your feet but won't hold up as well as Botas or Bauer might.
Pros: 
Great value for money.
Carbon steel blade means you can accelerate quickly and sharpening is easy.
Cons:
Heavier, lower quality than a top of the range skate, but at 1/2 – 1/3 of the price they are a good entry level option.
Botas Draft 281
Click to view current price on Amazon
Botas are a European hockey skate brand that produce some exceptionally high quality skates at a price point that is usually lower than Bauer. We love how the Draft 281 looks, with the unique patterned black boot, white lacing and gold Botas logo.
You can expect performance that will match Bauer skates and Botas are now established as creating a selection of the best hockey skates you can buy and with the brand being less well known than Bauer the market entry price is lower giving you great value for money.
The Botas Draft 281 have a comfort fit anatomical tongue which will help absorb moisture as your feet heat up and sweat but will also mould to more comfortably fit your ankle shape, increasing comfort. Expect sizing to be quite big with these boots so be sure to choose sizing carefully to make sure to avoid injury.
Pros:
PA fabric toes for improved collision protection.
Great choice for junior skaters or lighter adults.
Cons:
Less protective than a high end hockey skate because they have less carbon fiber construction and lower grade steel blades.
Bauer Senior Vapor X400
Click to view current price on Amazon
Bauer are the most widely known hockey skate producer in the world and are used by a vast majority of NHL hockey players. The Vapor x400 is Bauer's entry level option, ideal for first time hockey players.
A Lightspeed pro holder and stainless steel runners are lightweight and strong but aren't detachable. The two piece tongue has a soft and comfortable Microfiber liner that helps moisture absorption, keeping your feet drier.
An increase in stiffness when compared to the X300 is noticeable and a x-rib design makes for a very strong heel structure. This strength is complimented by some soft inner ankle support pads to help lock your heel into place.
Overall with the X400 you are getting a lightweight pair of high performance ice skates that for ideal for the beginner to intermediate hockey player or recreational skater who likes the lightweight nature, acceleration and quick stop attributes of a hockey skate.
Pros:
X-rib high strength heel protection.
Bauer have again and again proven that their skates are reliable.
Lightweight & good moisture absorption
Cons:
The Bauer X400 are more expensive than our other recommended beginner hockey skates.
---
Our favourite Children's recreational ice skates
There is nothing more that children love than to put on their hat and gloves and jump onto the ice, slipping and sliding their way around until they start to find some stability and let go of your hand. This could be because your off-balance wobbling was holding them back or that they have now put on their first pair of children's skates and their rink experience is more comfortable and enjoyable.
Bauer Lil Angel Champ Skates
Click to view current price on Amazon
Bauer lil angel champ skates come in both blue and pink colours and are a perfect choice for a child's first time experience on the ice. When your little angels first step into an ice rink their senses are overloaded with the cold air and sound of hundreds of blades carving through the ice. Hats and gloves are always comfortable and fun to wear but ice rink skates aren't always.
When you arrive it can take a while to find a pair of rink skates that fit comfortably and this can waste 10-20 minutes of your time as the children get cold and desperate to start skating. For a low price you can buy your own skates and make sure they fit and have been worn in before you even arrive, making the whole experience run much more smoothly.
The ratchet buckle on the Lil champs makes getting these boots on and off very easy and the fit is comfortable and warm. Just be sure that the blade is sharpened before skating.
Pros:
Low price
Great simple but professional colour designs.
good choice for infrequent skating and for helping children improve coordination on the ice and learn to skate by themselves.
Cons:
More rigid than figure skates.
Lake Placid Nitro 8.8
Click to view current price on Amazon
Lake Placid offer the Nitro 8.8 skate for both boys and girls. You can choose between the white pink and green colour option for girls or the black and orange boys skate.
The main reason we like the Nitro 8.8 is because of the low price point, which is great for young children and the adjustable size options that make it possible to widen and increase the inner boot area with the push of a button so that as your child's feet grow the boot will grow with them up a few shoe sizes.
If your children are wanting to skate recreationally with a starter ice skate that is more comfortable and offers a pretty design and improved performance, the Lake placid Nitro is  a good option. When your children want to learn to play hockey or figure skate then the ankle support in the Nitro won't be strong enough so if they are a keen skater choose one of our recommendations in those categories.
Pros:
Unique and useful adjustable sizing
Entry level price
Ste up from rink hire skates with an attractive fun design kids will enjoy.
Cons:
Not supportive enough for figure skating lessons or hockey.
---
How to choose your first pair of ice skates – Beginners guide.
Figure skating:
Figure skating beginners don't need as much ankle protection so it is possible to wear more comfortable and less stiff shoes and gradually change to stiff ice skating shoes once you move up the levels. Some ice skating brands provide their own stiffness ratings which help you choose the best fit for your skill level.
Children's ice skates:
When buying your child their first pair of ice skates the most important things to consider are the following:
Be sure to choose comfortable skates that fit well and allow a little bit of room for growth. Having a skate that is too big can be uncomfortable but children grow so quickly you have to compromise a little without the skates being too big causing your child's foot to move around and cause injuries to their foot and ankle.
Protection is important, so make sure your choice has strong outer protection and make sure your children wear hand protection gloves.
Hockey Skates:
Strong skates with ankle protection are important for protection against impact and the physical demands of accelerating and performing a quick hockey stop.
Ideally look for a carbon fibre boot structure.
Frequently asked questions about beginner ice skates :
What size ice skates should I get ?
Each ice skating manufacturer uses there own sizing for skates so if you need a size 4 with one brand you might need a size 3.5 or 4.5 with a different skating brand. When trying on ice skates as a beginner make sure you remove the insole if it isn't glued to the boot itself, so you can see whether it is raised or not and how thick it is. The insole can make a difference to sizing if you have a flat foot or other issues that require your own insole then try putting them in when you try on the boots to make sure they fit and the sizing is correct.
---
Sources: