There are plenty of swing sets and playgrounds that you can add to your yard, including wood and metal frames, some requiring concrete foundations and others that are freestanding. If you have older children at home, you'll want to make sure you get a set that's durable and that they'll want to spend time playing on, with the right attachments. There are so many options, so how do you know which metal swing set to choose? We have found a selection which we think you will like, listed in our table below.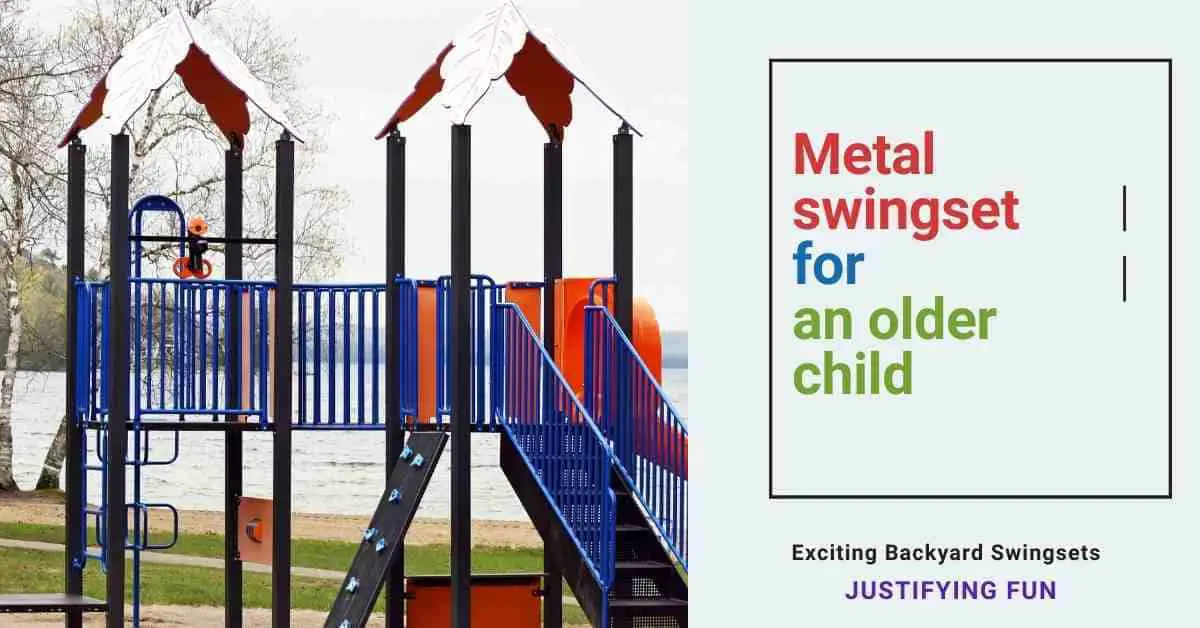 Older kids need more durable swing sets than younger ones and metal swing sets are also more weather resistant than a wooden playset. Your best option is to choose a heavy-duty swing set with a strong free-standing metal frame. That way, you won't have to worry about your child breaking it or getting hurt and you don't need to mess around with any concrete.
In our experience choosing a metal swing set for an older child is a lot of fun. Now your child has grown up and has a lot of experience playing on different play equipment, they now know what they like and don't like. The number one mistake a lot of parents make is not consulting their children and surprising them with a playset that has attachments that they think their children will like. If it has to be a surprise then try to find out what your children like to play on first. Take a few trips to the local playground and keep an eye on where they spend their time. Do they enjoy the monkey bars, slide or are they always playing on the swing.
Best Metal swing set for an older child
click image to view Lifetime Money bar adventure swing set on Amazon
In my opinion, having looked at a lot of metal playsets, the brand lifetime offer the best metal play structures. The Lifetime monkey bar adventure swingset is the best all round choice. The design is simple and structure is solid and strong, with a selection of different apparatus to play on. It's constructed using galvanised alloy steel, which resists the weather and the green and brown colour tone blend in well with the grass, trees and fence panels in most gardens. Plus, the swings have a soft coat of rubber over the chains so they are comfortable to grip onto.
It can hold up to 600 pounds safely at one time and comes with a five-year warranty! The only downside to this swing set is that it can be challenging to assemble independently. You'll want another adult to help you or you can pay more to have an installation expert build it for you.
For An Even Bigger Swing Set
If the Lifetime adventure swing set isn't big enough for your kids now they've grown up a bit then the double adventure tower with monkey bars is the biggest metal backyard playground we could find. In this set there are two clubhouse towers and 4 ladders leading up to different parts of the swing set. the towers are covered so can be used as a shelter and there is a curved bridge lading between the two towers. If your kids prefer they can use the colourful climbing holds on the side of each tower to climb up instead of using the metal stairs.
What To Look For in a Metal Swing Set
Weather durability and anti-rust protection.
Safe design and materials.
Make sure the size leaves enough room to swing safely.
Be sure to add a mat or soft landing area below the swingset.
Look for a product with clear instructions and a warranty.
If you're going to buy an older child a swing set, you need to know what features to look for! That way, you also know you're getting the most for your money. Metal swing sets mustn't rust or deteriorate over time. Plus, you need them to be as safe as possible! Here's what to look for when buying a metal swing set for an older child:
Weather Durability and Anti-Rust
Some metal swing sets can have issues with rusting which can be very dangerous for children! You want to know that the swing set comes with weather durability, so it doesn't rust in the rain or snow. The best materials to get anti-rust benefits would be aluminum or steel with an anti-rust finish. Aluminum isn't as strong as steel, so keep that in mind! A steel swing set is highly durable. It won't chip, rust, or fade like cheaper swing sets. Plus, steel is strong enough for even the rowdiest of kids!
Safe Designs
Next, you want to make sure the swing set comes with a safe design. There should be no sharp metal edges or corners, and the swing set should stay secure in or planted on the ground. You also want rubber over the chains to prevent children from pinching themselves while swinging. If there are hard or sharp areas on the set, it should come with plastic caps or coverings. Your child won't get hurt if they bump into it. Lifetime include rounded edges and rubber to protect children using their play equipment.
How much space you'll need for a metal playset
As well as choosing a safe design you should also think about the positioning of your playset. You need a safety zone around where your playset will be positioned so that you can safely play without bumping into anything around there playset. You will need the most space at both sides of the swing frame as your children will be swinging out way past the frame itself. Lifetime suggest you'll need a 4.5m clearance either side of the swings on their swing sets but be sure to check with each design as some will need even more space.
Soft landing
Kids will be sliding down onto the ground from the top of the playset so it's important to make sure they are landing on a soft and safe surface. I've used sand, rubber mulch and rubber mats like gymnastics crash mats to make the landing at the bottom of the slide as comfortable as possible. You'll also want to make sure the area underneath the swings is soft incase your bigger kids decide to jump off the swing, although this definitely shouldn't be encouraged. If you only have grass underneath it's definitely a better option than stone or concrete but try to add some rubber mats in the area your children are more likely to jump onto.
Easy Setup
Most parents appreciate an easy setup with these types of swing sets! You shouldn't have to spend all day trying to construct it alone. The swing set you buy should come with easy setup features, or the brand should offer to have someone build it for you. Keep in mind that you'll save on the final cost if you take the time to construct it yourself! Many parents appreciate this as metal swing sets can already be very pricey. Some brands such as backyard discovery use augmented reality on an app to help make construction easier. Lifetime don't offer this feature but they have detailed instructions showing every step you need to take if you are assembling the metal frame yourself.
Good Warranty
Finally, you need to ensure that the swing set has a good warranty! It should be at least five years, although you can find warranties that cover even more time. If something happens, you want to know the company will assist you as best they can.
Final thoughts about metal swing sets suitable for older children
To summarize, you want to make sure you choose a metal swing set that is safe, durable, easy to install, and offers a good warranty. Lifetime create some of the best metal play structures suitable for your backyard. The adventure playset has a simple design but includes monkey bars, a slide, 2 swings and a fireman's pole. Its isn't easy to find a swingset suitable for older children but Lifetime offer the best range of choices. However, they don't include an assembly augmented reality app like backyard discovery and you'll have to stick to paper instructions.