Playsets are perfect for the spring and summer months. They ignite your little one's curiosity and get them moving, both of which offer a wide range of benefits. The market is flooded with playsets, many of them claiming to provide the most fun for your children. Two top brands, KidKraft and Gorilla Playsets check all the right boxes, though they have their differences. Both brands playsets are well themed and come with a ton of fun gadgets and attachments your kids will love. Below, we'll put them head-to-head in terms of safety, kids approval, materials, cost, and longevity, helping you decide which playset is the best for your little ones.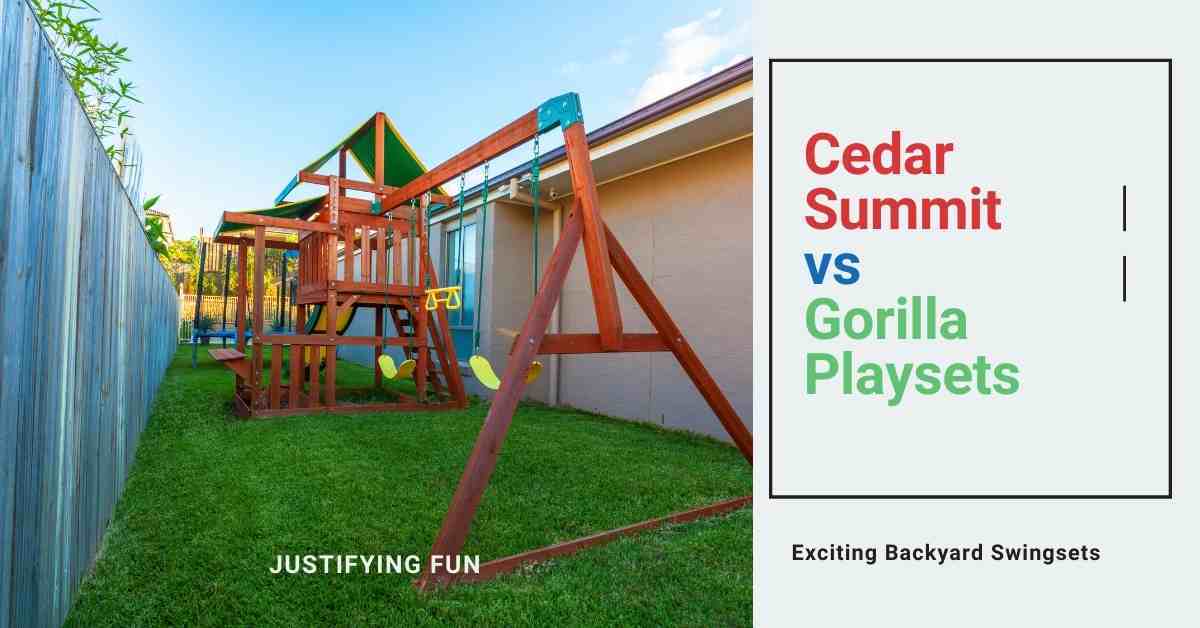 Comparing playsets
Gorilla produce a lot more playset designs than Cedar Summit, with a lot more attachments and themed designs. This is mostly because Cedar Summit is a small range of playsets, under the larger Kidkraft brand. the Cedar summit hilltop playset design is one of the best budget friendly options. The two side-beside racing slides, one heater skelter slide and two swings, is a great deal of fun bundled into a small play structure.
There is a lookout tower, fireman's pole and even some theming too. For under $1500 this is one of the best options you'll find, even though the quality isn't as high as Gorilla, Rainbow or backyard discovery. If I had to choose a playset from Gorilla that is a good comparison with the Cedar summit hilltop design, I would choose the Gorilla Playmaker Deluxe swing set. As you can see in the table above, the playmaker deluxe has 2 racing slide that a little more wavy than on the Hilltop playset. Having racing slides is becoming more common and it's amazing how brands manage to fit them in such a small space, sliding down from the towers top floor.
Buyers guide – things to consider
When buying a playset you need to think about safety, variety of attachments, materials and the cost. Safety is usually already taken into account by the manufacturer as they have to meet safety requirements to be able to sell their playsets, however you need to think about the age and weight of the children that will be playing on it and consider whether they will play with the playset as intended and not in a dangerous way that puts the structure at risk of damage.
Safety
Since 1993, Gorilla playsets have been at the top of their game when it comes to materials and design. One large commitment to their customers is quality, which has gained them a top spot on the market. Gorilla playsets meet ASTM Safety Standards and also come with 10-year warranties.  Cedar Summit is one of KidKraft's most popular playset ranges. Designed with safety in mind, all products have been carefully selected to last long and reduce the probability of problems like wood rot. Like Gorilla playsets, those from Cedar Summit are also backed by a 10-year warranty.
Kids Approval – Comparing Attachment choices
When it comes to fun, both Gorilla and Cedar Summit playsets get the kids seal of approval because they have a lot of choices, but Gorilla offer much more options. It's easy to find a playset kids will love, but it's harder to find the right mix of attachments that will keep them entertained for a long time.
Both Cedar Summit and Gorilla playset have several different designs including swings, rock walls, slides, and even lookout towers. Whichever one you choose for your kiddos, they're sure to enjoy it, with lots to explore. If your kids love to explore and use their imagination, the more attachments the playset has the longer they'll stay entertained.
With this in mind, Gorilla have way more options with clatter bridges, multiple decks, tire swings and the option to customise your playset with slides, swings and fun components which includes tic tac toe games and small activity centres to give kids something to do when they are tired of the more active attachments. Gorilla comes with more options to customize playsets than Cedar Summit, so you can really get creative and build an awesome and unique playset. If customising your playset is important Gorilla are the best option.
Slides
Almost all of Cedar Summit and gorillas playset include a slide. A playset wouldn't be a playset without at least one of the slides in the diagram below. If your kids love to slide then Gorilla's playmaker deluxe playset has two wave slides racing side by side and Cedar summit's hilltop playset has two straight slides side by side and a helter skelter tube slide. Gorilla also sell a mountaineer playset with both a wave slide and tube helter skelter slide, but no racing slides.
Choosing a play set often comes down to which combination of slides and other attachments the playset includes and which you like the look of. Find a few playsets you like the look of and let your kids see the pictures. They'll know which combination of slides they like the look of as soon as they see them.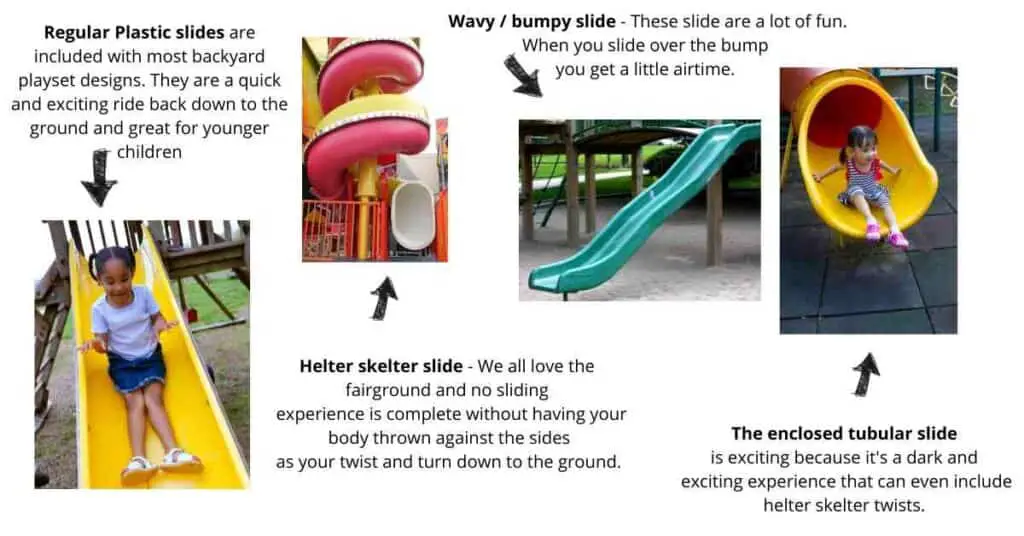 Materials
Both Gorilla and Cedar Summit playsets are made with 100% cedar. One of the main reasons why both companies chose cedar is because of its natural resistance to rot and insects, which increases longevity. It's great in all kinds of weather conditions, including those that are moist and rainy. Playsets from premium brands like Rainbow, often include much stronger wood and the wood treatment is likely to last longer.
With Gorilla and Cedar summit playsets, the cedar wood has to meet certain standards of safety and does have some longevity but it's a good idea to stain and treat the wood every year and to try to protect the playsets from the rain and more challenging weather conditions if you plan to be using them for many years.
Cost
When it comes to cost, both Gorilla playsets and the Cedar Summit playsets are in a similar budget to mid price range. The total cost depends on the number of extras that come along with it, including slides, decks, picnic tables, and the list goes on. Gorilla playsets can range from $300 (swings only) to $5,000+ with most playsets averaging around $2,000. The Cedar Summit playsets also come with a large range of options, including those with just wings and others with slides and more. On average, the Cedar Summit line from KidKraft tends to be much cheaper than Gorilla playsets, with an average cost of $1,000. Prices can range from $100 up to $4,000 depending on the design.  
Longevity
Both Gorilla and Cedar Summit playsets come with a 10-year warranty but, how do they really hold up? While nothing is indestructible, both of them tend to last longer if well cared for and in favorable conditions.Gorilla playsets are one of the most popular wooden playsets, which means many of their parts are readily available. If something happens with a bolt, screw, a piece of wood, or any rubber, you can likely find replacement parts in no time.
Though accidents happen, Gorilla playsets tend to stay put and last long, providing years of fun for your kids and their friends. Cedar Summit playsets are made by KidKraft, which is another leading playset designer. You can find parts too, though they are a little harder to come by. KidKraft does guarantee their wood for 10 years, though other parts (like slides and swings) are not made from wood.
Still, with good maintenance and wood treatment Cedar Summit playsets could last as long as Gorilla playsets. Playsets are beneficial for your kids for a number of reasons, including getting them outdoors and moving around. Don't just pick any playset, choose one that's made with high-quality materials and is guaranteed safe. Both Gorilla and Cedar summit have safe playset designs.
Final thoughts about Cedar Summit and Gorilla Playsets
Both Gorilla and Cedar Summit playsets are great for many reasons, though when put head-to-head, one might be a clear winner over the other. I prefer Gorilla because they offer more choices of different attachments and customisable options at an affordable price. If you are looking for a playset you can put up quickly and don't want to spend too much Cedar summit are a good option with lots of fun designs and accessories.