The best Gymnastics leotards need to be comfortable and stretch without restricting your movement. Gymnasts practice and compete in their leotards, so a good-quality leotard can make a difference in how much you enjoy spending many hours in the gym. Leotards can come in a variety of styles. The traditional gymnastics leotards, particularly for girls and women, are high cut on the hips. This gives the athletes the illusion of longer limbs. Some athletes, whether in competition or practice may like the added comfort of some extra coverage. There are several options available for that.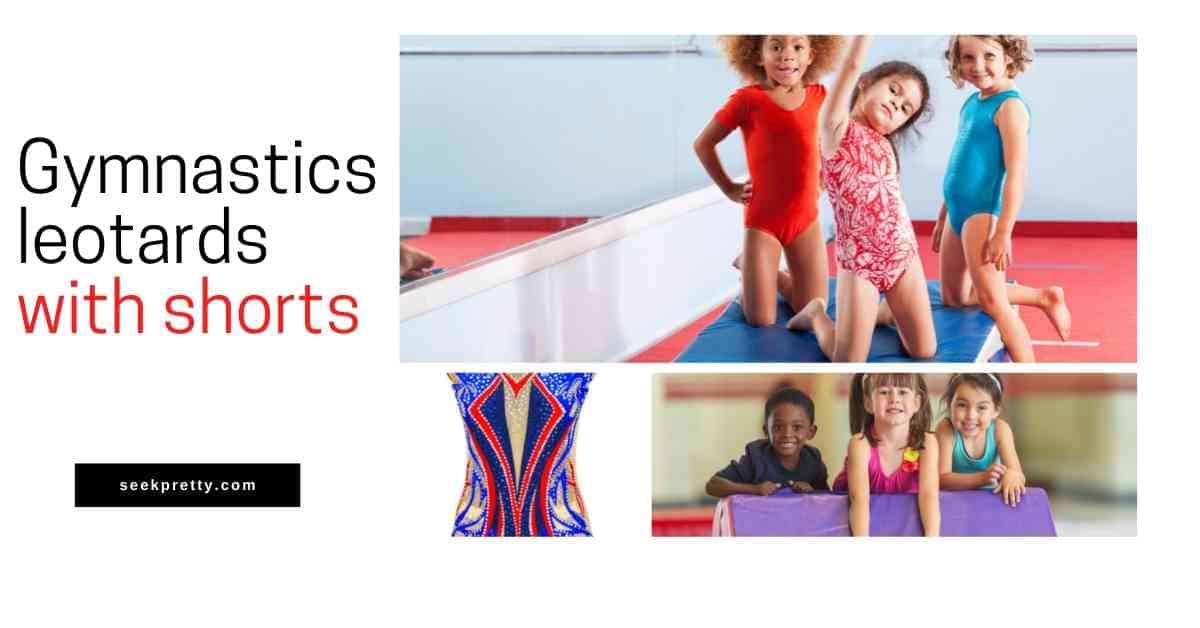 It is important to note that most competitions do not allow shorts with leotards, but shorts are often allowed during practice. If you would like extra coverage or comfort that shorts may provide, make sure they are tight-fitting and out of a flexible material so they will stretch as you do and that they will not catch on any equipment. 
Gymnastics Leotards with Shorts for Girls
The following options of leotards with shorts are designed for children and youth. As well as showing you some leotards with separate shorts I'm also going to show you a few biketard designs that have the short leg section attached to the upper leotard, a nice alternative to wearing separate shorts. Before I give you more details about the different leotards here is a quick comparison of the Domingo, Belovance and Dancing Marble line leotards and links to the products on amazon if you want to check out more details about the different designs.
Product Image
Lots of colours and patterns to choose
Unique designs
Separate shorts and leotard
Lots of colours and patterns to choose
Product Image
Unique designs
Product Image
Separate shorts and leotard
Product Image
Domusgo Leotard
Tight fitting and doesn't loose its stretch after several washes.
32 different designs and colours to choose from ranging from toddler designs for pre school gymnasts to simple one colour designs, sparkles and an American flag design.
Some of the designs are a little wider than you might expect but hold their place and length well.
Belovance Leotard
Longer and has more coverage than swim suit style leotards.
The bottom short style part of the leotards are all black with small white dots. I like this design but if you are looking for more colour choices for the short leg section then there are no options.
There are a lot of designs for the top section ranging from feathers to hearts and wave patterns.
Dancina Leotard
The shorts are not attached to the leotard but they match your leotard design so you can remove the shorts for competition and add them at the gym when you want more coverage.
All the leotard and short designs have a marble pattern oil them and come in a range of different colours to choose from.
Domusgo Gymnastics Leotards for Girls
Click image above to view leotard on Amazon
This leotard was designed with gymnastics in mind, so it is tight-fitting and offers plenty of opportunity for stretch. It has small shorts that are built into the leotard.  It is available in 32 different colors, so you can purchase it in several different styles if you are comfortable with the fit. The colors include options for toddler gymnasts with unicorns, cakes and rainbows. If your child is a little older than there are a few leotards with sparkles and glitter, if your gymnast likes a little bit of glitter and glamor.
Older gymnasts might prefer the American flag design, like the USA gymnasts wear, or a plain one colour design if they don't want to stand out too much. These leotards are made of a mixture of 82% polyester and 18% spandex which gives them a nice amount of stretch while fitting in place without being loose.
If your gymnast has a polyester allergy, this is not the option for you. You can choose this leotard in many different sizes. It is available in size 1/2T up to 8-9 years old. 
How does this leotard feel and look.
The material is thick, so you cannot see through it and it is warm enough to wear if the gym is a little cool. It fits comfortably, even with the larger sizes stretching into place without becoming loose. You might find the width a little wider than you might find with other brands leotards but the length is perfect and the fabric is stretchy enough so it doesn't feel loose along the sides. The biketard style is a great alternative to shorts because you can wear these leotards for many other activities, like biking and ballet. without looking out of place.
Belovance Gymnastics Leotards for Girls
Click image above to view on Amazon
This Belovance gymnastics leotard is available in many colors but the bottom is black in all of the color options. That means you may not need to worry about transparent materials. However, it also means that if you are looking for a variety of color options, this may not be the option to give you that. If you have a slightly older gymnast, this option has larger sizes than the Domusgo leotard. It is available in sizes 2-3T through 13-14 years old. The bottom of the shorts has glitter patterns, which can make this a great choice for catching eyes during competition. 
What do gymnasts like about this leotard
Gymnasts appreciate that Belovance leotards are durable and of professional quality. They also appreciate that the shorts are long enough to provide extra coverage. 
Dancina Marble Line Gymnastics Leotard with Matching Shorts
Click image above to view on Amazon
This leotard comes with shorts that match, but the shorts are not included on the leotard. This means you can add the shorts for extra coverage during practice and remove them for competition or activities that do not need them. You can purchase the shorts and leotard separately, or you can purchase them in a matched set. They are available in five different colors. The colors feature a marble pattern. If you want the added shine and sparkle for competition, keep in mind that this leotard does not have that. It also has more limited sizes than the Belovance or Domusgo options. It is available in sizes 4-12 years old. 
What do gymnasts like about this leotard
Gymnasts like that the leotards and shorts do not ride up. They like the flexibility provided with the option to add shorts. 
Gymnastics Leotard with Shorts for Women
It is significantly less common to find gymnastics leotards for older teens and adults that come with shorts. At this age, almost no competitions allow shorts, so it is only in practice that gymnasts wear shorts. For this reason, many use separate spandex shorts. 
Click the image above to view on Amazon
This leotard features a high neck and boyshorts included in the leotard. This provides extra coverage. This style is popular with gymnasts and dancers. It is solid in color and does not provide shine or patterns. It is available in seven different colors.  It comes in many different sizes, ranging from extra-small to 3X-L. It features a zipper closure which can make it easier to put on or take off. 
What we like about this leotard
We like that it offers a comfortable fabric and that it comes with a high neck for extra coverage. The colour choices are bold and not shiny or sparkly which give this leotard a more sophisticated and grown up look for older gymnasts.
How to choose a leotard with shorts
When choosing a leotard with shorts the most important thing to be aware of is that you can't wear leotards with shorts at most gymnastics meets. It is against the USGA rules to wear shorts when competing. Most of our time practicing gymnastics is spent in the gym so if you find the extra coverage, warmth of shorts helps you train better feel free to wear them. Some gymnasts find them more comfortable too. I like the Dancing leotards above best because they give you the option of buying the leotard and shorts separately so you can remove the shorts for competition and wear them when you feel like it.
When it comes to sizing, the brands we recommend above all have their own sizing advice, but even with shorts usually the size of leotard you normally wear at the gym would be comfortable and fit the same. The only difference you might notice is if you have large thighs as the short section might feel more restrictive, although they are usually flexible so this isn't a big problem.
We hope you will have fun choosing your new leotard with shorts. These leotards are all affordable and the materials are good quality and won't stretch and become loose after a few spins in the washing machine. if you have taken a look and feel a regular leotard will fit you or your gymnast better than check out these gymnastics leotards we wrote about. If you are wondering why gymnasts wear leotards and not other clothing we recently wrote about why gymnasts wear leotards.