If you want to encourage young children to play outside more, a swing set with both a slide and a trampoline is a great choice. When it comes to choosing the right swingset, the two most important things to think about are which play equipment is included and and how long the swingset will last. Having the most fun play equipment attachments means your children will spend time playing and won't get bored quickly. Durability means your children will get many years of enjoyment out of the playset, giving you better value and freeing up time while they enjoy playing safely. We think the two swing sets you'll like the most that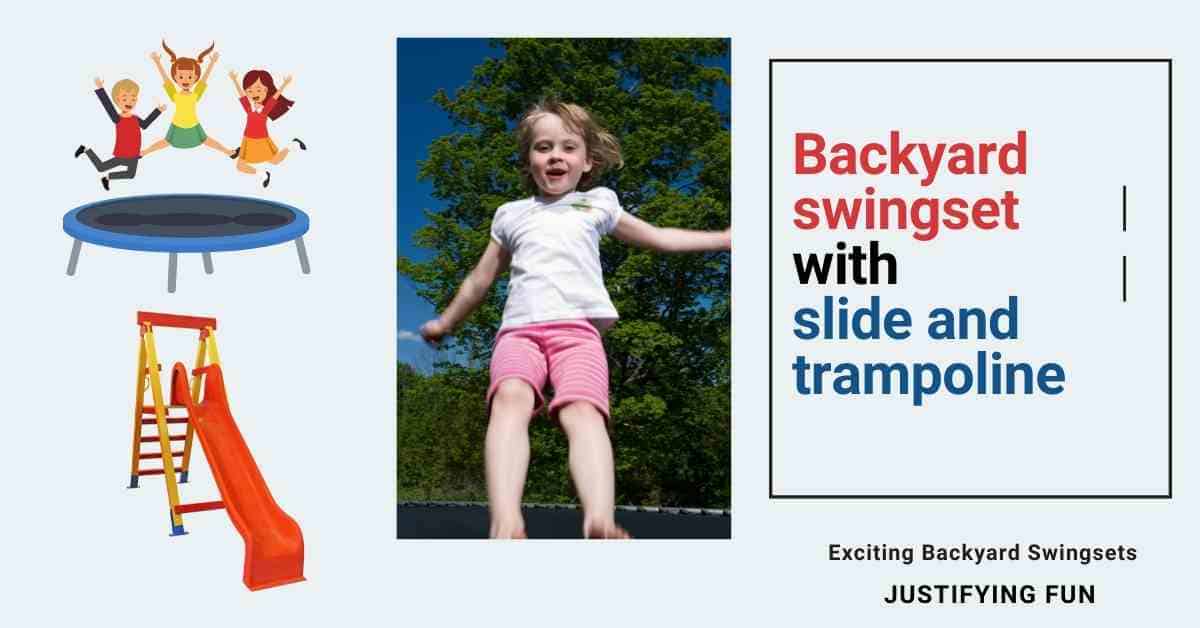 A swing set with a trampoline and slide encourages children to engage in outdoor activities more often. Kids love trampolines, and they make for great solo play and exercise and we all know slides are popular in every playground. Plus, these swing sets are often large enough to entertain multiple children at one time.
If you're looking for a fun swing set for your family that kids won't get bored of quickly, in my opinion having a trampoline, swing and slide covers all the fun activities your children might want to play. The latest Swing sets are much stronger than they used to be, and will last much longer and hold up well against cold and wet weather. However, pay attention to how long it takes to put them together
Product image
Lots of attachments & separate trampoline
Exciting Rocking horse swing
Lots of attachments & separate trampoline
Product image
Exciting Rocking horse swing
Product image
What is the Best Swing Set, Trampoline, and Slide Combo?
While you might want a swing set with a trampoline and a slide, it can be difficult to choose! There are so many options out there. Some people prefer to see their options in person, while others are fine with only viewing swing sets online. If you want a new playground for your child that has a trampoline and slide, consider the Sportspower Fairview Swing, Jump, and Slide Set because it's not too expensive, has 3 different swing attachments with adjustable swing strap length, a trampoline with a handle to hold and bounce and a wavy slide.
The sports power swingset has the trampoline attached but if you'd prefer the trampoline to be moveable then the Fitness reality swingset below is a better option for you and also comes with a basketball hoop and different choice of play equipment. If you are in a rush here is a quick comparison of 2 swing sets, before we look at both in more detail.
Fitness reality Swingset
This swingset has the most activities, with 7 different play stations.
Basketball hoop, three swing stations a slide and moveable trampoline that can be played on separately but blends in with the sets colour scheme.
There is no baby swing, but you could buy one separately and attach it if you follow the instructions carefully.
The monkey bar swing and flying saucer are a lot of fun.
Sportspower Fairview
Long assembly time
The horse rocking chair swing attachment is a lot of fun and unique.
Less play stations than the fitness reality design, with 5 different activities to play on.
The trampoline fits on well to the end of the swing frame and is very bouncy.
Fitness Reality Kids Trampoline Swingset
Click the image above to view on Amazon
Fitness reality Kids sell a range of outdoor play equipment but their speciality is swings. This swingset is a top choice because of the choice of different swing attachment, separate trampoline, slide and a basketball hoop. The hoop is 6ft high making it a fun challenge for children and a realistic basketball experience with backboard included. If your kids love swinging then the flying saucers swing is the best, I was worried there wouldn't be enough space for it to rotate around but there is and the motion is a nice alternative to the back and forth swing motion with there being a little circular motion too and the seat is comfortable to sit on in a few different positions.
Older children will love the challenge of hanging from the monkey bar and gymnastics rings. Don't expect to be able to swing like tartan on this attachment though, it only rocks back and forth a little and is quite solid. If your children want to work together to swing then the glider is another attachment we really like because children have to learn to rock back and forth with good timing to help the glider swing high and fast. Having a place to put your legs also adds to the feeling of your upper body moving with a different sensation. Assembly is as difficult as with most swingset that you have to self assemble and will take some time. Everything does fit in place as long as you make sure not to tighten the bolts until the instructions tell you to otherwise it's much harder to fit the pieces together later.
Sportspower Fairview Swing, Jump, and Slide Set 
Click image above to view on Amazon
The Sportspower swing set blends in with its simple design and silvery grey coloured frame. What makes this swingset unique is the rocking horse swing. We've seen all sorts of gymnastics rings, spinning swings and everything in between but this is one of the first swingset where we've seen this fun rocking horse attachment with foot rest. It doesn't swing as fast or free as the lighter looser swings but it gives the rider a unique feeling that's a bit different from a regular swing.
This swing set comes with plenty of activities for children. It includes a mini trampoline, two swings, a rocking horse, and a slide! It's large enough for several kids to play on at once. The three swing attachments chains are adjustable so that you can tailor them to your child's height and not have their legs dragging along the ground as they swing. With a price tag usually well below $800 and 5 pieces of solid play equipment this is a good choice.
Even though the design looks simple the main downside of buying this product is that it takes a lot of time to put it up, there are lots of pieces and the instructions aren't as in-depth as they could be. You'll have to fiddle around a little bit and spend a number of hours getting all the play apparatus in place.
Benefits of a Swing Set With a Trampoline and Slide
If you're looking to invest in a high-quality swing set, you might want to go all out and choose one with several fun features! There are plenty of playground sets to choose from, but most parents love the trampoline and slide combo. Here's When your swing set comes with both these attachments, you can also receive these benefits:
Hours of Entertainment
Kids love these types of playgrounds! Bouncing on a trampoline is a ton of fun for children. When they get bored, they'll likely move on to playing on the swings or slide before coming inside. By offering more play areas with the swing set, your child is sure to play on it for longer periods. This feature is great for getting children outside more! Plus, they'll appreciate choosing what to play on themselves. Kids also love backyard obstacle courses and metal swing sets.
Great For Families
A swing set with both a trampoline and slide is great for families. More children can enjoy playing at once. For example, one child can use the slide while others can swing. Many of these swing sets are large, so they also fit multiple swings! When you have multiple children in your family, a small swing set can feel frustrating for them. While it will teach them how to share, you can encourage group play by having one of these larger sets with more features- so it's up to you!
Fun Exercise
Trampolines are also a great exercise for both adults and children. They're convenient to use and can improve heart health and muscle endurance. Trampolines even help relieve stress and are extremely fun for kids! Plus, trampolines help children develop a better sense of balance and motor skills. You'll want to make sure you choose a swing set that comes with a trampoline appropriate for your child's age so that they can receive all these benefits safely.
Did you know that swings are also great exercise? Your child's arms stay engaged while they hold onto the chains. It also works their legs and helps with grip strength. Swings develop core muscles, which is essential for a healthy body! In our opinion trampolines are a great work out- kids love them, so they won't realise they are exercising. After they finish on the trampoline, many will relax on the swing or slide down the slide again and again.
Final thought about swing sets with a trampoline and slide
In short, there are many different reasons to own a swing set with a trampoline and slide! These sets offer hours of entertainment, are great for families, and are excellent sources of exercise for children. There is a reason slides and swings appear at nearly every playground, that's because swinging is relaxing and fun while sliding offers a really fun and freeing experience to children that most other play equipment can't match.
Every kid also loves jumping up and down on trampolines. Children almost feel like they are floating when they bounce up into the air. Bouncing on a trampoline feels like letting go and letting your imagination run wild, it's also unexpected and fun because you don't know how high you might bounce and you don't need to put in a lot of effort or you can bounce hard and get some exercise if you prefer.
The two swing sets we recommended above include a slide and trampoline but with very different designs. Sports power attach their trampoline to the main frame of the structure where the swings also attach whereas Fitness reality add the trampoline as a separate piece of play equipment, with the same blue and orange colour scheme so it matches the main frame but can also be moved around or bounced on separately which is a good option. You could even bring it indoors to play on when it's rainy or cold outside.