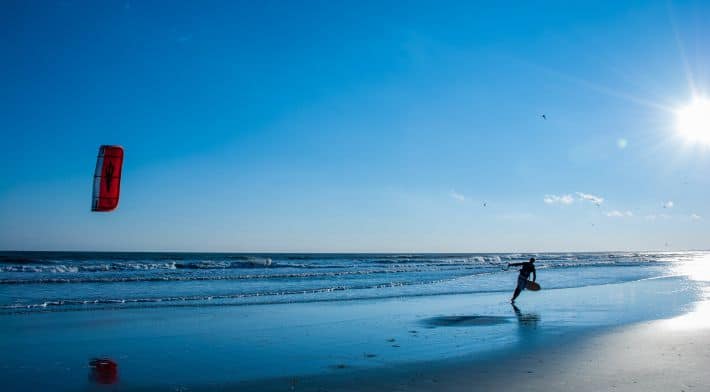 The Ultimate Best Kites Guide
A fun day at the beach or park is made that little bit more enjoyable and nostalgic when the colourful and fascinating shape of a kite is placed into the hands of nature. Young and old people all become absorbed by the colour and visually impressive aerobatics that the best kites are capable of.
Modern kite designs are majestic  and use the latest advanced technologies which can often appear as innovative and exciting as a parachute.
I was laughing and felt joy
I can remember my first kite as a child, it was a box kite, with a wooden frame and i felt an amazing sense of achievement at having unravelled a line that seemed to extend as high as the sun!. Once my dad had thrown it up into the air I was laughing and felt joy at having control over something I could see way above me. This was a unique and precious experience because not many activities give you the chance to control and connect yourself to something that can soar with the birds.
performing loops and twists and interesting aerobatics
If you are considering which are the best kites to buy then this guide will give you some factors to think about. We will recommend our favourite high quality kites that will get you out of the door faster than ever before. You will improve your health and well-being at the same time as laughing and learning a new skill.
Once you've experienced flying small kites, large single line kites and progressed to the world's best kites then the excitement of flying first-hand will have you hooked. You will want to practice and build up your ability and strength and ultimately increase your enjoyment. Everyone else will enjoy the visual spectacle you create by performing loops and twists and interesting aerobatics!
---
The Best Kite – Flexifoil Big Buzz
---
---
We have rated the Flexifoil Big buzz kite as one of the best kites in the world today because it is exceptionally well made and always a pleasure to fly. This decision was made by looking at which kites we think would perform to the highest standard  for people from a wide age range and different levels of experience. It was important to make sure our chosen best kites would be good fun for both beginners and more experienced flyers.
lots of research…yes really that much
Firstly, our research involved evaluating customer opinions and discussions. After compiling this research we saw that people rated the big buzz kite very highly. It was then important to gain first-hand experience flying it ourselves and testing it at various wind speeds ranging from a gentle breeze to over 17mph. The recommended best kite would be classed as a beginner power kite and with a line length of 18 metres it isn't as long as the professional power kites.
---
The best kites require no assembly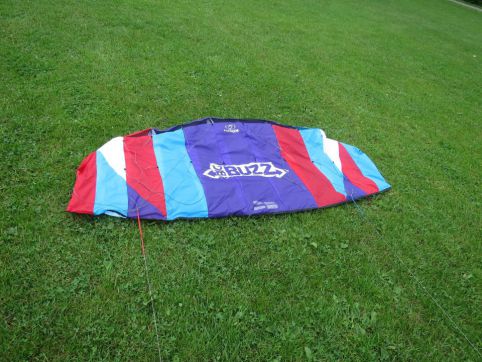 This kite is over 2 metres wide so much larger than the basic kite you can find in a small beach-side store. Flying a kite often involves reading instructions and clipping poles into place, hoping they don't pop out mid-flight causing you to run across the beach to see if they are broken, or watch as your pet dog chews them. When out of the bag this kite doesn't require any assembly and can be flown immediately on first use. This is great because my patience is easily tested with fiddly wires, finding that one small screwdriver you really need or trying to complete the pair of an increasing supply of odd socks so your child doesn't go into school with superman on one foot and pepper pig on the other.
more easily fly
While packing this kite away please ensure the lines aren't tangled so that you protect them and can much more easily fly it next time. The last thing you want to do when arriving at the beach is to waste time unravelling the lines, you just want to open the case and be flying the best kites within a minute or two at the most. This kite lets you get it out of the bag and up into the sky very quickly.
---
High Quality Materials
Once it arrived we noticed the bag is made of strong fabric and looks like it's made to last. When you open up the canopy you'll see the beautiful natural colour scheme and it's as clear as day that it's made of high quality materials. The materials this kite is made of don't stretch and the high-quality fabric means that very few people using this kite have any problems with it breaking or becoming damaged. When packing aware be aware that the lines aren't independent from each other so can be wound together. This is much less time consuming than winding two separate spools. I'd suggest taking extra care to make sure you wind the line in correctly using the figure of 8 technique explained in the instructions.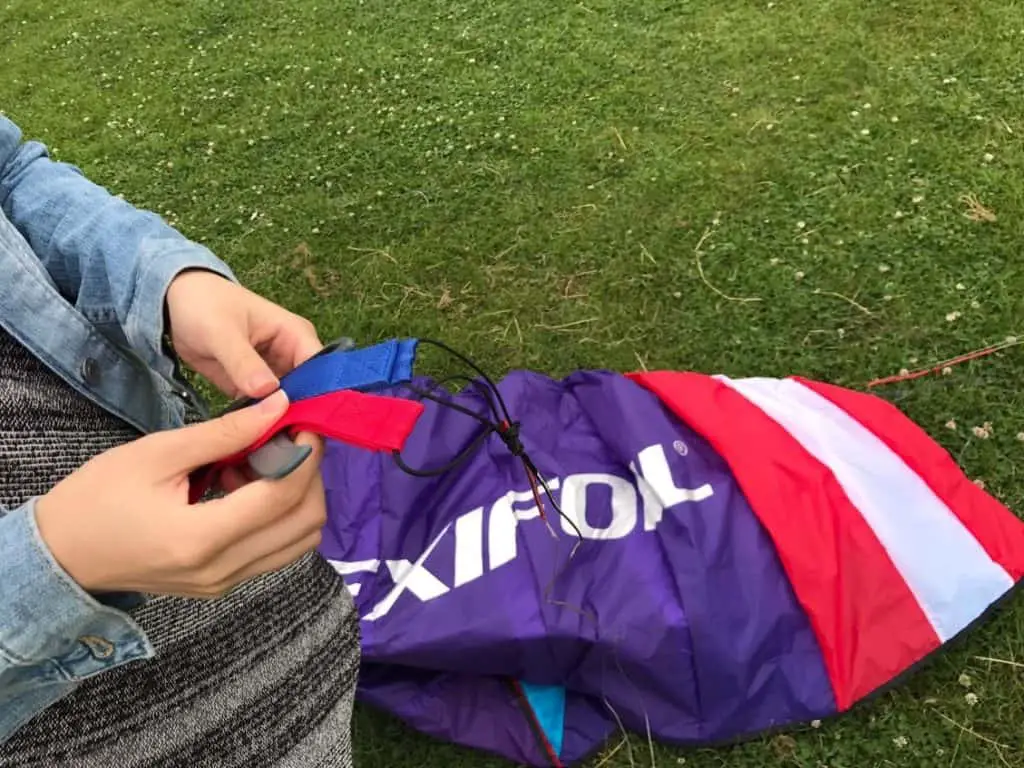 It took me a couple of minutes to loosen the elasticated string that keeps the line and handles in place and to unravel it. I expected the line to be longer than it is but it's a nice length because our research found that a shortened line gives you greater influence over how rapidly the kite reacts to any movement you make. This makes launching kites in very low winds possible and reduces some of the power and unpredictability that comes with a longer line. Kites that perform well in low wind conditions will always make use of shorter lines that make it easier to keep the line tight and a longer flight possible.
---
Launching the kite and Light wind flight attempt
I placed the kite on the ground making sure that the red and blue handles were at the correct sides and that the colourful kite fabric was positioned so that the cells would allow wind to enter and inflate the canopy. With a gentle pull and a surprised expression on my face I managed to get the kite flying with hardly any wind at all. When the wind dropped completely it was still possible to keep it airborne for a little while by pulling the left and right handles alternately. If performed correctly the big buzz will move side to side and this speed will create lift so it won't drop as quickly.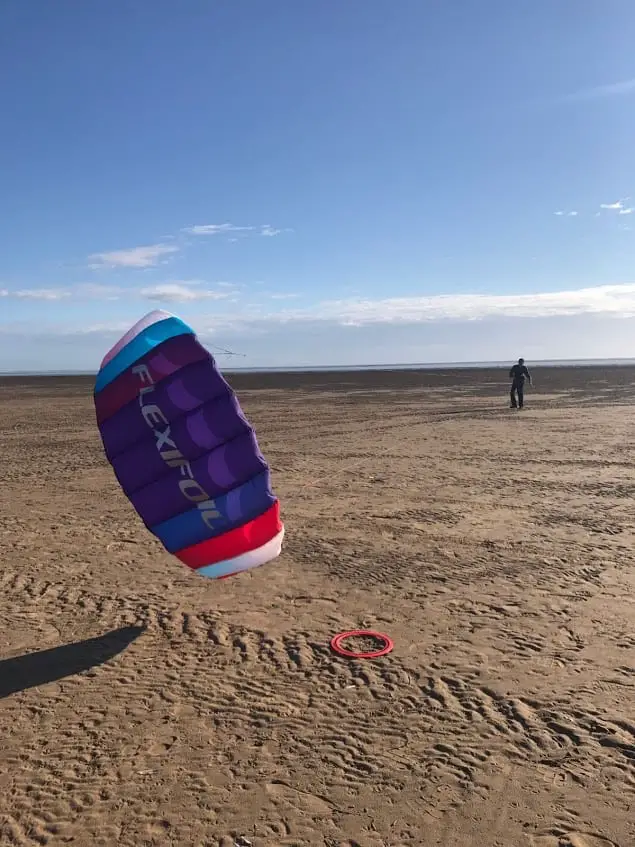 To launch it you don't need to wait for a strong wind, as long as the breeze is blowing fairly consistently you'll be able to keep it airborne with very little effort . In moderate winds of between 5 and  15 mph it is easy to fly and perform manoeuvres.
When the wind gets above 15 or 20 mph this is when you can really start to feel the kites strength and unless you are already used to the bigger power kites you'll have a big grin on your face as you feel the real power of nature.
The handles pull your arms and you'll need to grip tightly as the kite attempts to move you around. Don't worry though, you won't get some air time and float away like the house floating away on balloons in the film 'UP'.
---
Excitement and speed
Our chosen best kite is a fast kite for someone new to kite sports and it is succinctly responsive with wonderful manoeuvrability. If you are new to kites when you first get it airborne you'll probably be frantically moving your arms around feeling silly for a few seconds. Once you get the right pull on the strings and you realise it is the simplest of tasks to keep the lines tight and canopy cells inflated and flying.
This kite will bring a smile to your face
A common mistake for a beginner is to pull too hard on one handle and not be able to compensate for the kite flying very quickly towards the trees or sleepy sunbathers and having to quickly pull the other handle to change the direction. This is when you'll first experience some of the forces involved in a fast change of direction at speed. This kite will bring a smile to your face as it pulls and the momentum builds up. When the speed and force build you'll realise how quick your human reactions already are and how fun they are to use.
---
Letting my friend fly the best kite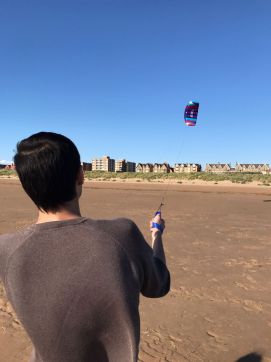 My friend who had never flown kites before wanted to try flying and although I didn't want to stop having fun I let them. Within moments they were able to pull it high above their head into position and quickly figured out how pulling the handles effects the flight.
Once airborne the big buzz quickly find the sweet spot in the air and hovers with stability, effortlessly. The smile on my friends face and clear absorption in the task at hand was evident.
When flying kites, it feels as though you become at one with nature and this is joyful. Those moments when you are flying high are some of the best you will ever have while taking part in outdoor activities.
After several minute flying my friend built up their confidence and decided to perform loops the loops in a 20 mph wind. They quickly found themselves being pulled further and further forwards along the beach ( this might be avoidable if you manage to dig your heels into the ground or build up some more strength ) and a particularly strong gust caused them to fall and, not wanting to stop flying (addicted already… and brave!), they attempt to keep going whilst their back was covered in sand…. lets just say flying whilst lying on your back isn't as easy as they had hoped!.
pleaded guilty to having pulled over 2 friends and one younger sister
Over several test flights with this kite, it became responsible and pleaded guilty to having pulled over 2 friends and one younger sister, thankfully they all survived the experience and lived to fly again ( with a couple of small bruises and a great story to tell ).  Once the wind dropped and my friend's enthusiasm and attempted aerobatics caused the kite to drop they squealed because when an object hits the ground hard you expect some damage to be done.
With my assembled box kite as a child a hard impact always meant reassembling the wooden poles and sometimes there was damage. When we approached the kite it had hit the ground at high speed but there wasn't even the slightest sign of scuffing or damage. Modern Kites are made to last and the big buzz best kite certainly seems like it will have a long lifespan, although I would expect some marks after a while if you regularly land on firmer surfaces.
---
Recommended age
If you're a small child I'd recommend only using this kite with an adult's supervision because it's not really the best kids kite for younger children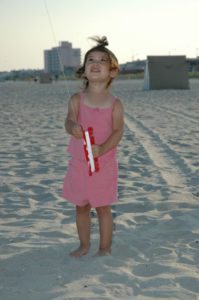 flying alone because if the wind picks up you could lose control and let go of the kite or be pulled over. Flexifoil kites have placed a safety warning on this product suggesting that it shouldn't be used by under 12's and that any child using it should be supervised by an adult.
We have seen reviews from parents of children aged 8 and 9 using this product safely with a parent's supervision. But as is the same with any product you purchase we would always recommend complying with age ratings and also taking into account some common sense and consideration for the strengths and weaknesses of the person using the product and the capability of the supervisor.
---
What you'll get with this product
Kite canopy, 2-line control handles, two 18 metres long 100kg lines, two lightweight wrist strap handles, instructions and a bag to store the kite in.
---
Best kites – Our other recommendations
---
Flexifoil Sting Kite
Click to view the Flexifoil Sting price on amazon
If you are a bit more experienced or  looking for the best kites with more power we suggest your next step up from the Flexifoil big buzz would be Flexifoil sting range of 4 line kites. The 2.2 metre wide Flexifoil Sting is the smallest in this range and the 3.1 metre wide sting is the largest and most powerful.
These 4 line kites differ from the 2 line varieties because if you move the bars forwards away from you the kite will quickly lose power so that you can land it safely or perform some interesting manoeuvres.
The 4 line kites are also seen as being safer and allow for better controlled movement horizontally and vertically. Launching the kite also becomes easier and it is possible with some practice to make the kite hover or to write letters and shapes in the sky. The best kites with 4 lines are also able to be used for kite sports and are the very best kites for kite boarding and kite surfing because they offer the strength and manoeuvrability required.
Flexifoil Sting Key Features:
4 lines allows for a more controlled flight & ability to perform more advanced manoeuvres.
Lots of size choices between 2.2 and 3.1 metre width.
Prism Synapse Dual-Line Parafoil kite
The prism Synapse offers a similar experience to our recommended flexifoil big buzz kite. Choosing the Synapse dual line is a great introduction to flying 2 line kites and soaring up into the sky to perform your first ever dives, figure 8's and feeling the power of the wind on a fresh summer day.
Prism Synapse Dual-Line Parafoil kite key features:
Packed size of 10x5x2.5.
Bag, flying lines, winder and useful clear instructions are included.
---
Best kites for kids
If your feeling nostalgic then our favourite childrens kites suggestion will bring back memories of pretty kites blowing in the wind high above in the bright blue sky amongst the worst and best beach kites families have brought with them to entertain kids who are bored of buckets and spades.
Single line traditional kites are much more exciting for younger children who won't be able to handle a duel line stunt kite and for whom the array of colours will be satisfying enough. You can't perform tricks with these small kites but they are still fun to fly and if the wind picks up you'll have to adjust. This gives children the chance to learn some coordination skills and will give them a taste of the fun that can be had by directly flying something high up into the sky.
---
Our best kids kite – The Huge rainbow kite
Click to view the Huge Rainbow kite price on amazon
The AGREATLIFE Huge rainbow kite  is our best kite for children. With so many children glued to tablets and games consoles they don't get to experience what it's like to go outside and get hands on with real life toys.
To fly a kite is to experience the physical, sensual and natural elements of a reality that a computer game cannot recreate. This huge kite isn't really huge but at roughly 1 metre wide and 2 metres long ( inclusive of the tail) it's quite tall and the colours and tail in motion are impressive.
This kite is a perfect beginner kite for children because it has its own identity with fascinating colours and a tail which will wag in the blue sky faster than any dogs ever could. It is made of non-toxic materials and is simple and gentle to fly even in a moderate wind.
This product is recommended for children age 6 and older, but under careful adult supervision, some parents suggested they've helped toddlers under that age take part in holding it. This kite will involve some assembly but shouldn't require instruction, which is why they haven't provided instructions.
---
Best kite for kids – some points to consider
A small minority of consumers who purchased this kite had problems with the stitching coming loose, the materials breaking after a small amount of flight time and problems with the rods not fitting properly. From what we saw when researching online, less than 5% of people reviewing the product experienced these major issues.
Also, if you do experience any problems, the seller – aGreatLife appear to have a good customer service system, they happily offer a lifetime warranty with the product and a money back guarantee. Judging by their response to queries that we have seen, they appear to be good to their word so I feel confident if you have any problems with this product they'll resolve them quickly and you won't be left out of pocket.
---
 The best kites for more adventurous children – HQ Symphony beach 3 1.3 metre rainbow
Click to view price on amazon
Our Best kite the Flexifoil Big Buzz is great for the majority of people but can be difficult to handle for younger children who want a more thrilling kite experience than the Huge rainbow kite. We therefore decided it was necessary to find the best kites that can be used by children from 24 months and older.
The Hq Symphony 1.3 metre version is the ideal intermediate size to step up from a single line to a duel line kite. Just unravel the line and start flying immediately. You can pack it away easily and it only takes up 30 x 16 x 8 cm of space.
The colour scheme on this kite is like a rainbow and we like the fact that it has a canopy and doesn't require putting together. The materials are good quality and we expect it will last a long time. It doesn't take off quite as easily as the big buzz so you may struggle if there are only a few miles per hour of wind and you may need someone to hold it up to launch it.
Once its airbourne you can easily perform dives and make shapes in the sky but it wont hover above you with the same ease that the biz buzz does. You'll feel like you have a nice amount of control over this kite and it responds with ease and flies with solid stability in a 10 mph + consistent wind. In lower winds and when the wind changed we found it sometimes dropped a bit and didn't fly as smoothly.
For the money this is the best kite you'll find and I'm sure your kids will absolutely love you for buying them this. It's appearance gives the impression that it's more of a professional kite so when your kids friends see them flying it they'll all be impressed and won't realise how it can be flown with little need for a lot of practice
---
What is the best wind speed for kite flying
What is the best wind speed for kite flying is a question many people ask when they learn to fly kites. It isn't easy to answer because there are a lot of things to consider for each individual product. In general a single line kite will require someone to hold the kite and release it as the line is pulled and It will require a fair wind speed to get airborne.
A duel line or 4 line canopy  kite can be lay on the floor and launched with one person, even in a few mph wind although the higher the wind the easier all kites are to launch. There are also variations between the shape and design of a product which all respond differently with changes in wind speed.
I would say the most important factor here is usually ensuring you are somewhere exposed enough for their to be enough wind as this is an activity that is much more fun with plenty of wind. This is why it is usually a good beach activity as the coastline nearly always has a nice sea breeze, but a large playing field or park can be good too. If the wind is due to be over 20 miles per hour I would consider this to be too high for a beginner
---
Factors to consider when buying a kite so that you can choose the best kites available
We think it's important to considering the following options when looking for the best kites to buy. We have taken the time to consider all these options before recommending these kites to you.
---
How easy the kite is to assemble 
A lot of these products don't require assembly but when they do you need to consider how quickly this process will take and whether any kind of instructions are provided. The best kites will require less assembly time and if they require assembly won't be complicated and will offer clear instructions when necessary.
Length of line
– it's important to look at what length the line will be because this will effect how much space you need to fly and also influence the amount of control you have over aerobatics. The best kites usually have longer lines, but different line lengths are better for differing purposes.
Durability 
Because these products are put under a lot of force and impact with the ground you need to make sure they are high quality and made to last. If a kite is rated as one of the best kites you can be sure it is made of the very best materials and is built to last a long time under pressure from nature on every flight.
---
Kite festival and National kite day
There are lots of strange national days that people celebrate such as national blueberry popsicle day and national name your car day. These are amusing and I love the idea of creating silly fun days but there are some national days which we think are useful in promoting good causes such as national child health day.
Most importantly there is a national Kite day which falls on the Hindu celebration of Makar Sankranti which marks the end of winter and beginning of the sun moving into the star sign Capricorn. This event is celebrated across India and is known as the Indian kite festival. In a place called gujarat in India the biggest kite festival is held and it is known as Uttarayan. Thousands of people all flying kites together is a stunning and humbling sight.
There is also a kite flying festival in China in a place called Weifang.
---
When was the kite invented
A lot of people want to know when was the kite invented and who invented the kite and we are going to try and answer that question for you. It is thought that the history of kites may go back over 2 thousand years in China but some people think they come from India where they were originally only used by the upper class and royalty.
The former Chinese leader Chairman Mao once banned flying a kite in china and people faced imprisonment if caught. However China now actively encourage the health benefits of flying a kite and a lot of kites are produced in china.
Lots of communities and tribes have been flying kites worldwide in one form or another for hundreds of years. It isn't clear what they used them for but I'd like to think that a part of the use was a metaphor for freedom, of flying high and letting go of any troubles and soaring your imagination up above the clouds.
---
Justification – Health benefits of flying a kite
Flying a kite has lots of health benefits. You will be able to work several muscle groups and improve your balance. Your legs will work hard because you have to move around to keep control of the kite, or shift more weight to one leg or the other and use some core strength to maintain stability and hold the kite in one place.
The arms, shoulders and back muscles will be strengthened because a good kite can produce a lot of force and it takes some effort to control it and perform fast changes of direction and altitude while creating enough tension to keep the kite flying.
This activity will help a child develop coordination and the ability to stay focused in the moment. It can also improve stress levels because relaxed focus on the task at hand can calm the thoughts in your mind and the soft colours will help relax you.
fill your lungs with fresh air and enjoy the scenery
I feel that the most important benefits are psychological. You have the chance to go outdoors and fill your lungs with fresh air and enjoy the scenery and whatever nature brings. Being outdoors helps you sleep better and the daylight increases your vitamin D levels which are vital for the whole body. Vitamin D doesn't need to be eaten, it enters the body through your skin and has massive benefits for your bones and prevents a lot of  multi-skeletal problems and disabilities that can occur through lack of sunlight exposure.
Most people are only aware that you need to be well protected from exposure to sunlight and this is very true. However as long as you take the right precautions such as wearing a hat and a highly rated sun cream there is no good reason to avoid sunlight and daylight, apart from in extreme temperatures. It's also likely other people will gain some pleasure from watching you flying and there is nothing more rewarding than making other people smile while having lots of fun.
---
If you enjoy being outdoors, why not consider reading our article about flying frisbees,  why you should play golf OR have some fun on the water with an inflatable kayak