The Top 7 Cheese Mats | Tumbling Wedges For Gymnastics & Cheerleading
We hope this article will help you find the best Cheese mats / tumbling wedge.
Your curious toddler has just taken their first steps and wants to explore and climb.
Your 5-year-old daughter has seen gymnasts performing and they want to join a gymnastics class.
Your teenager is a cheerleader and competition for a place on the team is tough.
Those 3 children could all benefit from a cheese mat.
You might ask, why cheese mats?
…Well let me tell you.
At this point its probably worth letting down gently anyone still hoping to find an article about a piece of cheese. Cheese is great, but it doesn't help your kids learn to be a  gymnast and have fun.
A cheese wedge ( also known as a tumbling wedge ) is a gymnastics and cheerleading inclined mat that is shaped like a triangular slice of cheese. It is a vital tool for helping practice tumbling skills that can otherwise be much more challenging.
most importantly have lots of fun
Time can be spent at the gym in classes or at parent and toddler groups, but home is where children spend most of their time. Home is a warm and happy place where kids can express themselves freely and practice without feeling judged.
Having an incline mat at home will allow all your kids to learn some new exercises, climb and play, make the gymnastics or cheerleading team, but most importantly have lots of fun.
We have spent a lot of time ensuring we can show you the best cheese mats available in the world today. We hope this guide will help you choose the right equipment for your kids to pratice and have fun.
---
A Review Of The Best 7 Cheese Mats
---
---
What can a cheese mat – tumbling wedge be used for ?
A cheese mat is most commonly used by gymnasts who need to master skills that having a mat at home can really help with. it is also possible to pratice on some bars and a beam at home.
A cheerleading tumbling wedge is a great addition to any gym used for cheerleading practice or for practice at the home of anyone who loves cheerleading. Whether you're the flyer, one of the bases or in one of the spots you are going to need to practice these skills in order to improve and make the team. It doesn't matter if you aren't aiming to represent your school or club, you can still have fun cheerleading with friends or by yourself at home. A Cheerleading Tumbling wedge can be used to practice tumbling and also to learn and improve your confidence in moves such as the back handspring.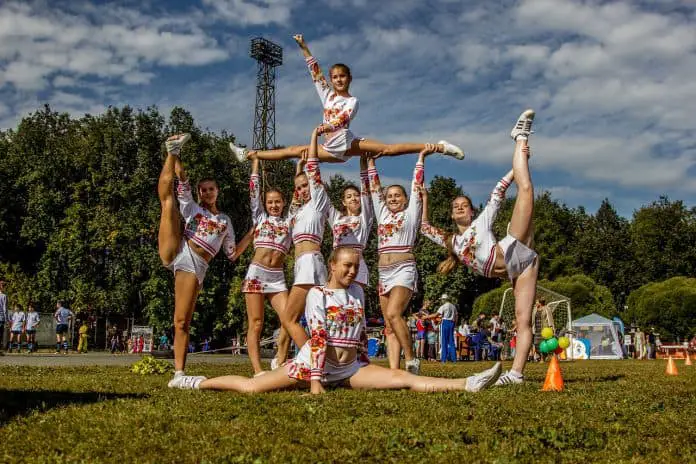 Martial arts athletes performing in Judo, taekwodo and also fighting in MMA or other disciplines can make use of these cheese mats. Usually a padded safety mat is most use for martial arts but a tumbling wedge can also help you practice falling and rolling and encourage your body to feel more comfortable rolling or falling by allowing it to happen more naturally because of the tumbling mats angle.
Children and toddlers love to climb onto furniture, swing on monkey bars and explore. A gymnastics incline wedge can also be a lot of fun for younger children who like to practice climbing on them whilst holding your hand. It is also fun to help them roll sideways down the soft slope or do a forward roll with your assistance.
Common Questions and Answers
What are the benefits of having gymnastics equipment for home practice ? 
Gymnastics requires a lot of repetition of a similar set of movements regularly in order to perfect them. If your children are just starting it is a good idea to practice the basics first, such as Cartwheels, handstands  and back bends into the bridge position. A cheese mat offers a cheap way to bring some home gymnastics equipment into your house in order to practice some basic tumbling moves inside the house.
Why do i need a cheer mat ?
A cheer mat is an important tool for practicing cheerleading skills. They are especially useful when children are transitioning from simple forward rolls and cartwheels to more challenging moves like the back handspring which requires more moment and some nerve. A cheer mat can help a child to start to learn how the backhand spring feels and helps generate the motion and momentum required to complete the move more easily.
What is a tumbling class ?
If you want to practice tumbling skills, attending a class is a good idea. These classes are often attended by toddlers who will be shown cartwheels, forward rolls, the front walkover and basics skills necessary to progress on to learning specific cheerleading or gymnastic skills. if your child is young they will enjoy being able to roll and use up their abundance of energy to throw their bodies around in new and unusual positions that are exciting and a great exercise too.
What is a folding gym mat?
A folding gym mat is simply a mat that can fold. With the Mats we have reviewed above, often they fold because they are very big and it is much easier to store them once folded. It can also help with the production of a gym mat, because it is more challenging to construct a large mat and make it as solid and long lasting as is necessary for lots of gymnastic and cheerleading moves as well as any kind of stunts or martial arts being performed using them.
What is tumbling in cheer – What is considered tumbling in cheerleading?
Joining a cheer team doesn't always mean that you need good tumbling skills. Basic cheerleading can involve moves which resemble dancing rather than specific tumbling techniques and advanced cheerleading can involve moves similar to those that professional gymnasts perform.
Tumbling can involve any kind of movement that involves moving the body in a falling type motion. This usually involves somersaults, handstands, cartwheels, round offs and back handsprings. Handsprings and tucks and some of the most common cheerleading moves but with more advanced teams you'll find some cheerleaders able to perform a twist.
A lot of the moves in a cheerleading team involves standing tumbling moves that form part of a sequence that also includes building human pyramids and performing acrobatics off the top. The human pyramids aren't classed as tumbling but the jumps and flips performed off them are tumbling skills and a lot of the running cartwheels and handsprings are tumbling skills.
What do you do in a tumbling class?
Usually a teacher or older pupil will demonstrate various tumbles and will then let you all take turns performing them. sometimes you all have your own mat and can practice simultaneously. A teacher will need to spot ( watch, or keep hold of you as you perform an exercise) children when they first attempt some of these moves to ensure they don't fall.
What is basic tumbling?
This usually refers to a children's class where they learn to roll and attempt cartwheels and handstands. These skills are useful for building coordination and a basic skillset necessary to move on to more advanced exercises.
Cheap Gymnastics Mats – Advice For Choosing A Cheap Incline Wedge Mat
If you are looking for the best value incline wedge mat for gymnastics then it can be challenging knowing what to look for in order to make sure you get the best value possible.
We would advise that you make sure to choose the correct size of gymnastics wedge mat because an incline wedge that is too small will have to be upgraded to a larger size as your children grow older and progress with their gymnastics.
The materials these cheese mats are produced from are tough and will last a long time if used for the intended tumbling exercises, therefore the cost is worthwhile and reasonable considering the amount of use your children will get from these mats. Cheap gymnastics mats are available, but we recommend you choose one of these reputable mats for your home because they are much better quality and suitable for gymnastics and cheerleading tumbling practice.
Justification
It would be difficult to not be able to justify the fun these cheese mats can bring to your life. Most importantly children will absolutely love them, if they are active and take part in gymnastics or cheerleading. It would be challenging to progress to the competitive or elite level in these sports without one. Even if your children aren't looking to compete then cheese mats will help build their confidence so they feel more comfortable at the school gym around friends. When your kids are sleeping you might want to lean one against the wall to help you build flexibility for yoga and Pilates or to overcome injuries or even a disability.
If you enjoy gymnastics or like to practice your stretches check out these stall bars
We know kids love pets so check out our guinea pig cages article and we have written some fun gymnastics quotes