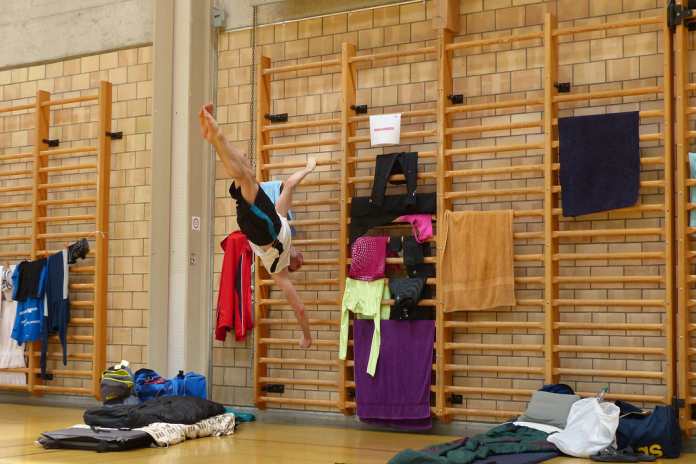 The Top Rated Gymnastics Stall Bars For Home Fitness 2018
Our aim is to introduce you to the best Stall bars for gymnastics and other strength and fitness exercises ( scroll down for product reviews or check table of contents)
Stall bars ( also known as wall bars ) were invented by a Swedish teacher who called them Swedish Bars but they are also known as a Swedish ladder.
The teacher was suffering from arthritis and found that wall bars could be used as a physiotherapy tool for dealing with joint conditions and mobility issues. The Swedish ladders are now used more frequently for strength training and gymnastics, but sometimes they are used in physiotherapy.
We believe Gymnastics Stall bars are a great piece of exercise equipment for a wide variety of exercise goals. They are often used by children to practice climbing or gymnastics and by adults who are looking for some exercise equipment that can help increase flexibility whiles strengthening and conditioning your body.
---
The Best Stall Bars For Sale – Fitness, Strength & Gymnastics – Reviewed
---
Gymnastics Stall Bars for home
Gymnastics stall bars for home can help a gymnast increase their full body strength. In a similar way to how gymnastics rings allow for an excellent strength workout using your body weight held in different positions in order to target all your upper body muscle groups.
Gymnasts can also use wall bars to build core strength and for stretching and maintaining good posture and form which are vital for competitive gymnastics.
My dad often suffers from a bad back and hanging in certain positions from wall bars really helps to relieve the pain and can also help stretch the back muscles and relax them. Be sure that you are very careful and only stretch the muscles in a natural and gentle way.
Wood vs Steel Wall Bars
It can good to train and perform stall bar exercises on steel because it's the more difficult of the materials and if you later use wood you'll find it much easier. The steel is much tougher on your feet and is much harder on your hands so will be beneficial when you compete on wooden bars afterwards because wood is easier to grip
Bars made from steel can generally hold a heavier weight more securely, and they aren't going to snap in the same way wood can.
Steel can be tough to hold if used outside in the heat as it's gets very hot and in the rain, becomes slippery and will need wiping down.
Steel is colder if your Swedish bars are positioned outdoors or in a garage or basement with lower temperatures.
Wooden  bars that break are usually easier to replace or to create your own customised replacements.
---
Safety and installation
Please follow any instructions provided, although often they aren't as detailed as you'd like they should contain some information regarding safely assembling the product. If they don't please have a look online to see if there is any online manual or contact the seller / manufacturer of the wall bars for advice. Please ensure you check the bars are securely fitted and there are no cracks or weaknesses in the wood that look dangerous. It's advisable to not perform inverted manoeuvres until you have used the bar for a short time to test it.
When performing Dynamic movements such as jumping onto the frame at speed with your full body weight please build up the force you are imparting onto the bars gradually so you can test their strength.
---
 Stall Bar Exercises
 A wall bar can often be found in gymnasiums or as part of a home gym where gymnasts utilise the bars for building up full body strength and flexibility training. Improving your posture and balance, climbing, stretching numerous muscle groups and warming down after a long cardio session. Younger children often use a wall bar in schools to help with coordination skills and learning how to safely climb up the rungs and back down again.
Often athletes who practice parkour skills find bars useful for jumping up to a height and clinging on. This often involves jumping from a distance away or running and jumping from an object and landing directly into a holding position on the bars
Wall bars can also often be used to attach TRX suspension training equipment to, but we would always recommend asking the stall bar manufacturer about this prior to use.
Some people us wall bars as a chinning bar for performing chin ups. Although a wall bar can be used for lots of different exercises the chinning bar at the top is often used more than other stall bar exercises.
Your body will thank you for working hard using exercises such as the front and back support, human flag and various holds and leg extensions that will really work your body hard and strengthen your muscles considerably.
Justification
We think it is easy to justify the use of these gymnastics stall bars for sale that can be used at home or in the gym when you consider the amount of fun you will have using them and the pure strength and endurance challenge they offer.  Wall bars are important fitness tools for elite gymnasts and athletes worldwide who all benefit from using wall bars to condition their bodies. Whether you are also a professional or just want to improve your physical fitness and flexibility, Wall bars offer something for everybody, especially gymnasts and people who love to keep fit.
You can train your muscles and also stretch, increase mobility and become more flexible at the same time. It isn't easy to perform many of the exercises that are possible on the wall bar structure, but even if you aren't yet able to perform more advanced positions, lots of stretches are possible for beginners and you can find an exercise program that can help you gradually progress to be able to perform multiple exercises over time.
---
If you enjoyed reading this article check out our other sports and fitness articles
We have also written about cheese mats which are great for gymnastics and yoga