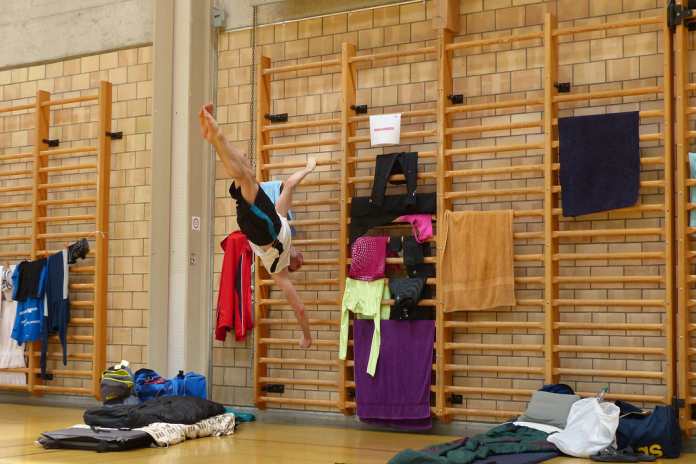 The Best Gymnastics Stall Bars For Home Gym 2018
If you are in a hurry check out these stall bars. If not carry on to read the full reviews and advice.
Our aim is to introduce you to the best Stall bars for gymnastics and home strength and fitness exercises ( scroll down for product reviews or check the table of contents). If you are serious about fitness, YOU need Stall Bars in your home, they take up no space, look great and can be the best STRENGTH WORKOUT tool you have ever had.
Stall bars ( also known as wall bars ) were invented by a Swedish teacher who called them Swedish Bars but they are also known as a Swedish ladder. The teacher was suffering from arthritis and found that wall bars could be used as a physiotherapy tool for dealing with joint conditions and mobility issues. The Swedish ladders are now used more frequently for strength training and gymnastics, but sometimes they are used in physiotherapy.
We believe Gymnastics Stall bars are a great piece of exercise equipment for a wide variety of exercise goals. They are often used by children to practice climbing or gymnastics and by adults who are looking for some home exercise equipment that can help increase flexibility while strengthening and conditioning your body.
---
The Best Stall Bars For Sale – Fitness, Strength & Gymnastics – Reviewed
---
1
Vita Vibe Stall Bars 

ASB36″ Wide Adjustable

 
Click to view current price on amazon
The Vita Vibe Adjustable 36″wide bars are one of our favourites. They are available at three different heights depending on which you prefer and the height of your ceiling. Even the tallest 90″ height choice should fit under most ceilings which are on average at least 96″ tall. Our link above will take you to the 90″ but if you want to check out the different heights available on amazon click on the following text: "Vita Vibe 82″  or Vita Vibe 74″
Choose from: 74″ 82″ or 90″ height
At a competitive price, the Vita Vibe Swedish bars are visually attractive, with a solid tone of grey colouring the aluminium alloy vertical bars and hardwood ash horizontal bars. Impressively the rungs are adjustable so you can choose to create the exact distance between each rung that suits you and your workout.
This can be useful if you are performing the human flag or gymnastics exercises requiring hands to be on separate rungs and is also useful to adjust depending on how big your hands are and which distance feels most comfortable for you. If you wish to stick to the standard even spacing between bars there is a 8 1/2 inch centre spacing spacer included. If you want to be sure the bars are set evenly at a different spacing it is easy to create your own spacer to achieve this.
Your arm length and shoulder width might suit bars that are set a very slight distance further apart or closer together and this adjustability is useful for ensuring the bars are set in the exact position you like. The chin up bar that extends out from the very top by approximately 8 inches can be adjusted and set in a couple of positions
high quality, made in the USA and a 10 year manufacturer's warranty
The wooden horizontal bars on the Vita Vibe gymnastics stall bars are nice to grip and the bolts that hold them in place are Grade A ASTM rated, a rating for things such as steel fasteners that aims to ensure a product meets a certain high standard.
This rating should ensure when fitted correctly that the bolts will hold this wall bar in place under the pressure of a person climbing and performing strength training.
These wall bars are high quality, made in the USA and the manufacturer includes a long warranty
Before attaching the bolts please be sure to drill a pilot hole that is not less than 7/32" because anything smaller can cause the bolts to become damaged. The Vita Vibe bars will hold the 250lb recommended maximum weight, but this is only the case if instructions are followed and care is taken to ensure they are assembled and attached correctly. These wall bars are high quality, made in the USA and the manufacturer includes a long warranty.
If you are looking for less width, we have reviewed the 24″ wide non adjustable bars further down the page.
Measurements and important details :
– 5.75″ between your wall and the centre of the rungs
– Rungs and chin up bar are 1-1/2″ in diameter
– Chin up bar is offset 8″ from the front of the main frame, it's height is adjustable and it is possible to not attach it if you don't want a chin up bar.
Our Rating ⭐⭐⭐⭐⭐ 4.9/5
2
3B Scientific W15400 Swedish Bars
Click images to view on Amazon
The 3b scientific W15400 gymnastics bars are very straightforward to assemble and feel well constructed and solid. The bars are made of steel tubing with three wooden rungs in the centre which are a different colour and can be detached from the frame.
This is achieved by releasing the clamp on the outside and pushing the spring-loaded bar out of the holes on each side. Wooden bars are usually easier to grip than steel but because the wooden bars are likely to spin a little bit on this product, you have to take into account the potential for slight movement when gripping them.
This unit can be attached to the floor up to approximately 12 inches away from the wall which allows for some flexibility and changes the position of the top pull up bar away from your wall which is useful for doing pull ups.
Pros
There is a rung at the top for pull ups
The bars are Rounded – not oval
Fairly easy to pack away if you need to remove and re-install elsewhere.
Great as part of a home gym
Dimensions  – 98″ high x 42″ width  x 11.5″ depth
can sometimes be used as an anchor for battle ropes
Cons
The side bars are steel so the height can't be adjusted.
This bar can't be connected with another of the same product to create a wider bar, there will be a gap between them.
Needs to be fastened to the floor using screws.
Our Rating ⭐⭐⭐⭐⭐ 4.6/5
3
3B Scientific Eucalyptus Wood
The 3B scientific stall bars are a very popular product made entirely of Eucalyptus wood. They offer exceptional value and the wood is sealed for durability. If constructed correctly these bars are durable and the eucalyptus wood feels comfortable to grip onto.
If you are heavier you might experience more give in the wooden horizontal bars. Some movement is to be expected and isn't a concern unless it is quite extreme or the wood is splitting at all.These bars are often found in children's gyms in my area and I feel comfortable using them. There is a slight flexing when doing pull ups on the top bar but this is marginal and they felt sturdy and good quality.
Our Rating ⭐⭐⭐⭐⭐ 4.6/5
The handmade Acadia gymnastics bars have a beautifully crafted ash hardwood frame that is light and blend in nicely with most wall or brick colours. These are some of the nicest looking stall bars we have seen and it has been hand made in Maine. However nice stall bars might look, there performance in use is most important unless you want to use it to hang your clothes on or for ornamental purposes, which I really doubt you do.
The high quality solid hardwood construction of this frame and the 15 rungs are built to last. If you are familiar with stall bars you'll know that it's important for the bars to remain stable and this product offers 15 rungs that don't move at all. The rungs are separated by a 5 ½ inch gap which is a nice distance apart in order to grip cleanly and work with the gap. When using the Acadia bars there isn't a sense that the wood is going to give way, bend or snap, it feels very secure and nice to grip onto.
we like these bars a lot
The Acadia are 7 feet 6 inches tall and feature two adjacent horizontal bars at the very top.  The top bar nearest the wall, which isn't in a good position for performing pull ups, is complemented with an adjacent offset bar with greater clearance and can be used primarily for pull ups or hanging on to stretch your back.
We are unsure why there are two bars at the very top as it seems unnecessary but we like these bars a lot and if you find the two top bars unnecessary, consider looking at the Rockland stall bars we have reviewed because they are similar but with one bar at the top.  With a weight limit of 275lb you'll feel safe even up towards the upper weight limit.
Additional info
The Acadia are easy to construct but please be careful and follow the instructions closely.
3-year warranty
The Rockland bars are made by the same company as the Acadia and display the same high quality design. Once again, we were impressed by the care that has clearly been taken with the wood used to make these bars.
For sale At a very slightly more expensive price when compared to the Acadia, the Rockland are slightly different but both appear to be made of very similar high-quality wood. At the top, there is one offset pull up bar on the Rockland wall bars whereas with the Acadia the top rung is adjacent to the pull up bar so there are two bars at the top, offering slightly less clearance.
makes pull ups feel more comfortable
Because the Rockland bars only have one bar at the top, it makes pull-ups feel more comfortable, however this is mostly psychological as you shouldn't come into contact with the other bar anyway and both are brilliant. People often have to choose between these products and we would recommend both.
Deciding which to buy often depends on which pull up bar position you prefer and also the Rockland bars sit approximately one inch further away from the wall than the Acadia, so if you're looking for maximum distance from the wall we would recommend the Rockland bars. These bars are fairly easy to install and have clear instructions, but will definitely require two people to put together.
6
Vita Vibe VSB 36-90 Swedish Bars
Vita Vibe make a variety of different sized bars and we like the strong looking steel frame on these bars. The frame is very well made and durable and there are 11 wooden rungs set 8 inches apart. There is a 5-inch gap between the wall or surface you mount these bars on and the bar itself, which is more than enough room.
At the top is the standard pull up bar and it is offset 8" from the main frame. Gripping the bars feels comfortable and the width is just right.  Overall these stall bars are very attractive to look at and are manufactured in the USA and produced with high quality materials.
Click to view current price on Amazon
Durabod have produced some very good quality strength training bars that we think are some of the best available. We like the motto on their website which says:
We're on a mission to achieve better health, improved mobility, and greater strength.  Luckily, those three goals fit perfectly together!
With some very good quality Pine construction the bars sit nicely on the wall approximately 1 inch away. The instructions are clear and attaching to your wall is completed easily with the use of a screwdriver, but we would recommend a drill in most cases. Strong bars mean that body weight training, stretching and hanging on the bars is comfortable and with an upper weight limit of 300lb they should be able to easily hold most adults weight during fitness training.
8
Xtreme Fitness wood stall bar
Click image to view on Amazon
The Xtreme fitness Swedish ladder is a good addition for completing your home gym, if you are a fitness enthusiast or looking to improve core strength, straight arm strength and all-around upper body conditioning. As part of a workout programme, it is fun to be able to perform strength exercises and hanging leg raises, human flags and body weight holds in positions which aren't always possible on other equipment. Now you can practice all the best exercises on one piece of fitness equipment in your own home.
We like the red tint of the strong Pine wood frame and 13 rods. The top pull up bar flexes a bit more than we would like, but it is something that happens with a few wooden fitness equipment bars.
At a very reasonable price we think you will be happy with how easy these bars are to assemble, just make sure you read the instructions careful and use common sense if you encounter any difficulties.
The Suples Gladiator wall is different from the other stall bars because of the angle and distance which the upper pull up bar extends outwards. With a maximum weight of 400 lbs these are some heavy duty wall bars.
We like the design and that they encourage connecting a few of these bars together side by side in order to create a gladiator wall.
The numbering beside the rungs is an interesting addition and most useful for when you want to stretch to a certain height, or measure and increases in how far you can stretch. They are also useful for ensuring you are performing certain exercises in the exact same position in order to work and train the correct muscles.
Suples have some additional add on items available such as a dip bar, pulley and ropes in order to make the most out of the gladiator wall and be able to workout all your muscles these are a great idea and add some variety to your workout.
10
GRONK Fitness Wall Mounted Pull Up Bar
This isn't a full set of stall bars, but this Pull up bar is ideal if you are aiming to focus your workout sessions on upper body exercises that don't require the additional rungs and exercises available on a full wall bar set up.
We like that you can change the position of your grip in order to be able to target different areas of your biceps and triceps, back and shoulders. It is possible to use a wide grip, narrow grip, pronated, supinated or neutral grip.
A pronated grip is great for starting a workout because of the range of back muscles it targets rather than isolating a smaller muscle group. A supinated grip will more fully target and isolate the bicep.
Gronk have produced a pull up bar that is easily mounted on your wall and is one of the best pieces of home exercise equipment available to buy.
11
Sportbaby Kombi-1-220 Swedish ladder
Click to view current price on Amazon
The Sportbaby Kombi-1-220 Swedish ladder is an interesting product. They seem to be targeting children with these stall bars, but they are also able to be used by adults. The main vertical ladder section has a weight limit of 120kg so is suitable for most adults to use for stretching and upper body and core strength exercises.
The top element has a maximum weight of 80kg. This element is unique because instead of one pull up bar, there are three horizontal bars positioned increasingly further away from the main bars. We can only imagine these were designed as a small set of monkey bars for children's benefit, perhaps to entertain the kids when your not using the main ladder for exercises.
The beechwood frame should make this a solid product and if you want to please the kids too, with the short monkey bars, then this is worth considering.
12
Durable Port Wood Wall Bars
click to view current price on Amazon
Durable Port have designed this product that is 95 inches high, so make sure your ceiling is tall enough, you really don't want your head popping through the ceiling, or not being able to attach to the wall.
If you are planning to attach this to wall studs then think again,it doesn't appear possible because of the positioning of the vertical bars not matching wall studs. It is perfectly possible to attach them by attaching to other beams or contact the manufactures and they should be able to offer you some advice on how best to fit them to your wall.
A lot of people have highly rated the durable port bars as part of a home gym and for physical therapy. The wood is smooth and the bars are nice looking, with an offset rung at the top for chin ups.
Honufit have manufactured this swedish ladder using quality beechwood that looks and feels great. Wall anchors are included and this massively helps with installation, reudcing the time required for installation  to less than an hour.
Each stall bar is oval and the frame sits roughly 6 inches from your wall. The Honufit bars enter at the lower end of the price range so don't expect the durability of some of the higher quality more experienced brands above.
If convenience and a low price is important to you, the flexibility and versatility of these cheap stall bars in your workout is good but they aren't our favourites.
Gymnastics Stall Bars for home
Gymnastics stall bars for home can help a gymnast increase their full body strength. In a similar way to how gymnastics rings allow for an excellent strength workout using your body weight held in different positions in order to target all your upper body muscle groups.
Gymnasts can also use wall bars to build core strength and for stretching and maintaining good posture and form which are vital for competitive gymnastics.
My dad often suffers from a bad back and hanging in certain positions from wall bars really helps to relieve the pain and can also help stretch the back muscles and relax them. Be sure that you are very careful and only stretch the muscles in a natural and gentle way.
How to Use Stall bars for strength workouts – Stall bar workout
Tuck Leg raises
Tuck Leg raises involve Holding onto one of the wall bars that is high enough up so that your legs won't touch the floor.
Your back and the palm of your hands has to face the wall.
Move your legs off the ladder so you are holding your body weight.
You need to lift your knees upwards towards your chest so the they are tucked in as close and as high up your body as possible almost as though your legs are about to perform a somersault. This is a tough exercise, as are most of the swedish bar exercises, but this is a good one to start off with.
You should feel it work your core just be sure to breath properly during the hold.
Straight Leg Raise
A more challenging version of the tuck raise is the straight leg raise.
Follow the same steps as for the tuck raise but this time keep your legs as straight as possible and raise your toes up straight out in front as far as possible.
You will definitely need some strength to perform this but once you've mastered the raise you'll really feel it in your core and arms. don't give up if at first it's tough, your strength will come, pratice lots of press ups, dips and core strength workouts if you are struggling.
The front support for Arm strength
Swedish bars offer a great upper body workout. To perform the front support, climb up a few rungs and hold onto the rungs, roughly shoulder width apart with your palms facing behind you.
Slowly move one leg off a rung and take your weight onto your arms. Make sure your arms are straight and if you can remove your feet completely from the rungs then great, you will feel this position really working your triceps, shoulders and your lats.
Holding this position can also help strengthen your elbow joint, just be careful not to suddenly try and lift all your weight, make sure you have the strength by testing how much wight your arms can hold using one foot on a rung and gradually removing it.
Wood vs Steel Wall Bars
It can good to train and perform stall bar exercises on steel because it's the more difficult of the materials and if you later use wood you'll find it much easier. The steel is much tougher on your feet and is much harder on your hands so will be beneficial when you compete on wooden bars afterwards because wood is easier to grip. If you are praticing parkour, you will be gripping onto steel bars in the street so these are great for making your home pratice more realistic.
Bars made from steel can generally hold a heavier weight more securely, and they aren't going to snap in the same way wood can.
Steel can be tough to hold if used outside in the heat as it's gets very hot and in the rain, becomes slippery and will need wiping down.
Steel is colder if your Swedish bars are positioned outdoors or in a garage or basement with lower temperatures.
Wooden  bars that break are usually easier to replace or to create your own customised replacements.
---
Safety and installation
Please follow any instructions provided, although often they aren't as detailed as you'd like they should contain some information regarding safely assembling the product. If they don't please have a look online to see if there is any online manual or contact the seller / manufacturer of the wall bars for advice. Please ensure you check the bars are securely fitted and there are no cracks or weaknesses in the wood that look dangerous. It's advisable to not perform inverted manoeuvres until you have used the bar for a short time to test it.
When performing Dynamic movements such as jumping onto the frame at speed with your full body weight please build up the force you are imparting onto the bars gradually so you can test their strength.
---
Our thoughts on DIY Stall bars
We have reviewed lots of products available to buy at a reasonable price but sometime you might want to consider building your own DIY stall bars.
This can save a little bit of money and be a rewarding experience if you fancy yourself as a bit of a handyman. Building your own fitness equipment can be challenging and you are always having to test things out and make sure everything is constructed correctly.
The companies listed above are producing thousands of these wall bars, they have the experience, knowledge and ability to test and make sure everything fits and is safe. Safety standards have to be passed and usually they know what they are doing in order to help you achieve the best workout.
We would recommend choosing a quality tested product, but if you really want the challenge of building some yourself it is possible.
---
 Stall Bar Exercises
 A wall bar can often be found in gymnasiums or as part of a home gym where gymnasts utilise the bars for building up full body strength and flexibility training. Improving your posture and balance, climbing, stretching numerous muscle groups and warming down after a long cardio session. Younger children often use a wall bar in schools to help with coordination skills and learning how to safely climb up the rungs and back down again.
Often athletes who practice parkour skills find bars useful for jumping up to a height and clinging on. This often involves jumping from a distance away or running and jumping from an object and landing directly into a holding position on the bars
Wall bars can also often be used to attach TRX suspension training equipment to, but we would always recommend asking the stall bar manufacturer about this prior to use.
Some people use wall bars as a chinning bar for performing chin ups. Although a wall bar can be used for lots of different exercises the chinning bar at the top is often used more frequently than other stall bar exercises performed on the lower rungs.
Your body will thank you for working hard using exercises such as the front and back support, human flag and various holds and leg extensions that will really work your body hard and strengthen your muscles considerably.
Justification
We think it is easy to justify the use of these gymnastics stall bars for sale that can be used at home or in the gym when you consider the amount of fun you will have using them and the pure strength and endurance challenge they offer.  Wall bars are important fitness tools for elite gymnasts and athletes worldwide who all benefit from using wall bars to condition their bodies. Whether you are also a professional or just want to improve your physical fitness and flexibility, Wall bars offer something for everybody, especially gymnasts and people who love to keep fit.
You can train your muscles and also stretch, increase mobility and become more flexible at the same time. It isn't easy to perform many of the exercises that are possible on the wall bar structure, but even if you aren't yet able to perform more advanced positions, lots of stretches are possible for beginners and you can find an exercise program that can help you gradually progress to be able to perform multiple exercises over time.
---
If you enjoyed reading this article check out our other sports and fitness articles
We have also written about cheese mats which are great for gymnastics and yoga