There are two main gymnastics programs that award progression through women's gymnastics levels. USA gymnastics are the regulating body who have created these programs to help rewards gymnasts for mastering gymnastics skills with an ever increasing level of difficulty.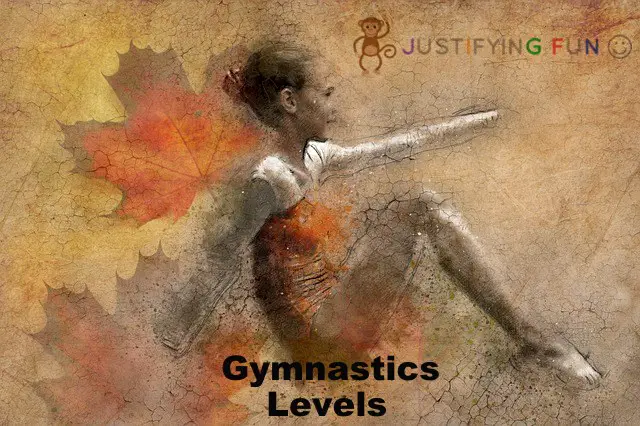 Most Gymnasts will be familiar with the USA Gymnastics Junior Olympic Program. This is the most widely recognised and used gymnastics program. Within the last few years USA gymnastics introduced the Xcel program. This gymnastics program is an alternative to the Junior Olympic Program that offers a different approach to progressing through gymnastics for gymnasts or trainers who feel it better suits their gymnastics training methods.
This article will focus on giving you an overview of the Junior Olympic Program Levels to help give you a better understanding of what exactly is involved. Within each level section we link to a more detailed article about what is required at that gymnastics level.
The Junior Olympic program offers you the chance to progress through 10 gymnastics levels and if you manage to achieve all of those levels you can progress to Elite Gymnastics.
How Many levels are in gymnastics?
There are two main programmes in gymnastics. The junior Olympic program has 10 levels before you can apply to reach elite status and the Xcel program has 5 different divisions you can work up.
Gymnastics Levels Age Requirements
If you want to move up the levels you'll have to meet the minimum Junior Olympic Gymnastics Levels age requirements for each level as well as having built up the relevant gymnastics skills. Lower levels require you to follow a certain routine but as you progress higher you will use individual gymnastics routines.
Level 1 Minimum age – 4 years old
Level 2 minimum age – 5 years old
Level 3 minimum age – 6 years old
Levels 4-7 minimum age – 7 years old
levels 8-9 minimum age –8 years old
level 10 minimum age – 9 years old
---
Levels 1-3
Levels 1-3 are the introductory foundation levels in gymnastics. If you are starting gymnastics you need to learn the very basics first before you attempt any competitive skills. The first 3 gymnastics levels focus on giving you the gymnastics skills necessary to be able to build up to more advanced skills and compete in the sport.
Nearly all gymnasts learn gymnastics level 1 and gymnastics level 2 skills in a recreational gymnastics program. Level 3 is often used as the starting point for introducing children to competitive gymnastics, even though level 3 is the highest level that doesn't have to be completed competitively.
During the first 3 levels You are going to have a lot of fun running hurdling and practising the straight jump on the vault. Managing to spin around a gymnastics bar using a reverse grip stride circle feels like a big achievement for youngsters and they should be proud. The stride circle (mill circle) is one of the many important development skills learnt during recreational level gymnastics.
Progression through levels 1-3 on the beam and floor include the beautiful gymnastics arabesque pose, cartwheels and the bridge kick over. At first it might seem like you are having to learn a lot of skills, but having a good solid set of basic skills in these first 3 gymnastics levels will set you up for a lot of success and an easier ride during higher level training. Try your best to master good form on all the skills in the first 3 gymnastic levels and you'll be all set for a successful and fun journey through gymnastics.
---
Level 4
Completing this level is compulsory and requires gymnasts to achieve a mobility score if they want to progress higher. A mobility score in gymnastics is a score that takes into account the gymnasts ability across all the required skills at that gymnastics level. Judges watch you perform at gymnastics meets where you'll perform a set routine and be given a score.
Scoring 34.00 All Around at level 4 will allow you to progress to level 5.
Level 4 Includes a challenging handspring vault, glide swing and the exciting front handspring.
---
level 5
Like level 4 Gymnastics Level 5 is also compulsory. Compulsory gymnastics levels are challenging but very rewarding achievements that you can be proud of for a lifetime. You won't only have a great set of gymnastics skills, you will also be a highly trained athlete with a flexible and strong body.
Scoring 32.00 All Around at level 5 will allow you to progress to level 6
At level 5 you'll have fun mastering the cartwheel to side handstand, tap swings and the challenging 150 degrees split leap. Don't expect an easy ride, level 5 really tests your gymnastics strength and flexibility.
---
Level 6
Gymnastics Level 6 is where things get a little bit more exciting and gymnasts have the chance to be more creative and decide upon a unique routine that suits their own gymnastics style. Finally you can express yourself using your favourite skills.
Competing at level 6 is a great achievement and now you are classed as an above average gymnast. Level 6 brings with it a little bit more freedom but also some really tough skills.
Finally mastering the bar change and A dismount from the bars at level 6 feels great but the real challenge for a lot of gymnasts is the floor acro series with 3 directly connected elements ( 2 acro flights ) and the need for competitive level floor dance skills.
Scoring 32.00 All Around at level 6 will allow you to progress to level 7
---
Level 7
At Level 7 some of the vital skills you need to be able to perform are the double backs, flares, press handstands and endos. Having a clear kip angle and cast height are also very important at this gymnastics level.
Scoring 32.00 All Around at level 7 will allow you to progress to level 8
---
Level 8
Level 8 places a lot of focus on power but having optionals to choose from after the required elements are met means you can place focus on your strongest skills in your routines. Level 8 used to be seen as being very similar to level 7 but now the requirements have changed it is a nice stepping stone between levels 7 and 9.
Scoring 34.00 All Around at level 8 will allow you to progress to level 9
---
Level 9
This gymnastics level allows for a lot more variety and by this point gymnasts have a lot of skills to work with. Make sure the skills you are performing in your gymnastics level 9 routines don't have a disallowed D value ( difficulty Value ). Even though gymnasts have a lot of options at level 9 a lot of gymnasts like to perform a 1.5 punch front pike during their routine.
Scoring 34.00 All Around at level 9 will allow you to progress to level 10
---
Level 10
Congratulations if you've made it to level 10. You have made it to the highest level within the USGA Gymnastics Junior Olympic Program.
At level 10 you must create and perform routines made up of 3 skills at "A" value, 3 skills at "B" value and 2 skills at "C" value.
---
Elite Level Gymnastics
To compete at Elite level gymnastics you must complete all the levels up to and including level 10. When you Achieve level 10 there is an additional elite gymnastics test you must pass if you want to be classed as an elite gymnast. An elite gymnast can enter the biggest gymnastics competitions across the country and at this level you'll have a good chance of earning a College gymnastics scholarship and can try to push on to make the Olympic gymnastics team.