We Sell Mats and Tumbl Trak are two of the most popular gymnastics equipment brands. When comparing Tumbl Trak vs We Sell Mats I already have experience using both brands equipment and have great experiences with all their gymnastics products. When people attempt to compare Tumbl Trak and We sell mats they are usually looking to purchase a particular piece of gymnastics equipment and want to know which brand is the most reputable and offers the best quality gymnastics apparatus for their money.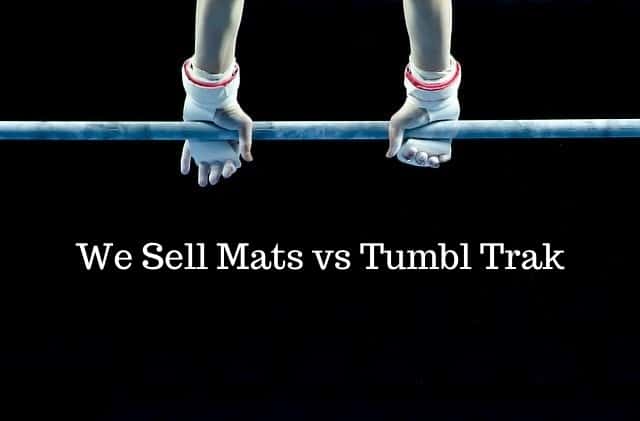 I'm going to show you my favourite gymnastics equipment from each brand and compare what each brand offers so you can decide which brand you like the best.
Difference between We Sell Mats and Tumbl Trak Incline wedges
We Sell Mats offer the bigger selection of cheese mats (incline wedges) in a wider variety of colours combinations and sizes. Both brands offer the classic yellow blue and red colours but I think the Well Sell Mats pink and purple incline is their most beautiful and Tumbl Trak's light coloured blue, pink and green wedge is their prettiest offering. Here are a few photos of the cheese mats both brands offer, if you want to find out the latest prices and offers on Amazon click on the images.
We Sell Mats Purple & Pink Wedge
Click to view current price on Amazon
This gymnastics cheese mat has been around for a few years now and is one of the best wedges you can use for practising and helping you learn tumbling skills. In my other article I review gymnastics wedge mats in more detail.
---
We Sell Mats Classic Yellow Blue and red wedge
Click to view current price on Amazon
This is the classic multi colour colour scheme you'll often find on a wedge mat at your local gymnastics gym. You can buy this incline wedge in a variety of different sizes.
---
Tumbl Trak Cheese Mats
Click to view current price on Amazon
Tumbl trak offer a cheese mat that is similar to We Sell Mat's but they come in a smaller range of sizes and colours. Like we sell mats, these are produced using strong vinyl and are just as high quality and long lasting. Choosing which brand is best for a cheese mat depends on the design, size and price range they are currently offering their incline mats at.
---
Comparing Tumbl Trak and We Sell Mats Gymnastics Bars
This comparison was made easy by We Sell Mats not currently selling any gymnastics bars. Tumbl trak however do offer some really nice gymnastics bars that are safe and very highly rated. The first bar is the junior kip bar which is for young gymnasts who really want to learn the basic kip and start to get used to and build up the strength for swinging on bars. What I like most about the junior kip bar is that it can be expanded as your gymnasts grow by adding the extensions.
Tumbl Trak Gymnastics Bars
Junior Kip bar
Click to view current price on Amazon
The Junior kip bar is one of the most popular gymnastics bar kits for use at home and with the extendable supports available to purchase it can be expanded as your gymnasts grow.
---
Junior Pro Bar
Click to view current price on Amazon
The Junior Pro is a great set of gymnastics bars for gymnast to practice at home.
---
We Sell Mats Vs Tumbl Trak – Gymnastics Mat Comparison
Let's compare these brands gymnastics mats and see what they offer. Tumbl Trak offer an amazing panel Mat that folds and is ideal for practising tumbling skills on a padded surface that is firm and offers enough protection for performing all your floor skills without causing your hands or feet to sink into the surface too much.
Tumbl Trak also have a thick safety mat known as the junior practice mat that is a great for use under their gymnastics bars, just be sure to choose a big enough mat.
We Sell Mat's have Mat in their name and the business started in 2006 when they started producing protective flooring and since then they have built up a reputation in the gymnastics world for creating high quality and reliable mat's.
Tumbl Trak Panel Mat
Click to view current price on Amazon
---
Tumbl Trak Junior Practice Mat
Click to view current price on Amazon
---
We Sell Mats folding tumbling mats
Click to view current price on Amazon
I really love these Mats and think these are the brands number 1 product. The quality of these folding mats is up there with the best gymnastics practice Mats in the world and the range of beautiful colours you can choose is amazing. We Sell Mats white and pink mat is a pretty combination and one of the most popular colour choices from the brand. Tumbl Trak have a similar quality of Mat but don't offer as many colours as We Sell Mats do.
The strong Velcro fastenings on the side of the mats make it possible to buy more and fasten them all together to make a big gymnastics floor skills practice floor or to practice longer tumbling routines.