Let's take a look at some fun stepping stones for kids. Do your kids love to explore by leaping between objects, balancing on walls and making everyday walks adventurous in any way possible. If they do then they will most likely love playing on these balance stepping stones for kids.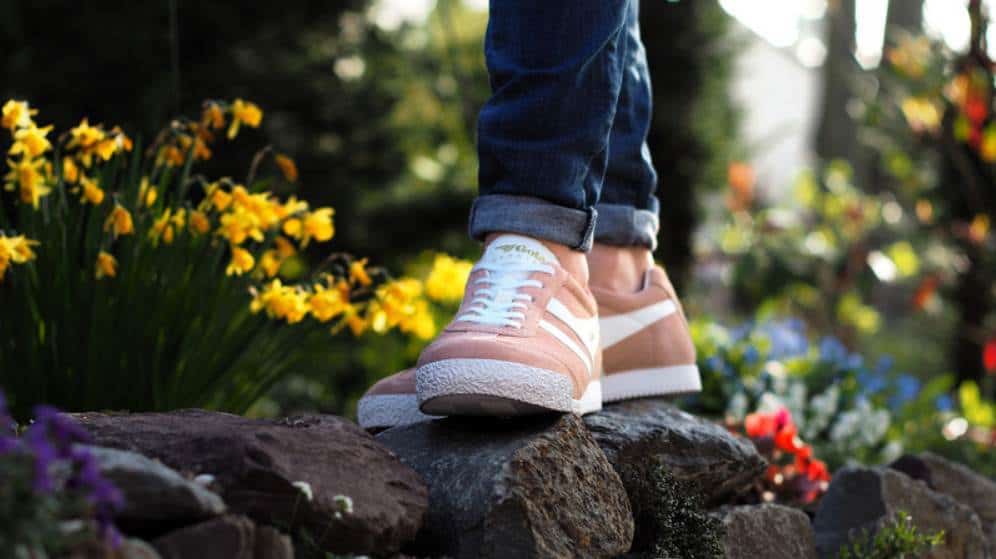 Whether or not you want to add these stones and create an even more exciting Ninja warrior backyard slack line obstacle course or use them to keep your kids entertained and give them lots of exercise, we are going to show you why stepping stones are fun and give you some advice about the best products available.
---
Top Choice stepping stone kits for children.
Product image
colourful & educational stepping stones
Popular and fun choice
Product name
National geographic Balance stepping stones
Click to view price on Amazon
colourful & educational stepping stones
Product image
Product name
National geographic Balance stepping stones
Click to view price on Amazon
Popular and fun choice
Product image
Click to view price on Amazon
Here is a list of the best stepping stones for kids that we could find. We would recommend when choosing which you prefer that you check the age ratings, size and materials used. The stepping stone kits we are going to show you are good quality, fun and produced by reputable brands including National Geographic, Gonge, leofit and Special Supplies.
National Geographic Balance Stepping Stones
Click image to view on Amazon
National Geographic have made a wonderful set of soft colourful stepping stones that can be used safely by toddlers and older kids. What we like most is that each stone is a different colour. These interesting and bold colours makes the stones much more exciting for children to leap across and play on. Stepping stones offer a unique and adventurous outdoors activity very different from the usual ball games children play.
The Creative child awards gave the national geographic balance stepping stones a 2019 product of the year award because of the unique creative design and quality materials that make these stones so much fun.
The idea behind these colourful stones is that they encourage your children to improve their balance and coordination whilst using their imagination to think of fun games and magical worlds that some simple stepping stones can help guide them through. Our kids often play musical stones and don't touch the ground ( pretending the ground is lava or their are monsters on the ground).
We know safety is important and the foam material is soft but firm enough for jumping and stepping across. It would be great if the stones were a little bit bigger but for young children the surface is a nice and challenging size for them to land onto.
Be sure to test out how they react to stepping on them before you first use them, they will grip well on most indoor and outdoor surfaces but always be sure that you check they are holding firm on the surface your children are playing with them on.
---
Special Supplies Stepping Stones For Kids
Click image to view on Amazon
Special supplies have created these interesting multi-colour stepping stones. We like the look of the stones that are a little taller and shaped more vertically and triangular than the National Geographic stones above. Children always love to go fast when leaping along the course so it is important that they don't slip underneath their feet.
The rubber base around the outer edge is thick and underneath the plastic section is raised so you can pile a few stones on top of each other which is super because you can store them away easily.
The set includes 12 jumping stones in 4 sizes ( 2″, 3″, 7″ and 9″  tall ) and lots of different colours that are bright and solid. These aren't one of the big brand name jumping stone products but offer a good value option that is safe, have good grip and have an interesting ridged design.
---
Gonge Riverstones
Click to view current price on Amazon
These Gonge river stones have ridges on either side varying in steepness and the river stones themselves are different heights and widths. There are 3 small stones and 3 larger so you can scatter them around and place them in any obstacle course to create a better challenge for children to enjoy.
The Gonge River stones are great for improving coordination and balance and the rubber trim is thick and helps to stop the stones from slipping on hard surfaces. One of the best things about these rubber stepping stones is that they can help to build a child's confidence. Your children can quickly learn to be able to jump different distances accurately, improve coordination and balance.
The hollow Underside is great for piling stones on top of each other if you want to store them away fast and it also stacks up into a crazy fun tower. One of the features we love most about stepping stones is that there are many different ways you can play with them.
Children can scatter them around in different positions, place them in a line and travel from one side to the other or they can be placed in a circle. When creating a circle kids can use the stones to chase each other around from Stone to Stone or many children stand in different positions and pass the ball around while bouncing on the stones.
Children Love imaginative play and one of the most fun games is to pretend that the ground is lava or something dangerous and they have to find their way across the stepping stones without touching the Dangerous Ground.
The plastics and rubber material is tough when left out in bad weather conditions and doesn't wear easily. Sometimes when a heavy person stands on the stones they give away a little bit but then they will return back to their normal position. Overall the Gonge river stones are a lot of fun and can easily encourage children to let their adventurous imaginations run wild.
---
Leofit Children's Stepping stones
Click the image to view on Amazon
Leofit's stepping stones have a wavy shaped surface and come in a set of 5 different sized stones. Each of these wavy stones is a different colour, red, orange, yellow, green and blue. Each stone is also slightly smaller than the previous one, meaning they can be stacked on top of each other to create a big tower.
Stacking the blocks to make a tower is a fun extra hands on activity for children once they have tired themselves out leaping across the stones having many great adventures.
Most of the river stones we've looked at have been made of plastic or rubber, but these stones are a little different. The main stone has been produced using heavy duty plastic with silica gel packed on the edges. This raised silica gel edge makes the surface not slippery and easier to step onto and across to the next stone.
You can place these stones indoors or outdoors and they'll stay in place well. If your children want a more challenging stepping stone course they can place stone further apart or in a different size order. It's also a lot of a fun and a great learning experience to say the colour of the stone when you step on it or you can ask your children to stop on a certain colour.
There are so many interactive and educational games you can invent to play as well as letting children use their imagination to create their own games.
---
Why stepping stones are fun for kids to play on.
Children are still learning about and improving their coordination every day. Being able to learn to balance on one leg can be fun for children who love to hop around, climb and jump. Most toddler play activities and sports require some level of balance and when children have the chance to play on something that requires balance and comes with the risk of falling off, it's an exciting option.
In a child's mind even the simplest objects can become the most adventurous challenge as your kids become their favourite superheros or ninjas and leap around bringing the fantasy worlds in their mind into their real life. Stepping stones for kids are usually colourful, soft and come in all different shapes and sizes that can be positioned at ever increasing distances away from each other to make the stepping stone route more challenging.
What are kids stepping stones?
Kids stepping stones are a toy version of those real stones you often find near ponds for children to step from stone to stone across the water. These stepping stones are made of foam, plastic, rubber and safe but sturdy materials that are often colourful for kids to enjoy playing on.
Balance stepping stones are made by brands including national geographic, Gonge and special supplies. The idea of these stones is for children to be able to have fun balancing across them and creating fun games to play on the stones. You can use them to create obstacle courses or a fun exercises circuit for a playschool group.
---
Final thoughts – Why balance stepping stones for kids are great
Stepping stones for kids are a lot of fun because they offer children the chance to jump, climb, swing and learn to balance. Coordination skills are important for safely navigating across the balance stepping stones and what better place than your own home or backyard to learn and improve these skills.
Children love garden stepping stones, so in the summer you can place one of the sets above onto the grass and let them have fun creating stepping stone routes around your garden while hopping jumping and laughing. If the weather is bad you can use them in your living room, just make sure there is plenty of space and add them to your indoor obstacle courses.
Next, take a look at these fun Pikler Triangle climbers and indoor play structures for children
Product image
colourful & educational stepping stones
Popular and fun choice
Product name
National geographic Balance stepping stones
Click to view price on Amazon
colourful & educational stepping stones
Product image
Product name
National geographic Balance stepping stones
Click to view price on Amazon
Popular and fun choice
Product image
Click to view price on Amazon