Are your kids wearing out your sofas as they navigate their home-made ninja warrior courses or do you just need a safe and exciting obstacle course to keep them entertained in the garden?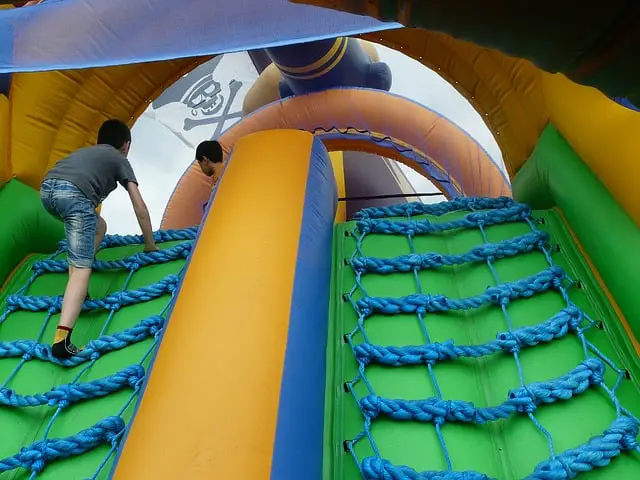 The best inflatable obstacle courses will keep even the most adventurous children entertained, exercised and exhausted enough to sleep deeply enough for us parents to sneak onto the inflated obstacle course and let out our inner child.
Between us here at Justifyingfun we have a lot of obstacle course experience, including taking part in ninja warrior style events, watching the kids play on indoor monkey bars and bouncing on lots of bounce houses. We will use this experience to help guide you to finding your perfect inflatable obstacle course.
Some reasons why an inflatable obstacle course is safe and fun for kids to play on in your garden.
You might be thinking, what are these inflatable ninja warrior style courses that look like big bouncy castles. Well, just think about all the fun you had on a bouncy castle and imagine that bouncy castle had slides, tunnels and climbing walls to run and jump on. Here are some reasons why we think an inflatable obstacle course is the perfect safe garden play toy.
Adds more excitement to the bouncy castle experience
A bouncy castle is a lot of fun, but there comes a time when you've thrown yourself around, thrown plastic balls at each other and managed to attempt every ninja and gymnastics flip you can think of. These inflatable courses offer the chance to move up and down vertically on inflatable walls, avoid other inflatable pillars and slide down slides into ball pits. With a few obstacles and a more rectangular design, the possibilities for maze like fun are endless.
Soft materials & protective netting for safety
An inflatable obstacle course is safe because the whole course is cushioned and bouncy like a bounce house so your kids can jump around as much as they like. Because some of these products are tall as well as long, protective netting or inflated side walls are included to stop your kids from bouncing off the side.
Now for the fun part, we are going to show you our favourite choices:
Our favourite inflatable obstacle courses for garden and home
BestParty Inflatable obstacle course
Click image to view current price on Amazon
BestParty have built a reputation for creating some exciting play environments that include a variety of colourful themed bounce houses. The first thing we noticed about the BestParty course is the random mix of a large number of different bright and exciting colours. At 18 ft long, 8.2 ft wide and 7.2 ft high this is a big course that can hold up to 4 children ( ages 3-10 years old ) at the same time.
Start at the side with the two tunnels and 2 kids can race side by side, crawling through the tunnels which lead to the base of a mini climbing wall with attached handles to grip onto while speeding up and over. After beating this wall obstacle your kids come face to face with another slightly larger inflated climbing wall that leads up to the top of a big bouncy 3.5 ft high inflatable slide to slide down to the end of the course.
We know safety is important to you and that children like to push the boundaries so the netting alongside the nylon coated terylene bounce house will keep your kids safely on the soft inflated area during play. Your kids will love the climbing, sliding and racing while finding plenty of time to bounce on the colourful obstacles. The materials are strong and inflation is quick with the blower.
---
KIDWISE Obstacle Racer Challenge Bounce House
Click image to view current price on Amazon
Kidwise offer a slightly bigger area than BestParty and a different variety of fun obstacles. At 19 ft long, 9 ft wide and 7 ft high this is mostly likely going to be a summertime garden play experience for your children, unless you have a large indoor space. If you are thinking of placing this indoors make sure you have a few extra ft around and above.
We are impressed by the quality fabric Kidwise have used and the strong seams that help attach everything together onto the main inflated base. During use the surfaces are firm and sturdy which means they bounce really well and don't sag and cause children's feet to sink into the surface during play.
So, now for the fun part, this Kidwise racer has two tunnels so your kids can race side by side into the open central area that has plenty of space for bouncing as though you were on a bouncy castle. We think this open area is great because a lot of inflated obstacle courses have so many obstacles and no room for bouncing, but here kids can just bounce or lie down and roll around when they are tired from all the racing. After passing through this central area there are a few raised inflated columns to weave around or hold onto and play with before climbing up the inflated wall and down the slide that is again split into two sections for racing.
---
Yard inflatable bounce house 
Click image to view current price on Amazon
Yard have created a massive inflatable fun house that is 21.3 ft long, 9.2 ft wide and 7.9 ft high and can hold up to 7 100 lb children. We like the use of tunnels, children really have a lot of fun crawling on a bouncy surface and you can even use blankets to make the tunnels into a secret hideaway for them. The surface is thick and the lower floor inflates up a good few feet above the ground. Children can bounce around in the large central bouncy castle area that is secure with surrounding mesh netting and strong raised inflatable supports.
The highlight of this bouncy obstacle course is the large slide that covers almost the full width of the product and is reached only by climbing up a fun bouncy wall. Younger kids will enjoy braving the slide and older kids like to experiment by climbing back up the slide and jumping around the climbing wall area. In the centre the open space allows for some free bouncing but also some raised inflatable obstacles to create a ninja warrior style feel and race course for competitive children.
Inflation is fast and only takes 2 minutes with the heavy duty blower. Once the blower is turned off deflation is automatic, so be sure to take the kids out before deflation. With so many obstacles kids will have hours of fun before they even need to begin getting creativity and making up their own games.
---
YARD Bounce House with Slide Obstacle 
Click image to view current price on Amazon
This option from yard has a large bouncy castle area and is themed with some castle shaped turrets. The dimensions are 13.2 ft long, 12.5 ft wide and 8.2 ft tall so if a square shape better suits your living room or garden space this could be a good choice. This isn't designed as a race course with lots of obstacles to navigate but there are some inflatable soft air filled raised pillars for children to run around or run into and bounce off.
What we like most about the yard bounce house is the large see through netted bouncy castle area that makes watching your children play very easy. Once your children have had fun bouncing they can climb up onto the air filled slide with protective railings and slide down and navigate their way through the last two air filled obstacle pillars.
Yard have impressed us with the quality of their inflatable obstacle courses that are made using thick nylon and vinyl. You can use this both outdoors and indoors and have fun at birthday parties with up to 7 children playing together, or for everyday use inflation is fast and simple with the included blower.
---
Little Tikes Rocky Mountain River Race Inflatable Slide Bouncer
Click image to view current price on Amazon
This Little Tikes Rocky mountain inflatable slide bouncer is a wildcard on this list because it is also an inflatable waterpark. Kids can race up the big climbing wall and then slide down one of two slides and into the splash pool area. Climbing up the wall while water pours down from the bucket water feature above makes this a challenging obstacle but your kids are going to be rewarded with the exciting steep slide down into the splash pool. If the weather is good then this is a perfect inflatable combination of obstacle course, paddling pool, water park and water slide that all the kids will love playing on.
---
Final thoughts – Review summary – inflatable obstacle course
A regular obstacle course usually has lots of ropes, swings, children's stepping stones and other fun objects to climb or navigate on and across. An inflatable obstacle course often has a slide and climbing wall as well as lots of bouncy surfaces so you can climb slide and bounce on one piece of play equipment.
The best party obstacle course is one of our top choices and you'll definitely have a lot of fun playing on it. If you are looking for a really big inflatable obstacle course then the Kidwise bounce house is even bigger and another high quality and fun product.