Many gymnastics gyms have strap bars to help gymnasts to practice and learn some gymnastics bars skills. Strap bars help gymnasts to stay attached to the bar so they can more easily practice skills such as the long kip, giants and swings. The strap attaches to your hands so you don't have to worry about peeling off and falling down and you can keep practising bar skills many times without having to keep getting back up onto the bar each time. I really found it hard working towards my giants, I started practising at level 7 before competing at level 8 and strap bars really helped me to feel more confident and get more practice reps in at the gym.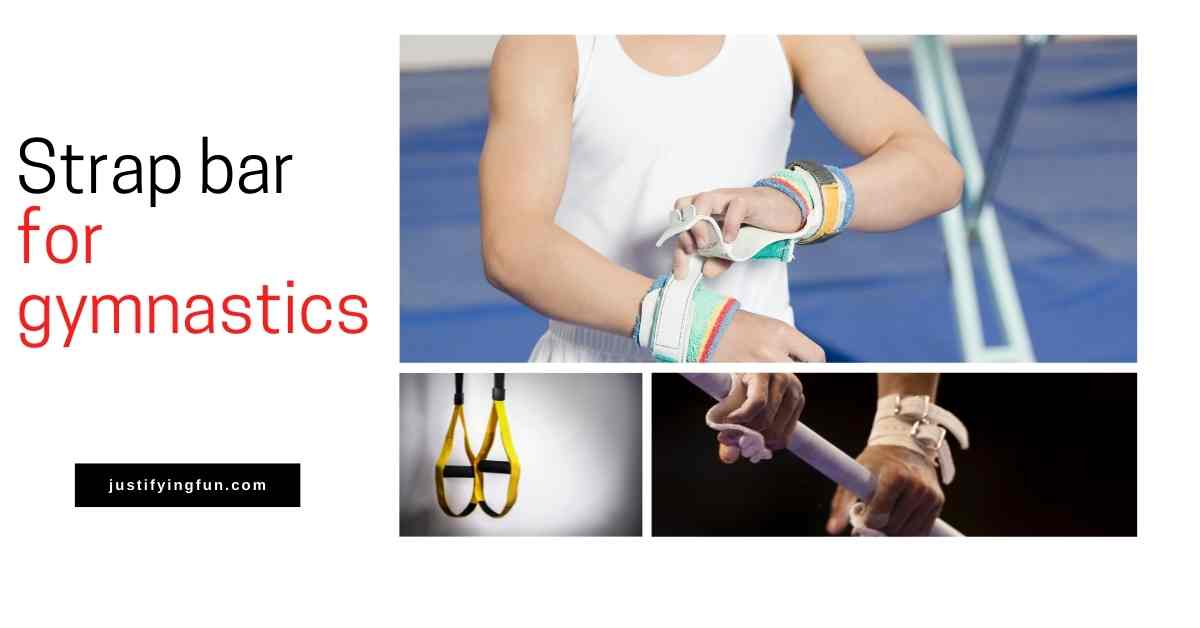 A strap bar is a bar that attaches onto a gymnastics bar. The bar slides along the horizontal bar and has wrist attachment straps. Gymnasts loop their wrists through the straps and twist them. The idea behind these straps is that gymnasts can practice giants and other more advanced bar skills without falling off because the strap holds you in place on the bar.
If you don't have a strap bar at your gym than you have another choice. These gymnastics grips from Reisport, help you grip onto the bar much more easily, protect your wrist and lower the chance of you slipping off the gymnastics bar when swinging around it. These grips have velcro fasteners so you don't have to fumble trying to close buckle grips like the old grips used to have. These are much easier to strap on and attach. another benefit of using this kind of gymnastics grip is that they also help stop your hand from getting any calluses or blisters that can stop you being able to practice for a while.
Click image above to view on Amazon
What is a strap bar for?
Straps bars are mostly used when you begin to practice your giants but you can also practice long hang kips, swings and there are other drills your coach might teach you on the strap bar. A strap bar is a metal bar that has fabric loops attached and you use gloves to fasten yourself onto the bar so you can't fall off so easily. If the strap is too loose it's still possible to fall off so you have to make sure you choose the right size and learn the best way to attach your wrists as there are a few different techniques you can ask your coach to show you.
Most gymnasts use this bar to help learn difficult and scary bar skills. Recently I watched gymnasts at my local gym practice clear hips and toe circles on one. It's fun to be able to swing up to a vertical handstand position above the bar and then begin to advance to giants which are one of the most intimidating bar skills to learn and the main reason in my opinion that this piece of equipment is being used in gyms. It really takes away the fear factor if you can attach onto the bar more securely and not worry about falling.
There is a bit of a downside though, you really need to get the sizing right otherwise if it's too loose around your wrist you'll slip off and if it's too tight its going to feel uncomfortable. If everyone in your gym is using the same strap and it's too big, don't worry, try twisting your wrist around the strap using a different technique. Your coach should be able to show you how to do this safely and get a tighter fit.
How to practice giants on a strap bar
Giants are so much fun! I know how scary it feels when your coach asks you to start practicing them but once you start to get the hang of it and loop around the bar that first time it's an amazing feeling, even if you don't manage to stay in position. Strap bars really do take away so much of the fear we have when we learn giants that they are so important for your confidence.
It's also a good idea to not rely on using them too much as you advance and build up the strength and momentum to complete giants but at first they are great and a strap bar also helps you to focus on a certain body position or movement without having to focus on everything at the same time and worry about falling off.
Start with small rocking motions, keeping your shoulders out.
Tap with your feet behind you, keeping your body hollow.
Point your toes out and keep your core tight. As you reach the vertical position push your toes over and flip your wrists around.
Your tap swings should be strong before you try to do giants so you know you have the strength not to bend your arms and collapse in the middle of the swing.
Progressing up to a giant can be done in a number of different ways but some of the progressions we usually follow in our local are to start with a 3/4 giant. The 3/4 giant into a bayou flyaway position can help you focus on body position and leads to a good shape through the movement. Starting on a. low bar with bent knee giants is another option a lot of gyms use because it helps gymnasts feel more confident and is a shorter rotation around the bar so doesn't need as much momentum. Learning giants from a horizontal position can also help you to improve your tap and coaches like to add this progression on the strap bar as a more advanced progression when learning giants.
How do you use a strap bar for gymnastics practice
There are a few things you need to know before you use a strap bar. Practising for your giants on a strap bar is safe if you make sure to find the right size strap and know how to fit your hand and wrist through the loops of the strap and into the most comfortable and secure position.
Choose a strap that's not too tight or it will force your wrist into an unnatural position. The straps need to be sure enough so that you don't fall off but it's also important that they aren't tight.
There are a number of different ways to loop your hands and wrists through the straps. Most designs have two straps so you can position your hand like you would before falling back into a back handspring position with your palm up and fingers pointing behind you and go backwards through the loop. I've noticed that its becoming more common for gymnasts to move their hand through the loop with their palms down and then twist around to grab onto the bar.
Check with your coach to make sure you are attached properly before you practice. Different gyms have different straps and attachments. Some move along the bar more easily than others so get familiar with the equipment your gym has.
If you don't have a strap bar at your gym don't worry. Having one of your gym buddies or a coach spot you takes away a lot of the fear factor when swinging around the bar. Some gyms also have a single bar over a foam pit so you can practice giants and other bar skills without worrying about falling off. If you fall off or let go mid way through all you have to do is let go and jump onto the foam below.
Strap bar straps – Things to think about before using one.
Gymnasts either love or hate strap bars. They are a lot of fun and can really help with your tap swing. The most important reason to use a strap bar, in my opinion is to get over the fear of swinging around the bar that comes when you first start to practice giants. The movement around the bar is a little different with a strap bar because you don't need to tap and build up moment quite the same way as you do when you aren't wearing it.
This means its great as a practice tool to begin to learn the wrist movement and build up your confidence swinging into a handstand position and over the top of the bar, keeping your body position firm. You don't need to use a strap bar when working through the gymnastics levels but if your gym has one and your coach can teach you to use it safely then it's a useful tool in the beginning stage of learning giants and you might find it really fun just swinging around using the strap. Be sure to pay attention to what you are doing though, it's easy to get into bad habits and not tap correctly if you use this tool too often.