Play kitchens have been around for years and they are one of the most exciting ways for children to use their imagination. Nowadays not only can you have an exciting play kitchen, but you can have a play kitchen with lights, sounds and running water. Children can even learn to wash-up in a real working sink. This should make up for their teenage years when they'll do everything possible to avoid helping in the kitchen.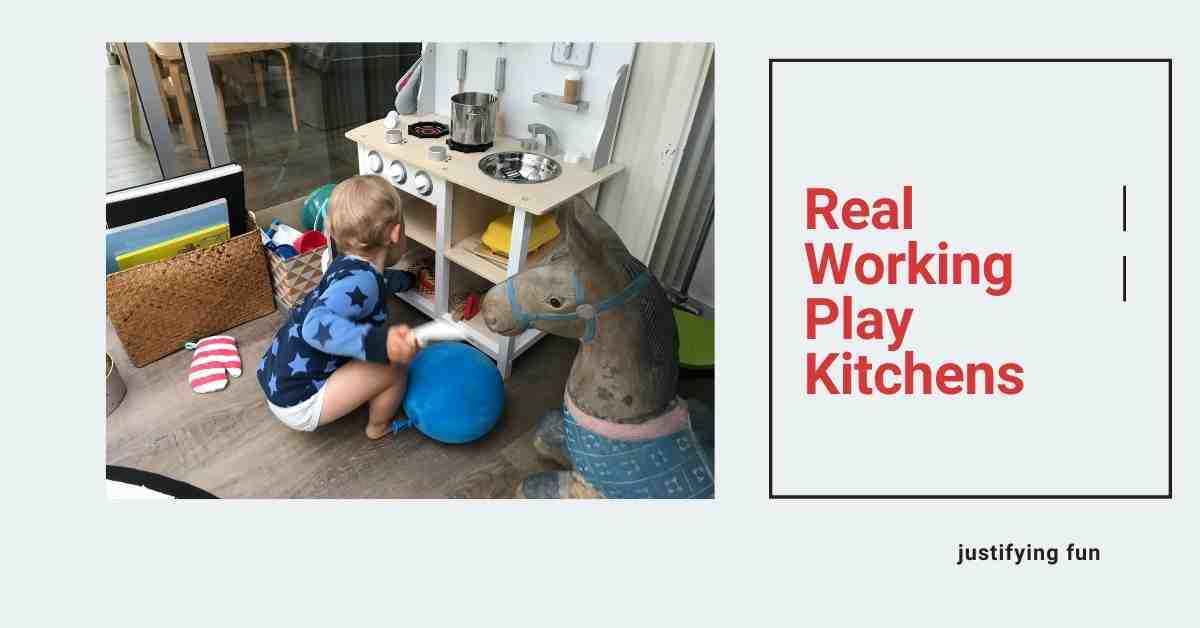 Our three choices below should help you find a kitchen suitable for your children to play on. One has a working tap, which I think is brilliant, while the other 2 offer more beautiful kitchen designs. One is customizable and the other is a rustic design with a working ice machine.
Play kitchen comparison table
Product Image
Customisable & Large Design
Beautiful Rustic Design
Product name
KidKraft Ultimate Corner Play Kitchen
Kidkraft Wooden Farm Kitchen
Click to view price on Amazon
Customisable & Large Design
Product Image
Product name
KidKraft Ultimate Corner Play Kitchen
Click to view price on Amazon
Beautiful Rustic Design
Product Image
Product name
Kidkraft Wooden Farm Kitchen
Click to view price on Amazon
What's so great about a real working play kitchen
Children love imaginative play and imaginative play toys go hand in hand with the Montessori method. Montessori believes that children learn best through their interaction with the world. Having their very own play kitchen with realistic sounds, fully functioning grills, fridges, washer, dryer and even working taps really let's children role play and use their imagination and practise their social skills too.
All of the kitchens we are going to look at today have storage place, lots of kitchen utensils and flashing lights and sounds, usually on the cooker. They may be way too young to be cooking dinner for you but not only can children enjoy playing in the kitchen, but they can also mimic what mum and dad are doing and they will feel all grown up and learn some new skills.
Best play kitchens with running water, sounds and lights.
I want to show you some of my favourite play kitchens so you can see what they look like with their flashing lights, how they sound and whether they really have running water.
Best value & best running water feature – Cute stone little kitchen play set 
Click the image above to view on Amazon
If you live in a studio or have a small living space then this cute stone little kitchen will feel very much like home. This is a busy little kitchen there are so many things to do and play with in such a small space. When I first saw this Cute Stone kitchen I thought about calling Gordon Ramsay to come and sort it out for me. Kids love it though there are so many realistic items to play with, even though on first appearance it looks overwhelming with a mismatch of kitchen accessories.  
There's a sink with real running water, a stove and a pan to cook in. The red flashing lights and sound effects bring the stove to life and really help immerse your child in the experience of being a chef, or most importantly, copying what they see mum and dad do every day. What I love most about this cute stone kitchen is the sink.
Not only is there some running water coming from the tap, but the water gets pumped back through. This means you don't need to keep on filling up the sink because the water will go back up into the tap. There is a lot of storage space, with cupboards that open and so many kitchen utensils to fill them up with. To make sure your children are offering a full 3 course meal there is even a spinning desert stand and some ice creams to place on it.
The cute stone kitchen has realistic lights, sounds and running water running from the tap into the small sink, to make this a realistic experience. Realistic in that the experience is immersive but also that they can probably relate to this more cluttered style of kitchen when compared with some of our other choices in this article which are more beautiful.
Customisable play kitchen – Kidkraft ultimate corner wooden play kitchen
Click the image to view this Kitchen on Amazon
This white all wood kitchen is beautiful and fits into a much larger space than the cute stone kitchen above. There are 4 main units that are connected, a fridge, washing machine, dryer, cooker, grill and sink unit. The sounds and flashing lights are realistic but there is no running water included with this, otherwise fully functional kitchen.
Choose this option if you have a few children wanting to play and work in the kitchen together. One child can be filling up the fridge, making sure all the ingredients are ready. Another little kitchen worker can be washing fruit and cleaning the dishes in the sink. 
Whoever has been chosen as the head chef will have to make sure all the pots and pans are in place and ready to see the red flame light and hear the boiling pans as they pretend to cook. Choose this option if you want a bigger play kitchen with realistic sounds and lights. Also, get creative and customize the white wood design.
Rustic, beautiful design – Kidkraft wooden farm kitchen
Click the image above to view on Amazon
I have chosen the kidkraft wooden farm kitchen as my third choice because it's so cute and rustic. I've always dreamt of the rustic country life and this kitchen is my dream come true, even if only the children can make use of it. There is no running water in the pretend play kitchen sink but a working ice machine that drops down plastic ice cubes at the push of a button really makes up for it and is much less messy. Children often manage to splash water everywhere when playing with kitchens that have a working tap with running water.
This is a simply but beautifully set out kitchen design and offers a compromise between the space available in the white kitchen above and the fully designed and decked out Cute stone kitchen.
Is a play kitchen Montessori
A play kitchen is Montessori. Montessori toys are hands on learning experiences that give children the chance to learn by experimenting and playing in a realistic play environment. 
Some of these play kitchens have tops with real running water and they have flashing lights and sounds that really allow children to absorb themselves in a pretend play kitchen that looks realistic. Not only will children learn how to move things around and press buttons to operate kitchen equipment they can also roleplay and learn some motor skills that are transferable to real life.
We recently looked at some real working toy washing machines with dryers that also follow the Montessori method.
Final thoughts- which play kitchen with working lights and sounds is best for your children.
Choosing the right kitchen for your children has never been easier. If price and space are an important factor in your decision, then the cute stone kitchen is the top choice. This cute stone kitchen is also the best choice with running water. The real working tap is brilliant and the way the water flows back up to be used in the tap again and again, without you having to keep re-filling it is ingenious.
The only downside to this kitchen is that it's difficult for more than 2 children to play together because of its compact size. There are a lot of utensils and kitchen appliances in this small space though, even though it looks the most like a toy, out of the three options.
The Kidkraft ultimate corner kitchen is a great choice if you are looking for a white kitchen, which has separate kitchen appliances, attached to 4 different units. Making it the best choice if you have 3 or 4 children playing, cooking and learning to work in the kitchen together because there is so much space.
The Kidkraft wooden farm kitchen is the perfect choice if you prefer a kitchen which is cute, beautiful and has some unique features. The ice machine is a lot of fun and is a feature most pretend play kitchens don't have.
I hope you've found a kitchen your children can have lots of imaginative fun playing with. Whether they like the working tap with running water, ice machine, realistic sounds and lights, or want to get creative customizing the white kitchen with stickers and other decorations I hope they'll have a lot of fun.
Product Image
Customisable & Large Design
Beautiful Rustic Design
Product name
KidKraft Ultimate Corner Play Kitchen
Kidkraft Wooden Farm Kitchen
Click to view price on Amazon
Customisable & Large Design
Product Image
Product name
KidKraft Ultimate Corner Play Kitchen
Click to view price on Amazon
Beautiful Rustic Design
Product Image
Product name
Kidkraft Wooden Farm Kitchen
Click to view price on Amazon