What is a gymnastics mat for home
A Gymnastics Mat for home use is one of the most important pieces of gymnastics equipment for sale that is suitable for any kids practising gymnastics. You want to have peace of mind while your children are practising their gymnastics skills in the comfort of your home and a quality kids gymnastics mat can provide that while offering the chance for them to practice all their favourite gymnastics floor skills and routines. You can even place a safety mat underneath your gymnastics bars. If you are in a hurry check out our recommended gymnastics mats for sale by looking at the table below.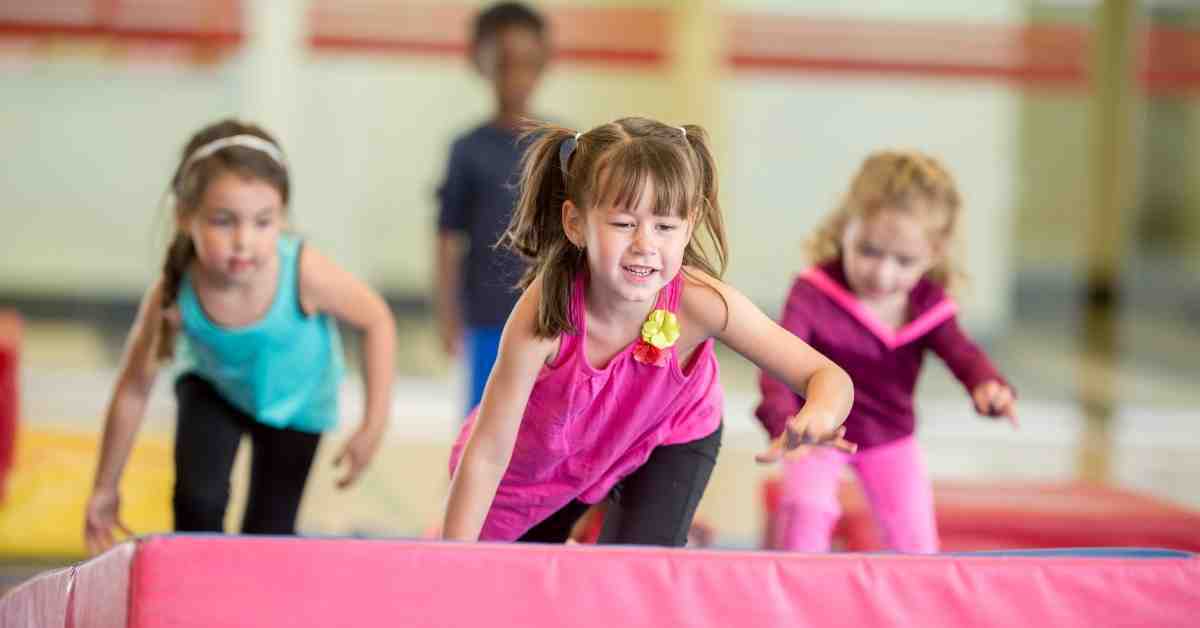 Gymnastic Mat Comparison table
Best Gymnastics Mats
Our favourite
High quality realistic feel
Our favourite
Best Gymnastics Mats
High quality realistic feel
Best Gymnastics Mats
Having a mat at home will help any gymnasts in your family to stretch, roll and tumble in the comfort of their own home as often as they like. A good quality and safe home gymnastics mat will ensure the best possible practice and lots of fun. We have searched for and reviewed the best gymnastics mats for home in order to help you choose the best option for you. There are a lot of highly rated panel mats from a wide variety of companies to choose from. If you are looking for a cheese mat click to view our article reviewing them.
---
The best gymnastics mats for home in 2021
Here is a selection of my favourite gymnastics mats. Some of these mats are perfect for your kids to practise their gymnastics floor skills, while other are aimed at toddlers who want a mat with cartwheel hand and foot placements on it. I hope this selection will help you choose the best mat for your children to enjoy gymnastics safely at home.
---
We sell Mats Folding Panel Mats
Click the image to view current price on Amazon
Well sells mats panel mats have created some very high-quality gymnastics mats for home use that we would highly recommend. Choosing a colour is going to challenge you because there are lots to choose from, including rainbow, red, pink and white, blue, purple and many more. The colours are vibrant and we especially like the purple and pink mat. These We Sell Mats panel mats are made up of 4 panels with Velcro on all sides so lots of mats can be joined together to create a longer or wider gymnastics floor area which could even be extended and used for the vault run up or longer tumbling passes and cheerleading combinations.
The vinyl surface is thick and tough and the cushioning is firm but is springy enough to be protective and not make performing gymnastics difficult. Your hands will be supported during handstands and walkovers and won't sink into the mat. With the firm and comfortable surface, stretches and yoga exercises are also easy to perform. Overall you will be happy with the mats from WeSellMats whether for recreational gymnastics use or for someone looking to reach competition levels.
Some of the key features of the we sell mats panel mat is You have the choice of either 1.5" (35mm) thick or 2" (50mm) thick depending on your requirements.  We would say the thicker is the better choice as it provides a softer impact. The sizes currently available are either 4ft x 8ft or 4ft by 6ft. If you are purchasing these mats alongside some gymnastics bars then make sure you choose the recommended size. Easy to move & to wipe clean. Excellent variety of colours and size. Strong enough for lots of cartwheels, rolls and tumbling at home all day long.
---
Soozier Leather Folding Tumbling Mat
No products found.
Click the image to view on Amazon
The Soozier gymnastics mats for home are becoming very popular and once again incorporate the 4 panel design with Velcro on all sides so that connecting together more than one mats is quick and easy. Whether you are stretching, wrestling or performing gymnastics, you can be sure the foam and leather exterior will protect you. If your children are pushing off with their feet while performing gymnastics skills, they won't sink into the floor and the mat will respond nicely and allow enough height for a fun pike and tuck or straddle and split. With 18 different colour choices and all sorts of interesting shapes, you are going to have a lot of fun choosing which Soozier Mat you like best.
Some key features of the Soozier kids gymnastics mat are All the Soozier gymnastics mats come in the larger 2" thickness.There are 3 size options: 4ft x 6ft, 4ft x 8ft and 4ft x 10ft. The thickness of this mat will also support judo and martial arts throws and can be placed on a hard floor and will still be protective. Gripping onto the mat with your feet is easy and it doesn't slip at all.
---
Best choice products Tri fold Gymnastics Mat For Home.
Click image to view product on Amazon
Most gymnastics mats fold into four sections but Best choice products folds into three sections. We quite like this because there are less thin connecting sections where firmness can be compromised. The simple choice of black blue and pink are visually impressive and If you are looking to tumble, stretch or perform acrobatics, the Tri fold is excellent value for money. The Tri Fold tumbling mat is best for younger children looking to perform short tumbling combinations. Because the Best choice products tri Fold doesn't connect to other mats, older children or teenagers can't expand it.
Overall this panel mat is one of the lowest priced, puncture resistant and well-made panel mats that is produced with simplicity in mind to ensure it is suitable for most gymnastics exercises without needing to complicate and expand. The Best Choice products Tri Fold Mat Can be folded to 24 inches x 24 inches x 6 inches so it can be stored away easily between uses. A hook ensures it stays folded securely when stored until your children are ready to practice their cartwheels and fun gymnastics skills at home again.
---
Tumbl Trak Gymnastics Mat
Click image to view this mat on Amazon
The Tumbl Trak folding gymnastics mat for home use is one of our favourites. We love the quality and design, which focuses on the perfect level of rigidity to ensure your kids can perform all their gymnastics and cheerleading skills with ease. You'll find this kind of quality mat being used by cheerleaders and gymnasts all across the country. The thicker choice mat is 2 inches whereas the thinner is 1-3/8. We would recommend the thicker choice if your whole-body weight is going to be falling onto the mat aggressively or performing more challenging tumbling routines. If you are only going to be doing handstands, cartwheels or yoga, the thinner mat is absolutely fine
Our favourite coloured mat is the red and blue striped mat. Some of the colour choices are a little strange, especially the watermelon which we don't like. The vinyl fabric used to make this product is strong and does a good job of preventing and tearing or damage during frequent or heavy use, such as when dad decides to jump on it, or attempt acrobatics, you'll be laughing and the mat will survive!
---
Z Athletic Children's Cartwheel Mat
No products found.
Click image to view this mat on Amazon
Z athletic have created a nice gymnastics cartwheel mat that is ideal for children who love to do cartwheels. There is one size choice, 6-foot long x 2 foot wide and 1 ½ inches thickness. I love that these cartwheel mats have hand and footprints on to show kids the correct body, hand and foot position for practising a cartwheel. The positioning depends on the height of your child but most children between the ages of 3 and 8 will be able to perform a nice cartwheel in the correct positions. When you flip it over on the other side is a thin white line that is like a balance beam and has footprints on so your kids can practice walking and perform in the narrow space like they would on a balance beam without the fear of falling. These can be a good stepping stone for children nervous about climbing straight onto a beam and show them that their balance is good and once on, there is more room on the beam than you would imagine by looking at it.
Even if your toddler isn't using this mat for cartwheels it is a great tumbling mat that can be used just like any other mat we have reviewed. The pink colour choice is the most impressive, especially because the white footprints are their clearest. Overall the Z athletic cartwheel mat is a quality product that will last a long time and its cute colours and prints will ensure your toddlers will adore it and enjoy their exercise time even more. When they grow older and want to practice balance skills and overcome the fear often associated with the beam, the z athletic will help them a lot.
---
Tumbl Trak Junior Practice Mat
Click the image to view the mat on Amazon
This Tumbl Trak gymnastics junior practice mat is designed as a safety mat for placing under the Tumbl Trak kip bar but it is great for other exercises and as a tumbling mat. The Tumble Trak Junior is 4 inches thick so offers a lot of cushioning for the harder impact expected when using gymnastics bars. The 6-foot length is great but at 3 foot wide it is a little narrow for older children. If your children are performing judo throws, wrestling and other martial arts they will have lots of fun and you can feel happy knowing they are protected.
Overall this is a well-made product that is colourful and ideal for use with a children's kip bar. Tumbl Trak have designed it to perfectly fit under the bar and also to allow for a comfortable soft landing after dismounting the kip and hopefully making a perfect landing in the safety of your own living room or garage gymnastics gym.
---
 Gymnastics Direct Mat
No products found.
Click image to view product on Amazon
I love the pink and black coloured option best but the black and pink plain colours are bold nice-looking colours. Kids can have fun performing back and front tucks, amongst other gymnastic and cheerleading exercises and stretching. When folded in half the handles make carrying the mat easy, even for kids, because it is lightweight.
The surface feels comfortable and very tough so it should last for a long time and endure lots of children jumping and performing acrobatics on it.The 6ft long x3ft wide x 4 inches thick size is best suited as a safety or crash mat The 10 ft long mats with 2-inch thickness are better for tumbling routines, cheerleading, handstands, back handsprings, flips and cartwheels because of the additional length and width.
---
K-Roo Sports children's Tumbling Mat
At 6-foot-long, 4-foot-wide and 2 inches thick, this is a standard size gymnastics mat. We have fallen in love with the rainbow colour choice because the 4 panels look brilliant and the colour tone is one of the best we have seen in a gym. It is possible for adults and children to work out on the K-Roo but the colour scheme and size means that they are ideal for children because adults won't be able to use them for much more than stretching, especially if over 6 foot tall and you won't fit on the mat!
The handles are easy to grip so you can take this to your yoga class or daycare centre easily. All the kids will be wanting one because the K-Roo is attractive and the nice soft cushioning is lots of fun to play on. I like the way the 4 panels fold together and form a nice sized block. If the younger toddlers at the daycare centre want to sit and play on here or fold and sit on it and have their lunch, any spills won't be absorbed and ruin the mat, they can easily be wiped off.
---
ProSource Tri-Fold Thick Exercise Mat With Carrying Handles
Click the image to view this product on Amazon
Prosource have focused on a compact gymnastics mat design that is very comfortable and popular amongst gymnasts. The thick foam is firm and responds well to fast and powerful gymnastics moves. We like the high quality construction and were surprised how lightweight the prosource mat is. The 1.5 inch thickness is standard and allows for tumbling practice but isn't suitable for placing underneath gymnastics bars.
Overall this is one of the better value mats available for gymnastics practice at home and it has been used by a lot of people who were very happy with it. If you are on a tight budget, this is a good choice to ensure your little gymnasts are having fun and able to practice and perform cartwheels and rolls all day long.
---
 Wolfwise Gymnastics Mat
Click the image to view on Amazon
Wolfwise have produced a good all round mat that is small enough to be portable and easy to carry but when unfolded it measure 6 foot by 4 foot and is a comfortable 2 inches thick. One of the advantages of the wolfwise Mat is that it is made from PU Leather and environmental EPP which means the materials are good quality and meet certain standards.
To put it simply, the materials won't smell and aren't harmful. If your children are going to use the wolfwise mat in their bedroom you shouldn't be able to hear it downstairs because of the type of foam and 2 inch thickness. Some people found that when they received this product they didn't think the dimensions were 100% accurate so be sure to measure and make sure you are happy with what you receive.
---
Tumbl Trak Rebound Mat
Click the image to view current price on Amazon
We already know Tumbl trak are one of the leading gymnastics mat manufacturers so we expect good things from this rebound mat. A rebound mat is often a popular choice for cheerleaders who like the extra springy surface in order to perform combinations and gain more height.
The Tumbl Trak rebound mat aims to deflect some of the force away and allow you to gain more height and perform tumbling skills more easily. The Tuml Trak rebound mat definitely feels different to a regular mat and is more springy because of the different type of foam used to produce it. You won't be springing up into the sky like superwomen, but this mat definitely has some spring to it and is high quality and long lasting.
---
How to choose the best gymnastics mat
Gymnastics mats are available online and can often be delivered in a day or two.  We suggest you read our review and look at customer reviews in order to make sure you are choosing the best product for your toddlers or children.
It is important to consider the following:
Mat Thickness
When deciding on the thickness of a gymnastics mat it is a good idea to consider what kind of exercises you will be using the gymnastics mat for. Yoga doesn't require the same thickness of mat that might be required if you are performing a back handspring, dive roll, cartwheel or shoulder roll in gymnastics. The kind of exercises you will be performing also affect how firm you want the mat to be. Most of these products are responsive and firm but have enough cushioning to protect your knees and body from any high impact mistakes or falls.
Mat dimensions
The gymnastics mats we have reviewed above come in all different shapes and sizes ranging from the smaller cartwheel mats to full size floor mats that you might find in the gym. If you plan on moving the mat around a lot then it is important to make sure that the mat you choose has carrying handles, can be folded and is lightweight and not too large. The last thing you want is to not be able to fold it and place it in the boot of your car or carry on public transport.
---
Types of gymnastics Mats for sale
Cartwheel Mat: A cartwheel mat is a small gymnastics mat that often has markings printed on it that show the positions your hands and feet should be placed when you perform a cartwheel. These mats are great fun for beginners and children who want to improve and practice their cartwheel quickly.
Incline Mat: Incline mats are triangular shaped Mats that are inclined to help gymnasts easily perform and practice skills that require you to roll over, such as the back handspring and backward roll.
Panel Mats: Most of the gymnastics mats we have reviewed in this article are panel Mats. Panel mats are great for practising tumbling skills and floor routines.
Crash Mat: Crash mats are most often found underneath gymnastics bars, where they are used for cushioning your landing after a dismount or protecting gymnasts when they fall from a bar or when falling off a beam, dismounting from the rings or vaulting.
---
Considerations when buying a cheap gymnastics mat
It is sometimes possible to find second hand mats at your local gymnastics club but we would recommend you make sure any second hand product is still firm and safe to use, which isn't always guaranteed like it is with a new product. Here are some things to look out for when buying a cheap gymnastic mat:
1  They are often made of tough and thick vinyl so it's difficult to puncture them. However, please run your fingers over the surface to feel for any defect.
2  Ask as many questions as you like. If something doesn't seem right seek clarification.
3  Ask whether the mat was used at home or at a gym or preschool. If it was used in preschool or a gym it is likely to be a lot more worn than if it's been stored at home.
4  Check the fabric around the edge is sealed properly.
5  Have a go on the mat, if it is worn, sometimes this affects its support and how it feels to exercise and tumble on. Often the only way to check this is to roll and tumble and judge for yourself if it feels comfortable and responsive enough.
---
FAQ – common gymnastics mat questions
I want to answer some of the questions you have been asking us about gymnastics mats. Choosing a gymnastics mat is a big decision for some parents and they often want to know what materials mats are made of, whether they are safe, what they can be used for and why they are sometimes so expensive.
Why are gymnastics mats so expensive?
Gymnastics mats are sometimes very expensive if they have a large surface area. Large gymnastics mats
Final thoughts – Buying a Kids Gymnastics Mat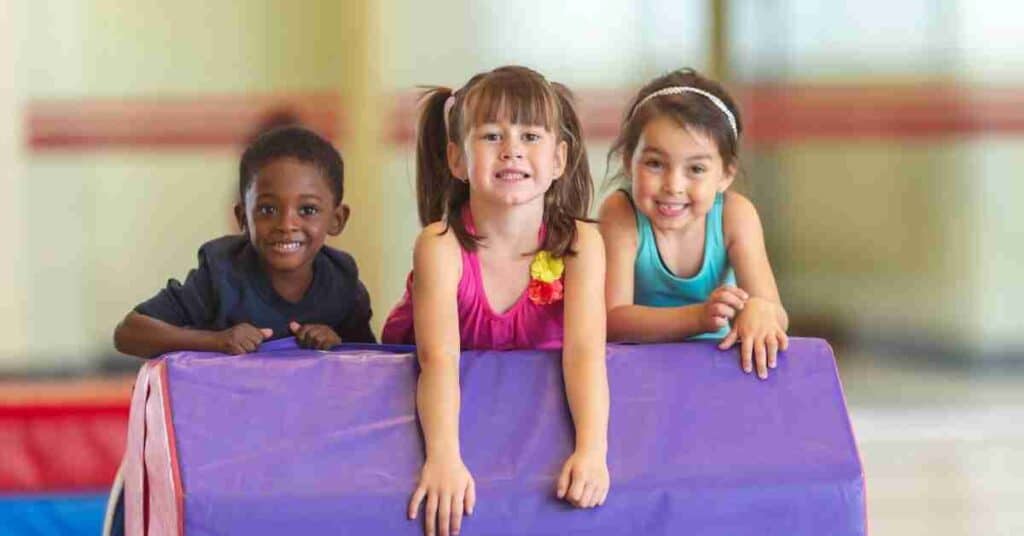 Toddlers can play, perform forwards rolls, do cartwheels or roll around laughing and having lots of fun. When they grow older and start gymnastics or cheerleading, they can start to perform handstands that require more strength and skill before advancing on to back handsprings, acrobatics on the bars and balancing on a beam.
Having a good quality and safe mat at home is lots of fun for all the family. Adults can sit and stretch or practice yoga and the kids can play or put on their leotard and perfect the gymnastics skills in the safety of your own home. The bright and fun colour choices will make sure they look the part as well as being safe and protecting your young gymnasts so that when they return to the gym or class they can be sure they have perfected their skills.
Best Gymnastics Mats
Our favourite
High quality realistic feel
Our favourite
Best Gymnastics Mats
High quality realistic feel
Best Gymnastics Mats
If you enjoyed this article and love gymnastics check out the benefits of gymnastics for kids  
Sources
https://www.ncbi.nlm.nih.gov/pmc/articles/PMC3944558/
https://usagym.org/pages/post.html?PostID=544&prog=h
https://study.com/academy/lesson/safety-in-gymnastics-techniques-equipment.html
https://kidshealth.org/en/teens/safety-gymnastics.html
https://csapps.norfolk.gov.uk/csshared/ecourier2/getfile.asp?id=1531