Gymnasts sometimes train with ankle weights with the aim of trying to improve their strength and power. Adding weight onto your ankles means that you are going to have to work your leg muscles that little bit harder than if you perform the same movement without the extra weight.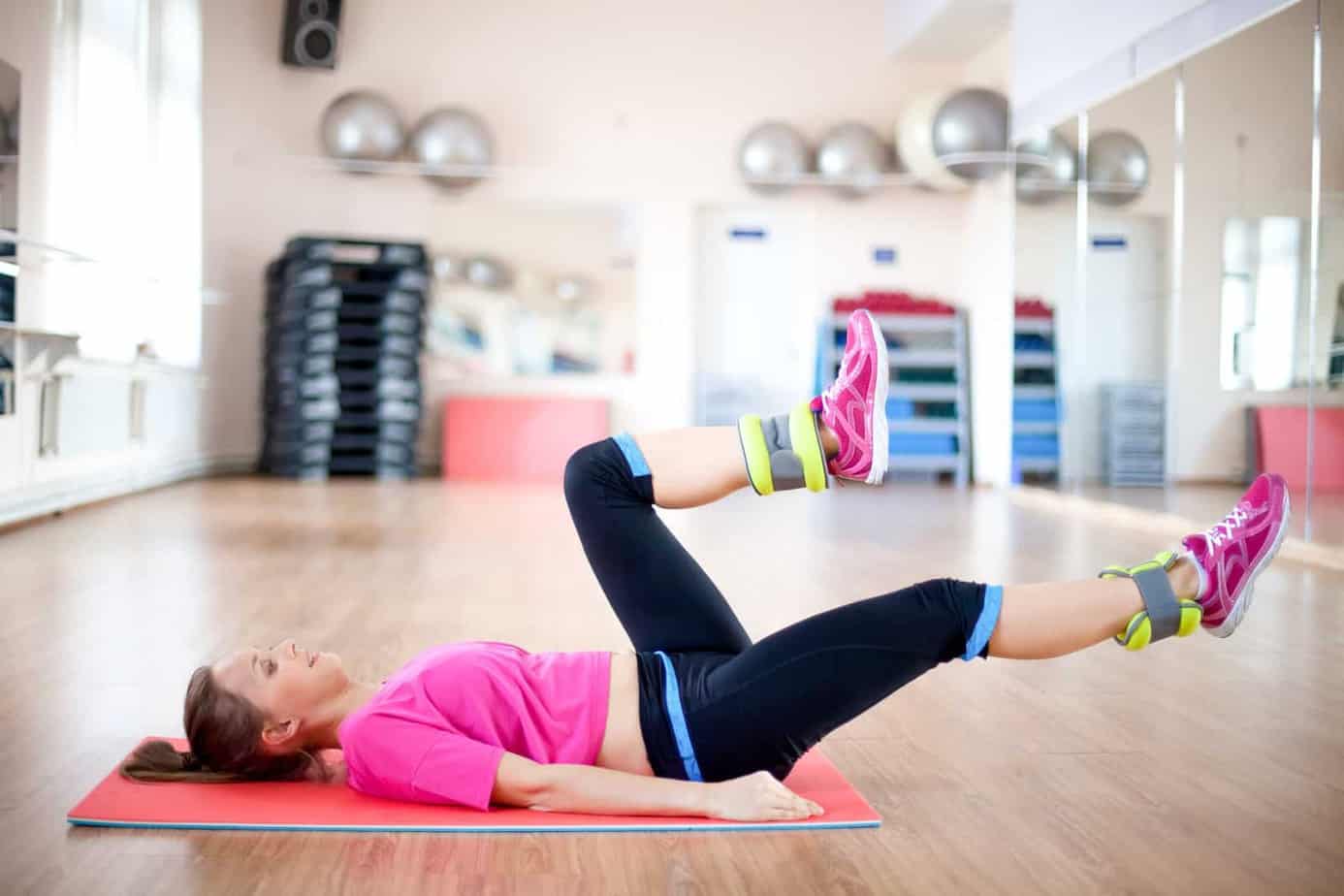 In our experience ankle weights work best for gymnasts when used to increase resistance and push you to increase power and muscle definition while practising conditioning exercises rather than wearing them to practice actual gymnastics skills.
A selection of our favourite ankle weights for sale that are good for gymnasts.
We have spent hours researching ankle weights and this is our list of ankle weights that we think can help improve your gymnastics training.
Each of these products has different benefits and disadvantages so please take a look and see which weights have the style, fit and weight requirements that work best for you.
Fragraim Ankle Weights
[easyazon_image align="center" height="500″ identifier="B07F1T6XRR" locale="US" src="https://images-na.ssl-images-amazon.com/images/I/51aBBPVKgAL.jpg" tag="justifyingfun-20″ width="500″]
Click image to view current price on Amazon
Fragraim offer a selection of weight options ranging from 1.5lbs to 5lbs on each ankle. The different weight options are colour coded which is nice if you want to buy a selection of different weights but if you only want your favourite colour you have to hope it is the right weight for you.
Green – 1 lb
Purple – 1.5 lbs
Blue – 2 lbs
Orange – 3 lbs
Black – 3 lbs
Sky Blue – 4 lbs
Black – 4 lbs
Grey – 5lbs
The ripple wave shaped design looks good and the neoprene fabric fits and stretches comfortably. This is something we didn't expect to say, but nothing feels nicer than a stretchy fabric! it really makes us feel more secure and that the fabric will be more likely to adjust to our ankle size and give us that comforting soft feel that always beats the loose non-stretch materials.
Fastening involves adjusting a Velcro strap and a D ring which means you can adjust each weight around your ankle until you find a comfortable fit. A D ring might look a little challenging on first glance but it doesn't take more than 5 or 10 seconds to fasten it perfectly to your own preferred level of tightness.
One of the best things about the Fragraim is that the fit is great for all different sized ankles and they really stay in place very well and don't move around. Be aware and make sure you read the weight correctly to be sure you know the correct weight for each ankle rather than the overall weight. Some people mix up the individual weight of each ankle strap with the combined weight of both ankle straps and we don't want you to make that mistake and end up with half or twice the weight you expected. Read the product description carefully and you'll get exactly what you want.
We think the Fragraim gymnastics ankle weights are a good choice for gymnastics at a reasonable price because they are comfortable and the colours are nice and vibrant and your gym team mates will want a pair when they see them. We haven't come across any problems with the design and the weight doesn't move around within each cell like some other offerings it feels like the weight is consistently spread out during your workout. The only disadvantage we found is that their aren't more colour options for each different weight.
---
Fitnessery Ankle Weights
[easyazon_image align="center" height="500″ identifier="B0788M5MH5″ locale="US" src="https://images-na.ssl-images-amazon.com/images/I/51F7GnjJSwL.jpg" tag="justifyingfun-20″ width="500″]
[easyazon_link identifier="B0788M5MH5″ locale="US" tag="justifyingfun-20″]Click to view current price on Amazon[/easyazon_link]
These Fitnessery ankle weights are comfortable, soft and the Velcro strap can be adjusted so that it is tight and the weights hold firmly against your bare ankle if you are wearing your gymnastics leotard. The neoprene and cotton fabrics are non toxic and the top and bottom stitched seams holds together well during exercise.
We didn't really like the image of this Fitnessery product at first but when looking at the real product the design and branding looks smart and the materials feel like they are good quality.
With a choice of weights between 1lb and 5lb both your beginner and intermediate training needs can be met. It is a good idea to start off wearing 1lb or 2lb weights on each ankle and then move up as you adjust and increase your strength. If the weight is becoming less noticeable and you are still able to maintain good form when walking, performing Pilates or jogging then this is a good indication that it might be time to consider a weight increase.
The resistance feels true to the advertised weight and this is mostly due to the iron sand that is spread evenly inside the neoprene and cotton structure to add weight, as opposed to the plates that are commonly used as the weight inside most ankle straps.
---
Gymenist Gymnastics Ankle Weights.
[easyazon_image align="center" height="333″ identifier="B0747ZTVML" locale="US" src="https://images-na.ssl-images-amazon.com/images/I/41qnFxLVNqL.jpg" tag="justifyingfun-20″ width="500″]
[easyazon_link identifier="B0747ZTVML" locale="US" tag="justifyingfun-20″]Click to view current price on Amazon[/easyazon_link]
This pair of Gymenist Ankle weights are excellent for a number of reasons, but firstly we love them because of the adjustable weights that slot into the belt. Usually you need to buy a set of weights for your ankles or wrists and then unstrap and switch between the different weights during a workout, or after a period of time when your strength and endurance have increased and a heavier or lighter weight is more suitable to your current situation.
Buying a whole set or individual weighted straps is much more expensive than this Gymenist adjustable option and takes up a lot more space. With the Gymenist you receive two ankle straps that each have 10 slots in them and 20 0.5lb metal sticks that fit into these slots. This is a great idea and makes adjusting the weight very quick and easy, even during a workout when you can slot extra weights in or remove the sticks to reduce the weight anytime you like.
The older model of the Gymenist ankle weights caused problems for users because the metal weights had sharp edges and eventually started to tear the fabric and rub against your legs. Now Gymenist have updated them and included a Velcro fastening section above the weight compartments which stops them rubbing against you or tearing the fabric.
Having a set of ankle weights that fit comfortably is one of the most important features that people look for when considering which product to buy. These straps fasten comfortably around your ankle or wrist and are fastened with the long piece of Velcro that can fasten tightly. The fabric is quite well cushioned and comfortable to wear but we would prefer a more adjustable fastening system because the level of tightness of the fit can vary a little with smaller / larger ankle sizes.
Overall these are a good quality set of ankle weights that should match the requirements of most gymnasts, fitness enthusiasts and people using them to increase muscle mass during rehabilitation.
---
All Pro Ankle Weights
[easyazon_image align="center" height="500″ identifier="B001U0HJN0″ locale="US" src="https://images-na.ssl-images-amazon.com/images/I/41QjVFYTipL.jpg" tag="justifyingfun-20″ width="400″]
[easyazon_link identifier="B001U0HJN0″ locale="US" tag="justifyingfun-20″]Click to view current price on Amazon[/easyazon_link]
The pro ankle weights are another good choice for gymnasts who want to be able to adjust the weight quickly and easily. The flaps that cover the 10 slots where you can add and remove the iron weights are comfortable and soft against your ankle.
We really like the quality of the fabrics that are stitched tightly and hold the black Velcro fastening sections securely on the straps surface. Because of the extra padding these gymnastics ankle weights are big, fluffy and comfortable but will fit tightly around your ankle when strapped correctly. Because there isn't a belt like strap running along the top you will have to hold the side flaps and make sure you keep the top surface aligned straight so the strap wraps comfortably and evenly around your leg.
The black and blue design isn't the most modern and attractive and reminds us a little bit of boxing gloves but the comfort, fit, weight adjust-ability and durability make the All pro ankle weights a top choice for gymnasts who value performance and quality most.
---
REEHUT Gymnastics Ankle Weights
[easyazon_image align="center" height="500″ identifier="B01M5JSP6P" locale="US" src="https://images-na.ssl-images-amazon.com/images/I/410prg2rROL.jpg" tag="justifyingfun-20″ width="500″]
[easyazon_link identifier="B01M5JSP6P" locale="US" tag="justifyingfun-20″]Click to view current price on Amazon[/easyazon_link]
We are really impressed with the small branded logo and sharp blue and black colours that make these a stylish choice for gymnasts. A lot of brand use Velcro fastening but these also have an adjustable fastening strap so gymnasts can adjust them perfectly to fit their ankles before getting to work burning fat, strengthening muscles and toning ready for the next gymnastics meet.
Fitness training of any kind is hard work and we know you gymnasts train really hard. With this hard work comes lots of sweat and Reehut use a soft moisture absorbing material and cotton to help make the inner surface soft and snug and stop it becoming too hot and sweaty.
Some brands use sand as the inner weight but Reehut use Iron shot. Iron shop is solid and can't move around in the way that sand might over time and the iron makes it seem more solid.
---
Will Ankle weights help my gymnastics? – Some Reasons why Ankle weights can help gymnasts and how best to use them.
Ankle weights aren't used as widely in gymnastics as they are in other strength and conditioning programmes but as we have discovered there are many benefits and a few disadvantages to consider when using them for gymnastics training.
Very young gymnasts should minimise the length of time they use ankle weights for:
Younger gymnasts who haven't developed fully should not use ankle weights too often. If used a lot, the additional weight has the potential to cause injuries. For younger gymnasts we don't recommend using ankle weights every training sessions but instead they can be used to help increase power and conditioning.
Increased feeling:
An ankle weight can help gymnasts understand the mechanics involved when learning new bar skills. When learning skills such as the tap swing, the additional weight helps you feel the pull of your feet through the bottom of the swing and increases the power needed for the upward movement.
We also believe that when learning certain skills on the bars, adding weight to your ankle can help you become more aware of how the movement of your feet and legs feels when performing different bar skills because the weight makes the feeling more exaggerated and heavier so you can sense what your body position is but they will also make bar skills much more difficult and timing can be thrown off a little because of the extra weight.
Improved Conditioning
Pulls ups and dips are great for conditioning and once you've mastered them, adding ankle weights can really help push you that little bit further and increase strength and power.
Overall we would recommend you mostly use ankle weights for gymnastics based strength and conditioning exercises. If you really want to wear them while practising gymnastics skills it is a good idea to only use them if you are learning a new skill and need to better feel the movement of your body and also to try and increase power by adding weight while performing a gymnastics skill and forcing your body to have to work that little bit harder and push or pull with extra power. Some fitness enthusiasts also wear ankle weights while using parallettes as part of their gymnastics conditioning. Black friday is coming soon so take a look at our selection of gymnastics equipment and see if you can find cheap gymnastics gear and some black Friday gymnastics deals.