Are you an adult taking part in an obstacle course race, training on parallettes or having fun secretly swinging on the monkey bars at your local park when the kids are sleeping ?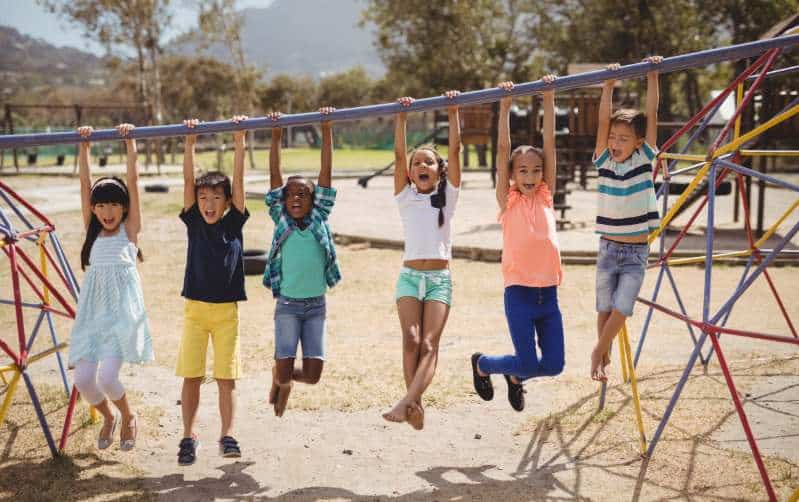 Or are you looking for gloves to protect your children's hands and improve their grip on the monkey bars or while using a slackline obstacle course?.
We have you both covered with our monkey bar advice and reviews of the best gloves for monkey bars. If you want to swing in your own home check out these awesome monkey bars. Between us here at justifyingfun we have lots of monkey bar practice and our gymnastics experience means we can offer you suggestions based on our knowledge. If you are actually a monkey you probably know better than we do, so please comment below with any advice and we can send you a few bananas.
Some reasons why it is a good idea to wear gloves on the monkey bars
You are probably thinking 'monkeys don't wear gloves so why should I'. Well here are some reasons why human hands should have gloves on them while swinging on metal or wooden bars.
Improved grip
It might seem obvious but the materials most gloves are made of will create more friction when you press them against the monkey bars. This is turn will help you stay hanging onto the bars for longer. When your hands become sweaty or wet and you don't have gloves you'll really struggle just to hold on. The only problem is that when you run out of strength you can't use the slippery hand excuse when you fall off your own indoor play equipment.
Hand protection
The friction between your delicate soft skin and a hard rough monkey bar can actually cause calluses to build up on your fingers. Calluses are those red lumps of skin that form where your palm connects to your fingers.
Sometimes you might also experience rips, where your skin actually tears. These can be particularly painful so wearing a glove to prevent them is a great idea. If you already have them then you can consider trying some rip protection balm that gymnasts frequently use.
Now we are going to show you are favourite kids gloves and then our recommended adult gloves. 
Our favourite kids gloves for monkey bars
Here are some of our favourite choice monkey bar gloves for your kids to wear. The hang monkey bars are becoming really popular because they have created a lot of different colourful glove designs.
Hang Monkey bar gloves
Click to view current price on Amazon
Hang are the most popular brand targeting kids wanting to swing on monkey bars or grip onto bicycles and scooters. I really like Hang Monkey's unique and colourful designs that come in different sizes depending upon the age of your kids. In fact there are more than 10 different designs, which
The rough raised grip section on these gloves is quite small but covers a large enough surface area for you to be able to stay hanging on without slipping.
The gloves do a good job of protections kids hands from blisters but pay careful attention to the sizing as most sizes are a little larger than you might expect.
---
Roaming Kids Gloves
Click image to view current price on Amazon
Roaming offer a cheaper option for kids. These gloves used to be best for cycling and other activities that involve gripping but not holding up your body weight. Roaming have now added anti-slip fabric to most of their selection and are working on adding them to all their gloves within the next few months. We would recommend you choose a glove that has the anti-slip section on the palm otherwise these gloves will be slippery on the monkey bars.
The happy time and dinosaur glove designs are my favourites and kids love them.
---
Gibson Rainbow Hand Grips
Click image to view current price on Amazon
The Gibson rainbow hand grips aren't gloves but they are the perfect material and design for regular monkey bar swinging. Because the hand grips are meant for gymnastics, they are designed for swinging on gymnastics bars and being non-slip. If your kids aren't going to be needing monkey bar gloves often then this probably isn't the best choice but for regular swingers having a professional grip that is actually designed for gripping is a good idea.
These grips are made using strong leather and unlike your usual gloves you have to slot two fingers through the gaps. The palms are soft and comfortable and their is a wrist strap so they won't fall off anytime soon. If your kids are used to ordinary gloves or wearing something like the hang monkey bar gloves above then they will notice the grip on these is stronger and the surface is thicker and more protective so it will take a little while for them to wear in and to be able to swing a little more freely.
---
Our Top Rated Adult monkey bar gloves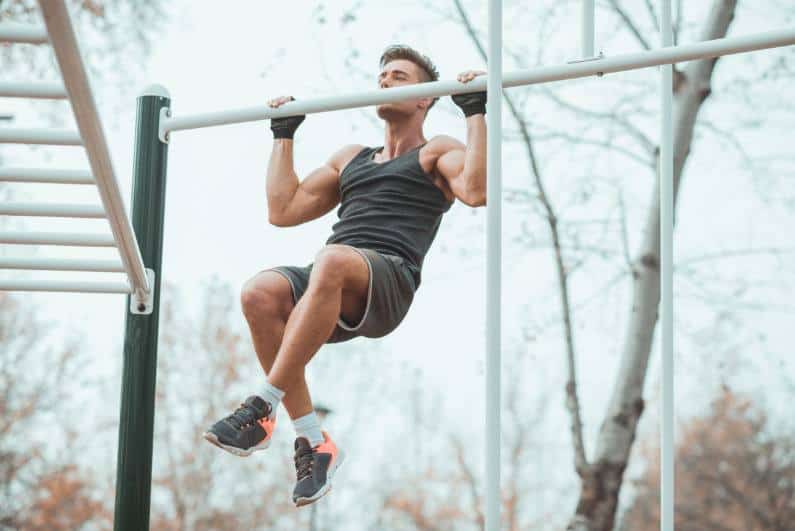 So, you've come here to find some adult monkey bar gloves. Usually this is because you are fitness enthusiast who loves performing body weight exercises or you might be thinking about signing up for an obstacle course race like tough mudder. Whatever the reason, we are going to show you some of the best monkey bar gloves we could find for adults. We take into account, grip, hand protection and also introduce some gloves that still give you some grip when they are wet and muddy.
Spartan Obstacle Course Race Gloves
Click image to view on Amazon
The Spartan gloves are some seriously cool gloves. What makes them so great is the extra grip that covers the glove and fingers, making it possible to climb ropes, swing from metal bars and most importantly use monkey bars.
We really like the wrist support section that compresses your wrist to help prevent injury but also allows good movement. On the long wrist support section there is a slit which allows you to wear a sports watch during races. The glove surface covers your palm but is cut off before your fingers allowing your fingers and hand to stay cool.
If you are only planning to use the Spartan Gloves on the bars then the Spartans work best in dry conditions whereas if you are racing across multiple obstacles they are great for rope climbing in all conditions but you might struggle to grip well on the monkey bars if the gloves are wet and muddy because of the silicone grip section. Taking this into account the gloves are designed so you can slip them off and onto your hand very quickly.
Overall the material quality is good with strong protection where your hand meets your fingers but the only downside is the poor grip on slippery bars, so whether these are the best choice for you depends mostly on that factor and also whether you prefer gloves with a wider covering over your whole palm because these only cover the area most affected by calluses and rips.
---
ANJ Sports Workout Gloves
Click to view current price on Amazon
ANJ sports have created these low price but highly recommended workout gloves. What we like most about the ANJ gloves is that they are lightweight and offer great full palm protection. The palm protection is also very good for gripping because of silica padding connected using a structure that looks like honeycomb.
There is a Velcro fastening wrist support that is strong and can really help prevent wrists aches and strains. When you are in an obstacle course race or even doing sets of pull ups in the warm summer weather your hands can get really sweaty. The ANJ sports workout gloves are made of a breathable material that lets air in and stops your hands getting hot and uncomfortable.
One thing we don't like so much is the tight fit that takes a little bit of patience for them to stretch out over a few uses. Overall these gloves are available at a really low price that is even lower than a lot of kids small gloves so these are well worth considering, even if you only use them a few times.
---
Fit Active Sports Weight Lifting Gloves
Click image to view current price on Amazon
What we love most about the fit active sports weight lifting gloves is the open back section that only covers the bottom of your fingers where calluses are most likely to form and the most protection is needed. This open feel leaves the majority of your fingers and finger tips free so you can more easily feel and control your grip but also benefit from the raised bumps on the netting of the palm section that help improve grip.
Again there is a wrist support section with a strap so you can adjust them and find the most comfortable fit for you. Silicon Neoprene is one of the main materials used to help make the gloves more resistant to water and the elements.
Some users experience a smell after a few months of use, but this is mainly from regular weightlifting and working out using the gloves. Swinging on Monkey bars now and then isn't likely to create the same level of sweat. Also the smell most likely came from putting the gloves with other clothing in gym bags.