You've all most likely heard of battle ropes – one of the newest trends spreading throughout gyms worldwide. Ropes are usually a challenging upper body strength climbing workout but now a thicker heavier rope is used for a tough upper body workout that increases power and core strength with your feet firmly placed on the ground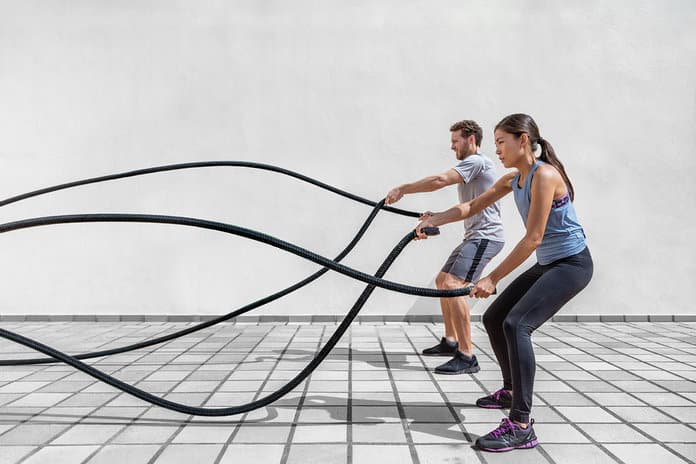 The best battle ropes offer a tough arm and upper body strength workout and are often used in Ironman and ultimate fighting training. People  think of battle ropes as purely a strength training tool but they also offer a high intensity cardio workout and are excellent fat burners.
We have selected some of the best battle ropes. Most of our choices come in different lengths so be sure to take into account the length you will need in the space you have, whether indoors, in the garden or at the gym. The length you will need will be half the length of the rope because it is anchored in the centre.
Battle rope reviews
Power guidance battle rope
[easyazon_image align="center" height="500″ identifier="B01I30FHC4″ locale="US" src="https://justifyingfun.com/wp-content/uploads/2018/04/514IKZ4XKeL.jpg" tag="justifyingfun-20″ width="500″]
[easyazon_link identifier="B01I30FHC4″ locale="US" tag="justifyingfun-20″]click to view current price on amazon[/easyazon_link]
Firstly, this rope is tough, heavy and the nylon sleeve protects the rope so that it can't fray or wear easily on tough surfaces. This is one of our favourites and you'll never regret buying it
Power guidance have produced an excellent battle rope that is available in 3 different lengths, 30, 40 or 50 foot long. The handles are heat shrinked and feel very comfortable and easy to grip so your hands don't slip off.
The rope is heavy and the materials look and feel like they are good quality and durable. Power guidance informed us that the rope is made of 100% Dacron which means that it is heavier than if a mixture of materials is used for construction.
Who are we to argue? It feels heavy and there is an included anchor if mounting the rope in one place is important to you otherwise it is possible to use a sandbag, weight or other heavy items to attach it to as an anchor point.
The rope is visually nice to look at and the power guidance logo is sharp and the yellow target symbol looks smart. Most importantly the workout with the power guidance feels tough, heavy and reacts and flows nicely when performing the double wave, which is a good test of how they feel and how much you can directly feel the weight working your muscles.
Best Features:
Brilliant nylon cover protecting the whole rope
Available in 30-40-50 foot length
Heavy and tough
NexPro Battle Rope
[easyazon_image align="none" height="500″ identifier="B0128KQSVE" locale="US" src="https://justifyingfun.com/wp-content/uploads/2018/04/51IWk7JdJCL.jpg" tag="justifyingfun-20″ width="500″]
[easyazon_link identifier="B0128KQSVE" locale="US" tag="justifyingfun-20″]click to view price on amazon[/easyazon_link]
The Nexpro comes in 30,40 and 50 foot lengths and either 1.5 or 2 inch thickness. This model is 1.5 inches thick and is as heavy as you need for any tough workout. If you have been using battle ropes for a long time and it doesn't feel like enough of a workout anymore or you are super strong then you could consider the 2 inch thickness but 1.5 inches is thick and heavy enough for most people.
The Nexpro grip is comfortable and solid. You wont need to worry about the rope getting damp because of a protective layer that is water proof and also covers the three twisted ropes keeping it firm and stopping any fraying.
Blasting out some double slams really hits your legs and core and is a great test of how strong the Nexpro is. slamming down hard there was a good solid amount of weight and the rope handled them with ease, no fraying and the grip was tight even when our hands became slightly sweaty.
Firebreather
[easyazon_image align="none" height="500″ identifier="B01MY59C1B" locale="US" src="https://justifyingfun.com/wp-content/uploads/2018/04/51EGgAVBYBL.jpg" tag="justifyingfun-20″ width="500″]
Click image to view price on Amazon
So you want to be a Firebreather?
This name oozes a sense of toughness, strength and also intimidation. A battle rope is intimidating at first. My grandad climbed ropes in his world war 2 training in the army. They would fly up and down the rope with ease when they weren't jumping out of planes with a parachute on.
Those guys were really tough, and it's nice to try and replicate their mental strength and willingness to do what it takes to get fit and strong, always ready to be at your best.
The firebreather rope lay on the floor look great, but how tough can a rope lying on the floor be?. Well, let me tell you, they are heavy and after a few powers slams and alternating waves you'll feel like you've been in the gym for an hour.
Again, the three size options are 30,40 or 50 foo, choose wisely and it's better to choose one thats longer rather than short because you can always put a knot in it and shorten the length a bit, but ideally choose a suitable length, if you have the space then choose the 50 foot you'll be glad of the extra weight.
A firebreather is known in fitness circles as someone who is extremely fit and has a lot of power, if you use the firebreather often enough eventually people might call you a firebreather yourself, or if not at least you can work towards improving your fitness, weight loss or strength goals and have some fun.
Garage Fit
[easyazon_image align="center" height="500″ identifier="B01HDUFAEA" locale="US" src="https://justifyingfun.com/wp-content/uploads/2018/04/51SWcgBzxbL.jpg" tag="justifyingfun-20″ width="500″]
Click image to view price on amazon
Garage Fit have focused on fitness equipment that is great for your garage gym or anywhere at home. This rope is another high quality design with a blue tracking rope running alongside the three twists rope sections and this is a feature we haven't seen in many of these products.
The blue line is apparently for making it much easier to deal with any rope repairs, but for us, we expect to be using these to workout for a long time and more than likely won't ever need to repair them. at that stage we will probably be ready for the longer 50 foot battle rope.
Aesthetically the Garage gym product looks good and it is designed for use outdoors so it is tough and won't quickly fray when you slap it onto pavement again and again.
The included anchor looks good and the grip is to the same standard that most of these brands provide, comfortable and gentle on the hands.
Iron Bull strength
[easyazon_image align="center" height="500″ identifier="B01LM0QCEE" locale="US" src="https://justifyingfun.com/wp-content/uploads/2018/04/61f4Uw0rFiL.jpg" tag="justifyingfun-20″ width="500″]
Click image to view price on Amazon
We love the iron bull strength logo and unique red and black interlocking ropes that look great. It's difficult to find many good battle ropes that aren't black and we weren't sure about these at first but when your working out and the rope is flowing up and down the black and red colours look visually impressive
Two 16 inch nylon straps are included so you can anchor the rope easily and the straps connect in a way that protects the rope from fraying
Iron bull strength claim this rope was designed for use at the shipyard where a lot of force is placed on it and it has to withstand challenging conditions. In all honesty, we don't know the finer details about the design but it is a tough and strong battle rope that appears to be made in a similar way to the other ropes.
If you are looking for a more interesting design and a high quality build, this is another good choice.
Elite SRS Battle Rope Kit
[easyazon_image align="center" height="461″ identifier="B01GUFZ8S2″ locale="US" src="https://justifyingfun.com/wp-content/uploads/2018/04/51vEbeUNkzL.jpg" tag="justifyingfun-20″ width="500″]
Click image to view price on amazon
Elite SRS are a fitness brand we think are brilliant. Founded by a group of people who love fitness and the outdoors there focus is on quality fitness equipment made of ropes and cables. SRS were founded by Matt Hopkins who is a nation championship speed jumper and they actually designed the original speed jump rope.
Many crossfit athletes and speed jumpers use SRS products because of the quality and focus n the best design possible. This SRS battle rope kit comes in a choice of colours, which is a great idea and seems to show their focus on the customer. You can choose from our favourite which is blue/black, blue/red, green/black which is also very cool, purple/black, red/black and silver/black. it will probably take you a while to choose one because the colour combinations look visually impressive apart from the blue and red rope which we don't like the look of.
At first the rope is quite stiff which is sometimes the case anyway. After a few workouts it will start to loosen more and flow nicely. A good exercises for judging whether it is loosened up is performing the snakes on the floor, a great shoulder workout where you stand with your legs shoulder width apart or slightly wider, drop your arms by your sides holding the rope, squat and then move your arms out wide and back together without crossing them over, the rope should look like two snakes crawling along the floor. there is a coating on either end which forms the grip. Gripping the handles is comfortable and you can get a good hold easily.
The SRS is available in both 1.5 and 2 inch thickness, with the thicker offering a heavier and more challenging workout. Whichever you choose can be bought in 30,40 and 50 foot lengths. They are made of 80% Dacron and are high quality gym grade. The majority of people we know of that have been working out with these seem to be happy but as with all fitness ropes, sometimes you can get a bad rope that frays a bit or isn't quite up to standard. In that case contact the seller immediately and they should resolve any issues quickly.
Trademark innovations
[easyazon_image align="center" height="386″ identifier="B00KQQE77A" locale="US" src="https://justifyingfun.com/wp-content/uploads/2018/04/51p2BuIRjTLL.jpg" tag="justifyingfun-20″ width="500″]
Click image to view price on Amazon 
Tradmark Innovations have produced a great battle rope made of Dacron. We like the black and yellow colour combination with the thread rope running through the middle providing the yellow.  At a reasonable price this is a well made rope that offers an excellent indoor or outdoor workout and it won't unravel or start to fray.
You can choose from the standard 30,40 or 50 ft lengths. There is no anchor strap included so you'll have to purchase that separately.
Factors to consider
Materials and durability
The highest quality ropes we have reviewed are made primarily of Dacron. Some are blended with other materials but if you want to be sure you are getting the best and longest lasting rope you need to make sure it is made of at least 70% Dacron. Paying attention to the materials will ensure you are purchasing the best tool possible for your fitness training.
Size – Length and thickness of the rope
Battles ropes usually come in a choice of two different thicknesses 1.5 inches and 2 inches. Choosing which thickness is best for you is an important decision because you don't want a rope that isn't offering the best rope workout possible for your own physical capability.
The 1.5 inch thickness is the best choice for most people. It is thinner so easier to grip onto especially when you are doing a cardio workout that involves longer reps and is more of a HIIT workout. The rope is also a little bit lighter so if you are new to this exercise 1.5 inches is the best choice unless you have very big hands and are already very powerful then 2 inches might be a good choice for you.
The 2 inch thickness is roughly 36% bigger then the 1.5 inch rope so it is a much greater width to hold and harder to keep hold of for long intense cardio workouts. If you have big hands and are looking to focus mostly on increasing power and strength then the increased weight and greater circumference of the 2 inches  is a good choice.
Which Length?
You can usually choose from 30, 40 or 50 ft long. The actual clear space you will need is half the total length because the rope is anchored at the half way point. Sometimes you need to choose a shorter option if you are limited by the amount of space you have in your home gym, garden or garage. Ideally the 50 foot option is the best choice because the rope is a little bit more fluid and easier to manipulate but the shorter options still offer a very similar workout which is still very good. We know a lot of people who love the shorter lengths so it's completely up to you and how much room you have. The longer options cost a little bit more but for the amount of extra battle rope you are getting they are good value.
What exercises can i use a battle rope for? 
The Double Wave
The double wave is the simplest and one of our favourite exercises with battle ropes. You've probably seen people doing these at your local gym and they might even be the reason your looking at buying some.
– Stand with your legs roughly shoulder width apart, slightly wider is great.
– Hold the two ends of the rope with finger nails and palms facing towards each other and simultaneously lift the left and right arm up as high as possible and down again
– Repeat this movement as quickly as possible making sure you engage your core and brace your legs with a slight flex in your knees.
Once you have mastered the double wave, you can make it more interesting by alternating between the left and right arm raising up, so when one arm is up the other is down. This movement takes place quickly and produces a great visual effect as well as working your arms and shoulders hard and your core if you engage it properly and focus on maintaining a smooth and consistent motion.
The Slam
The slam is a move which will work your arms, shoulders core and back but is best for getting a really good ab workout.
– Make sure your legs are shoulder width apart and feet firmly placed on the ground forming a solid base to work off.
– Engage your core muscles and lift both arms up high and then slam both ropes down to the ground as hard as you can.
Performing circles
Circles are great. You need to try these out as part of your shoulder workout. The idea is that, almost like holding sparklers on bonfire night and drawing circles and other shapes, you will hold the rope grips one in each hand and move each arm in a circular motion. It is possible to move both arms inwards creating circles, outwards or alternate between the different variations with both arms focusing on anti clockwise or clockwise motions, or left arm anti clockwise,right arm clockwise.
Justification
We love gym equipment that is also fun to use and the best battle ropes are a lot of fun. From the first moment you seem them flowing in the gym they grab your attention and even if you don't know what the whole deal is with them you want a go.
A few minutes later your arms are tired, you've flung them up and down and side to side a little and it feels really good. Using a skipping rope can be great fun as well, there is something that feels natural and rewarding about using a rope, it feels more hands on and real than some gym equipment which are rigid and don't work your muscles as thoroughly and don't include such a wide range of motion.
With so many products to choose from it's hard to differentiate between them all when the majority offer a great fitness experience. Whichever you choose we hope you will try out the hundreds of different possible exercises that workout your triceps, core, biceps, shoulders, legs, hips, increase your power and improve your cardiovascular endurance.