The gymnastics balance beam is one of my favourite pieces of gymnastics equipment for kids to practice balancing at home. Here is a a quick comparison of my top choice balance beams for kids, folding beam and cheap beam. I'll then take a closer look at these beams and help you decide which type you should buy.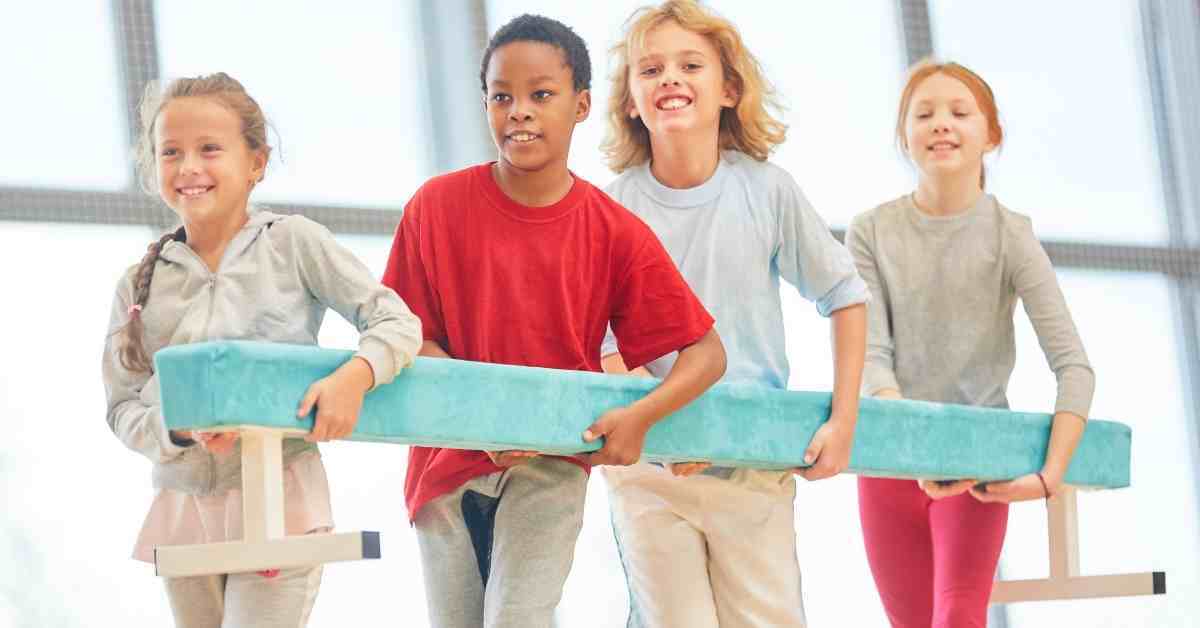 Comparison table of different balance beams
Product image
Popular adjustable beam
cheap option
Best folding beam
My favourite choice
Product name
We sell Mats folding beam
Beam length & height
8 ft long and height adjustable between 7 and 24 inches
6 or 9ft long and this beam is on the ground.
8ft long ( can be extended to 16ft )
Who is this beam suitable for
Not suitable for toddlers, better for more experienced gymnasts
toddlers, young gymnasts and recreational classes.
Recreational or toddler gymnasts, or gymnastics wanting a travel beam that doesn't take up much space.
Gymnasts working through the gymnastics levels, looking for a realistic beam experience.
Click to view product on Amazon
Popular adjustable beam
Product image
Beam length & height
8 ft long and height adjustable between 7 and 24 inches
Who is this beam suitable for
Not suitable for toddlers, better for more experienced gymnasts
Click to view product on Amazon
cheap option
Product image
Beam length & height
6 or 9ft long and this beam is on the ground.
Who is this beam suitable for
toddlers, young gymnasts and recreational classes.
Click to view product on Amazon
Best folding beam
Product image
Product name
We sell Mats folding beam
Who is this beam suitable for
Recreational or toddler gymnasts, or gymnastics wanting a travel beam that doesn't take up much space.
Click to view product on Amazon
My favourite choice
Product image
Beam length & height
8ft long ( can be extended to 16ft )
Who is this beam suitable for
Gymnasts working through the gymnastics levels, looking for a realistic beam experience.
Click to view product on Amazon
---
I added a selection of beams to the table above so you can easily compare the different features. Now, I'm going to show you why the Tumbl Trak Brianna beam is my favourite, how it feels to practice on this beam and whether it really does react like a competition beam or not.
1 – Best overall beam – Tumbl Trak Brianna Beam
2 – Best folding beam – We sell Mats folding beam
3 – Best adjustable height beam – Milliard balance beam
4 – Best cheap beam – Springee balance beam
What kind of balance beam should you get?
Over the last few years I've compared a lot of kids balance beams and found that low-height close to the floor beams are the safest and best option for home use. This is because most gymnastics beam skills can be practised by balancing on a low beam, reducing risk and increasing the beams stability.
Gymnastics beam brands including Milliard, Springee and Nimble sports all love to market the adjustable height features on their beams. I was sold on the idea for a while but when put into practice and after I spoke to gymnasts and parents of children who tried these adjustable height beams I began to realise I was mistaken.
These adjustable beams are sturdy enough but don't offer consistent stability unless you adjust them to the lowest height setting. I previously recommended the Milliard adjustable beam and I'm still going to recommend it as an alternative option, but even if you choose this gymnastics beam you should, in my opinion, try it out on the lowest most stable height setting and stick with it. High beams at home aren't as safe.
Top choice – Tumbl Trak Brianna Balance Beam
Click the image above to view the current price on Amazon
The wooden construction and synthetic suede covering make the Brianna beam very solid and comfortable to practice and perform on. Your gymnasts will be well prepared for their next competition meet. No tools are required for assembly, you can simply slot the beam into the wooden legs and it is very secure because of it's low to the ground position.
The Brianna beam has been designed so that it is possible to easily connect two together in order to form a full length 16 ft beam by attaching a section at the end of the beam to another beam.
The bases are wooden but also covered in foam (and a choice of pink or purple bling ) so they are safe to place against a wall when not being used or if you accidentally hit against them it offers some protection. This is a great beam that is more than adequate for practising gymnastics skills
You'll have to practice your dismounts on a different beam but this is great for everything else and if you really need to practice dismounts check out one of the height adjustable beams we have reviewed in this article. The Brianna home gymnastics beam is 7 inches above the ground and 4 inches wide.
How this beam looks and feels to practice balancing on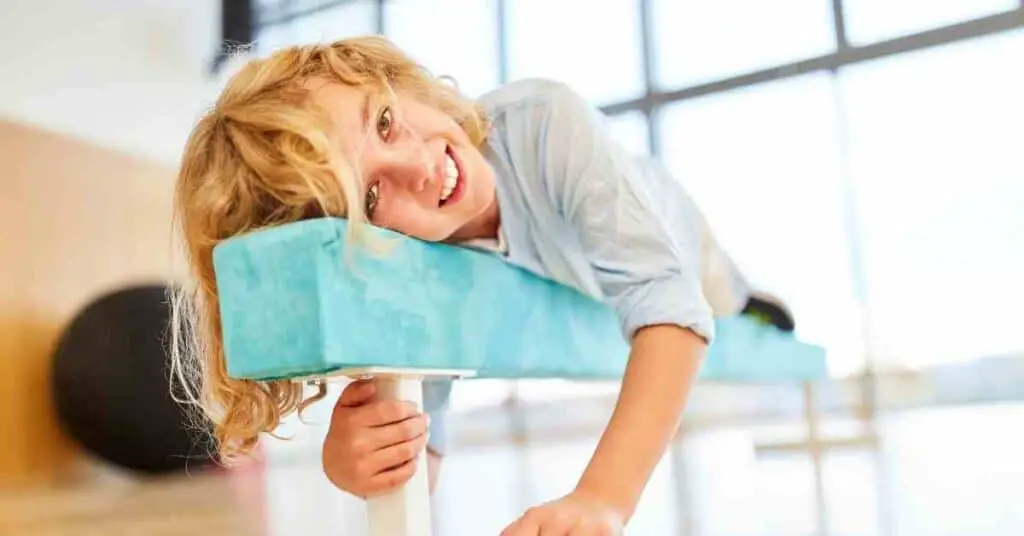 The Brianna beams main surface looks just like a competition beam colour and is made of a similar type of suede used on most gymnastic gym beams.
The Brianna Balance Beam is my best choice for practising gymnastics balance beam skills at home. What I like most about the Tumbl Trak Brianna beam is that it feels very much like standing on a regular gymnastics beam in my gym. The suede surface, wooden build and firm foam padding give the beam this realistic feel.
The feeling is comparable to a competition beam and unlike the soft cheap beams that aren't firm enough to balance on consistently.
However, this quality comes at a cost and this beam is much more expensive than most of the selection of beams being sold online. Let's find out a bit more about the Brianna beam, compare it with the Milliard adjustable beam, cheaper Springee beam and consider a folding beam from We sell mats.
Suede vs Vinyl beam surface
While you might not be concerned about the material your gymnastics beam is made of, the gymnast you are buying it for might. This is because gymnasts spend hours practising at the gym and they have experience on a beam that feels a certain way, is firm and reacts how they have become used to it reacting when stepping across it.
Switching between very different beam surfaces can throw you off during a routine and it takes time to get used to the adjustments you'll have to make.
Vinyl is  synthetic plastic material whereas suede is a type of leather. Vinyl feels like plastic when you step on it and the surface is usually more sticky. Vinyl is easier to clean and most cheaper beams use some type of vinyl material.
Suede moulds to your feet and in my opinion feels more comfortable than vinyl, however this might be because most gym and competition beams are covered with suede. Suede beams can also handle scratches and scrapes a little better than vinyl, where scratches tend to be more visible.
Comparing this beam against the competition
There are a few reasons why I like the Brianna beam better than the competition. Most importantly, the surface reacts how gymnasts expect it to, it feels solid and reacts well to your feet and hands being placed on the surface. It isn't however, the exact same as a regular full sized beam but in my opinion it comes a great deal closer than most other products do to matching that more realistic feel.
Tumble Trak Brianna vs Milliard adjustable balance beam
The main difference when comparing these 2 beams is the adjustable option the milliard beam offers. I do like what Milliard offer, but I'm sticking to my opinion that you shouldn't bring an adjustable height beam into your home unless you have experience in gymnastics, have placed safety mats around it and are supervising your children practising.
Even then I believe it isn't necessary because you can learn and train most of the fundamental beam skills on a low beam.
Milliard beam has incremental height settings for the high setting but are these really necessary. I personally think having the low floor setting and a high setting offers enough adjust-ability and would ensure the frame and beam are stable in those 2 height positions. Having to make sure it is stable at different heights is much challenging and more likely to lead to a wobbly surface. 
The incremental height settings can help more anxious gymnasts gradually raise it up to a high height slowly but at their gym they won't have this option with a regular beam and they'll likely have already practised at height at the gym so this slow step up might not be worthwhile for most users.
Even if you adjust the Milliard beam down to the lowest height setting It's still not as stable and sold feeling as the Brianna beam is. The milliard beam has one of the best, most stable height adjustment features of any of the beams I considered for this review.
Tumbl Trak vs Springee gymnastics beam
Comparing the Tumbl Trak beam and the Spring beam is a comparison that shows the difference between a high priced beam and low priced beam. At 1/4 of the price of the Tumbl Trak Brianna beam, the Springee beam is a much cheaper option.
Because of this, Springee are targeting younger gymnasts who might not yet be serious about gymnastics and who want to have fun on a bright and colourful beam that is softer and more padded than the firm wooden Tumbl Trak beam.
The Springee beam has a vinyl surface whereas the Tumbl Trak beam has a suede covering. When comparing the 2 beams the Tumbl trak brianna beam is much firmer and the surface has better grip. It also looks more solid and wouldn't look out of place in a gym. Choose the cheaper option if you have toddlers looking for a fun balance experience but for more serious gymnasts consider the Tumbl Trak brianna beam, it looks and feels a lot better.
Best folding balance beam | We Sell Mats Folding gymnastics Beam
Click the image above to view the current price on Amazon
A lot of the beams for sale for use at home are 8-foot-long but We Sell Mats folding floor beam is 9 feet long. Don't worry about finding enough room because it can be folded in half and stored away easily. The top surface is the gymnastics competition standard 4 inch width and covered with 18oz vinyl.
Vinyl feels quite similar to the suede cover, perhaps very slightly firmer on the surface but underneath is a softer foam core. In warmer weather a vinyl surface could become a little stickier than suede but we haven't seen many reports of people experiencing this and when they have it hasn't been problematic.
When a gymnast tries out new beams they quickly become used to the surface and know how it feels and how grippy it is and naturally adjust when necessary. When moving along the beam it feels responsive for both hands and feet but they do sink into the surface a little bit more than we would like. Most people find this beam great for beginners and younger gymnasts starting out, but it is still worth considering something more solid.
This we sell mats beam is ideal for a beginner or somebody working through the lower levels practising the arabesque, lever, cartwheels etc, but probably doesn't have the stability for someone looking to exactly replicate a real life beam in terms of its rigidity and surface stability.
This is partly due to the way it folds, so if you are having to try and practice gymnastics in a smaller space or in your living room, this is a good feature because it can be quickly folded to half the size, but you will have to compromise a little bit with the surface which isn't as firm. Again, the choice of colours is great and they are so vibrant and beautiful.
Overall this is a good safe and soft beginners beam but it isn't ideal if your child is moving up the gymnastics levels and needs to start performing back handsprings and more complicated and difficult moves where a really solid beam is more important. If you like this beam then go for it, it looks great and if you prefer a very soft surface then this is a good choice but we would recommend something firmer.
Cheap balance beam for kids – Springee balance beam
Click the image above to view the current price on Amazon
Springee have created a beam with an adjustable height setting just like the Milliard balance beam above. The height can be adjusted from 7″ up to 24″ by turning a knob in the same way you do with the Milliard beam.
The beam has a steel frame and a wooden centre with a soft fabric surface that is firm and comfortable to walk on. Practice beam skills from levels 1 to 7, including handsprings, walkovers, turns, cartwheels and other skills.
The springee beam is strong and doesn't wobble when young gymnasts are training on it. Gymnasts up to 140lbs can safely train on the Springee beam. When choosing between the Springee and Milliard beams, both offer the same height settings from beginner to advanced and the build quality is very similar. I am sure you will be happy with either beam, just take a look and see which design you prefer and which is available to buy for the best price.
Best adjustable height balance beam – Milliard beam
Click the image above to view the product on Amazon
Milliard have grown to become a big gymnastics equipment brand and they now sell some amazing back handspring trainers, gymnastics bars and lots of fun and high quality gymnastics gear. The Milliard height adjustable balance beam is designed for both beginners, intermediate and more advanced gymnasts who have already moved up the gymnastics levels.
If you are a beginner you can lower the height so you have a low floor beam to practice on.
A low beam is great for a beginner because part of the difficult with learning to master the gymnastics beam is it's height and the small surface area you have to balance on. Removing the height factor can quickly increase a kids confidence as they begin to improve their coordination and balance skills. A beam that is low on the floor can also be used for fun toddler obstacle courses.
Gymnasts who have a little more experience can raise the height of the beam from the lowest height setting of 7 inches up to 18″ for high practice and then it can even be adjusted higher to 20″, 22″ or 24″. If you are serious about improving and training your beam skills you can even bolt the frame to the floor at the higher height settings to keep it extra sturdy.
It is very easy to turn the knob and move the height up and down so both beginners using a floor beam and more advanced gymnasts wanting a high beam can all share this one product.
Types of balance beams
Floor beam Mats
On ground beams are gymnastics mats that are shaped like a beam or have a beam outline drawn on them so that kids in recreational classes can learn to balance and stay between two narrow lines on the floor before moving off the ground. These floor beam mats are perfect for toddlers or children because they are much safer and often colourful and a fun addition to recreational classes or parent and toddler groups.
Adjustable height beams
These are balance beams that can be moved up and down to make the beam surface close to the ground or higher up depending on which skills you want to practice.
Folding gymnastics beams
These are gymnastics beams that can fold in half for easy storage.
8′ or 16′ gymnastics beam
A Competition length gymnastics beam is 16′ long but most home beams are between 8′ and 10′ long. 8′ gymnastics beams are long enough to practice most gymnastics skills and you'll only really need a 16′ beam if you are looking to practice a more complex routine or practice gymnastics skills like the
What beam skills is each type of beam appropriate for
| | | | | | | | |
| --- | --- | --- | --- | --- | --- | --- | --- |
| Beam (vertical) Beam skill (horizontal) | Back / front handspring | Back / front tuck | Walkover | Roundoff | Aerial cartwheel | Straddle jump | side handstand dismount |
| Brianna beam | yes | yes | yes | yes | yes | yes | not possible |
| Milliard adjustable beam | on low height setting | yes | yes | yes | yes | yes | possible on highest setting |
| Springee beam | difficult | yes | yes | yes | difficult | yes | not possible |
| We sell Mats folding beam | difficult | yes | yes | yes | difficult | yes | not possible |
---
FAQ
How much does a balance beam cost?
A balance beam costs between $70 for a cheaper children's low floor beam that is likely to be made of foam or less solid and $250+ for a top of the range wooden competition standard gymnastics beam. If you are purchasing a balance beam for a toddler then should consider a low beam that sits directly on the floor and is colourful and safe for toddlers to walk and practice basic gymnastics skills on.
Older and more advanced gymnasts can consider a beam that is raise off the ground. The Milliard adjustable high balance beam is one of the best value for money beams and is usually available to buy for between one and two hundred dollars. A full size Olympic beam can cost anywhere from a few hundred dollars up to thousands of dollars.
---
Final thoughts – Choosing a kids balance beam for your home
We love gymnastics and to put it simply a good quality gymnastics beam is a lot of fun but also a very highly skilled exercise. Whether your young gymnasts are trying out for the team or hoping to win their next meet, having one of these beams at home can really help them to practice their balancing skills and move towards learning some advanced acrobatics and hopefully level 5+ skills as they grow older and gain more gymnastics experience.
We especially love watching the world's greatest gymnasts perform beam routines at the Olympics. It is fun to watch and perform on the floor or on gymnastics bars but the balance beam is only 4 inches wide and gymnasts are performing challenging combinations including difficult skills such as the aerial cartwheel, 2 ½ turn tuck stand and the back handspring step out on a tiny area.
Try perfecting these on the floor and you'll find It difficult but on a 4-inch beam it's so impressive to watch and learn and your kids will really feel a sense of achievement when they have their own balance beam at home to practice on.