Are you an adult wanting to take part in Tough Mudder and train in your own garden or a parent looking to add some exciting slack line obstacle course equipment to keep the kids entertained while getting lots of exercise jumping across stepping stones or swinging along Ninja obstacles in the back yard?
We have you both covered With our advice for creating a back yard obstacle course and reviews of all the pieces of equipment that are available to buy. Check out the table below for some of our favourite obstacle course apparatus or read on for our advice and equipment reviews.
Our favourite backyard obstacle courses
What is a backyard obstacle course ?
An obstacle course is usually a set of different pieces of equipment that test your agility, balance, endurance and strength. You have to move between apparatus by swinging, jumping, climbing, vaulting or sliding without falling off. A backyard obstacle course is sometimes known as a Ninja obstacle course because Ninjas can move around obstacles quickly and without being seen and Ninja warrior has become a famous TV show.
Now it is possible to bring obstacle course fun into your own back garden with the introduction of so many new pieces of adventure equipment that you can add into your garden and create an obstacle course. Using backyard obstacle course kits is a great way to create your own garden adventure course.
Some companies sell a package of obstacles connected on a slack line but it can be sometimes a good idea to buy separate obstacles if you want to design a layout that your kids will love and have the freedom to change the order of the challenges if you don't have a tree to attach them to.
Top Reviews and advice about the best Kit you can buy for your own back garden Ninja warrior course.
We have found some great obstacles and slack line based obstacle course kits. Some are smaller and safe for children to play on but there are also some aimed at older kids, teenagers and adults who enjoy more challenging hurdles that require strength, endurance and agility. Using the equipment we recommend, you can decide how to build an obstacle course in your backyard using a combination of the different obstacle course equipment we recommend.
1. SportsTrail Monkey Line Obstacle Course
Click image to view current price on Amazon
We have chosen the Sports Trail monkey line because this is a quality piece of kit that can be adjusted to attach between two trees, posts or pillars and has 7 interchangeable obstacle attachments. The object of this challenge is to make your way from one end to the other using your arms to grip, swing and support your weight along the slackline. If you don't already know what a slack line is, it's a line of strong rope that you attach between two objects and balance your way across it. With this monkey line the obstacles hang from the line so you are going to have to attach it high up using the strong steel ratchet so your feet don't touch the floor.
The attachments include knotted ropes for gripping onto in order to swing across to the next challenge, trapeze bars, a pair of rings like acrobats use and a climbing rope.
Each attachments connects using a carabiner and a buckle set that can easily be removed and fastened in a different position along the rope. Transferring from a rope attachment onto the trapeze bar is tricky because you have to swing from a forward facing position into a sideways position. You really need to practice and think your way around the course so you can figure out the best technique to swing between the different attachments.
We love that this kit, which can be up to 30 ft long can be folded into a small bag, slung over your shoulder and carried to your nearest park, for a camping trip into the countryside or a friends house. The main downside we found is that it can take a little while to put up and adjust in order to make sure the line is tight because otherwise the line can become bouncy and much more difficult to navigate across.
Also, for younger children, be aware that to navigate all the way to the end of the course will require some strength and practice but it is still a lot of fun even if you only swing on the trapeze bar or gymnastics rings.
Sportstrail Monkeyline Key features:
PROS
Includes 7 attachments as standard and more options available to purchase.

The high 225 lb weight limit is suitable for both adults and kids to use.

Obstacles can be removed if you want to try using the slack line without attachments.

30 ft long.
CONS
Completing the whole course will take some practice and require a little patience.

Younger kids might not have the strength required to complete all the obstacles.

Line flexes a lot so consider raising the height you attach the line.
2. Flybold Ninja Backyard Obstacle Line Kit
Click image to view current price on Amazon
Flybold have created a great looking ninja obstacle course line that is a massive 40 ft long and holds up to 300lbs so it is suitable for both adult and children to attempt to cross. One of the best features of the Flybold line is that when attached correctly it doesn't sag very much at all and the twin ratchet gear makes fastening and moving the fun attachments easy.
Design
We love the design of the soft green colour of the slack line that attaches to the adjustable buckles on one end and combines with the blue ropes that attach to the carabiner on the other end. The buckle system allows you to adjust the position of each attachment and move them closer together or further away depending on how challenging you would like the obstacle course to be. Because of the included ratchet system, with a couple of pulls on the lever you can fasten the buckle adjustments once you've positioned the attachment where you would like it.
To attach the slack line itself, the design compliments the use of the wide tree protectors to fasten the rope safely around a tree and protect the tree while doing so. If you want to attach the Flybold rope to another surface it is possible to attach it to a strong post of some kind but we can't really advise on this, we would just suggest you make sure it is attached to something that can bear the weight and is safe.
Attachments
There are 8 attachments included with this product:
4 gymnastics rings which will have you swinging back and forth like a gymnast while trying to navigate and shift your swing sideways onto the next challenge.
2 Fist holds which are basically big thick knots which are tied at the bottom of a piece of rope so you can grip onto it and swing along. This is very similar to just gripping onto a climbing rope but the knot makes the surface area a little bigger and easier to hold onto.
2 monkey bars The monkey bar attachments can be gripped onto with two hands but unlike monkey bars you might find at your local park, they are attach by a rope on each end and will swing. Controlling this swing using core strength to change the momentum is key to passing this stage of the course and twisting yourself to face sideways requires practice in order to get the grip position right
Flybold Ninja line key features:
PROS
High quality nylon rope line that has dual use as a slackline for balancing along like a tightrope walker and obstacle course with 8 adjustable attachments.

Three extra buckle straps included if you want to add more attachments later.
CONS
The 40 ft length includes the whole nylon rope so when you fasten it around a tree, depending upon how thick the tree is you will lose some of that overall distance, maybe even up to 5 ft.
3. Slackers Ninja Climbing Line with Cargo Net
Click the image to view product on Amazon
The slackers Ninja line is a quality product which targets kids and teenagers looking to do some Ninja training. The 250lb weight limit means that some adults could also use the climbing line and attachments but need to be aware that some of the grips on the attachments are small and put a little bit of unwanted pressure on larger hands because of their small surface area.
You have the choice of buying the 30ft or 50ft length of nylon rope and both come with a 6ft ratchet line and ratchet with TAR handles. The sewn pockets are positioned along the line spaced out in 14 different positions so you can choose where the carabiner attachments fasten onto it and then the attachments strap on.
Attachments
With the slackers garden Ninja line you receive 3 10″ nylon rope knot attachments. These are quite small but very strong and are similar in nature to a ball grip but just a little bit softer than those you might find on larger ninja warrior courses.
The next attachments are the two 16″ long monkey bar attachment that are made from birch wood. The wooden bar hangs from two pieces of rope and is long enough to grip onto with two hands. Over time this is the attachment most likely to wear if left outside.
Finally you also receive two steel gymnastics rings that have an ABS grip that does a pretty good job of stopping your hands slipping off. If you want extra grip read our article about gloves that are for monkey bars. Using the two gymnastics rings is comfortable and they are nicely weighted so that they swing in a realistic way that allows you to use your core strength to bring them under control and give yourself a tough bodyweight workout.
Overall after writing a slackers ninja line review we really like the slackers ninja line because it is well made and includes a lot of fun attachments. If you are looking for an adult only obstacle course in your back yard this isn't the best choice as the slackers line is best for children and teenagers. Some of the packages available from Slackers include a cargo net, please be aware that this is often quite long and might take up a lot more of your line space than you expected and leave less room for attachments so make sure you read the small print before purchasing.
Slackers Ninja Climbing Line key features:
PROS
You can purchase additional attachments if you wish to expand the course.

The attachments, line and ratchet are all heavy duty quality pieces of equipment.
CONS
Be sure to attach the carabiner attachments before tightening the line otherwise it will be very difficult to fit them in place.

The Cannonball shaped knotted grips are a little small for an adults hand to grip comfortably but they are still usable.

If you want a foot slack line for walking or balancing along with your feet this isn't a good option for that purpose.
---
How to safely create a backyard ninja warrior course – Top backyard obstacle course safety considerations & buyers guide.
Obstacle attachments
Gymnastics rings
Most obstacle courses include gymnastics ring attachments. These are challenging because you can only grip onto each ring with one hand and the ring will move and swing back and forth a lot. Using a gymnastics ring successful can require some abdominal muscles to help stabilise the motion and arm strength because for a short time you will be holding yourself on with one arm while you use momentum to shift to the next section of the course. If you are looking for a great body weight workout with all the fun that comes with swinging, adding gymnastics rings to your garden ninja course is a great idea.
Weight limit
Each different product has a different weight limit. Some have a weight limit much lower than 200 lbs and these are targeting children who are much lighter than adults.
Most Ninja warrior course ideas that we have summarised above are suitable for both adults and children. It is important to read and pay attention to the weight limits and also pay careful attention to making sure the tree or structure supporting any slack line is also thick and strong enough to bear the weight.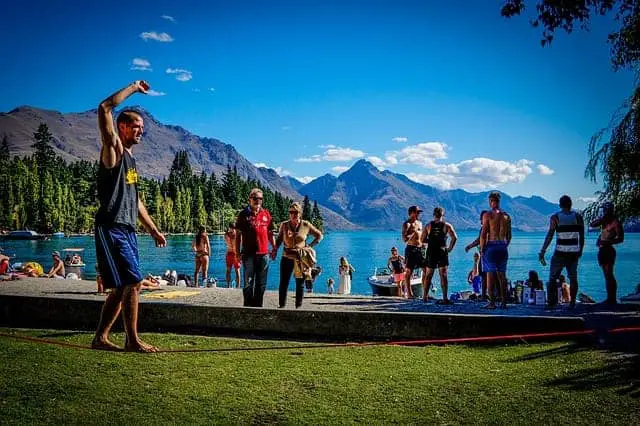 Special supplies Balance Stepping stones.
Click image to view the Special Supplies Stepping Stones on Amazon
Stepping stones are a fun part of any adventure course and Special supplies offer a set of 12 stepping stones that come in a variety of different sizes so that ever jump offers a larger, smaller or different shaped landing surface than the previous one. This will really test your coordination skills and you'll quickly learn to become good at balancing. Underneath the stones surface is a large strong rubber grip that stops the stone from sliding on impact.
Usually these are best used side by side with one stone slightly ahead of the previous one so you can move with your right foot on one stone and then leap forward to land your left foot on the left stone that is further ahead, using a left right left right motion makes this a fun challenge of balancing and pushing off using the strength in your foot and leg to leap and balance. The mix of different colours look great too and will add some rainbow excitement to the design of your garden obstacle course.
---
Final Thoughts – How to choose a Ninja backyard obstacle course kit
There are so many exciting obstacle courses for your back yard that it can be difficult to choose one. Flybold, Slackers and Sportstrail are my favourite choices because their slackline kits are ready made with lots of exciting obstacle attachments and a choice of different lengths to suit all garden sizes.
Your little monkeys are going to have a lot of fun competing and turning into little ninjas racing along these courses in your garden. Be sure to choose the right length rope and attachments that are suitable for your kids to safely use and have the strength to navigate their way across.